The hybrid work model that evolved over the last couple of years has proved to businesses and individuals alike, what a white elephant physical workplace was. It's not just the cost-effectiveness that has clearly augmented over this period, but the productivity too. From 'we meet too often' to 'let's collaborate online', processes are becoming brisk, simple, and precise.
One process that has infused a new life in the age of a mobile workforce is electronically signing documents. While eSignature technology existed in the wake of the millennium, it was not until two decades later, in 2020, that businesses understood its importance.
With the increasing usage of electronic platforms for reducing paperwork, the global digital signature market, which is valued at $1,534.8 million in 2019, is projected to advance to $23,949.7 million by 2030, at a CAGR of 28.6% between 2020 and 2030 as per studies. Now almost any business that needs contracts or binding agreements also needs the ability to sign documents in a way that is legally binding and remote.
Because the necessity for electronic signatures has become so widespread, the number of companies offering these services has exploded. These businesses, both new and old, use varied approaches to document creation and signing. The majority of them have a free version of some form, but the features differ greatly. Some of them offer only eSignature services while others also provide document automation features. Hence, it is all the more important to know the best electronic signature software that is the right fit for your business.
Some key aspects you should look at while choosing an eSignature platform.
Flexibility to customize documents and templates
Irrespective of the type or size of a business, documents are an inevitable part of it. Your organization might already have the documents required for your business or you might have to create one from scratch and templatize them.
Be it creating documents from scratch or uploading existing templatized files, the electronic signature software you are using should be equipped with a feature-rich document builder. You should also look at what tools your eSignature software offers for building documents from scratch?
Opt for the services that provide a user-friendly and feature-rich document builder that will allow you to create exactly the right kind of document. The best eSign software will include multiple templates as well. These templates will be customizable, so changes can be made as needed.
Unfortunately, most electronic signature platforms include advanced document customizations only with their paid versions.
Start your eSignature journey with Revv!
No-Risk, No Credit Card Required. Sign up for Free
What kind of storage is available?
Any electronic signing service will require storage for the documents you create, upload, or esign. This can be accomplished through traditional storage on your hard drive or via cloud-based solutions. Cloud storage is the best, most secure, and most reliable way to store your documents. It also allows you to access your documents anytime from any location. Many cloud-based solutions also give the versatility of using your phone (android, iPhone/iPad, etc.) or other devices to access your files.
Storage is a key aspect of any eSigning platform. But many eSignature software options only allow a single document or template to be saved in their free versions. But this will not suffice for your requirements. Hence users have to opt for paid plans to avail more storage options.
So while choosing the best eSignature platform, you have to unfalteringly look for software that gives a lot of storage benefits.
Convenience and ease of access
Convenience and accessibility are significant factors in losing your customers to competitors. Many eSign platforms ask recipients to log in to third-party sites or websites to initiate sign-off requests. Then there are instances when documents don't support the signer's device formats, forcing the signer to further download plug-ins. All these things are not only process-oriented but might irk your signers as well. To avoid such hassles, you need an eSignature solution that can be accessed easily from anywhere and from any device.
Security
This should go without saying, but many contracts and agreements deal with large amounts of money. You should ensure that your software is secure and safe. Look for providers that offer high-level encryption and bank-grade security. If not, your documents will be susceptible to fraudulent activities.
The eSignature provider should ensure complete security for your documents with encryption features, seals, and passwords.
Legality
When you're considering which eSign company to go with, you also need to consider the validity of the eSign provided within your country. In the U.S., eSignatures are legally accepted, but it's still a good idea to check if the signature is in compliance with your local laws.
Revv: the best free electronic signature software
Ensure compliant and legal eSignatures
Are you concerned about the legality of electronic signatures? Revv adheres to both international and local laws such as the ESIGN Act, UETA, and eIDAS Regulation. Electronically signed documents with Revv are legally enforceable in more than 60 countries.
Let's see how Revv complies with the ESIGN Act:
a. Intent to sign
For each document sent for eSignature, Revv first asks the recipient's intent to sign it. The first thing a signer will see while opening the eSign document is the 'I agree' clause. They can proceed to eSign only when they express the intent to sign by clicking the checkbox. Revv also gives the option to decline or refuse to eSign the document. The opt-out (decline) option is given at the top right-end side next to the notepad icon as three dots (፧).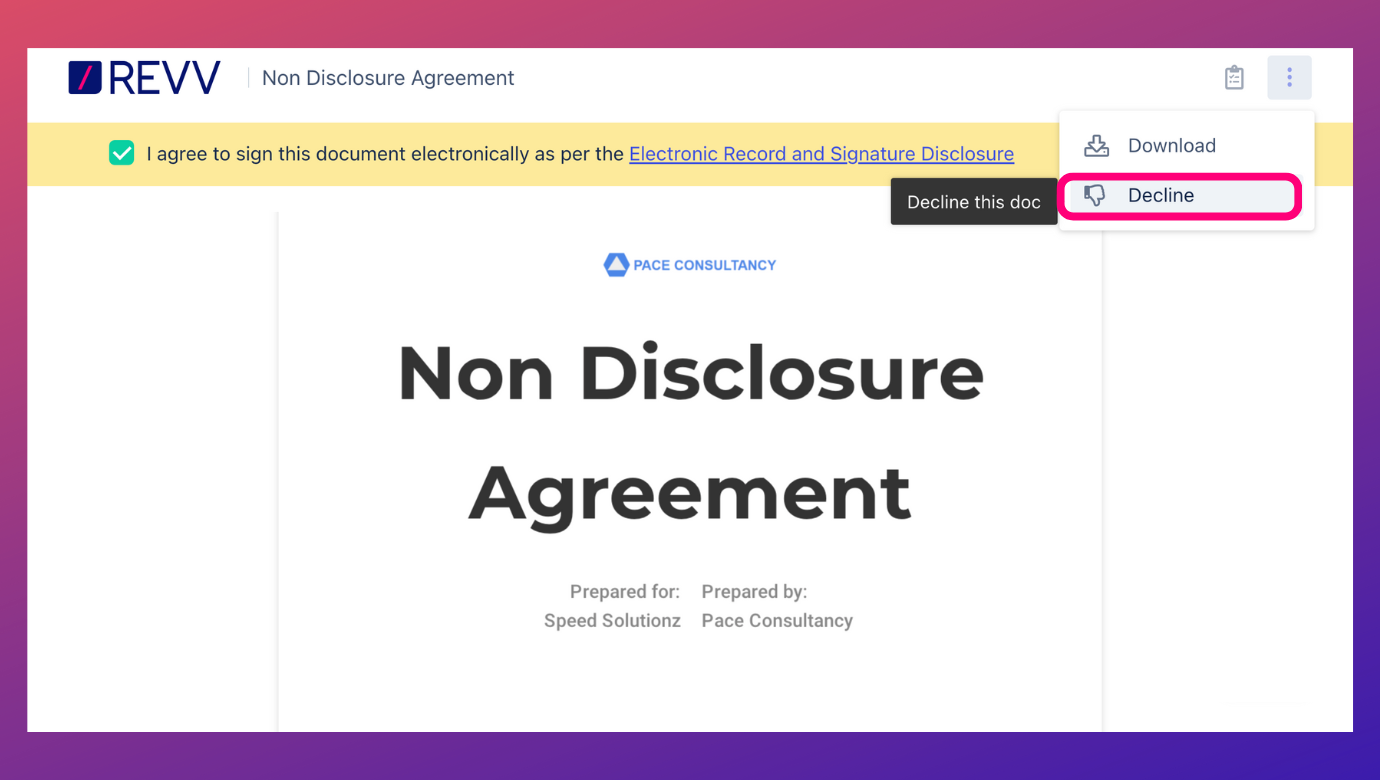 b. Consent to do business electronically
Once the intent is expressed, click the 'Start signing' button. The recipient will be directed to the areas where the signatures are required. The 'Sign here' arrows navigate you to all the places where an eSignature is required. After all the eSigns are done, Revv asks for recipient's consent to close the eSigning procedure with a 'Finish Signing' button as shown in the image.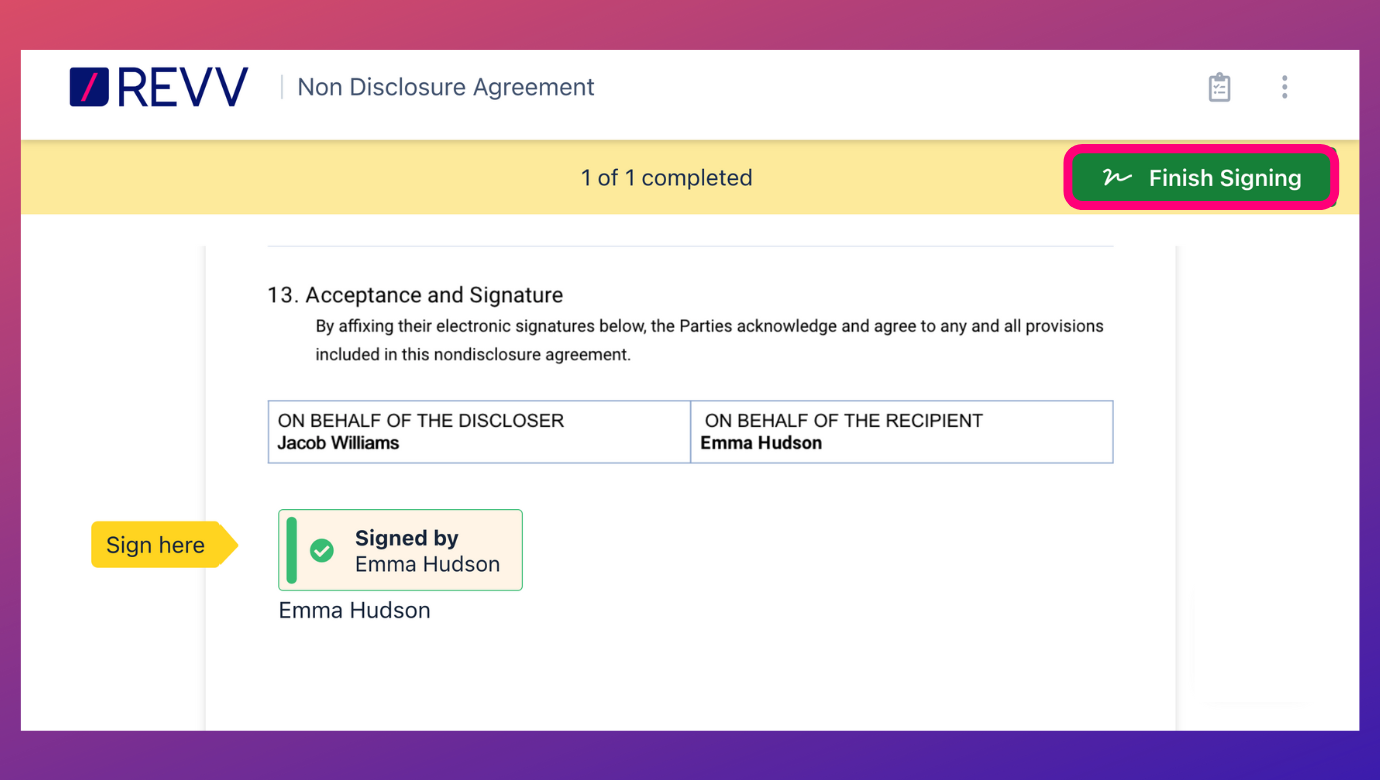 c. Association of signature with the records
Revv adds the eSignature to the document after it has been signed, together with the date, time stamps, and IP address of the device, thereby recording the details associated with the signature. This further authenticates the validity of all eSigns in the document.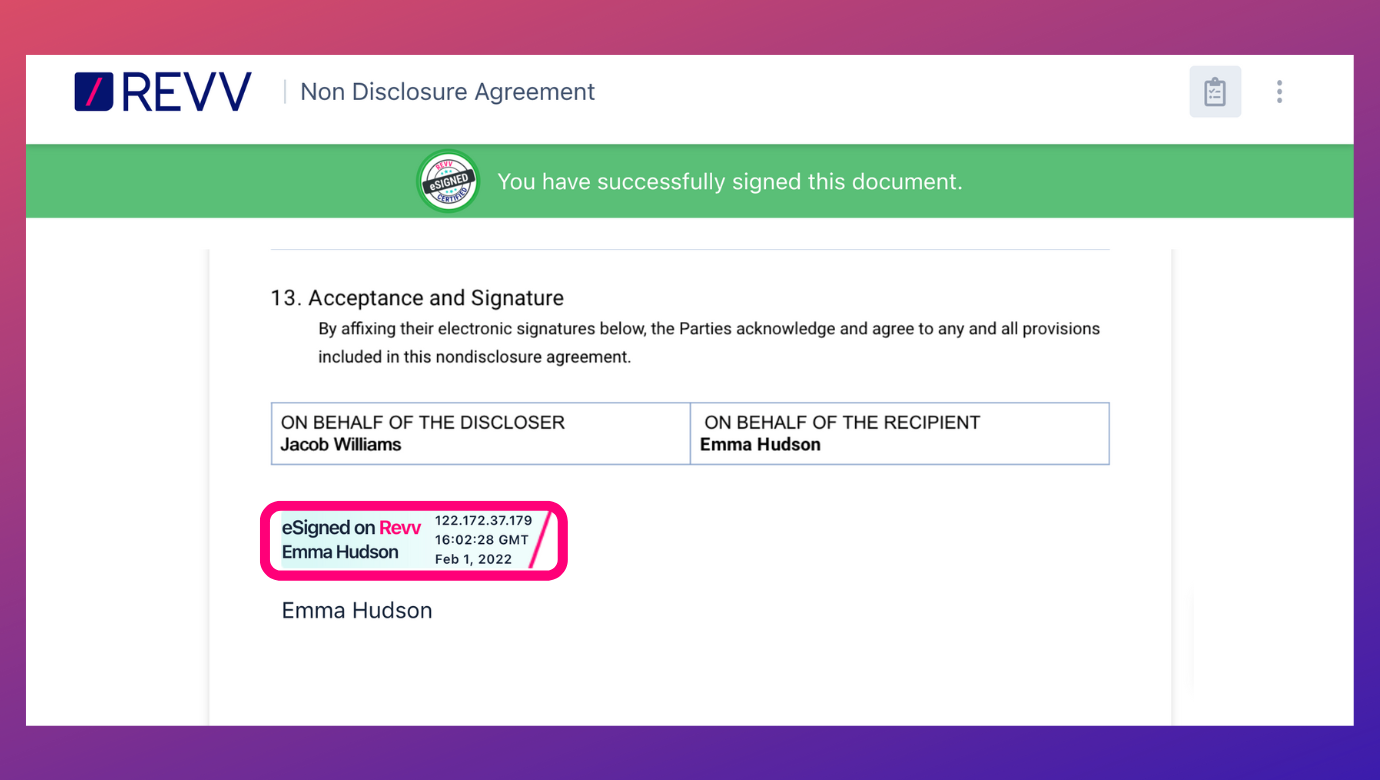 d. Maintenance and retention of records
Revv uses Amazon Web Services Server-Side Encryption (AWS SSE-S3) to enable secure and permanent cloud storage for all electronically signed documents.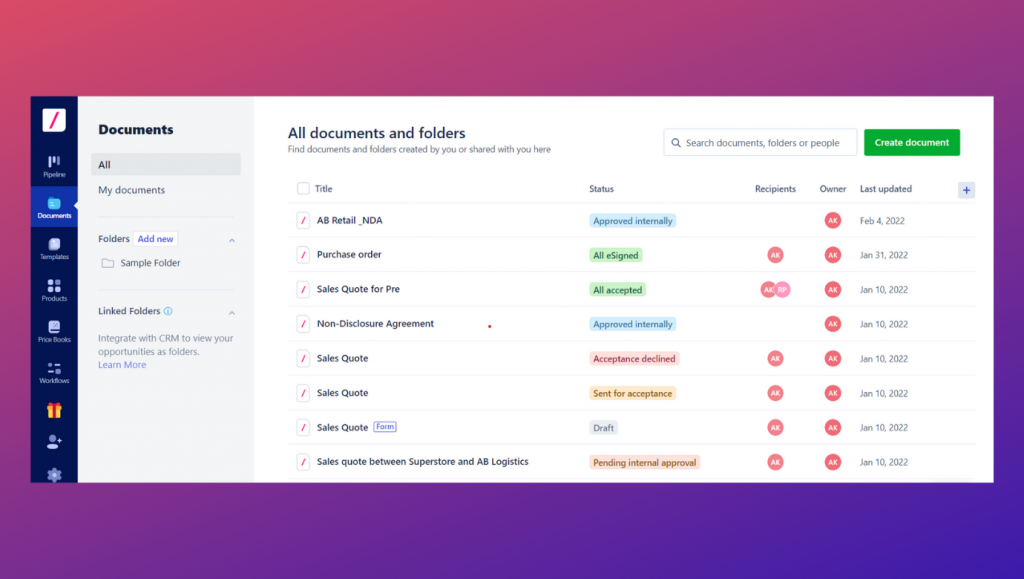 After eSignature is complete, the recipients can download and store a copy of the document for their perusal. Revv also shares signed document link to the recipient's mailbox to view or access it anytime.
Extensive audit trails
Revv captures an extensive Evidence Summary report for documents that have completed the electronic signature process. It includes data such as the recipient's unique ID, the name of the document, the date and time it was viewed, created, and eSigned, and even a history of IP addresses from which the document was accessed.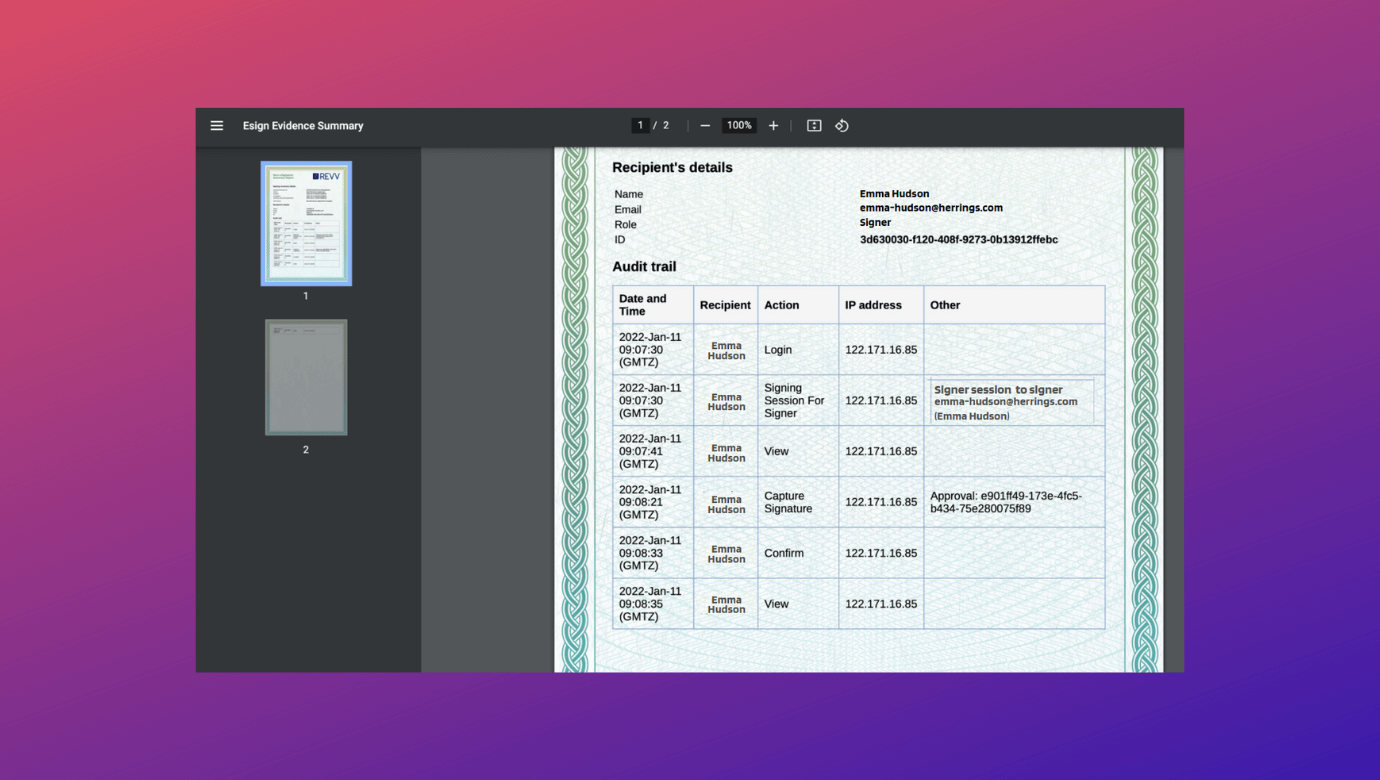 Create documents within minutes with templates and a rich document editor
Creating documents is no longer a hassle with Revv.
Upload a pre-existing template to the Revv platform
Create a new document from scratch
Use 1000+ legally and professionally vetted templates provided within Revv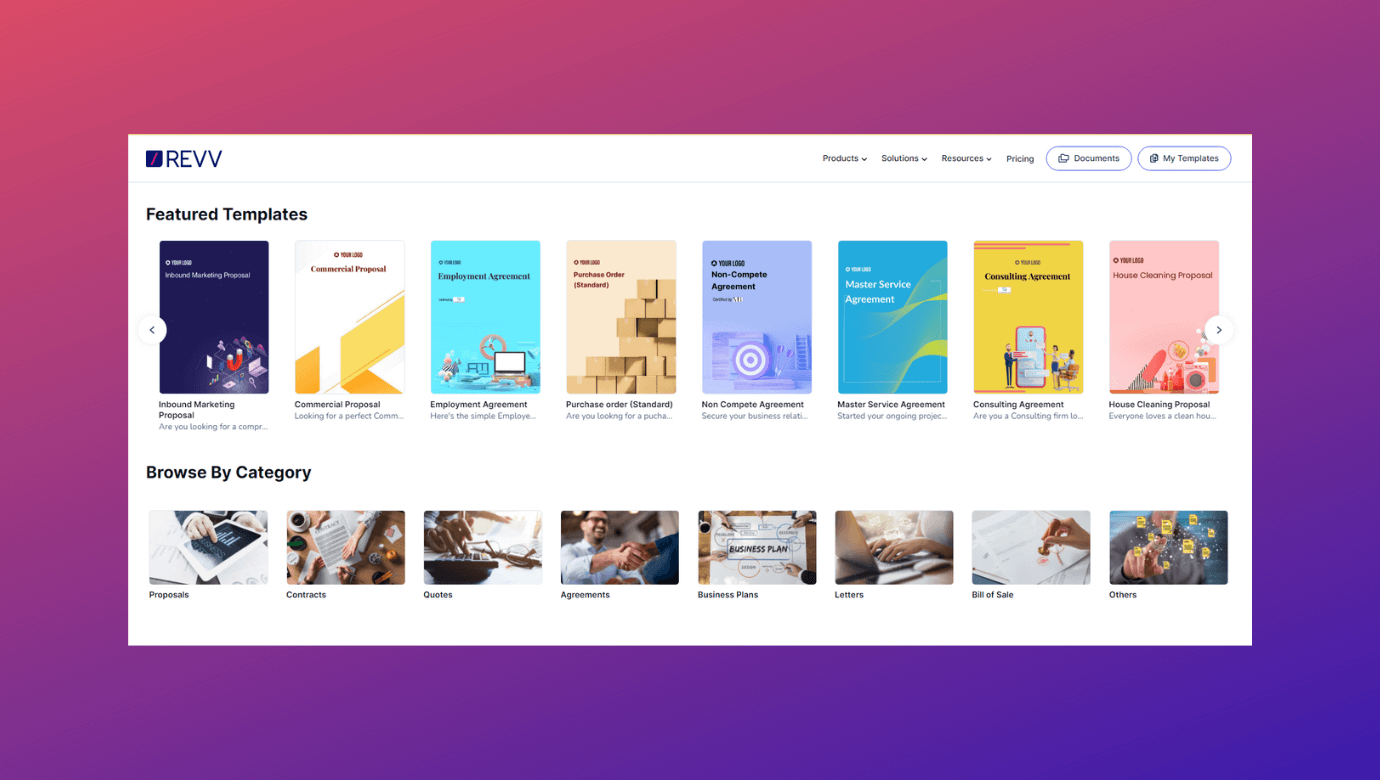 All these documents can further be edited and custom-designed using the rich document composer, making document creation a cakewalk for your workforce.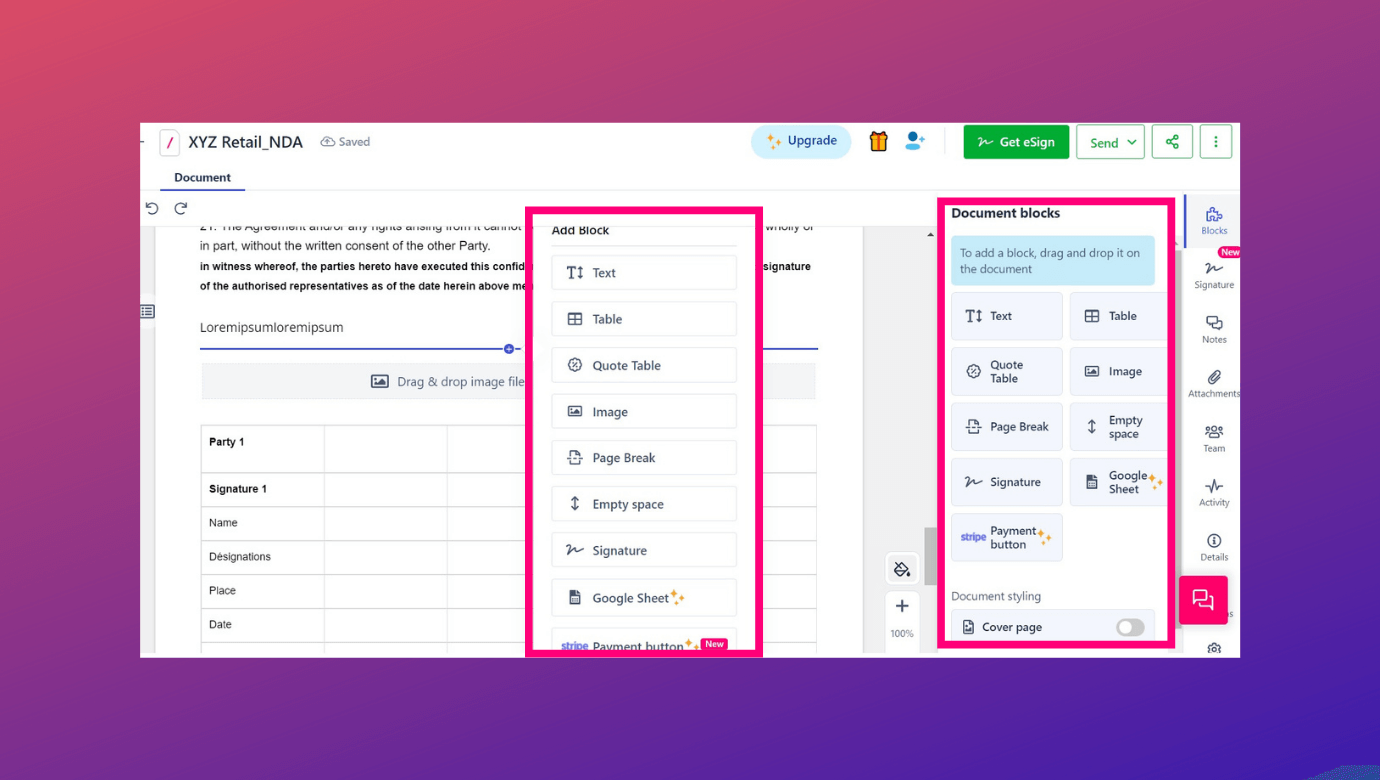 Promote real-time collaboration with teams
Revv breaks down communication barriers and brings people together from various teams, time zones, and locations to work toward a common goal.
With Revv's 'notes' feature, you and your teams can collaborate in real-time within your document. Tag employees with '@mentions' and let people actively contribute their ideas and provide additional inputs at the same place. The collaboration feature improves team engagement while also resolving time-sensitive issues.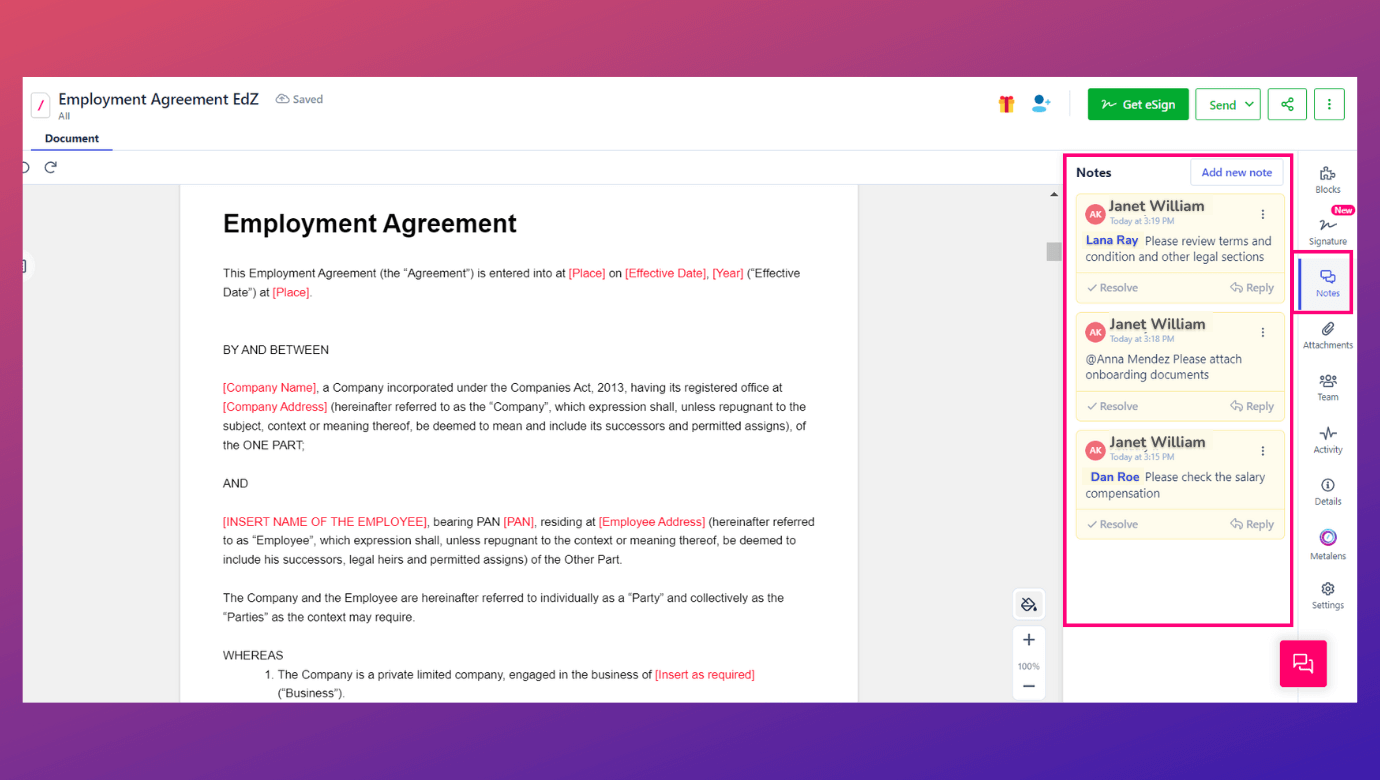 Explore the different possibilities of electronic signatures
a. Meet the right eSigning scenario for your document
Revv provides bank-grade electronic signatures that are completely secure and compliant with global and local laws.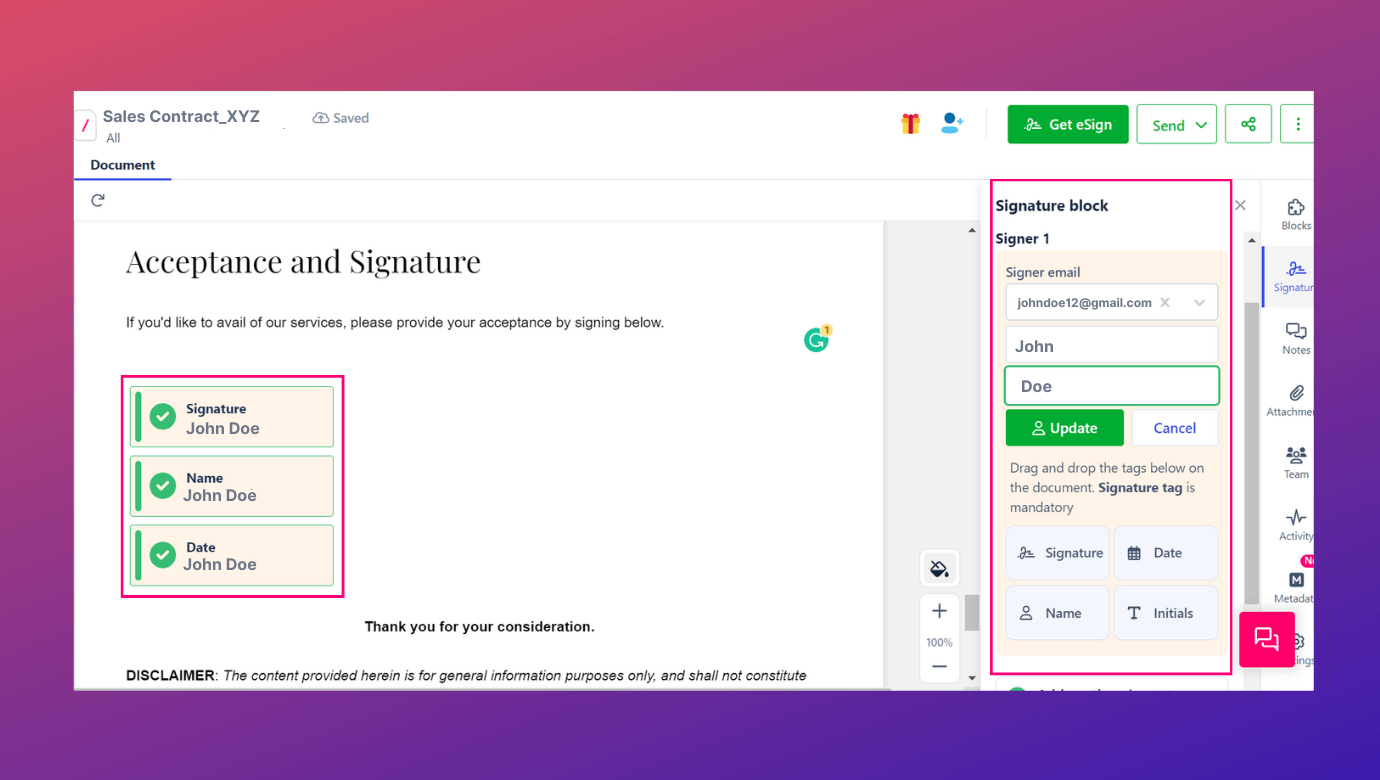 When you send documents for eSign, the recipient instantly receives an auto-generated email notification asking them to take necessary action.
Recipients or signers can now have the flexibility to sign off documents faster with Revv's flexible eSigning options. They can 'Draw signatures,' 'scan and upload signatures,' choose from 'pre-formatted text styles,' and even connect their crypto-wallet MetaMask to complete the signing process.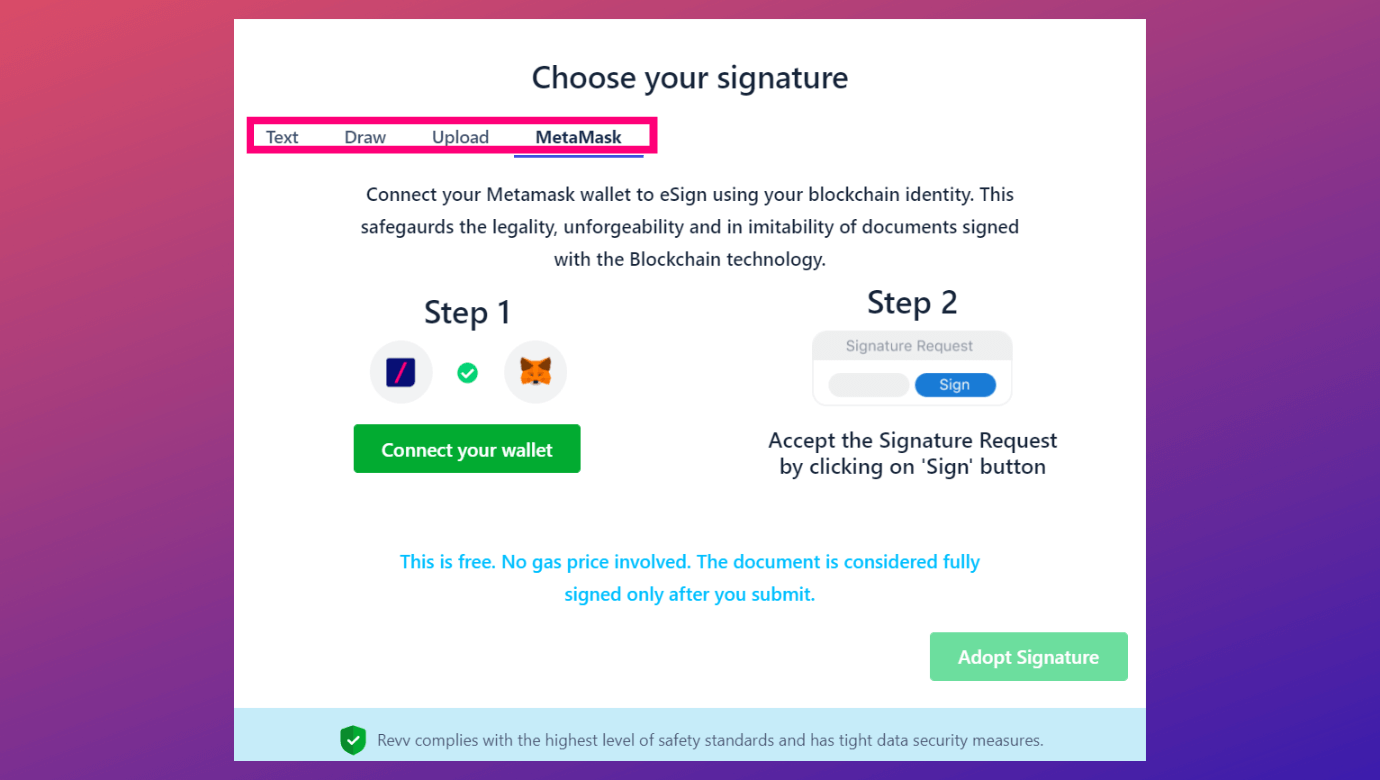 b. Option to choose a flexible electronic signature alternative
With Revv, you can minimize the use of eSignatures for documents that just need recipients' consent or acceptance. Revv's 'Send for acceptance' feature can be used in such cases. It could be used for your consent forms, acceptance letters, renewal agreements, and other related documents.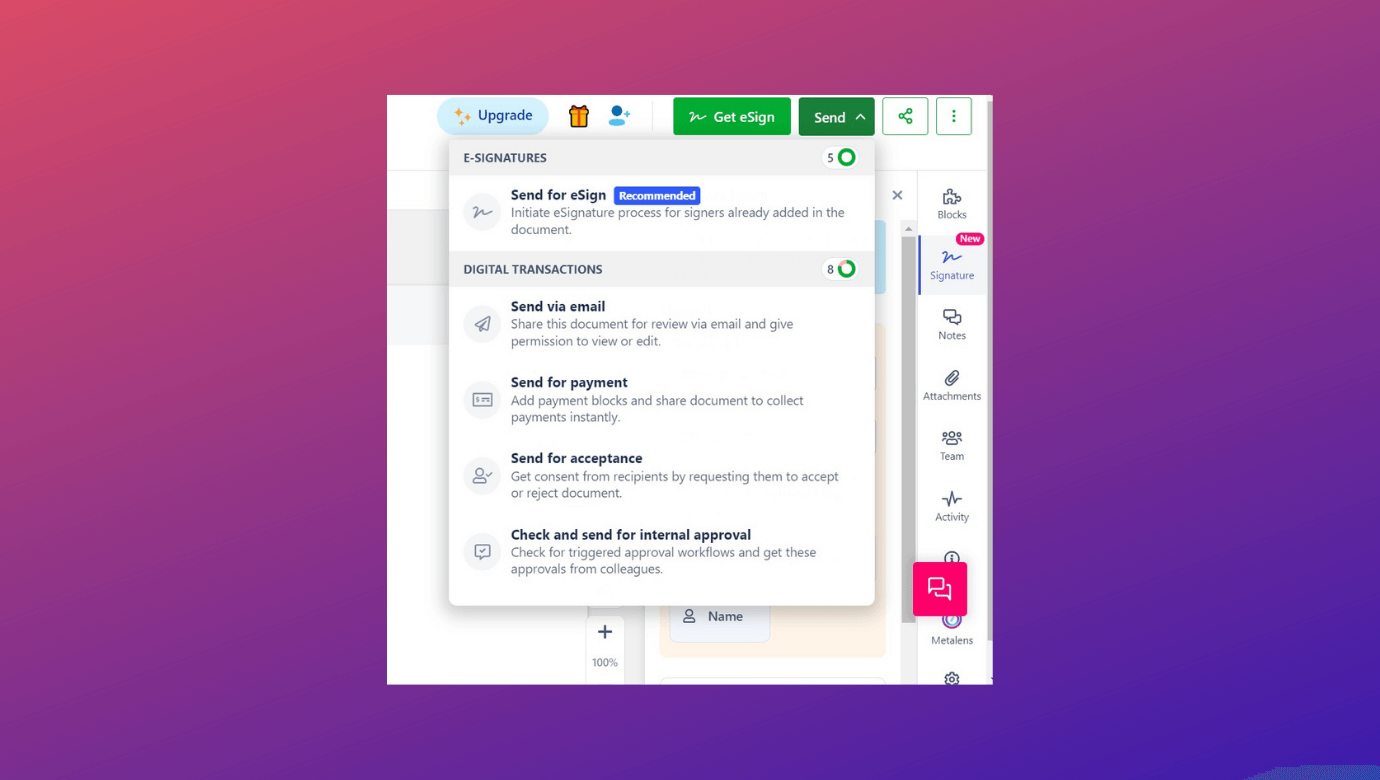 Document approval and reviews
When a sender requires approval from management or review from other departments inside the company, opt for Revv's 'Check and send for internal approval' feature. Set precise triggers and automate your document approval workflows with this option.
If the sender wants his or her document to be examined by someone outside the organization, the 'Send by email' option is available. The sender can set permission to view or edit the document.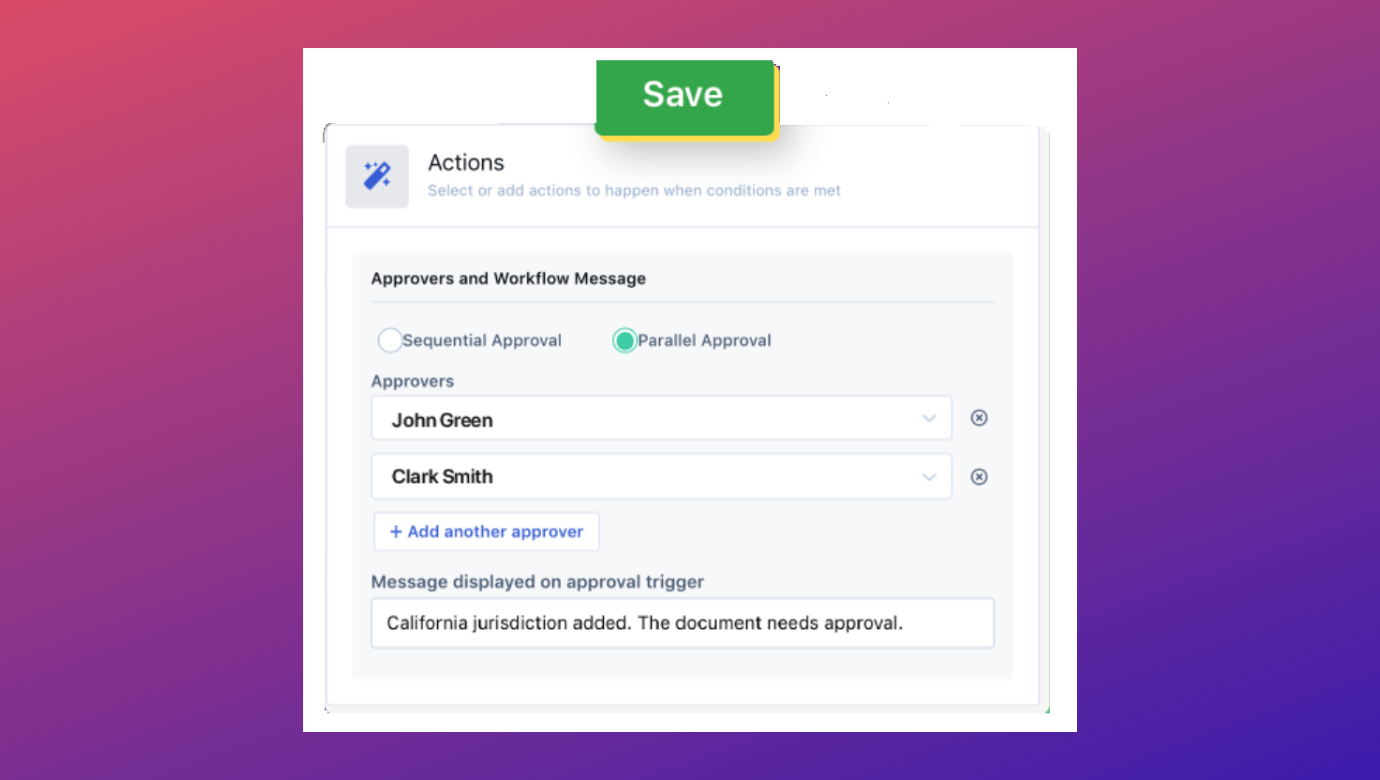 c. Protect documents from unwarranted access
You don't want your confidential files to be accessed by unauthorized people. With Revv, you can authenticate your recipients by email authentication and SMS-OTP authentication.
Email authentication: Documents are sent for eSign to the recipient's email address. When a signer logs into their email account and clicks the eSign link, the signer is automatically authenticated.
SMS-OTP authentication: This authentication adds an extra layer of protection to your documents. Simply select the 'Authenticate with OTP through SMS' option and enter the phone number when sending a document for eSign. An OTP is generated and sent to the recipient's mobile when they click the eSign link to validate their identity. To access the file and start signing, the recipient has to enter the OTP code.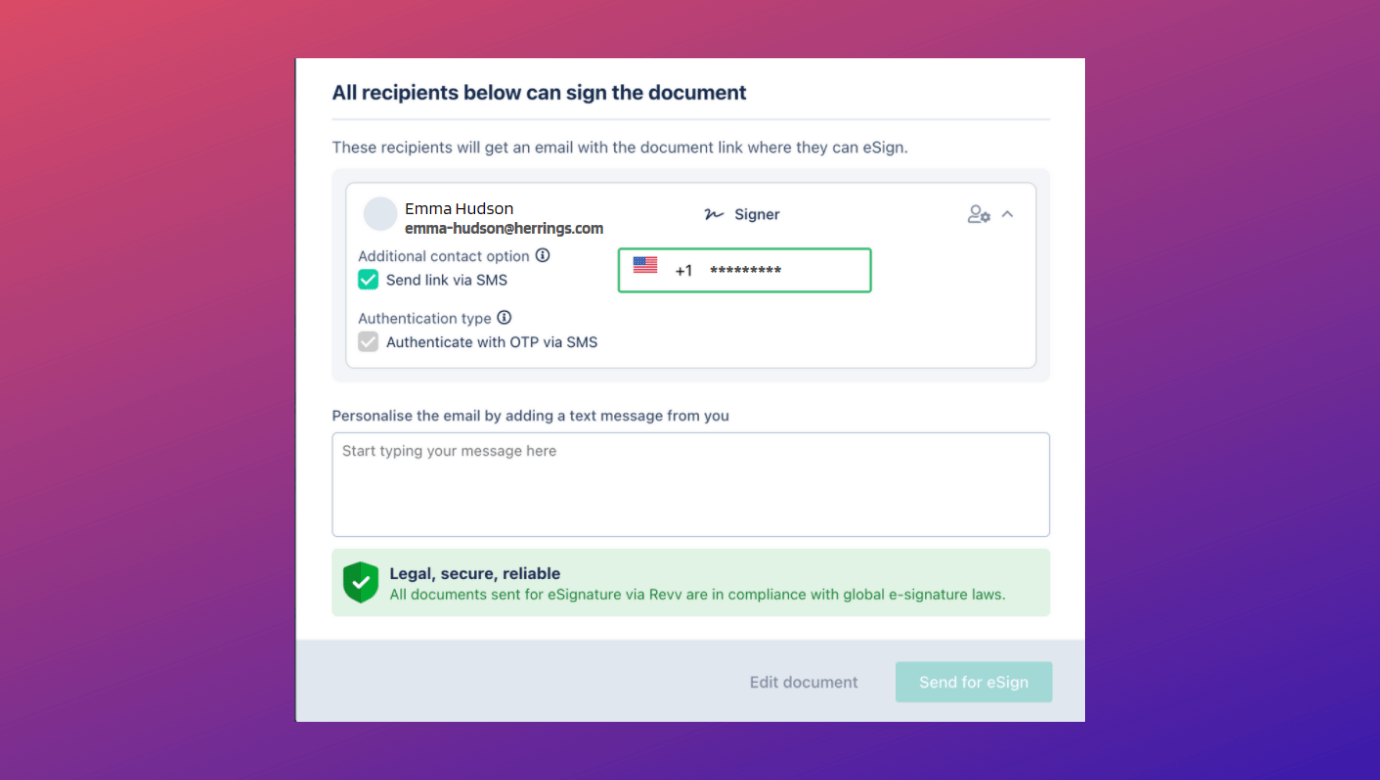 d. Get instant notifications and insightful tracking
All activities are promptly notified to both sender and receivers via Revv's autogenerated emails. Senders are alerted if the document sent for eSignature was opened and completed.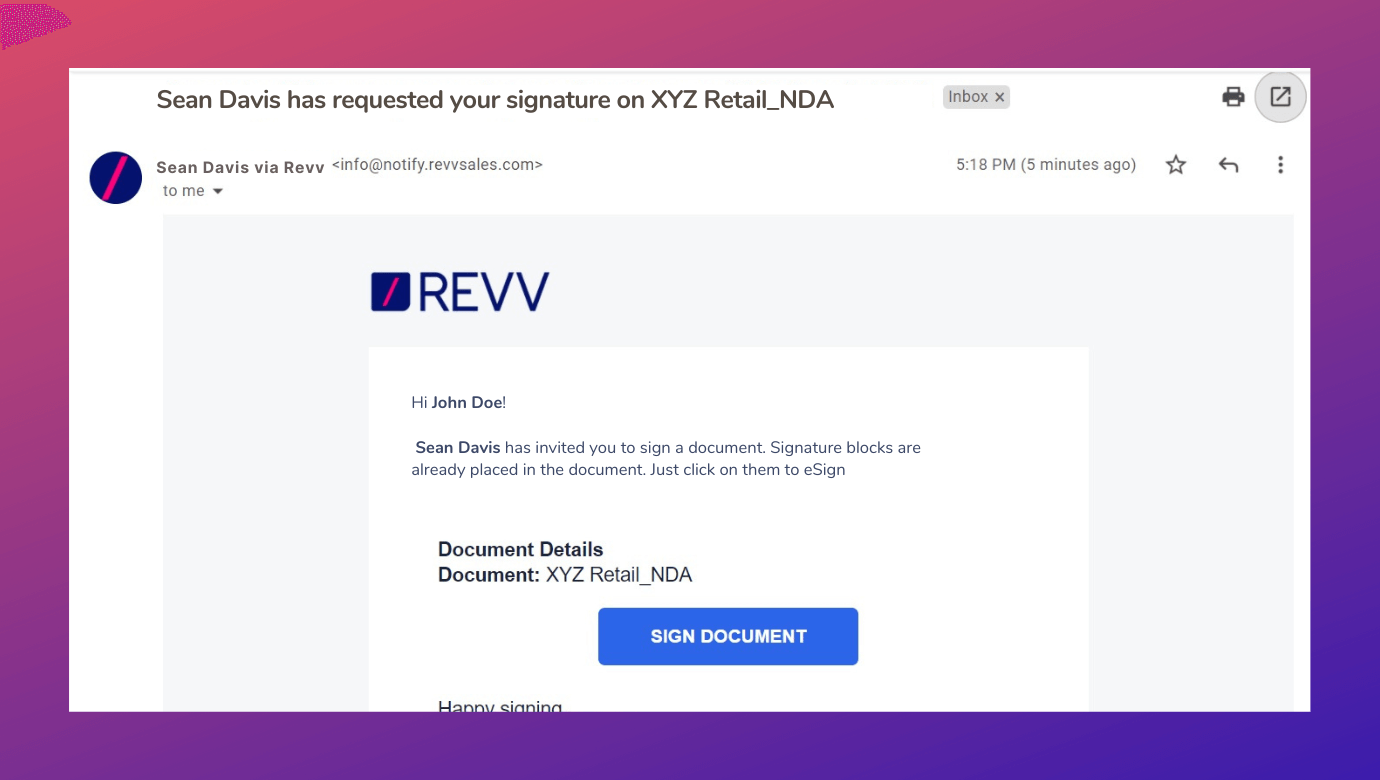 Besides email notification, Revv's 'Activity' tab records each and every action that is taken on a document. It provides real-time recipient activity monitoring and helps to make informed decisions.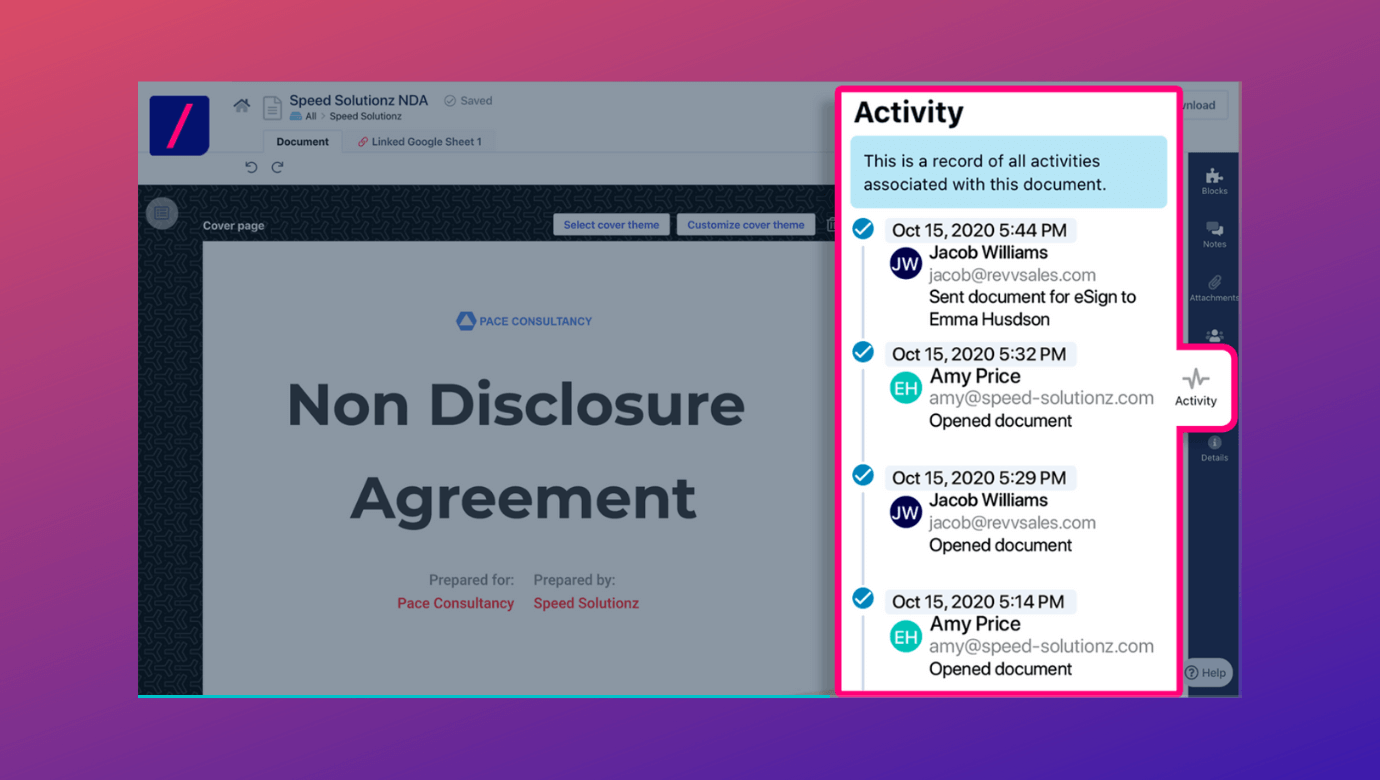 Unlock the full potential of Revv
As your company grows in size and scope, more time and resources are required to manage various documents. A basic electronic signature platform definitely can help with the creation and signing of your documents. But can it automate business processes even before the document generation stage?
If not, then it is time to switch to Revv.
Revv not only provides eSignature solutions but provides end-to-end workflow automation possibilities for your businesses.
Automate workflows using Revv's Pipelines feature
The majority of processes do not end with the creation of a document. It may serve as a catalyst for the completion of other related tasks. It's critical to manage your document lifecycle and keep track of how it moves through your organization's various stages.
But with Revv, we recognize the value of holistic automation and establish a long-term management solution for your complicated document workflows with our Pipelines feature. It is a one-stop-shop for automating your whole document workflow and eliminating tedious processes.
How does the Pipelines feature work?
You can create multiple pipelines as per your business requirements. Channel your documents to the set pipelines by routing them with trigger and action features. For instance, if you want documents related to 'purchase order' in one place, then you can simply create a pipeline called 'purchase order.'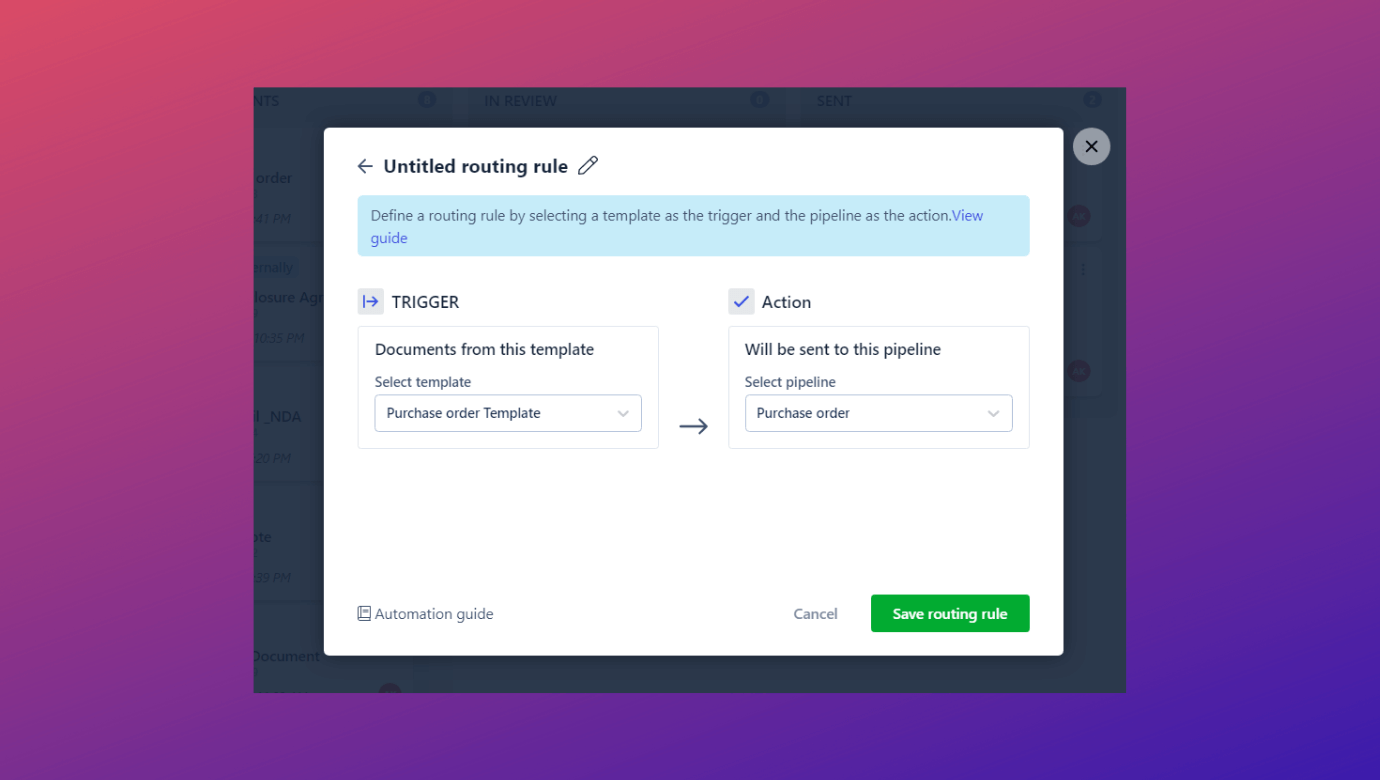 Pipelines consist of a collection of lanes that could be further customized depending on your business workflows. The lane titles can also be changed that suit your business process. These lanes could be made even more efficient by automating each lane's workflow and assigning distinct events to each one.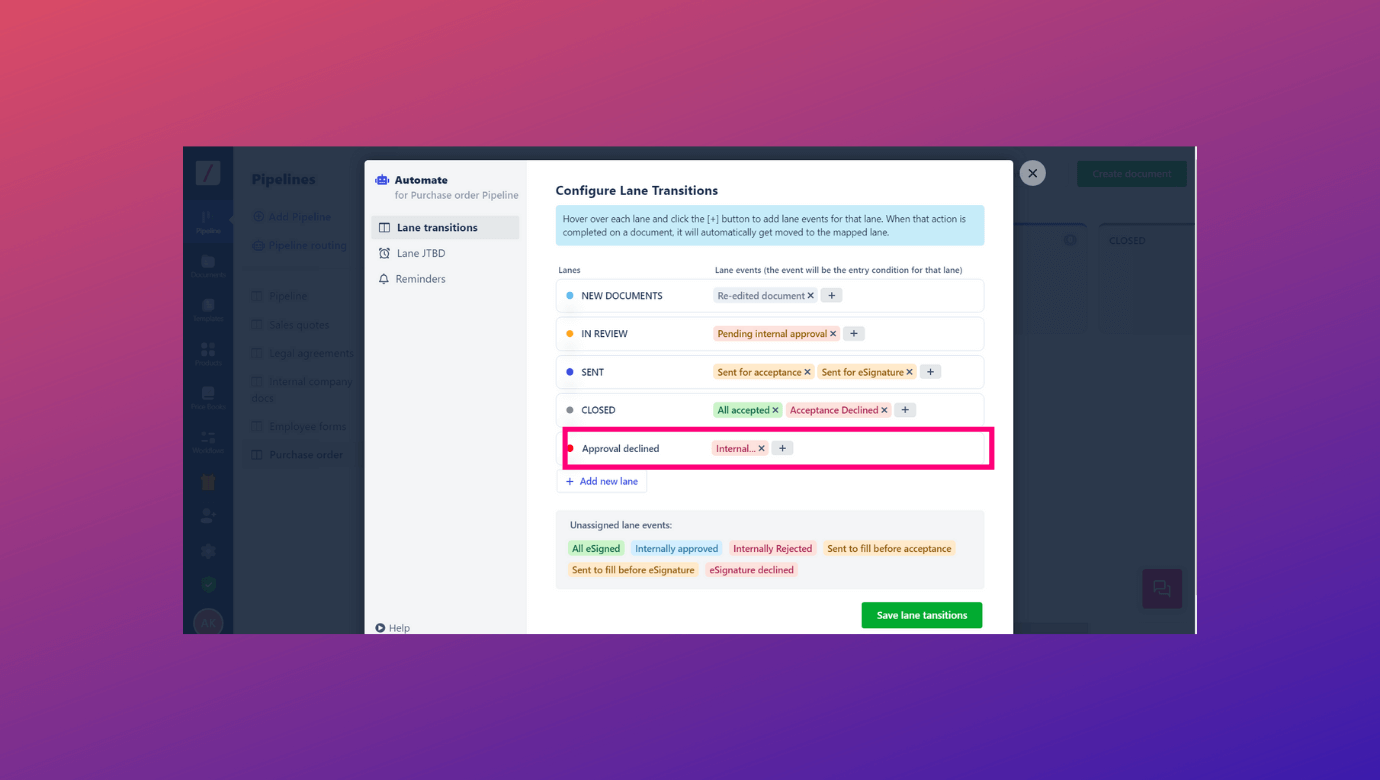 In addition to assigning lane transitions, users can add Lane JTBD (job to be done) to trigger and automate various document workflows. With the help of Lane JTBD, you can use it to create jobs that are automatically executed when a document arrives at a specific lane.
For example: If you want to alert your finance or marketing teams about the status of a document once it reaches the 'all eSigned lane,' you can simply choose the pre-defined lane, add any number of persons to whom you wish to notify the document's status through email as shown below.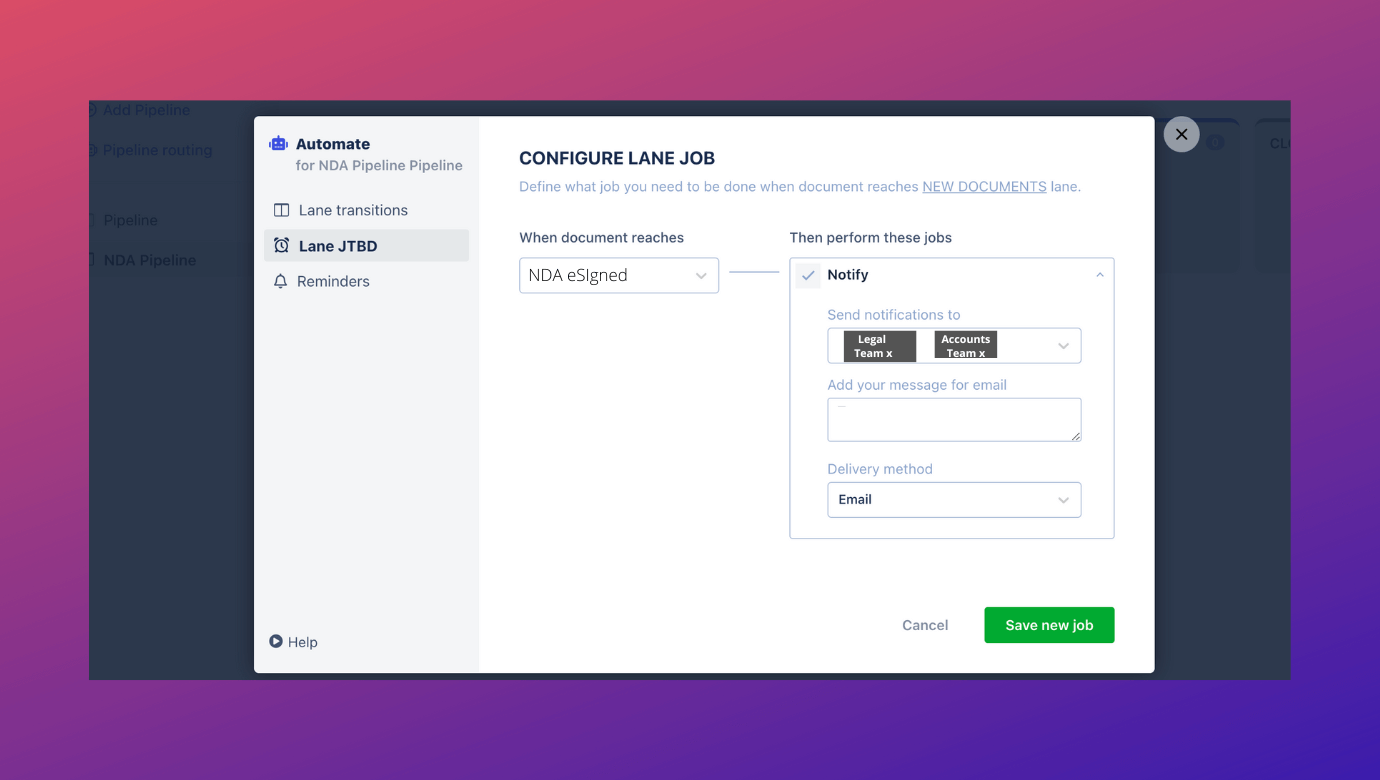 Along with automating documents and their actions, users can set automated reminders as well, curtailing the time spent on manual follow-ups.
Unlimited integration possibilities
Just automating your document workflows and other processes is not enough to make your business processes work seamlessly. The automation of workflows can only be made efficient if they are integrated with the right business systems. Revv's limitless integration capacity shines through in this situation. You'll be able to acquire correct data from various platforms once you've integrated your existing business apps with Revv. This allows you to trigger workflows and store documents without having to leave your CRM, HRMS, or other critical business systems.
Function-specific integrations
For instance:
👉In sales – You can send, sign, and manage important sales documents such as quotes, proposals, and contracts without ever leaving your CRM such as Salesforce, Zoho, Hubspot, Pipedrive, etc. With Revv's integration capabilities, enjoy faster document turnaround times, an updated system of records, and a more streamlined sales process.
👉In HR – You can create and send offer letters to new hires, onboard your new employees, and collaborate with different departments while integrating your HRMS apps with Revv.
👉In finance and accounts – You can raise, create and send invoices, initiate payments through apps like Stripe, and manage varied processes easily with Revv's integration.
Revv's integration capabilities are further powered by Zapier, Retool, and Native API solutions.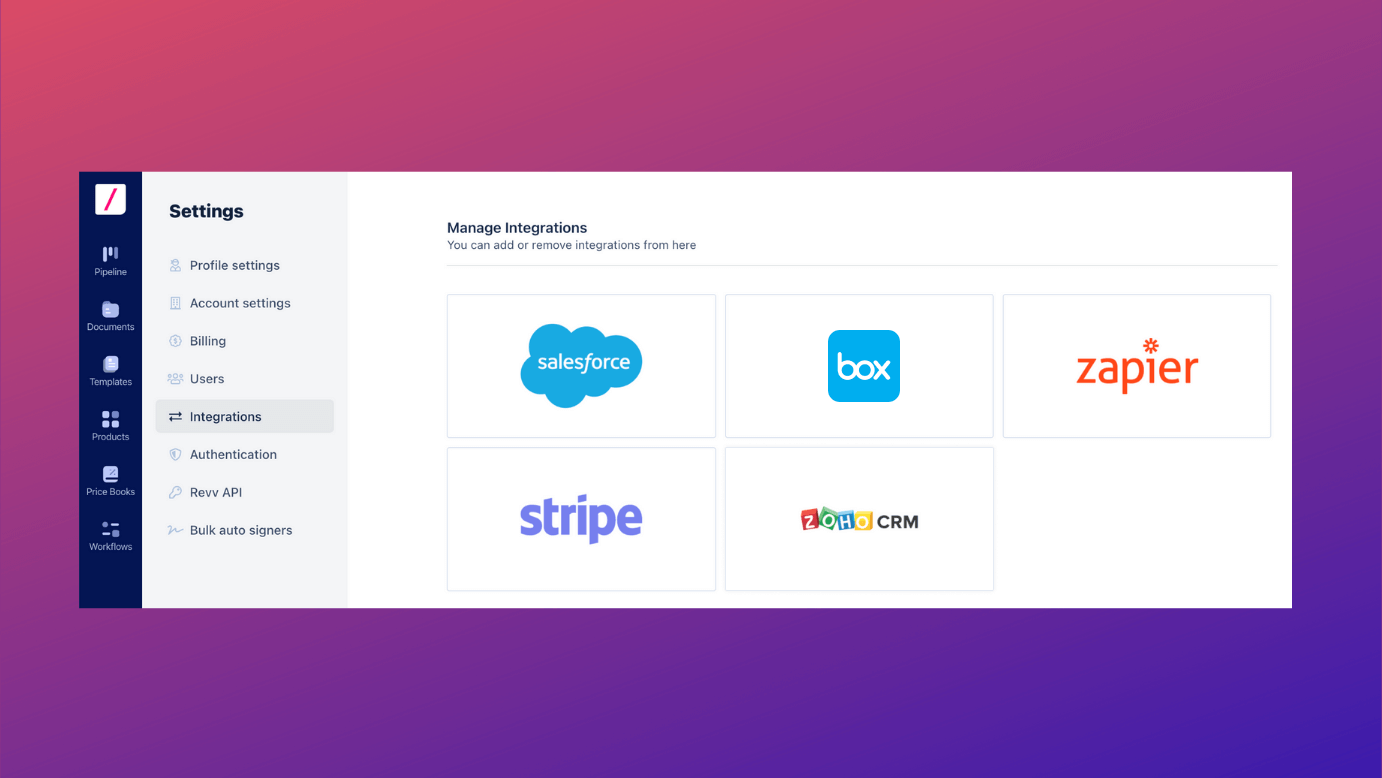 Automation + Integration: a use case of Revv + Box

You can eliminate practically all human participation in your document workflows by combining Revv's document automation and eSignature advantage with Box's cloud storage and workflows. This transforms your business functions, allowing them to perform independently – whether it's sales, marketing, finance, HR, legal, business operations, or procurement.

You can now create, manage, and run workflows of any complexity seamlessly. With the help of document metadata and metadata derived from Revv's form fields, trigger new Box workflows based on your business needs. Workflows can be triggered and automated between Revv and Box using the Pipeline feature.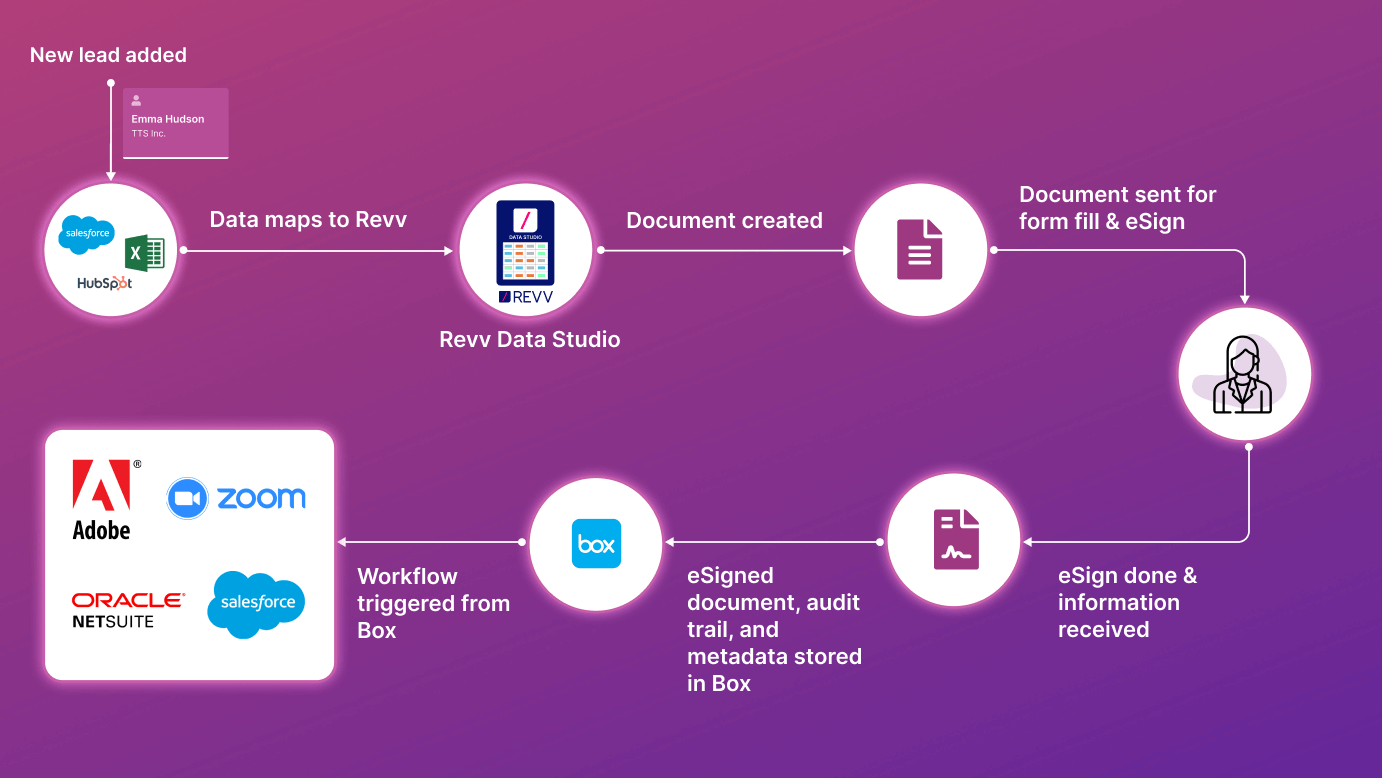 With this effective and resourceful integration, you will no longer miss or delay initiating repetitive processes such as your contract renewals, payments and receipts, and other essential tasks.

When you integrate Revv with Box, you can even choose which data to send to Box, such as 'Document file,' 'Evidence Summary,' 'Document Attachments,' 'Document form fields,' and 'quote line items,' among other options.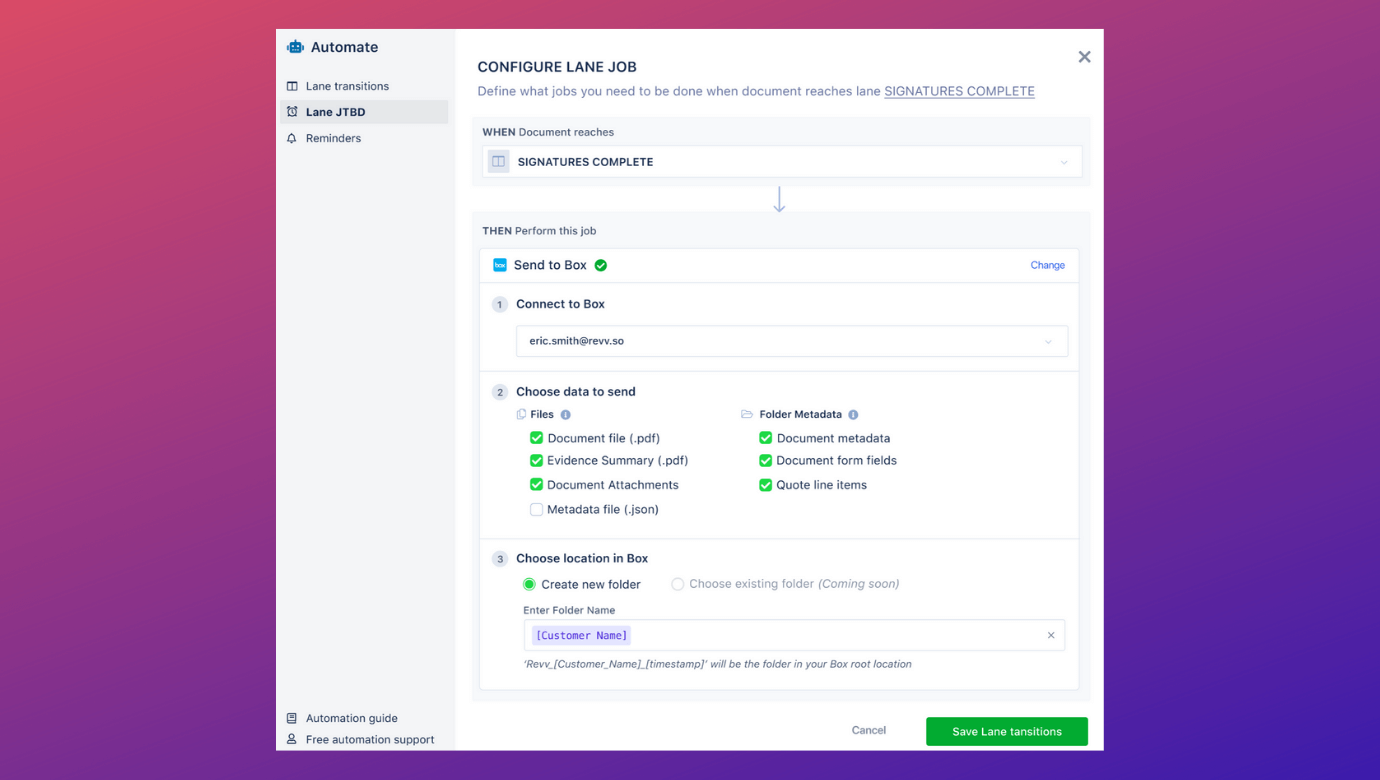 Flawless data capture with Data Studio
To run smooth document workflows between your business systems, precise data mapping is essential. Flawed data leads to inefficient procedures, high corrective costs, and incorrect insights – all leading to poor business decisions.
But not with Revv and its Data Studio feature.
Revv's Data Studio is a one-of-a-kind feature that streamlines the data mapping process for all types of enterprises.
With Data Studio, you can
connect to multiple data sources/business platforms
map data fields of external apps like Salesforce, Hubspot, Google Workspace (Sheets), etc., to Revv's form fields
flawlessly capture data without the help of scripts, codes, or APIs
consolidate data fields of your business platform and transform them into more meaningful fields in Revv
get accurate data irrespective of the size or complexity
increase productivity and efficiency of the workforce as they are freed from manual data entry processes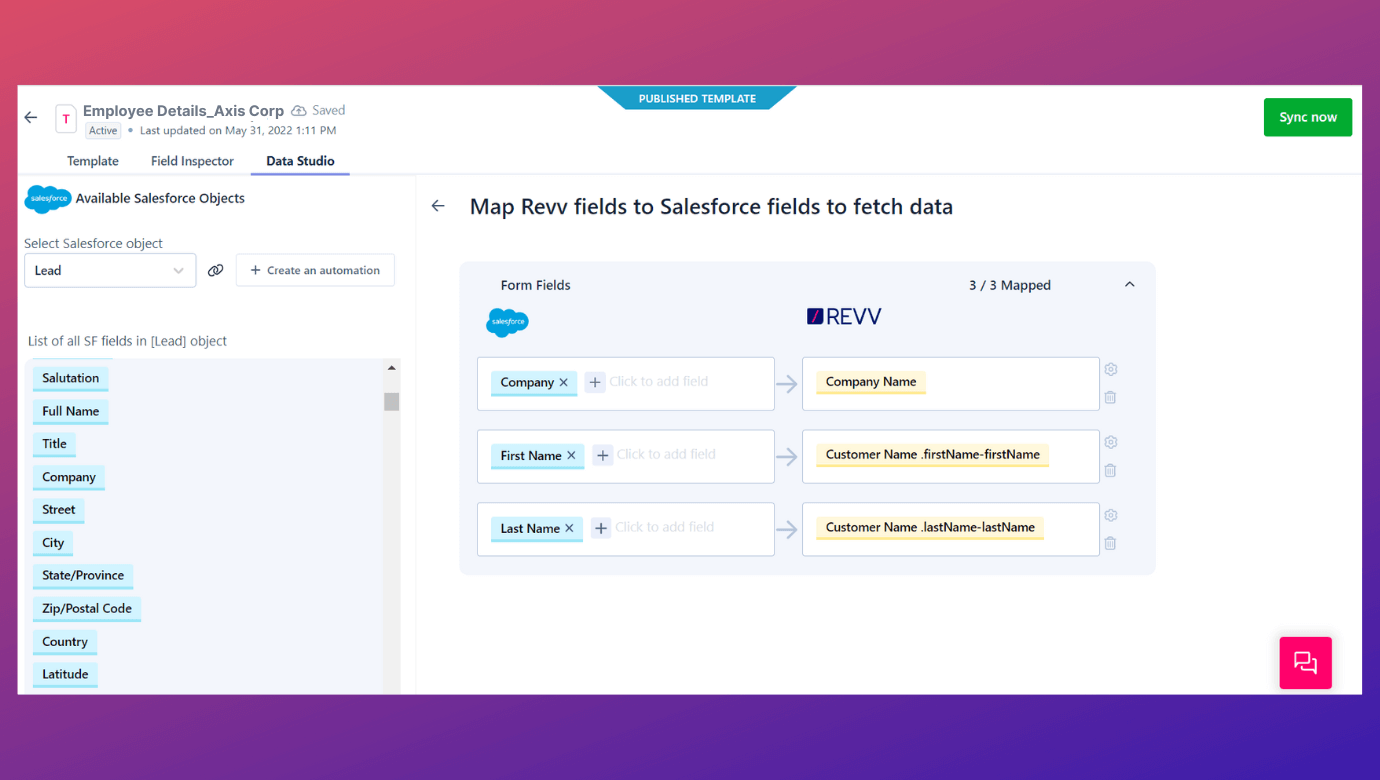 Data capture with custom web-forms

Even after integrating your business platforms with Revv, there might be instances where certain documents require some key details from the recipient. You can still navigate the challenges of manual data mapping and simultaneously enjoy the benefits of Revv's automated document workflows with the help of form fields or fillable placeholders in your document.

All you need to do is make your document a form-based template. Insert form fields wherever needed using the form field feature. You can use form fields to effectively gather data from your recipients that only they can provide.


Make your choice
Now that you understand the factors that go into choosing electronic signature software, you can make your decision about which one to purchase. While most of the popular software options for electronic signatures meet at least some of these parameters, they usually have other caveats that offset the benefit.
One option that checks all of these boxes is Revv. Revv is a secure eSign software that is fully functional in its free version. The premium versions add even more functionality while still being very cost-effective when compared to other software solutions.
Revv eliminates cumbersome approval workflows for teams and departments. Businesses can stay one step ahead of approvals and manage the whole lifespan of documents, from creation to storage, with Revv's powerful automation tools.
Additionally, Revv provides an exhaustive template library in its basic plan, the templates are fully editable for your specific needs. You can create a custom document based on one of our many templates and save it to a cloud-based server that can then be accessed from any device you have. Revv has no limit on the number of documents you can save, and the free version includes 1GB of cloud storage.
Revv uses secure eSignature as its standard, allowing you to have a fully functional signing service at a reasonable cost that is still fully legally binding. These documents can be created, delivered, and signed within minutes using cloud services.
In short, Revv is a complete, full-featured solution with features that many other companies do not offer even in their mid-level paid versions, and in some cases, they do not offer similar features at all.
If you are looking for the best electronic signature software in the market, look no further. Try Revv today!