Looking for a free solution to complete your online contract signing? Well, then chances are that you've already heard about or even experienced the ease of online contract signing, and realized just how time-consuming it can be to sign documents the traditional way.
Though you have made a wise call by choosing an online contract signing solution for your agreement, you should also remember that it's the digital era and every service out there has multiple electronic choices. What are the benefits and features you should be looking for in a free electronic signing software?
Can it be conducted from anywhere, at any time? Is it secure, fast, and safe? How else can it impact your business? In this blog, let's investigate what features are ideal in free contract signing software. After that, we will probe a bit deeper into the many additional advantages a smaller budget could bring to your game. So, what should you look for in a free software?
Features you can leverage in a free online contract signing software
Functionality
If you were to go to your browser and search for free eSign software, you would get several pages of different results. However, some of the "free trial" versions are not actually free.
While some of them are truly free, there are not many features attached either. This could work if all you need is to electronically sign an existing PDF and nothing else.
For most businesses that are just dipping their toes into the world of electronic documents, you need a few specific features and the ability to upgrade effortlessly. You might not need some features starting out, but you will likely need them in the future.
Cloud storage
The main reason most people look for online eSigning software is the ability to make contract signing easy and contactless. But this also comes in handy for document storage. As you move from paper-based to paperless documentation, such a storage option is really important to have access to.
Any good eSignature software will offer cloud storage. A great one like Revv offers it even in the free version. With cloud storage, you can effortlessly save all of your contract files after they are signed. Whenever you or your client want to review the contract, whether at work, on the golf course, or at a meeting in another state, it will be available.
Because eSigned documents are legally binding in the same way a wet-signature would be, you don't have to store a physical copy. This lets you access your files as needed while saving thousands in rent, office supplies, and administrative labor involved with paper documents. You can always download your files and save them to another cloud server, but for security and convenience, it is much better if your eSign software has its own cloud storage.
Supports different document types
This might seem self-explanatory, but having software to sign contracts isn't helpful if the contracts you need aren't compatible. When you look for free contract signing software, make sure it has the ability to work with more than just Adobe PDFs (the industry standard). Revv works with both Word and PDF document formats. This is great if you have existing contracts that you want to effortlessly import.
As your business grows, you are likely to move beyond the forms and documents you already have. When this happens, it is very helpful if your contract building software has a decent form editor. Many full-featured eSign programs have poor reviews for their document editors. If you can't make your contracts your own or make changes for individual customers' needs, then your software isn't much help. You could still edit documents by importing them into other tools, but jumping from software to software increases the likelihood of errors, as well as the inefficiency and irritation factor.
A great free software will have at least some of the document creation functionality of paid versions. Revv, for example, offers over 1000+ unique templates for contracts, quotes, agreements, proposals, and forms. This lets you create a document from scratch within the app in minutes.
Multi-device functionality
One of the greatest benefits of using online signature software is the convenience for your customers. In the past, in order to have your contract signed, you had to manually call and arrange for meetings, do regular follow-ups and keep track of all correspondence. Not to forget the printing, signing, and mailing of documents manually if the process is paper-based.
All of these old-fashioned options could lead to your customers being poached by a competitor while you wait.
Compare that to the multi-device functionality on Revv. You can generate a document and send it to your client, who can open it on whatever device is convenient to them, whether that is a computer, tablet, or phone. With a few clicks, their document is signed and back in your possession, potentially within minutes of you sending it.
Compliance and legality
Depending on your industry, there are multiple security standards an eSignature may have to meet. For the majority of industries, a simple electronic signature provides all the security you need. It uses individualized access that no one else can use, and it is secure enough that it is considered the equivalent of a traditional wet signature in US courts. Unless your industry specifically demands it, you should stick with simple electronic security to avoid the complications associated with the higher security formats.
But irrespective of the platform you use for eSigning, it is important to ensure that it complies with all the international and local laws. If an eSigning platform doesn't abide by the rules and compliance requirements, then even the document electronically signed will not hold any legal weightage. All documents created in Revv are legally binding conforming to ESIGN Act, UETA, and eIDAS regulations.
Want a hassle-free way to sign contracts online?
Try Revv for free, No Credit Card Required
Get the automation edge as you sign contracts online
In a study conducted at the end of 2020, Forrester found that 56% of executives cite a lack of visibility into the status of agreements during the signing stage—a predicament that can lead to a poor customer experience and unnecessary delays. As a matter of fact, decision-makers across various businesses are looking beyond simple eSignature optimizations. They're trying to blend in pre-and post-signature activities to create a powerful automated workflow. This understanding and action are really important since a minor delay in choosing the right solution could set your business back from the competition.
But, is it affordable to have a solution that's more than just an eSignature software? Can such a platform effectively handle the intricacies and effort involved in the processes that come before, during, and after the eSigning journey?
The answer is yes, and the answer is Revv. Businesses who use Revv for online contract signing save time, money, and other hassles of dealing with outdated technology such as printers, scanners, and fax machines. This is because Revv's cutting-edge document automation features vastly improve the productivity of your document and workflow process. Our free trial version not only includes certain free eSignatures but is packed with distinctive features that can only be availed in paid membership plans on other platforms.
Customizable templates make signing contracts a breeze
Varied businesses have diverse document requirements. And creating those from scratch is time-consuming and tiresome. Revv offers an all-inclusive solution for the diverse document requirements in your business. You don't have to start creating your document from scratch. Revv delivers 1000+ legally binding and professionally validated templates that can be further customized as per your business requirements.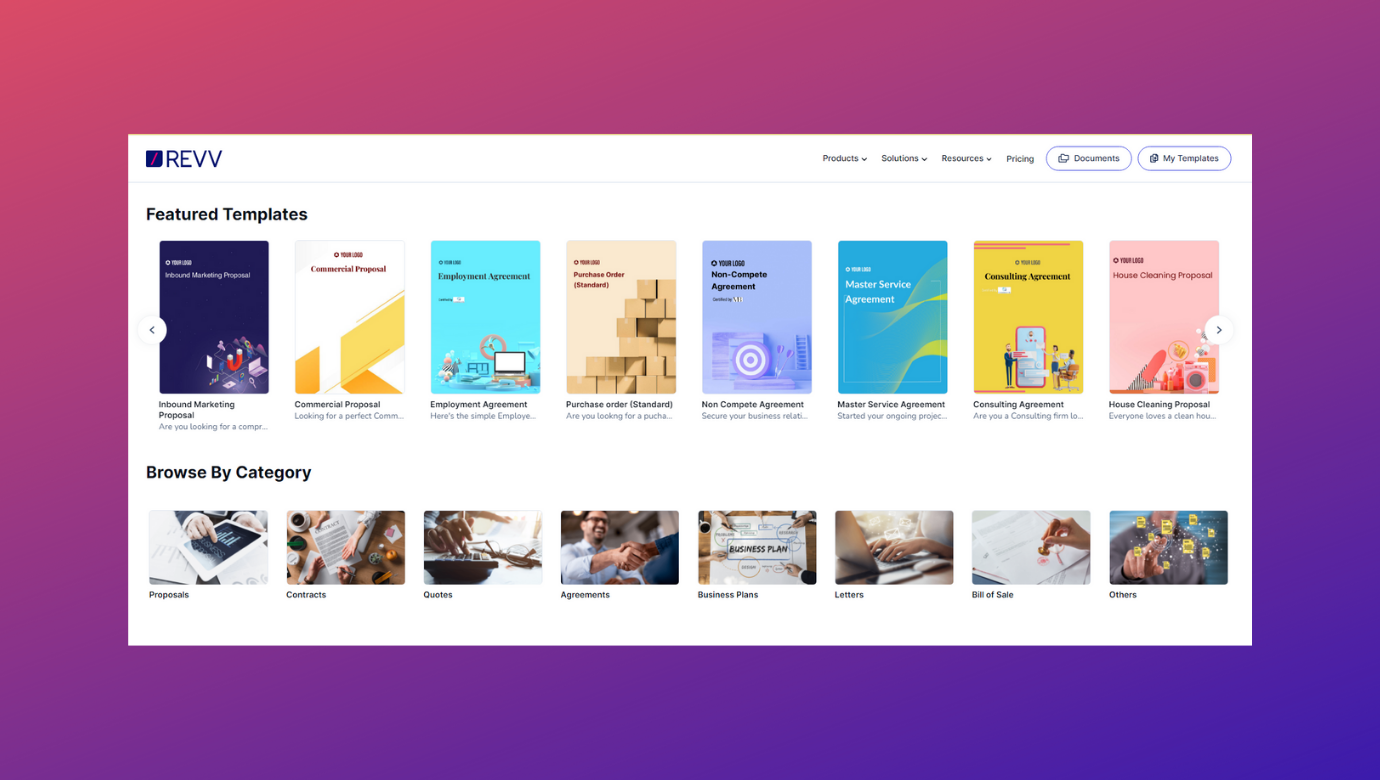 You can also use your pre-existing templates by simply uploading the document to the Revv platform. You can further design your template and give it your brand touch with Revv's comprehensive document composer.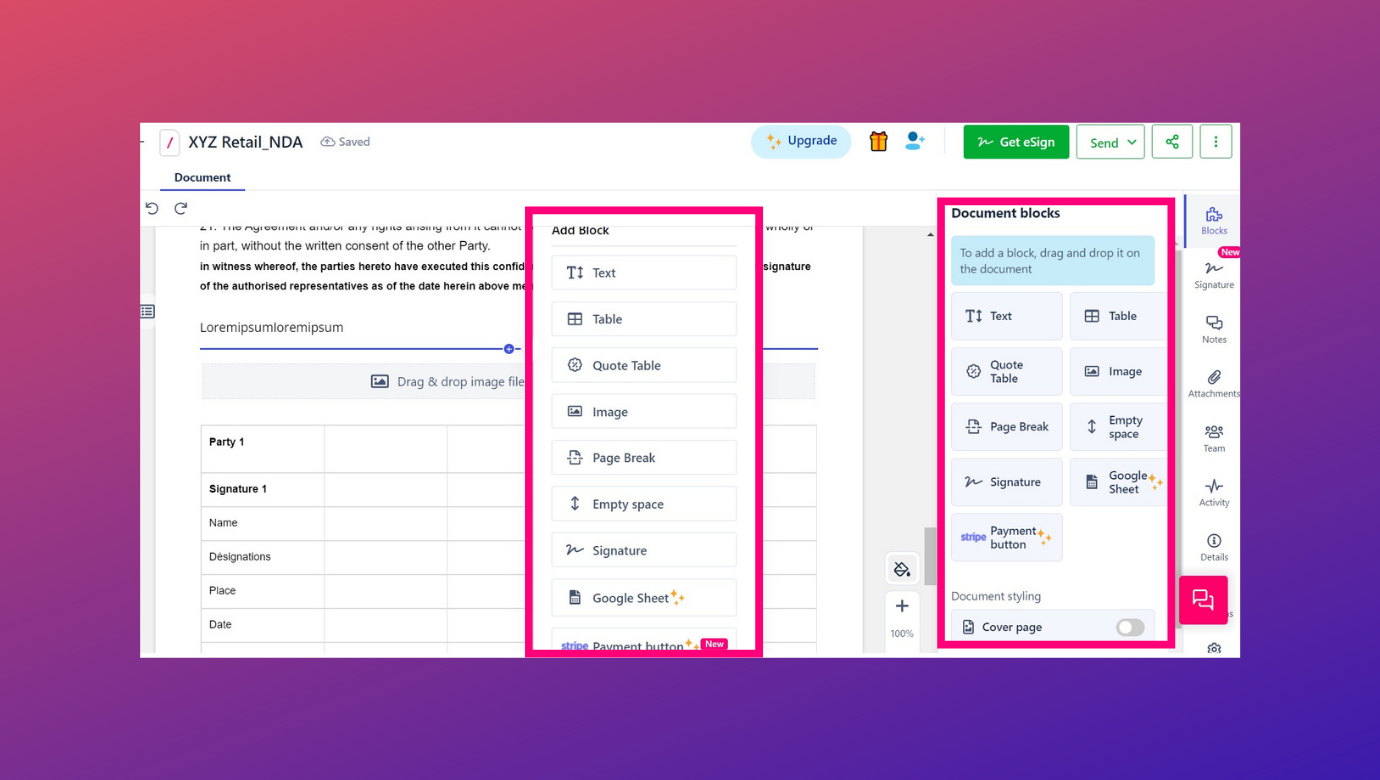 Greater flexibility to collaborate
With the 'notes' feature, Revv gives you the freedom to collaborate with your internal teams. Simply use '@ mentions' to tag as many individuals as you wish from a team or a single member of the team if you want feedback or supplementary input in your document. The tagged person will be notified via email.
Team members and those in the signature list who have access to the document or are tagged in it can attach files and, include private and public notes.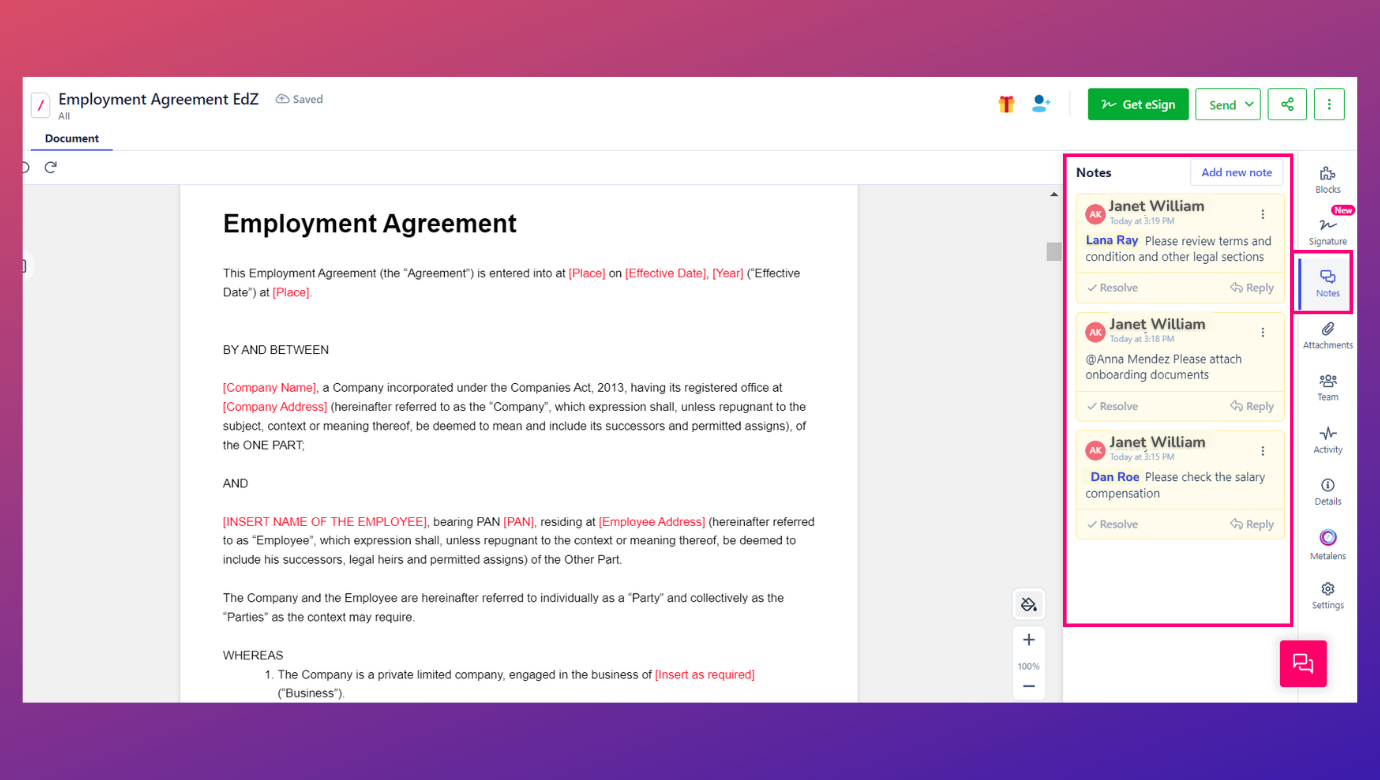 Want to get some important information from recipients in addition to eSignatures?

Revv lets you achieve this by placing form fields, the fillable placeholders, in your document.

All you need to do is turn your document into a form-based template.

1. Upload or drag and drop your template using the 'Create template' feature, or you can simply use an existing template from the template library
2. Add form fields wherever necessary in the document
3. Edit and add other details using the document editor
4. Add signature blocks
5. Publish as a form-based template
6. Create a document from the template, assign the form fields to recipients, and send the doc for eSignatures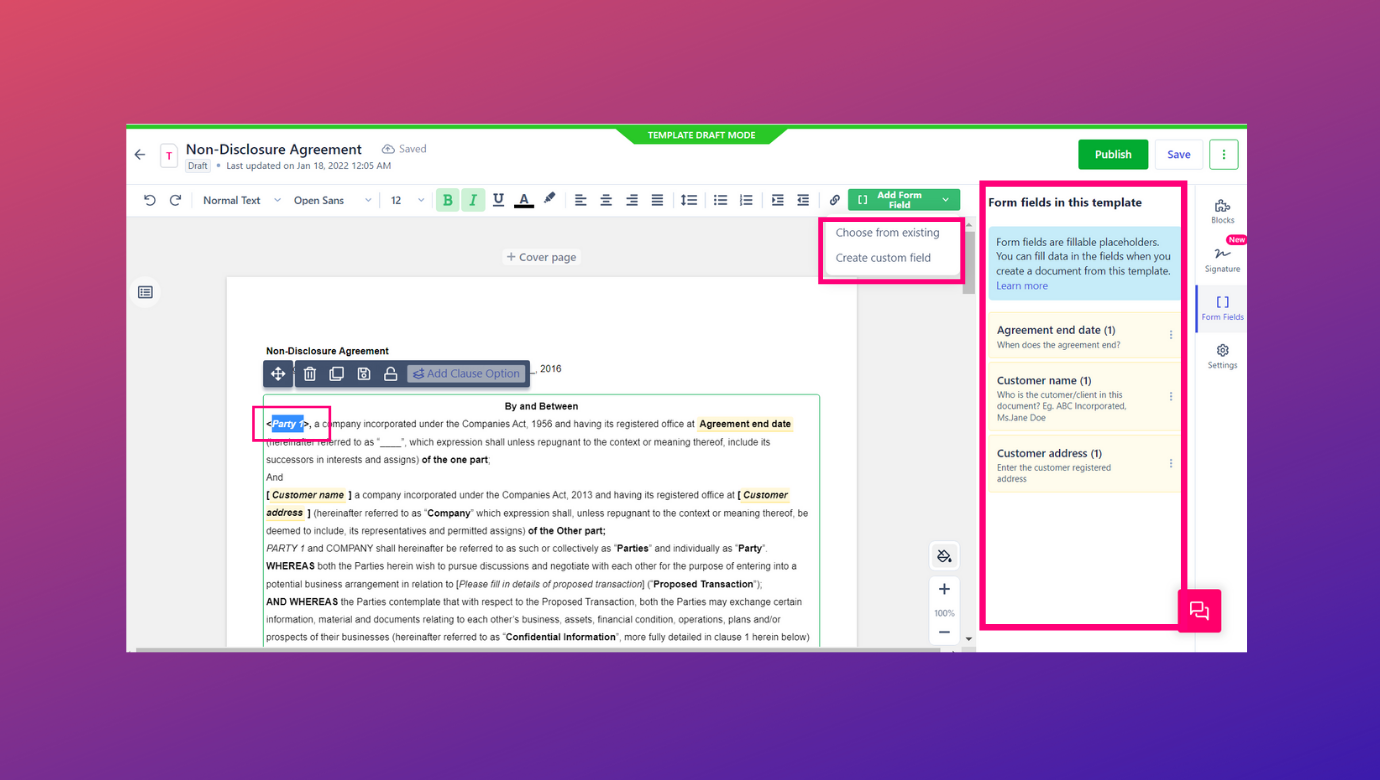 Diverse possibilities of electronic signatures
a. Different types of eSignatures
Once you have created your documents, added form fields, and reviewed them within internal teams, adding electronic signature boxes to your documents follows next. Revv provides bank-grade electronic signatures that are completely secure and compliant with global and local laws.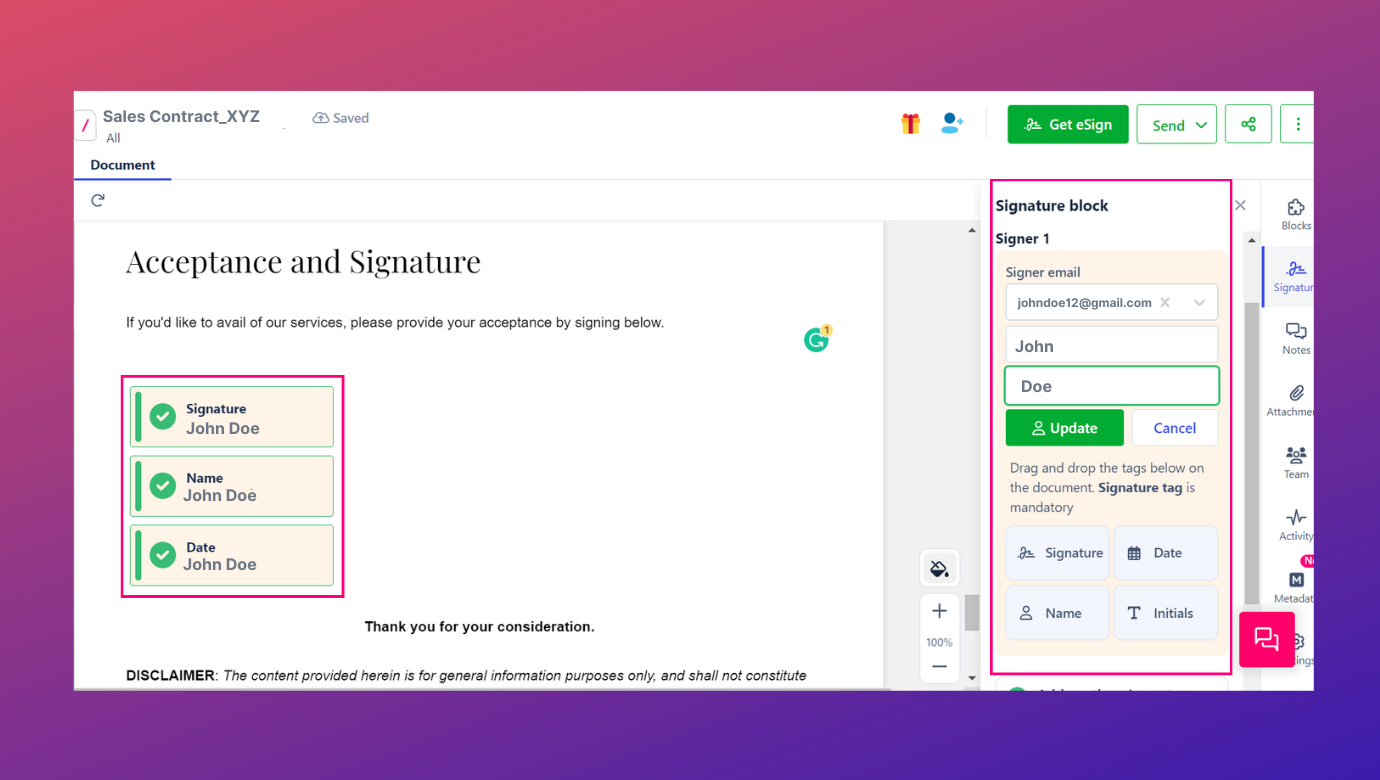 Signers can sign off documents from multiple eSigning options
When you send documents for eSign, the recipient instantly receives an auto-generated email notification asking them to take necessary action.
Recipients or signers can now have the flexibility to sign off documents faster with Revv's flexible eSigning options.
They can 'Draw signatures,' 'scan and upload signatures,' choose from 'pre-formatted text styles,' and even connect their crypto-wallet MetaMask to complete the signing process.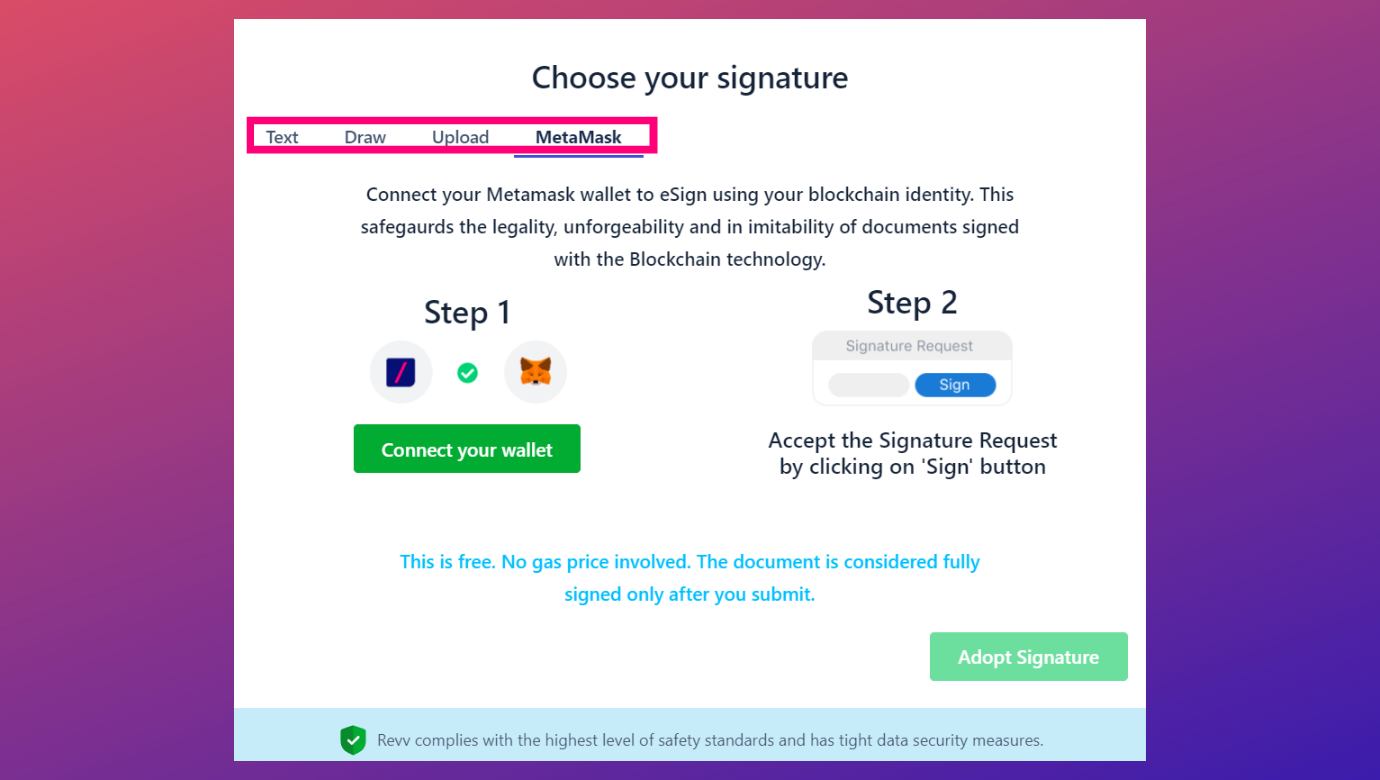 b. Alternate ways to get document approvals
Not all documents require electronic signatures. For example, offer acceptance letters, consent forms, negotiation agreements, etc., just need the recipient's approval. Revv's 'Send for Acceptance' feature allows you to send such documents to recipients who may simply accept or reject them.
Then there are cases where a sender might need approval from the manager or review from other departments within the organization. In such cases, the user can opt for the 'Check and send for internal approval' feature. With this feature, it is possible to set specific triggers and automate your document approval workflows.
In case the sender wants his/her document to be reviewed by someone outside the organization, he/she can choose the 'Send via email' option. The sender can also grant permission to view or edit the document.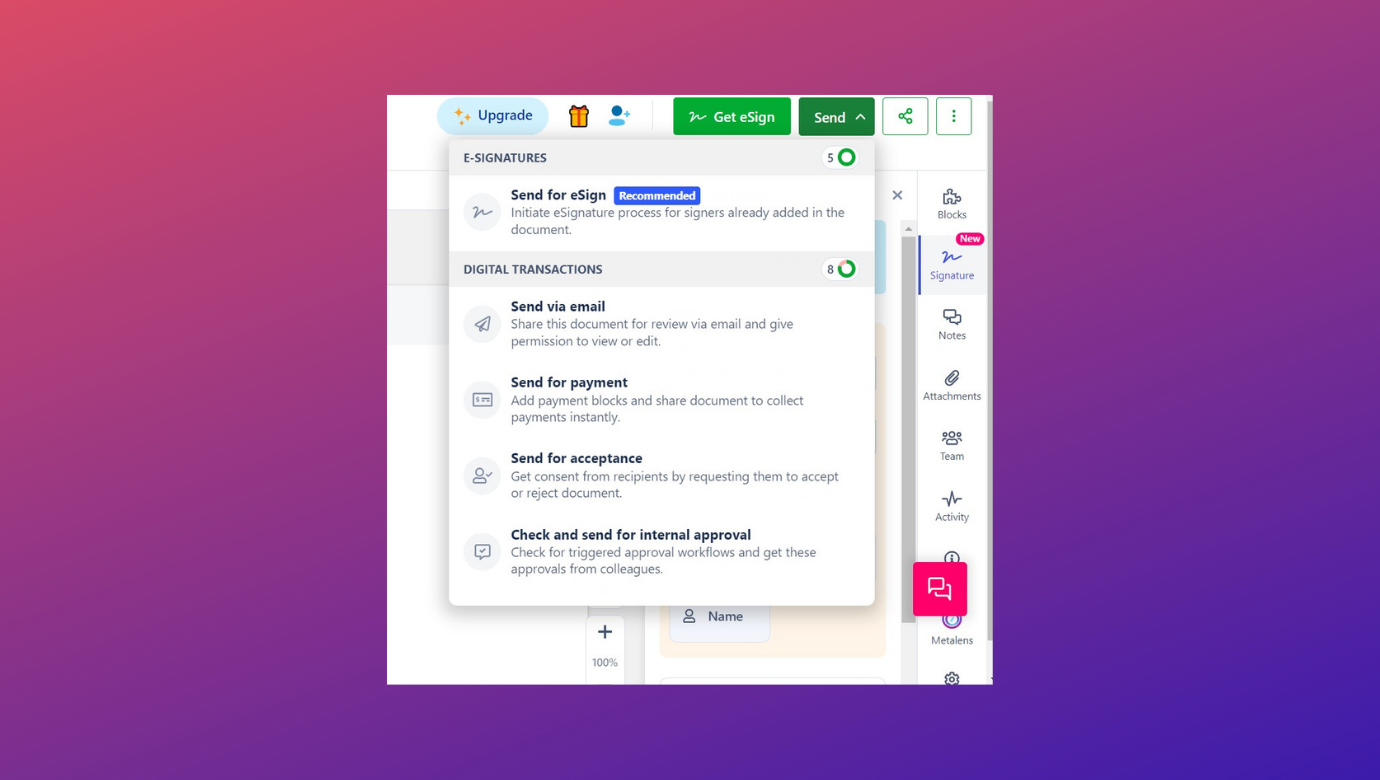 c. Instant notification and tracking
Whether you're sending a document for an electronic signature, internal approval, or acceptance, all actions will be immediately communicated to both the sender and recipients via Revv's autogenerated emails.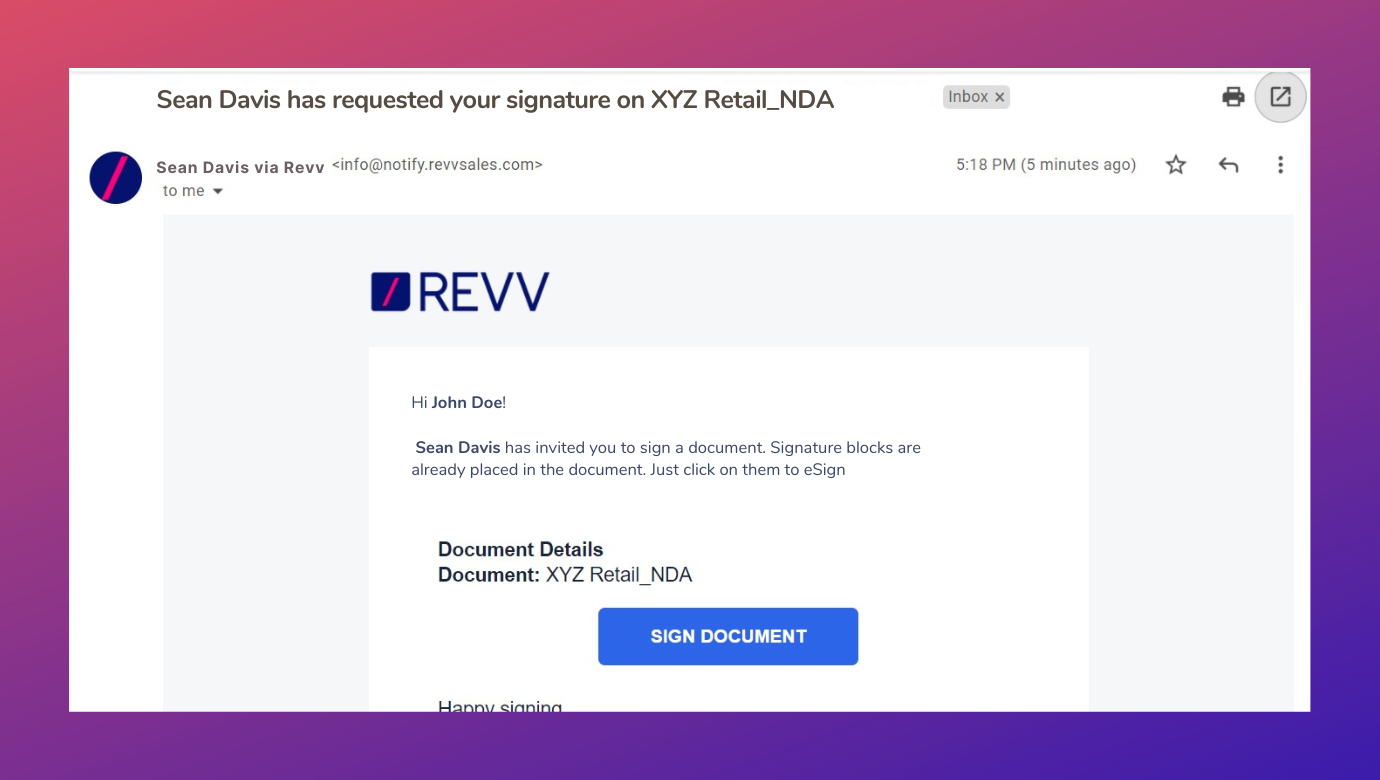 Once the recipient signs the document, both sender and receiver will further be notified that the eSignature process is complete.
In addition to email notifications, Revv's 'Activity' tab keeps track of all document actions. It records all activities associated with the document, right from creation to completion of eSignature. For instance, if a recipient has viewed a document and hasn't completed the eSign for a couple of days, the sender can easily analyze this blocker from the 'Activity' tab and reach out to the person and clarify recipient queries immediately.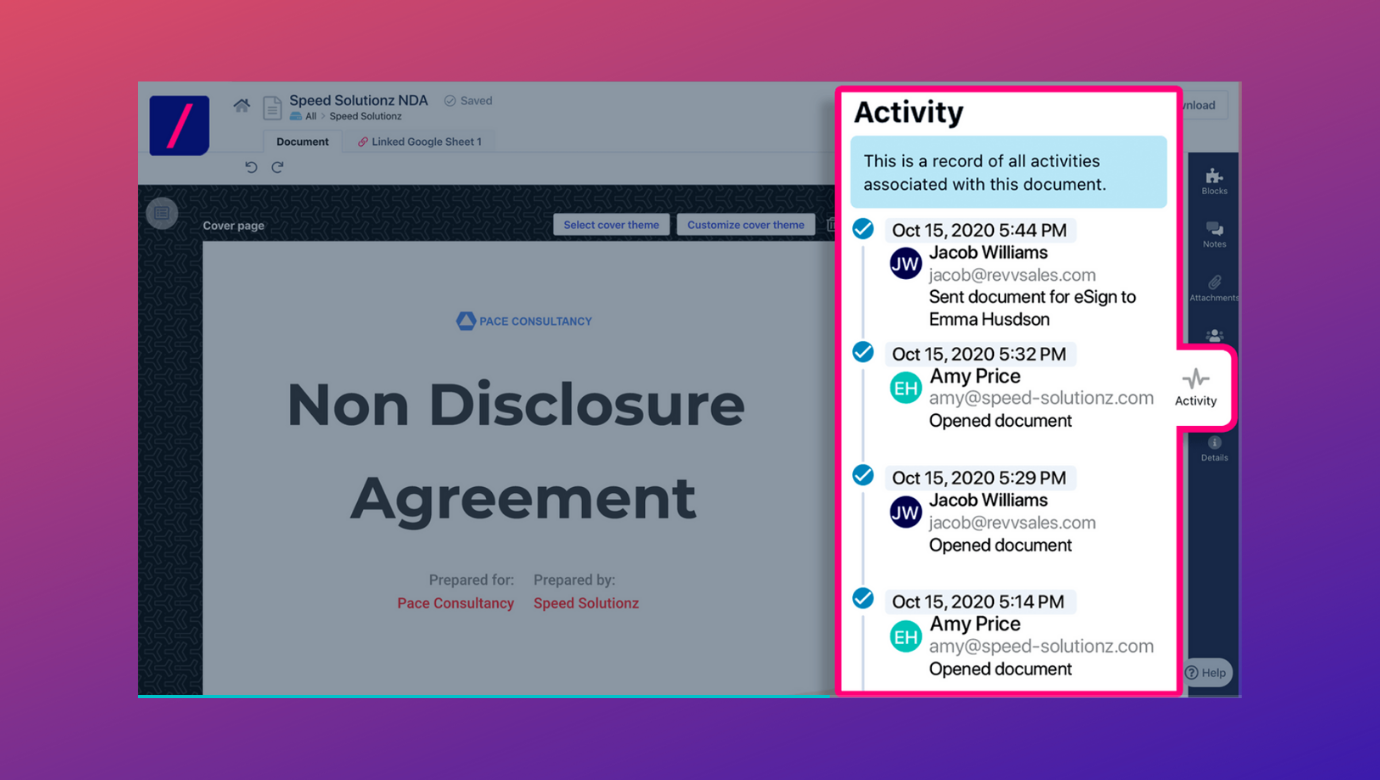 d. Ensure the right contracts reach the right recipient
Revv protects your contracts and prevents any unauthorized access through:
Email authentication: All documents are mandatorily sent to the recipient's email address for electronic signing in Revv.
SMS-OTP authentication: It is advised to add an extra layer of protection for your confidential documents. And with Revv, all you need to do is select the 'Authenticate with OTP through SMS' option and enter the phone number of the recipient when sending a document for eSign. An OTP is generated and sent to the recipient's mobile when they click the eSign link to validate their identity. To access the file and start signing, the recipient has to enter the OTP code.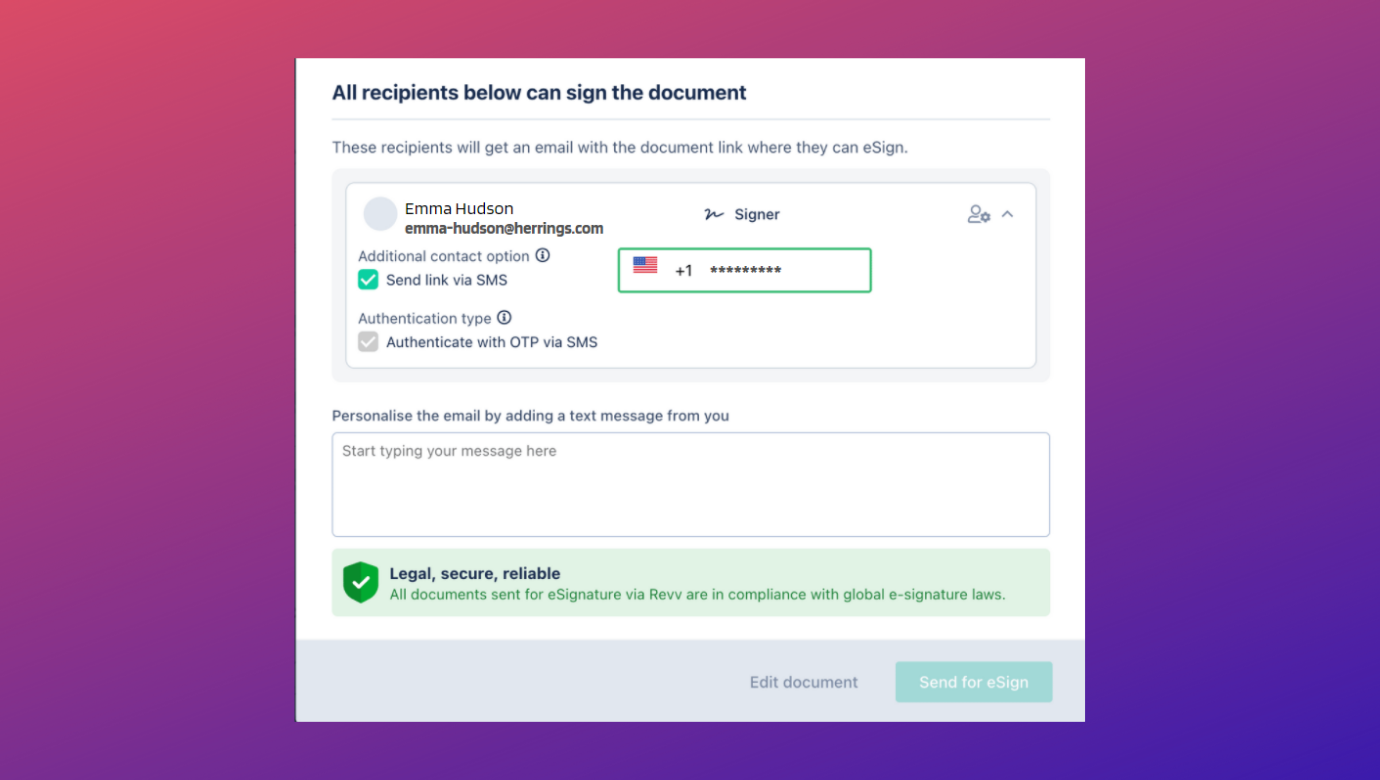 Video authentication: Video authentication option could be used for clickwrap signatures (the 'Send for acceptance' feature). Recipients can accept or reject the document by submitting a short video.
Secure legally binding electronic signatures
When it comes to online contract signing, the legality of a signature is one of the most crucial factors to consider. You don't want to sign a contract or document that can't be proven in court.
Revv complies with all the international and local laws such as the ESIGN Act, UETA, and the European Union's eIDAS Regulation.
Revv adheres to specific protocols mentioned under the ESIGN Act as follows:
Intent to sign
Consent to do business electronically
Association of signatures with the record
Record retention
Expressing intent to sign: By pressing the 'I agree' checkbox, Revv allows the signer to clearly express their approval and choose whether or not to affix their e-signature to the document. Revv also provides the signer the option to decline the eSignature request.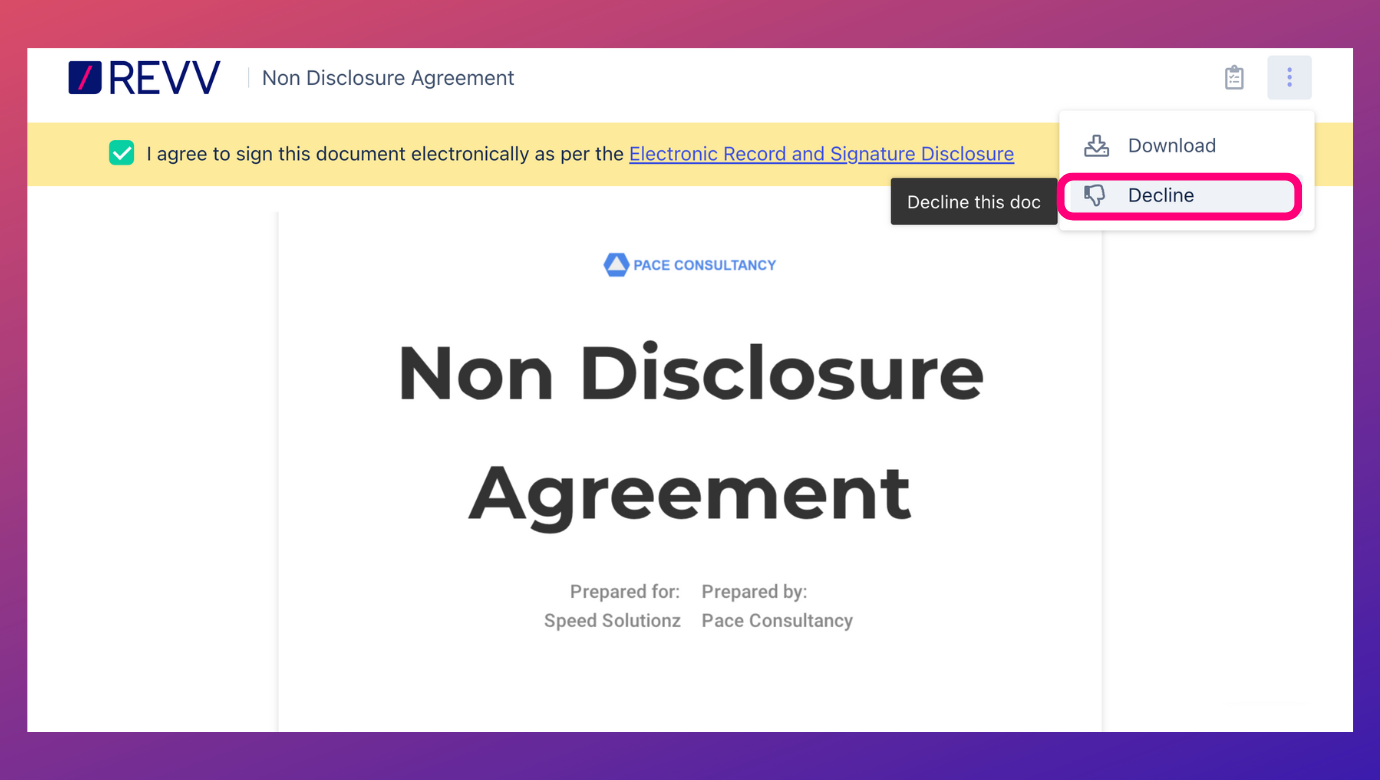 Consent to do business electronically: Revv requests that the signer express their clear consent by clicking on the 'Finish Signing' box and confirming to close the eSignature journey.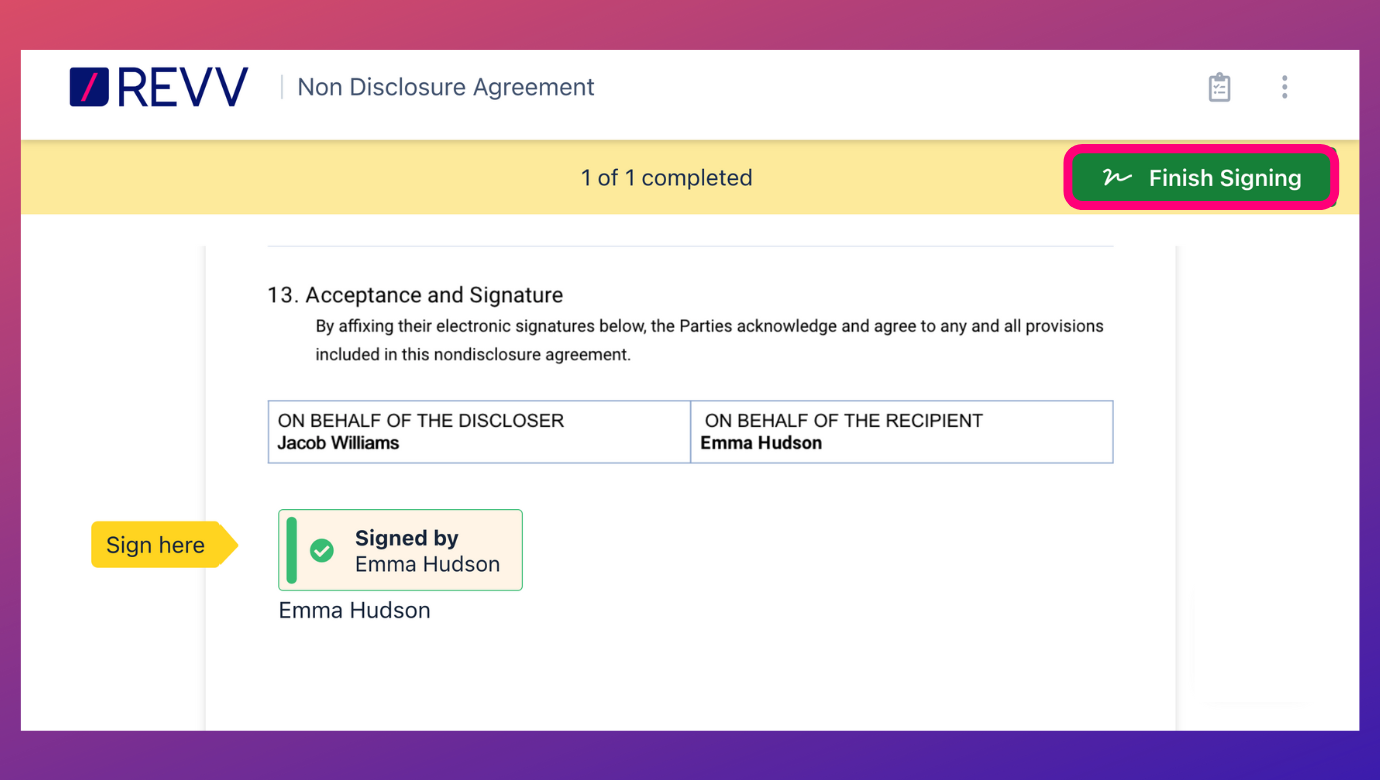 Association of signatures with the record: All the eSignatures collected in the Revv platform also record the time, date, and IP address associated with each eSignature. This ensures that all eSigns in the document are legitimate.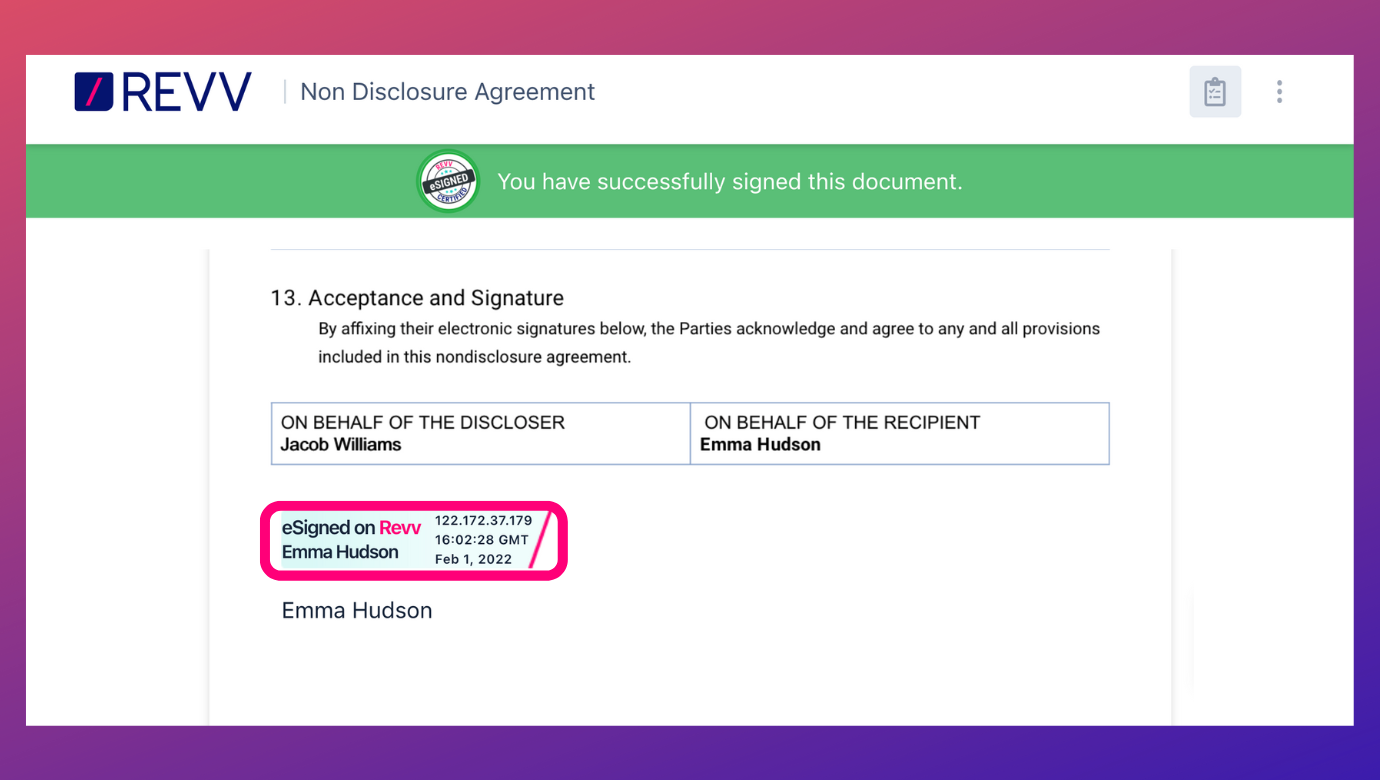 Record retention: Revv stores all electronically signed documents in the cloud using Amazon Web Services Server-Side Encryption (AWS SSE-S3). This not only ensures your documents and contracts are secure but it can be accessed from anywhere, anytime, and from any device.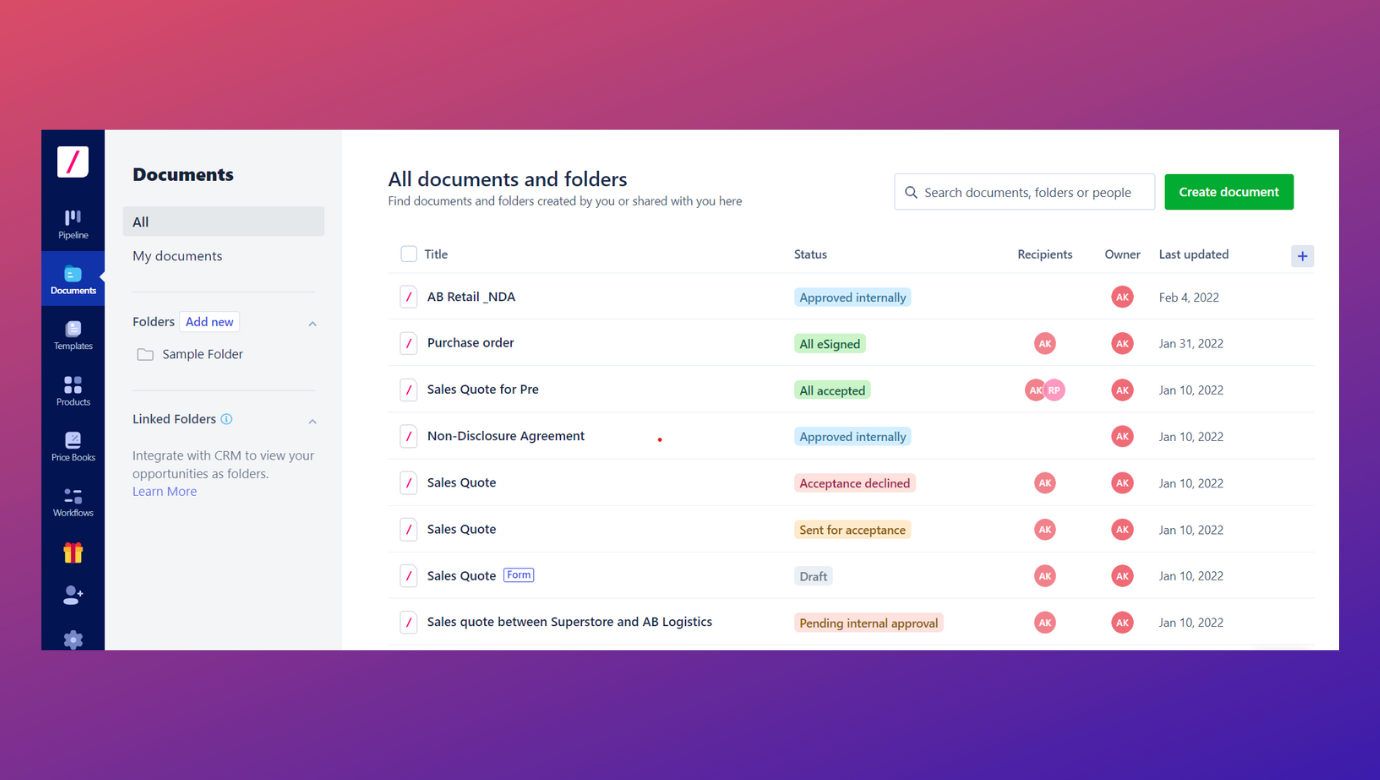 How recipients can retain records?

The recipients can download a copy of the signed document after the signatures are done. Revv also shares signed document links to the recipient's mailbox to view, access, or download the document anytime.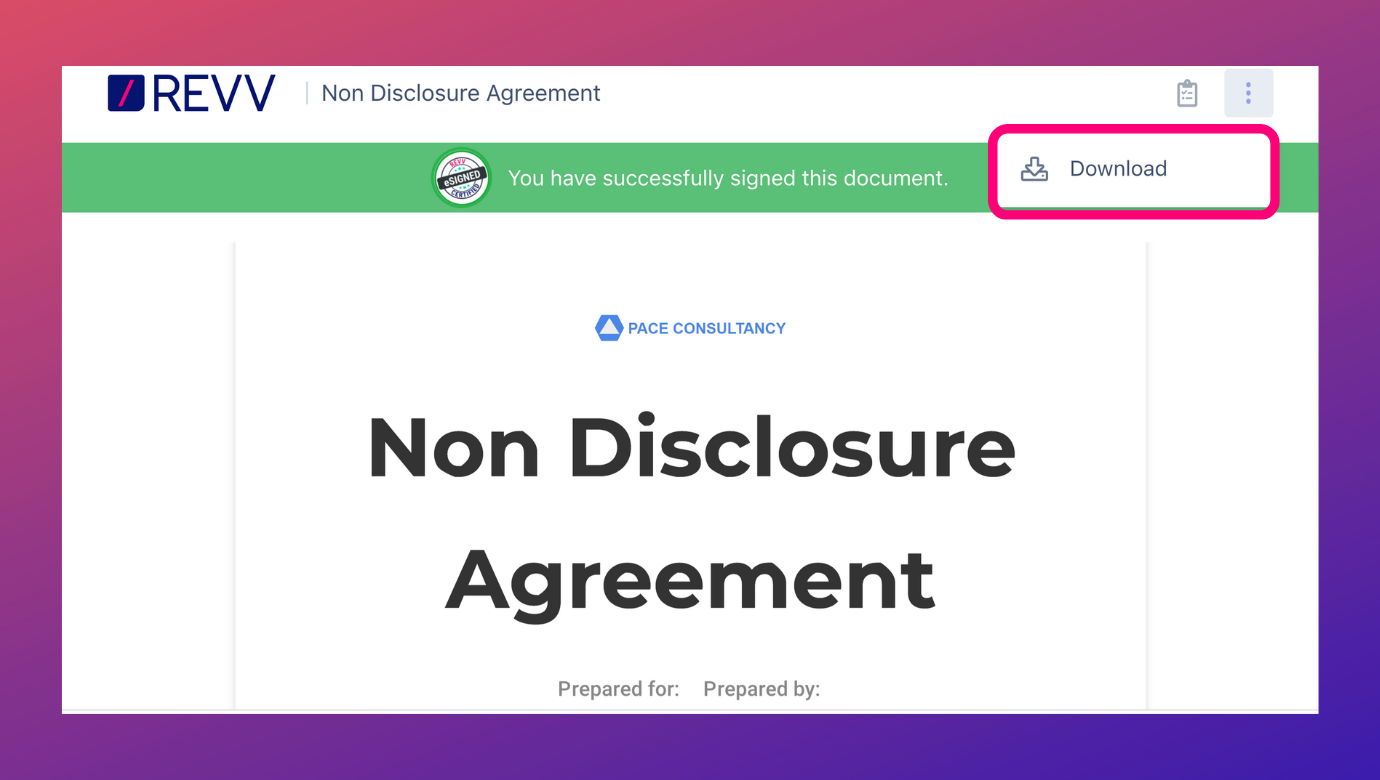 Legally admissible 'Evidence Summary' report
For each eSigned document, Revv compiles a detailed Evidence Summary. It keeps track of all document changes in a chronological fashion. The recipient's unique ID, the name of the document, the date & time it was created, viewed, and eSigned are all included in this audit trail, which can be utilized in any court of law. It also keeps track of which IP addresses were used to access the document.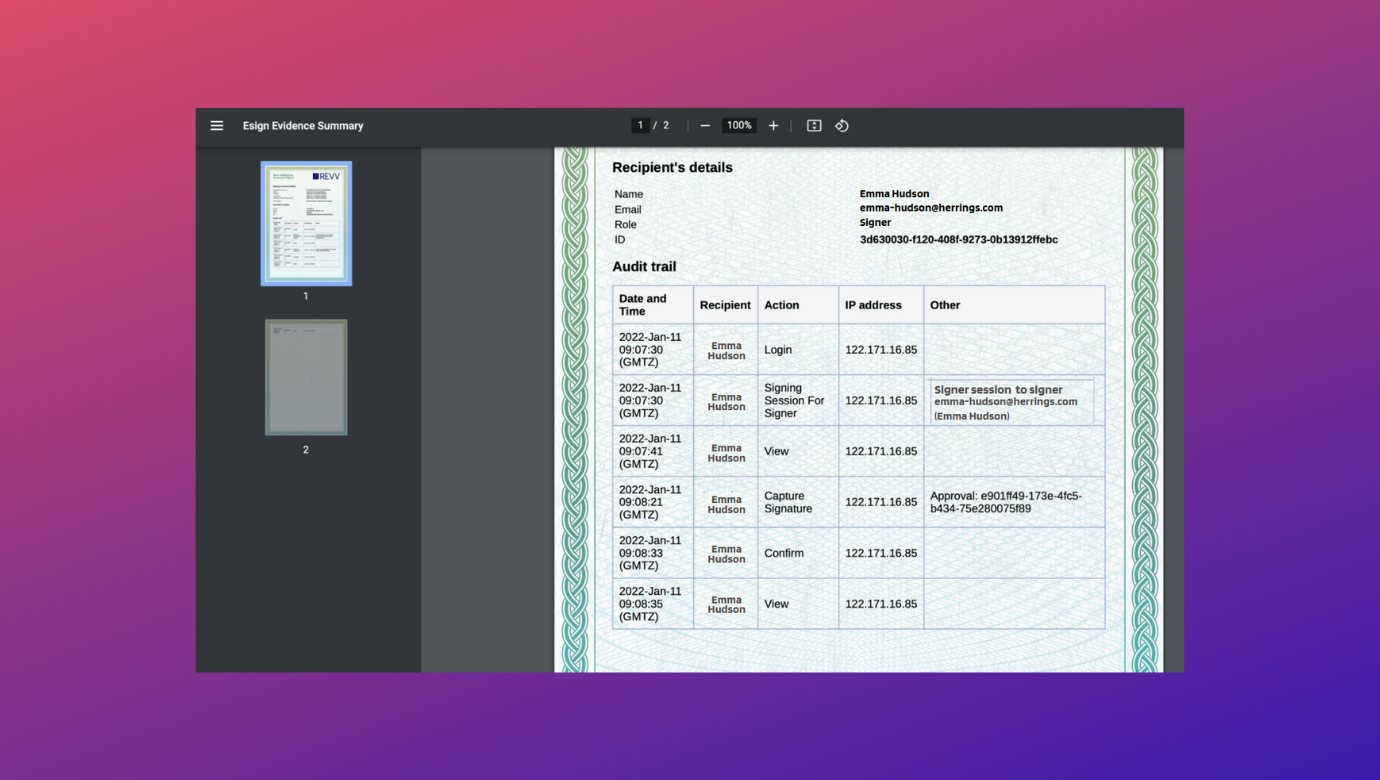 Power up online contract signing with automation capabilities of Revv
Though various eSignature solutions are being increasingly adopted, incomplete vision and poor integration have resulted in a mess of inefficient point solutions in the market. This is where Revv stands out.
Revv understands the importance of holistic automation and developing a sustainable management solution for your document workflow complexities. Revv has created the perfect automation framework that eliminates manual efforts from point A to point Z of document workflows, irrespective of industries/businesses/departments/teams.
Optimize each stage of your document process
With Revv's Pipeline feature, automate every step involved in your document creation process, from beginning to end. Pipeline helps to track your document's progress, create workflows, and set reminders. Using Pipeline's diverse functionalities, you can simply automate your organization's end-to-end business workflows and reduce unnecessary processes.
The Pipeline feature enables you to
Create multiple Pipelines and categorize documents as per your business requirements
The 'lane' feature in Pipeline tells which document has reached what stage. Whether it is in the 'draft,' 'internal review,' 'sent for eSign,' 'declined,' or 'all eSigned' stage. You can even custom-name your lanes for an easier understanding of your document journey.
These lanes could be made even more efficient by automating the workflow for each lane. Users can simply assign different lane jobs to be done (Lane JTBD).
You can do away with manual follow-ups since the Pipeline feature enables you to set automated reminders too.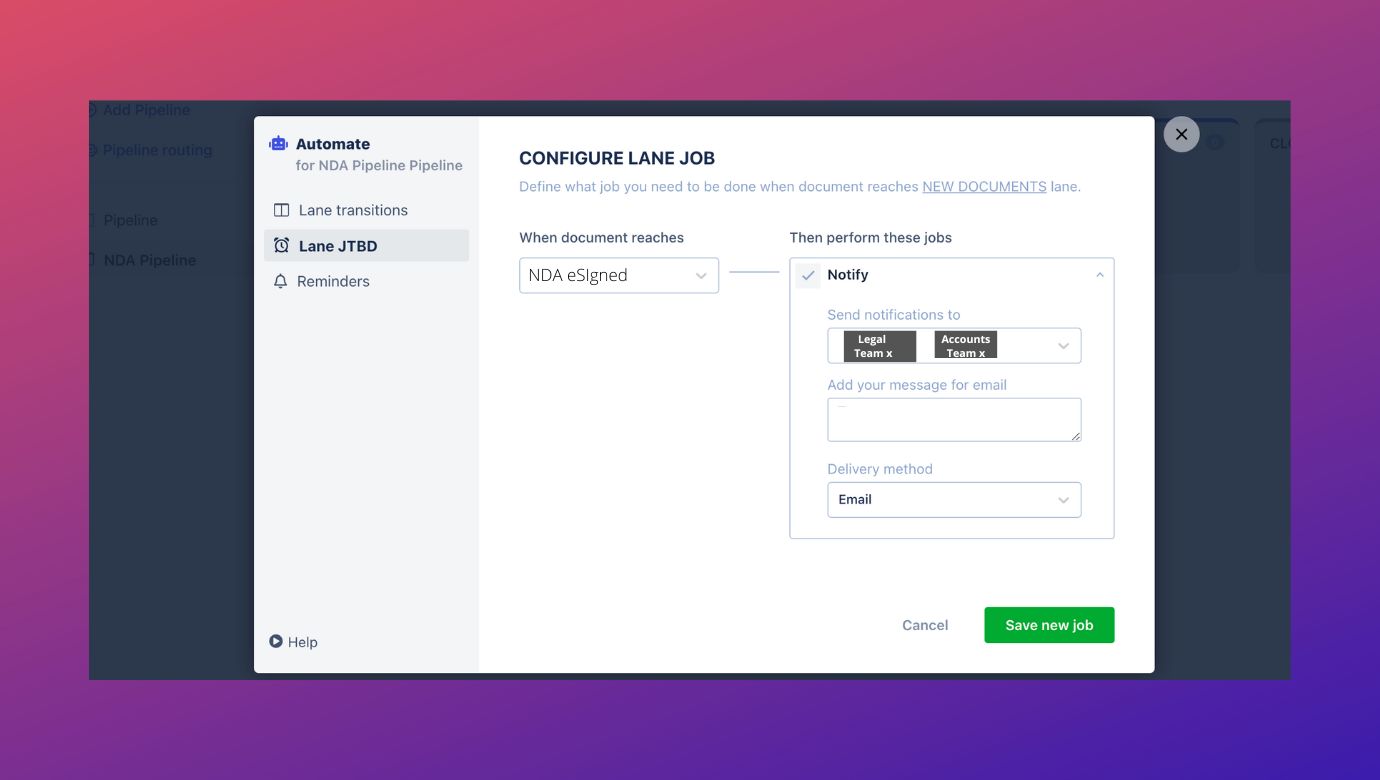 Seamless integration possibilities
Automation will never perform to its full potential unless and until data is passed seamlessly across your company's systems. That's where Revv's limitless integration capabilities come into play. Revv can be easily integrated with your existing business systems, which makes it possible to acquire correct data from your existing business software.
Revv can be integrated with:
CRMs such as Salesforce, HubSpot, Zoho, etc.
Storage platforms like Box, Google Drive, Dropbox, etc.
Communication and collaboration tools such as Slack and Google chat
Payment apps such as Stripe and Chargebee
Google Sheets and Excel sheets to import data
And many more.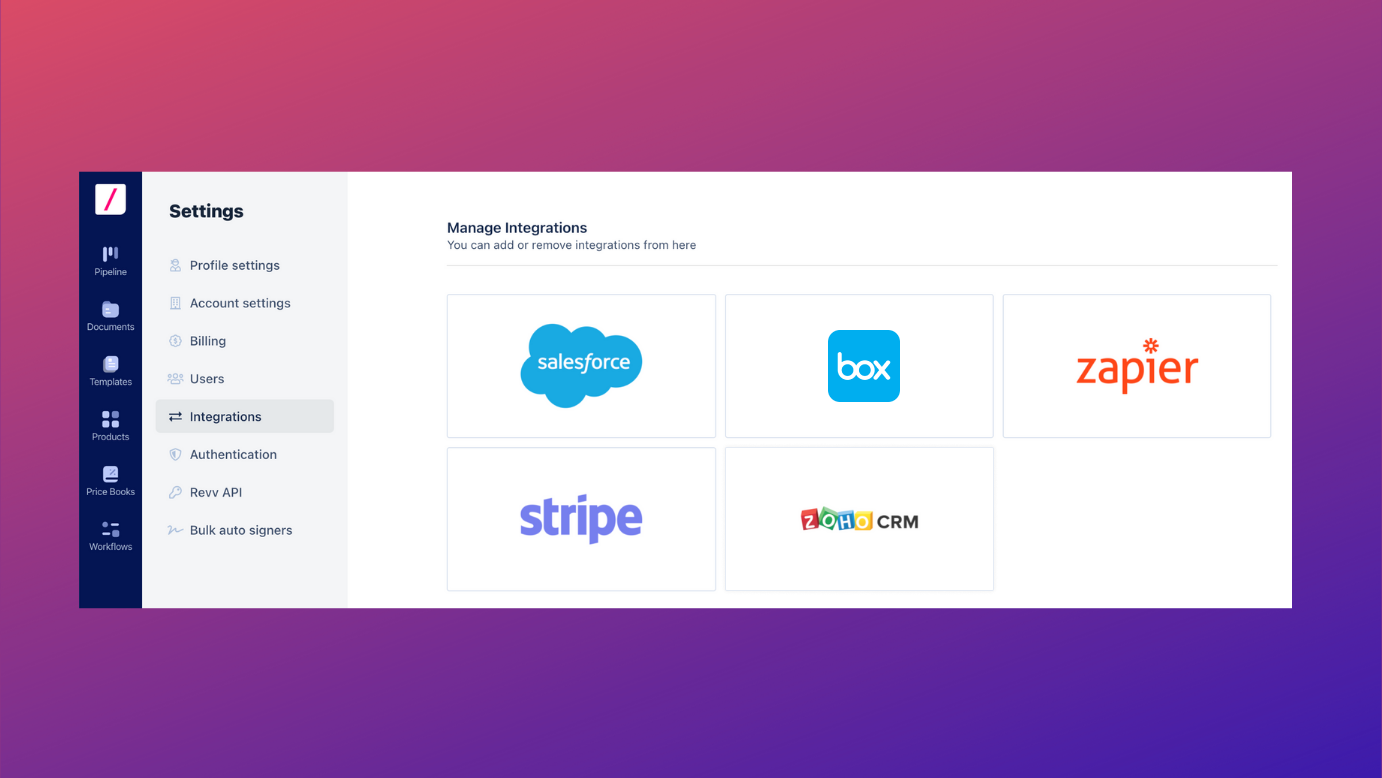 Map complex data with Data Studio

For any integration to work flawlessly it is important to have accurate data across your business platforms. Revv makes it possible with its Data Studio feature. You can map data between your company platform and Revv within a few clicks.
With Data Studio you can:
– Map data from multiple data sources/business platforms to the respective form fields in your document
– Get accurate data irrespective of the size or complexity
– Increase productivity and efficiency of the workforce as they are freed from manual data entry processes
– Effortlessly manage document workflows and reduce turnaround time to close your deals
– Create documents in bulk and send them for eSignature

Another key highlight of the feature is that it doesn't require scripts, codes, or APIs to put all these functionalities into action.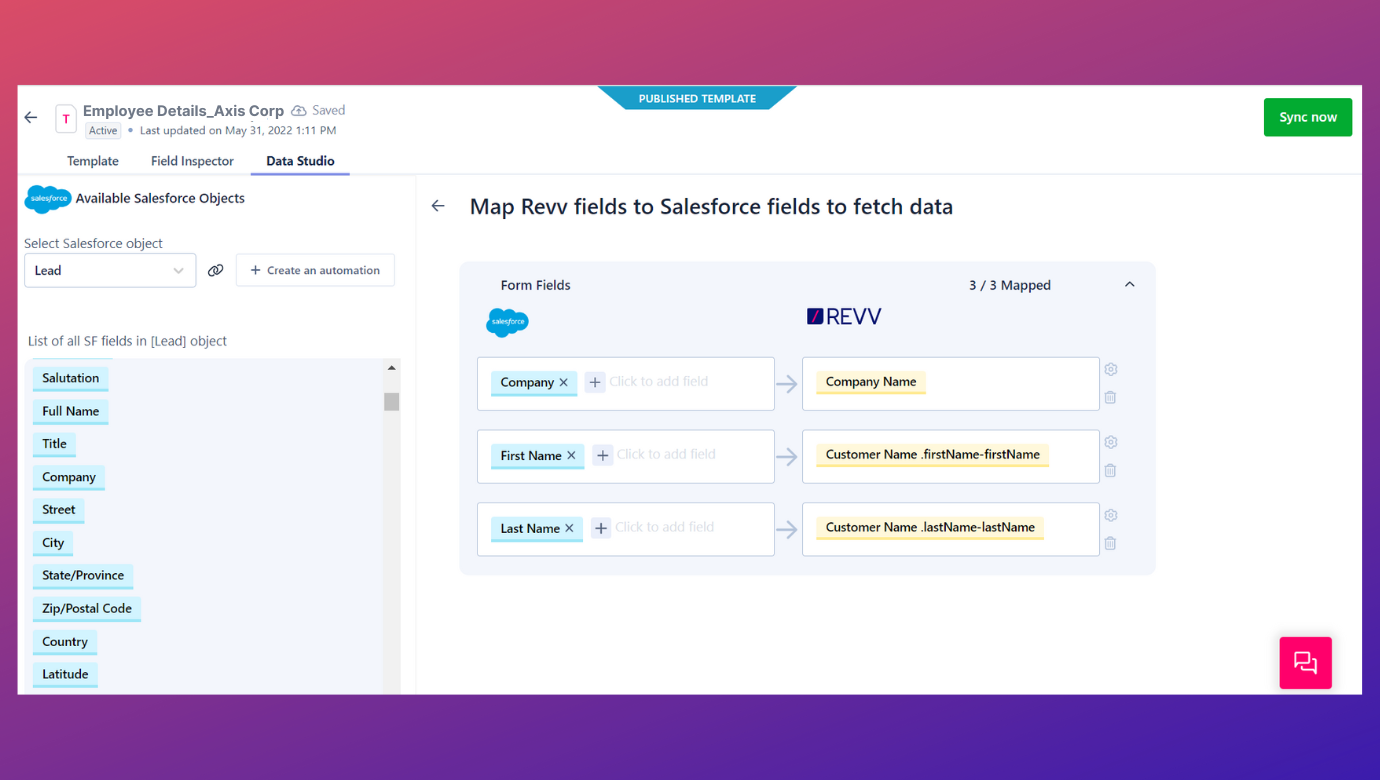 You have integrated your business apps with Revv, mapped your data, and created and sent your documents for eSign. Even when your eSignatures are done, your workflows don't stop. The closure of one document triggers the workflow for further business processes in other apps.
How would you do that?
Revv provides a great scope to integrate your apps so that the continuation of business operations happens post signature of your document too.
Revv + Box provides you with the ideal use case for handling this sort of scenario. Once you eSign a document you can trigger workflows from Box based on the actions taken on Revv. Let's explore.
Integration of Revv with Box
When Revv is integrated with Box, you can automate workflows even when you are away from your business systems.
How?
The document metadata & the metadata generated from Revv's form fields can be used as a trigger to launch new workflows from Box according to your business requirement
You can choose what all information should be stored in your Box folder. You can select which data you want to send to Box such as 'Document file,' 'Evidence Summary,' 'Document Attachments,' 'Document form fields,' and 'quote line items.'
Advantages of Revv and Box integration
You can automate workflows associated with business operations like periodic renewal processes such as rent renewals, contract renewals, payment, invoice-related processes, etc.
No more delays and missing out on essential tasks
No more manual follow-ups or reminders to be sent for repetitive processes
Details of each document can be accessed within Box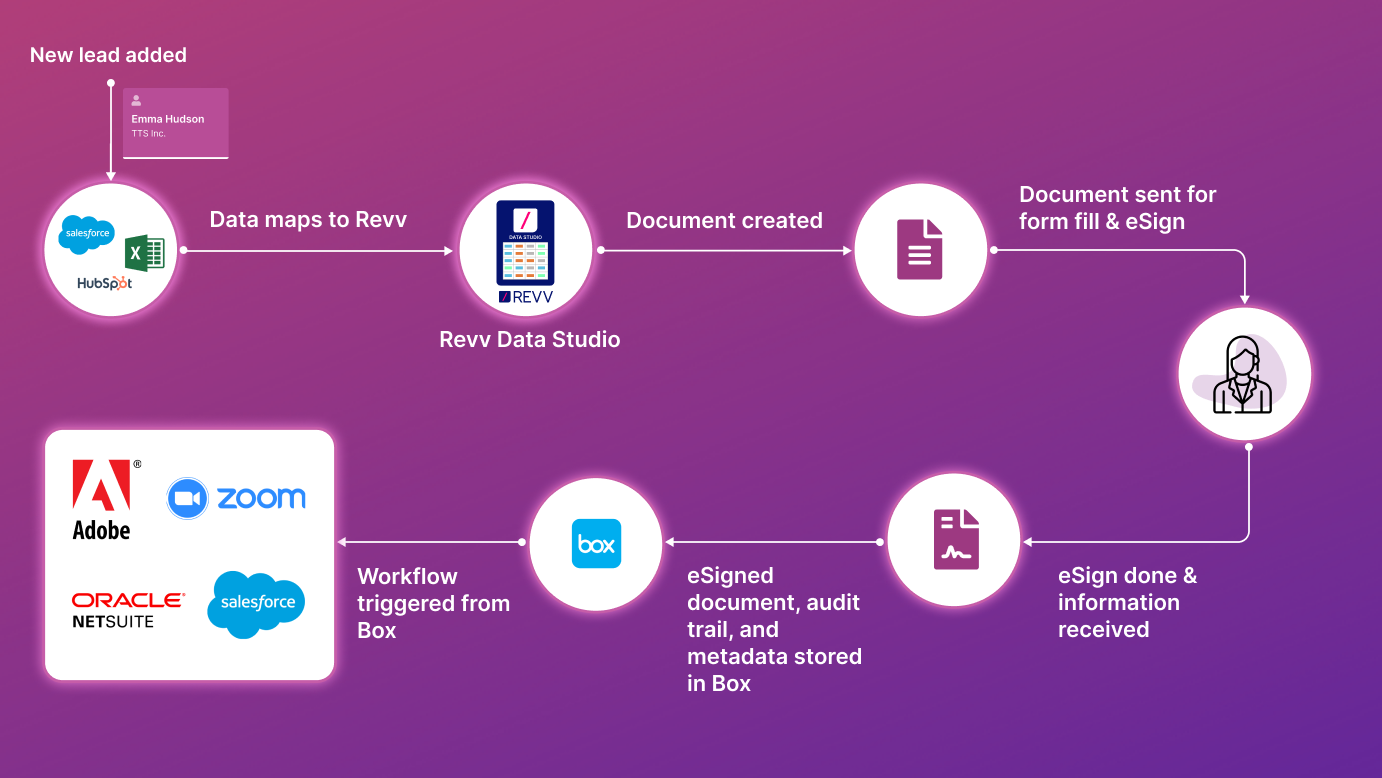 The takeaway
While choosing the right contract signing software that is free is great, choosing one which offers automation and boosts productivity is important. A well-chosen software packet can do so much more than just sign contracts. A solution like Revv can take inefficiency and complexity out of the equation by providing end-to-end automation capabilities at a very affordable package.
The right eSignature software can help you realize the dream of a paperless office.