Looking for ways to save time, money, and manpower is nothing new. What's new and challenging is enhancing your clients' user experience while augmenting the engagement and productivity of your workforce in an evolving hybrid work model. As virtual meetings take precedence over face-to-face encounters, obtaining approvals digitally instead of in ink is part of the new normal.
The global pandemic catalyzed the growing e-commerce fire, setting it absolutely ablaze. This also means a growing need for operational efficiency and process improvement.
One of the benefits of e-commerce is the adoption and use of electronic signatures and digital signatures. Using digital signatures helps you save time, money, and manpower. It's the most efficient way to conduct business, sign documents, finalize agreements, and close deals.
Digital signatures are:
Completely contactless – The parties involved, wherever they are located, can sign from their own computers or mobile devices. This can either be through a touchscreen with a stylus, your cursor, or even an image of your signature that you upload. 
Safe – Digital signatures use encryption features to ensure the safety and integrity of the document being signed, and the signatures being obtained.
Time-saving and efficient – Something that took days via mail or hours in person can now be handled in minutes via email through an electronic document. Employees and contract holders can use it to easily sign PDF documents (among other formats) and become part of the workflow that's much faster.
If you're ready to begin using electronic and digital signatures, we can get you a head start. We'll discuss what digital signatures actually are, how they differ from electronic signatures, what's needed to create them, and how Revv can help you with document approval and e-signature collection.
What is a Digital Signature?
A digital signature, like an electronic signature, is a method of obtaining a signature on a document without pen and paper. It's distinguished by how it determines the signer's identity. 
In other words, a digital signature differs from an electronic signature in terms of its authentication process. 
Here's a brief description of how both electronic signatures and digital signatures work to authenticate and secure signatures.
Electronic Signatures
An electronic signature is a broad term used to describe different methods of capturing a virtual signature for document signing.
Most electronic signatures will identify a person or company using a series of identifiers that are tied to the documents being executed. These identifiers are usually in the form of IP hashing. 
IP hashing is a way of identifying and coding a particular IP address for privacy. A coding system is used to turn a user's IP address into a series of markings or "hashes" that identify the user and keep the address private. 
This type of identification is easy, effective, safe, and can be integrated into documents easily, without additional work or cost.
Digital Signatures
Digital signatures are a type of electronic signature that requires a bit more in terms of signature software and pricing for both signing parties. The digital signature securely links a signer to a document in a recorded transaction in the form of a coded message. In order to offer the highest levels of security, digital signatures use a common, agreed format called Public Key Infrastructure (PKI).
PKI demands that the service provider create a private and public key to facilitate the signing process. Signers will have both a public key and a private key. For instance, a document is created by the creator and given to the recipient after being signed with a private key. It is also encrypted before being sent. The recipient will then open the document using the public key provided by the sender and sign it using his/her private key. It is then re-encrypted and sent back. These "keys" must be purchased as a digital certificate of security from a specific provider. 
Additionally, as digital signatures are tied to the issuer of the public-private keys, their usage is limited. This is especially true when it comes to cross-border transactions where electronic signatures have broader applicability.
Did you know?

What is a clickwrap electronic signature?

Clickwrap electronic signatures are basically the equivalent of an "accept/reject" agreement. The user marks their agreement by checking a box or clicking a button. For this to be considered valid, it must be visible and understandable to readers, and require active consent from users.  
You may be familiar with this type of signature from the time you've visited a website and were asked to acknowledge the website's cookies policy. A signature like this is enforceable, and as such, it remains best practice to read through the full contract before you agree to anything.
Do I need a special program to create a Digital Signature?
To create a digital signature, you will need specialized software that generates specific encryption requirements needed for PKI. Additionally, you will need a certificate of security or a certificate of authority. These certificates must be purchased from third-party distributors.
Creating a digital signature that is legally binding and valid requires conformity to the E-Sign Act. The main requirements for obtaining a virtual signature per the act are as follows:
Consent – The signatory must consent to a digital signature. They must be made aware they will not be signing in pen as a handwritten signature, and they must know precisely what their consent includes (if it includes other documents or extends to other agreements, they must be made aware).
Additionally, the consent must include instructions on how the signor can withdraw their consent and an expiration date of consent withdrawal if there is one. 
Software and hardware requirements – Prior to obtaining a signer's consent, the company requesting the digital signature must disclose (to the signer) the specific hardware and software requirements that will be needed to properly execute the signature. They should know that a digital signature is being requested, and a certificate of security will be required to sign the document. 
Record retention – The person or company requesting the digital signature must comply with state and federal laws governing record retention and agree to retain the digitally signed records in accordance with the law.
Because digital signatures are less cost-effective and require more legwork than other methods of electronic signatures, it is often preferable for a company or individual to use a different electronic signature method. 
How to create an Electronic Signature with Revv?
Creating valid, effective, and easy-to-understand electronic signatures is simple with Revv. The first step is to determine your need for creating documents ready to be electronically approved or signed.
Some documents do not actually need an electronic signature. Since electronic signatures cost a little extra, it's important to determine if the document you're sending actually needs to be signed, approved, or simply accepted. For instance, your consent forms, job offer letters, acknowledgment forms, etc. only need approval and acceptance.
With Revv, you can explore different approval features like:
Send for acceptance: For instance, your negotiation letter or consent papers, or offer acceptance letters, merely require a go-ahead from the recipient. For such documents, use the Send for Acceptance feature where a recipient can simply accept or reject the document. This feature is also essentially the equivalent of a clickwrap signature.   
Check and send for internal approval: Before sending documents for eSign, if you want them to be reviewed or approved internally by higher management or peers, you can do that with this feature. Set precise triggers and automate your document approval workflows with this option. 
Send by email: You can choose this feature if you want feedback on your document from a third party or from someone outside the company. For example, you have created a Vendor agreement, and before sending them for eSign, you need to check upon certain terms and conditions with the vendor. In such a case, you can share this document for the vendor's review via email and give permission to view or edit it.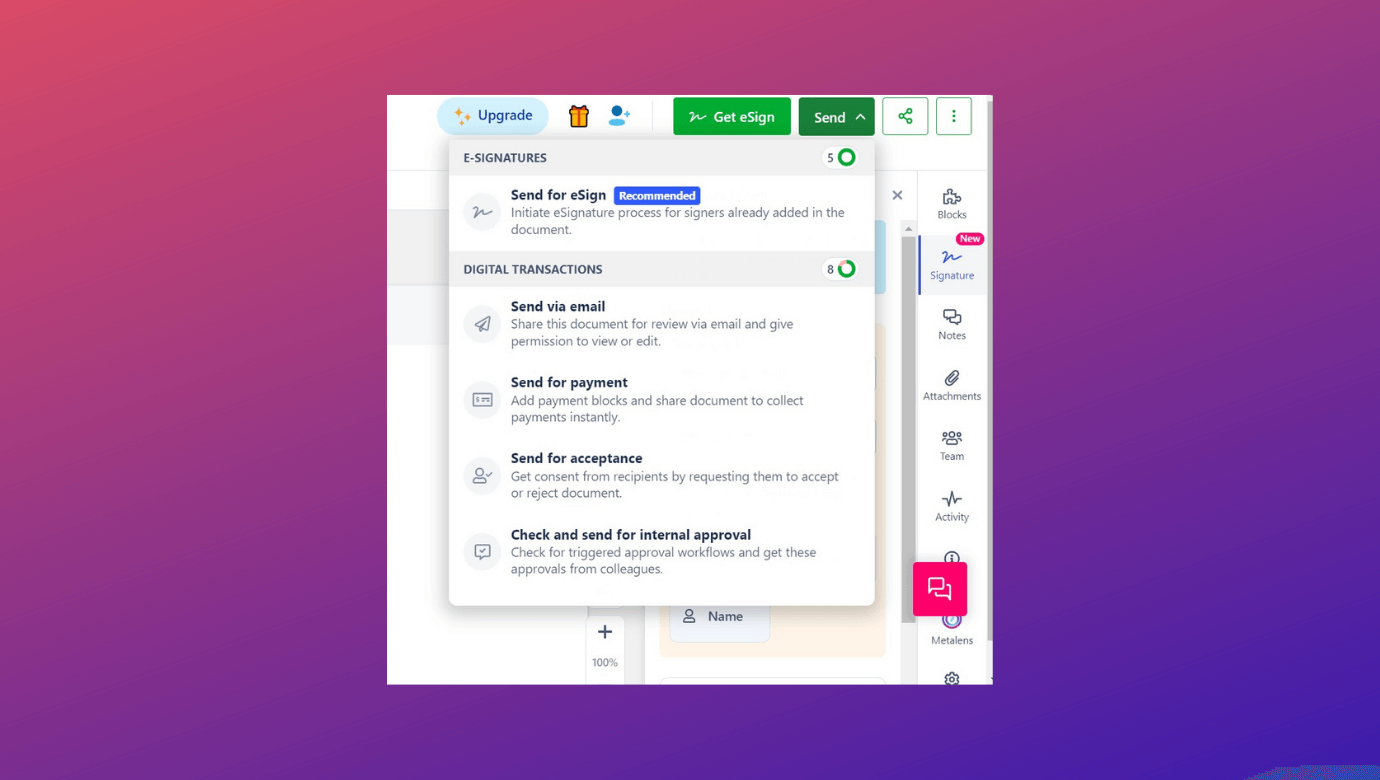 Examples of documents that may not need signatures include quotes, proposals, reimbursement forms, official notices, leave approvals, and more. On the other hand, all contracts and agreements are going to require a signature.
If an electronic signature is definitely required, Revv can help you with that too. Creating an electronic signature with Revv is easy and can be done quickly, saving you time and requiring less from your recipient in terms of software and cost. If you're confused, you can also request a demo or a tutorial to ensure you are completely in control. Here's how it works.
Log into your Revv account. 
Create your document: With the help of our vast template library, you can create letters, proposals, agreements, quotes, contracts, and more. Our templates are professional, easy-to-use, and legally vetted.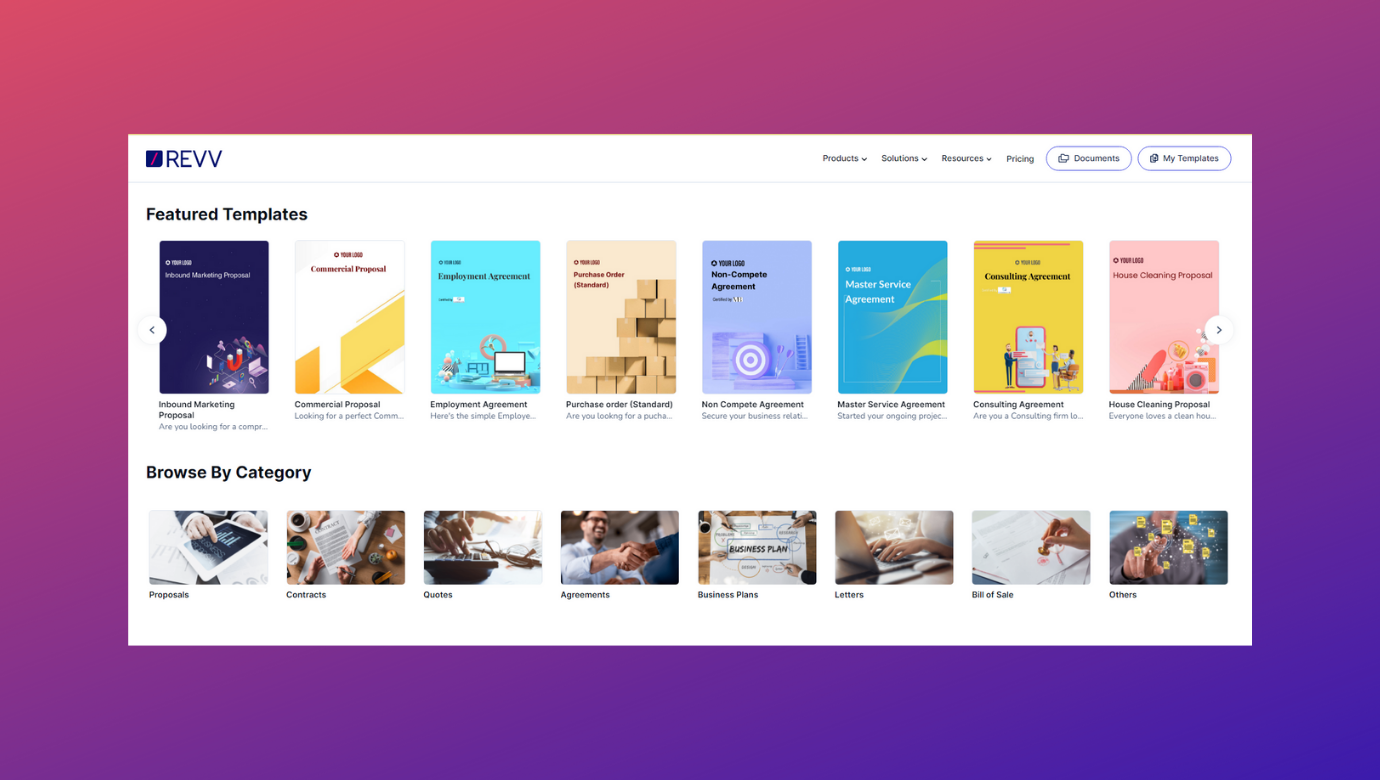 In case you already have templatized documents, you just need to upload them in Word or PDF format to the Revv platform. Using our feature-rich document editor, you can further edit them to suit your needs.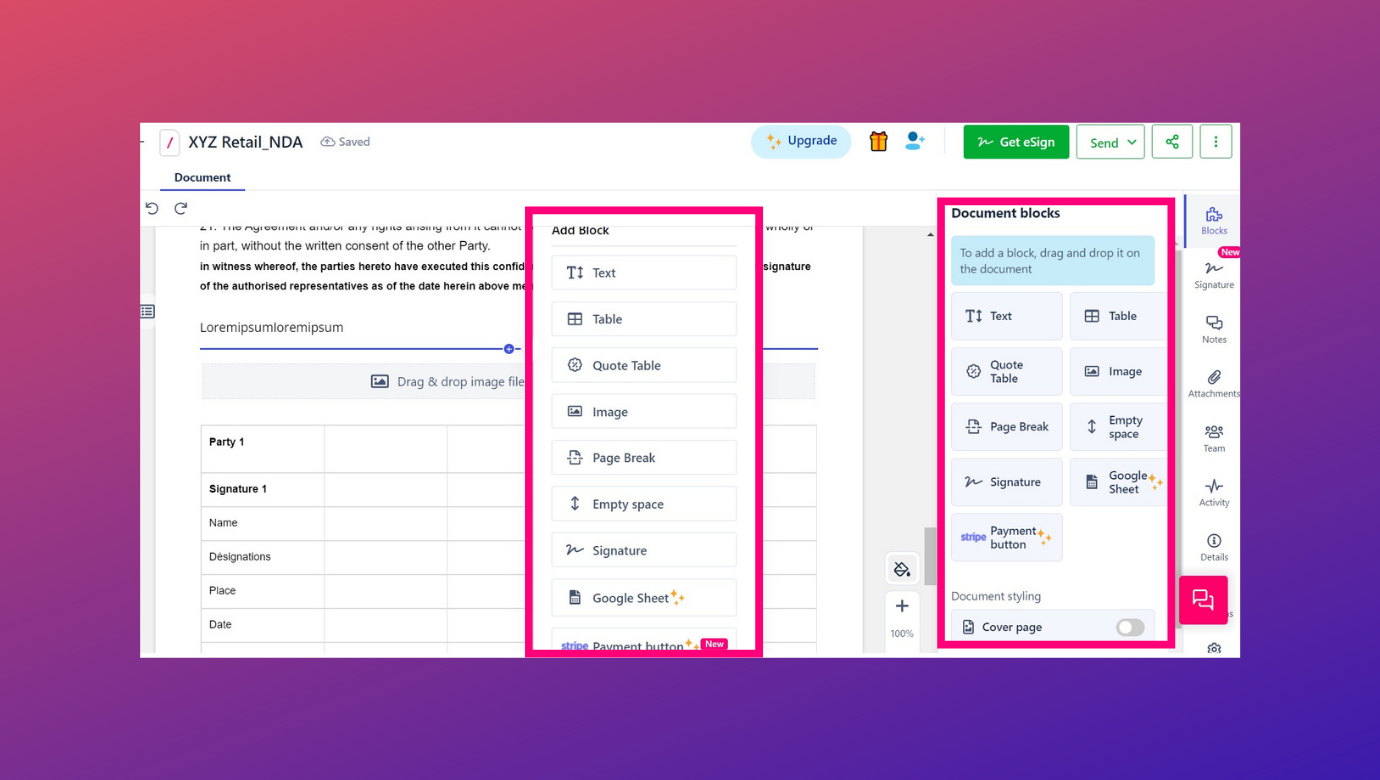 Once your document has been created, finalized, and approved by all necessary internal parties, you're ready to add your signature line. 
Click on the eSign tab and send it to the recipient for their signature. You can add as many signers as you want in the same document.
Bonus: When you send documents for eSign, the recipient instantly receives an auto-generated email notification asking them to take necessary action.
Recipients or signers can choose to sign off documents faster with Revv's flexible eSigning options. They can draw signatures, scan and upload signatures, choose from pre-formatted text styles, and even connect their crypto-wallet MetaMask to complete the signing process.
Yes, it really is that simple. You don't have to wonder about when your recipient will receive the document, review it, and/or sign it. Revv triggers email alerts so no matter where your document is or who's reviewing and signing it, you'll always be in the loop. For an added layer of protection, users can also enable SMS-OTP authentication of the recipient.
Then what are you waiting for?
Get up to speed with Revv.
Sources: