Are your legal agreements, sales contracts, invoices, and other important documents signed and stored safely in desktops or file cabinets of your office premises? Are they safe enough? What if an act of nature sees your office space amidst a fire? Or an unforeseen circumstance where the storage facility gets ruined due to a leaky pipe? Such harrowing experiences can cost a fortune and endless hassles for your people and stakeholders if you want to retrieve the files from scratch.
But, that's not the only reason why you should opt for online electronic signature management. The right eSignature solution also takes away the complexity involved in your endless business processes, thereby reducing turnaround times? It skyrockets the efficiency and productivity of your business processes.
In this blog, we will dwell deeper into ten crucial aspects that are effectively addressed by an eSignature management solution. We shall also explore the benefits of an eSignature workflow management solution like Revv in a world that's switched to hybrid work mode.
Ten reasons why you need to switch to online signature management
"Digital content and electronic networks have changed the basic environmental conditions in which documents are created, distributed, and used."

Tom Peters, Business author and speaker
1. Loss
Your physical or paper-based documents could be lost due to theft, natural disasters, or other reasons like office shifting. Even in the case of a desktop or laptop, this loss could be unavoidable. Human errors, accidental erasures or overwriting, power outages and surges, device wear and tear, viruses, malware, etc. can be fatal to the document's soft copy too.
An appropriate eSignature solution can make the difference. Its cloud-based storage eliminates the risk associated with hard copies and soft copies stored on your system. By storing data virtually in storage devices located in multiple data centers across the globe, it avoids direct threats to your documents.
2. Legality
Paper-based documents are susceptible to tampering. Even the agreements signed in front of witnesses invite fraudulent activities where they could be edited and altered using editing software. The legal authenticity could never be proved in court as it is impossible to validate the original from the fake. Such legal complications could be avoided if documents are signed electronically.
Electronic signing eliminates any risk of debate about the accuracy of the agreement. They are legally binding and store extensive audit trails that record information such as the date and time when the agreement was signed, the identity of the signer, etc. For instance, an electronically signed sales contract or legal agreement cannot be tampered with in any way or with any editing software. The minutest change made in the document is recorded in the audit trail.
3. Space
Storing paper documents for your business can be troublesome. Along with allocating space in your premise, redundant and old documents have to be shredded as well to manage space for new files. Organizing, maintaining, and shredding documents is tiresome but involves additional resources and infrastructure as well – all leading to extra operational costs.
Businesses of any size can save a lot of money, time, and resources by using an online electronic signature management solution. By utilizing electronic document creation and signing, you eliminate the need for all of that paper storage. By eliminating the paper, you eliminate the monumental task of maintaining that paperwork. Along with huge savings on office supplies, this frees up time and resources in your office that could be used for more profitable functions.
4. Convenience
Traditional contract signing is a strangely time-consuming process for both sender and recipients. For the sender, every requirement undergoes draft, print, scan, and send processes. Additionally, the document owner has to notify and track the status of each document sent for signatures too.
The signing experience is also not simple for a recipient. Sometimes documents could be accessed only from the workplace or could require the presence of a witness. In case of documents that need multiple signs and adjoining details, the recipient has to figure out what information is required where and shouldn't miss any signatures as well.
After sign-offs, the documents need to be sent back, and someone then has to scan and file the hard copies. All of these nitty-gritty processes take away productive time from work too. You can finish off all these menial tasks with electronic signatures. Users can create any business document and email or share a link with the recipient. The recipient can easily sign documents from anywhere, anytime, and from any device. With a few clicks and the signed document is complete and sent back within the eSignature platform. If either party needs to review the contract at any point, it is available from any device. The automated workflows of eSign software even take care of notifications at each stage of the document journey.
5. Savings
By switching to a cloud-based electronic signature manager, you cut your expenses in every area of your document maintenance as well as streamline your business processes. For example, if your company is in sales, each sales executive spends a lot of time just to create and complete various documentation. Along with managing regular work, they have to manually enter data in different business platforms, keep track of each document, and while sending for signing further notify their team or client too. Imagine how many extra deals could be closed and potential leads could be added to your business if your sales executives are freed from these banal tasks?
By having an online electronic signature solution, organizations can save time, money, and also the efforts of the workforce. Imagine the productivity of your sales team if they were given the time they spent last month sitting with clients while they signed contracts! In a nutshell, an eSignature management solution can:
Save the time of the workforce from repeatable document journey; starting from document creation to completion, notifying to tracking, and many more repeatable actions
Reduce usage of office supplies like paper, ink, printers/scanners, etc by going paperless
Bring down operational costs as large office equipment and their maintenance can be avoided
6. Accelerating processes
Any business will have a standard operating procedure for various action items. For instance, if you are creating a sales quote, it has to go through multiple reviews and iterations before approval. Not to mention the multiple follow-ups and progress tracking that is mostly done manually.
With the help of an eSignature Management System, you minimize the level of human intervention and accelerate the time-consuming processes by automating them. This way you don't have to drain man-hours for keeping track of documents, making changes as per review, sending reminders for approvals, and moving documents to the next approval stages.
7. Collaboration between teams
Businesses succeed when the team comes together and works towards a common goal. To enhance the efficiency of your business processes, there should be a real-time open channel for collaboration. When you handle physical documents, the possibilities for collaborating in real-time are next to null. The complexity and confusion only increase when you have multiple teams and multiple processes in place. With the hybrid model of working becoming a norm, your workforce might be scattered across locations and time zones too.
So, if more than one party needs to come together to approve, review, edit, notify or monitor your document, a real-time collaboration feature in an eSignature solution would absolutely help. This way, your teams, and stakeholders can come together and work efficiently in real time.
8. Enhanced productivity
Let's take the case of conventional recruitment, handled by an HR department. The documentation for new hires is filled out in person with an ink pen, then sorted and filed away in filing cabinets. The time needed to keep track of progress and acquire signatures means that hiring for a single role can put your HR team on the backfoot. Now add the delay with all the other roles that need to be filled up plus the cost of keeping and acquiring the necessary supplies.
With the help of an eSignature solution, the same HR department can provide a seamless experience for candidates navigating the pre-hire and onboarding phases. The HR teams can use the extra time they saved in processes to focus on other productive tasks as well. Similarly, you can use a proper eSign solution to solve the productivity issues of all other departments in your organization.
9. Automation possibilities
When it comes to document workflows in a business, there are multiple processes and teams involved. Right from document creation, sending it for approval, to completing eSignature and managing the document's lifecycle even after receiving the signed document, processes can get complex and delayed.
A cloud-based eSignature management system is not just about digitally replacing wet-ink signatures. It provides a wider scope for automating processes from beginning to end.
10. Accessibility
When the document workflow involves more than one party, things can get complicated. The sender and the recipient might be using different systems and the device formats could vary as well. This usually makes things difficult for recipients. Chances are that the recipient might have to use a third-party platform to initiate the sign-off. They might have to download additional plug-ins if the document format is not supported. With the help of online eSignature management, the document can be made available for the sender and receiver at the same place. This eliminates the need for additional plug-ins and delays in sending the document back to the sender.
Reimagining business efficiency with an Online Electronic Signature Management System like Revv
While having an eSignature technology provides benefits of time and savings, it's only half the solution. You need a platform that can address the complexities and effort related to processes leading up to eSignature and processes after eSignature completion.
With the help of document automation and eSignature platform like Revv, you can automate and streamline end-to-end processes related to your document workflows. It enables your teams and departments to:
automate tasks without leaving the respective business applications
collaborate efficiently with internal teams, customers, and other stakeholders in real time
have fast and dependable access to correct, final, approved, and even stored information seamlessly
So, let's take a detailed look at how Revv reimagines business efficiency for your organization with holistic automation.
Integration with existing business systems
What if you no longer needed to switch from existing business platforms to complete various business processes involved in the document workflow?
Revv can be integrated with your existing CRMs, HRIS, and other business systems flawlessly. This gives you the advantage of creating a seamless connection between disparate data sources and triggering automatic prompts for document workflows.
In sales – You can send, sign, and manage important sales documents such as quotes, proposals, and contracts without ever leaving your CRM such as Salesforce, Zoho, Hubspot, Pipedrive, etc. With Revv's integration capabilities enjoy faster document turnaround times and a more streamlined sales process.
In HR – You can create and send offer letters to new hires, onboard your new employees, and collaborate with different departments while integrating your HRMS apps with Revv.
In finance and accounts – You can raise, create and send invoices, initiate payments through apps like Stripe, and manage varied processes easily with Revv's integration.
Revv further expands its integration abilities to more than 4000+ business software with the help of Zapier. Integration capabilities are further powered by Retool, and Native API solutions.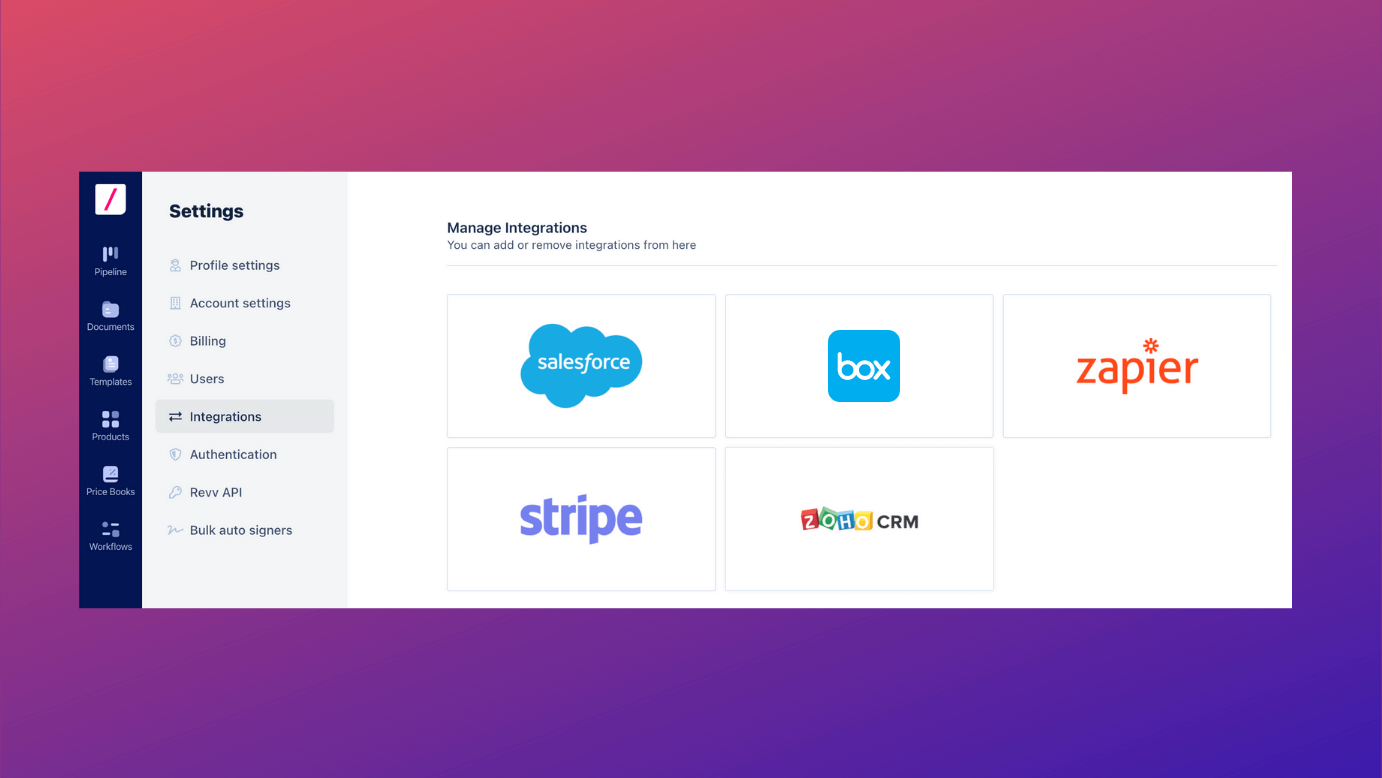 Integration benefits:
Revv's Data Studio feature allows you to capture data from multiple data sources/business platforms. Regardless of the magnitude or complexity of the data, it captures accurate information that helps you to create precise documents.
➨For instance, HR wants to send consent forms to 1000+ employees in the company and wants to personalize (address it to each employee with their names) as well. Manually changing each document with the respective name and sending it off means spending days to finish the task. But this tedious task will only take minutes if the HRMS system is integrated with Revv. Using Revv's Data Studio feature you can quickly map the required data to Revv and start sending the documents.
Regardless of the size or complexity, mapping data from business platforms is faster, more accurate, and seamless.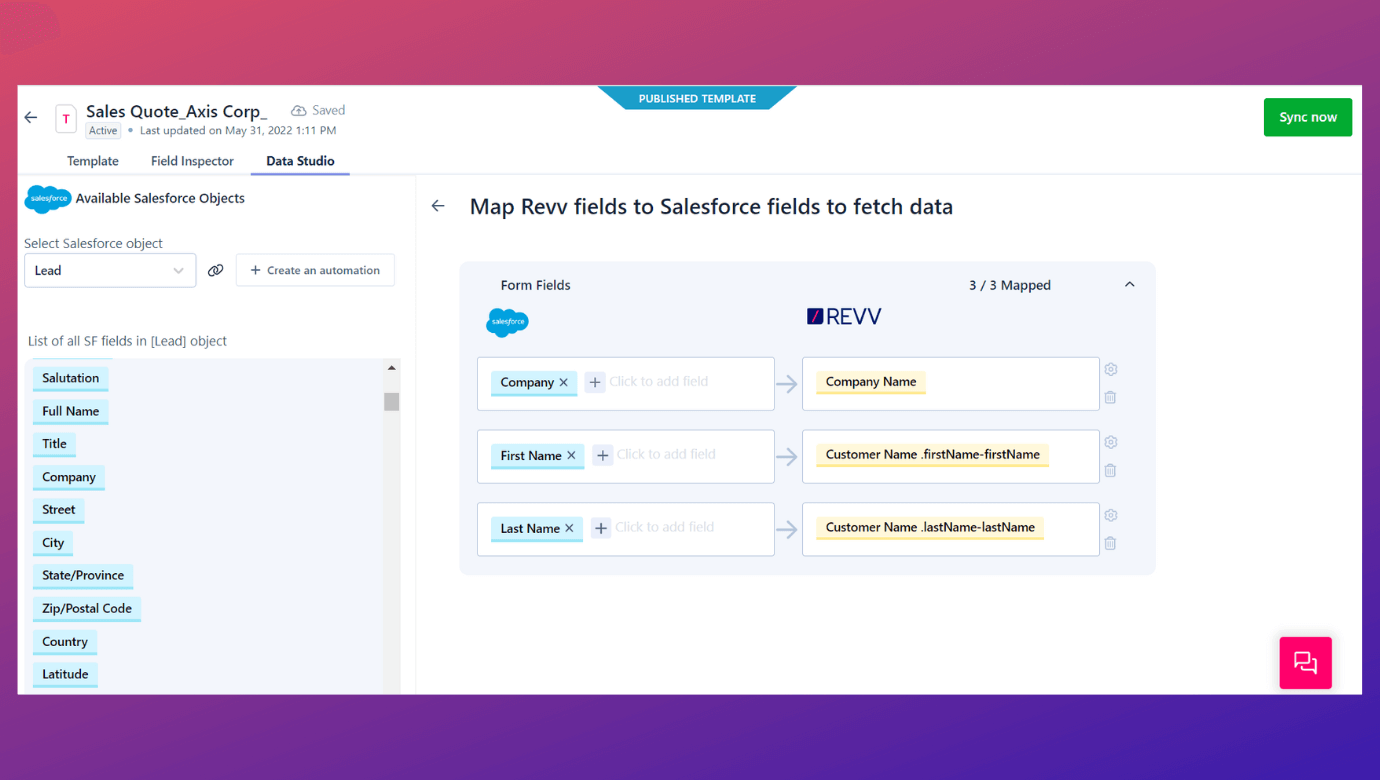 Sync complex data within minutes from endless Excel Sheets or various business software
You can flawlessly capture data without the help of scripts, codes, or APIs
Integration with storage systems like Box not only solves storage problems but facilitates automating end-to-end processes in your organization.
How does Revv + Box integration help to automate business workflows?
By blending Revv's document automation & eSignature advantage with Box's cloud storage and workflows, you can eliminate almost any human intervention in your document workflows. This brings incredible changes to your business functions, helping them run on their own – be it sales, marketing, finance, HR, legal, business operations, procurement, or purchase.
How? You can make this automation work by:
Triggering workflows between Revv & Box for actions taken on a document.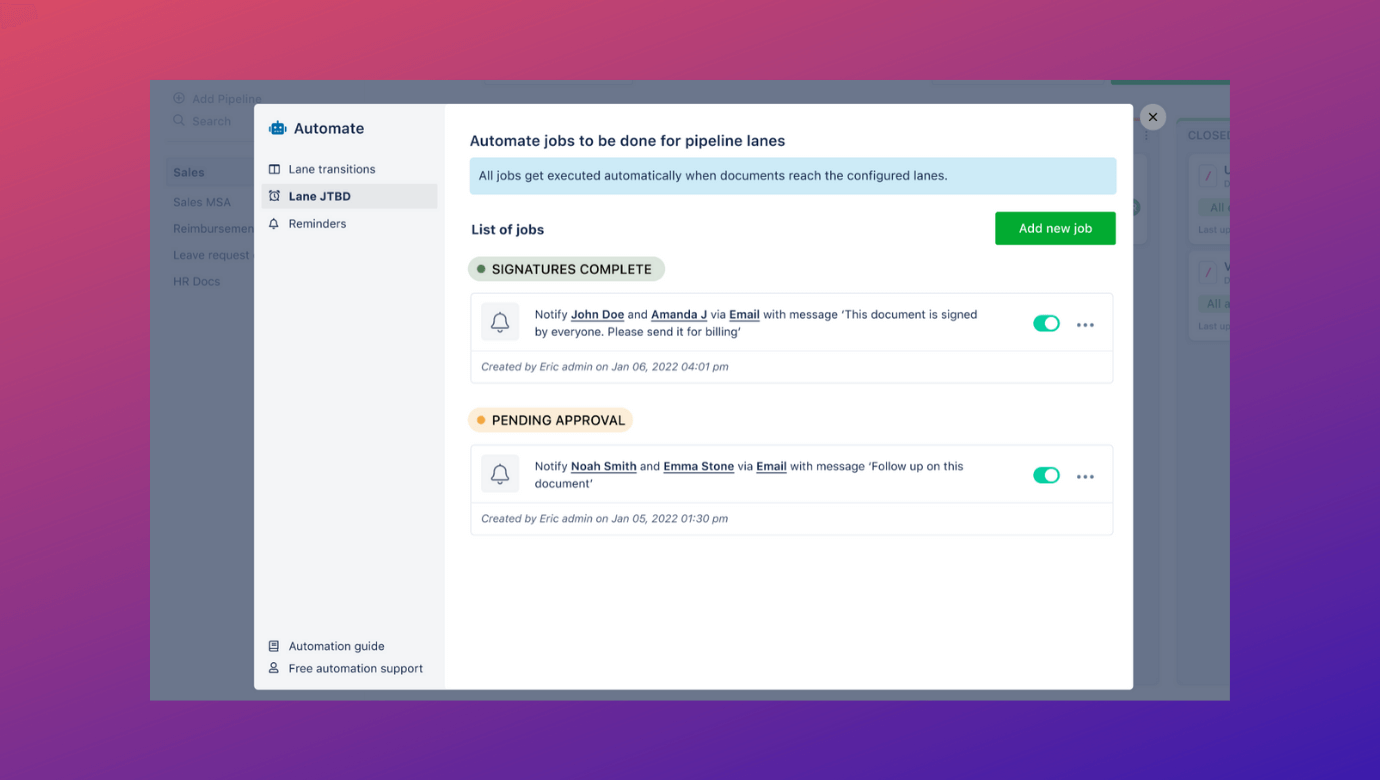 Automatically routing Revv documents and associated document information to the Box folders in the chosen format.
Effectively leveraging document metadata generated in Revv to take workflow-related actions in Box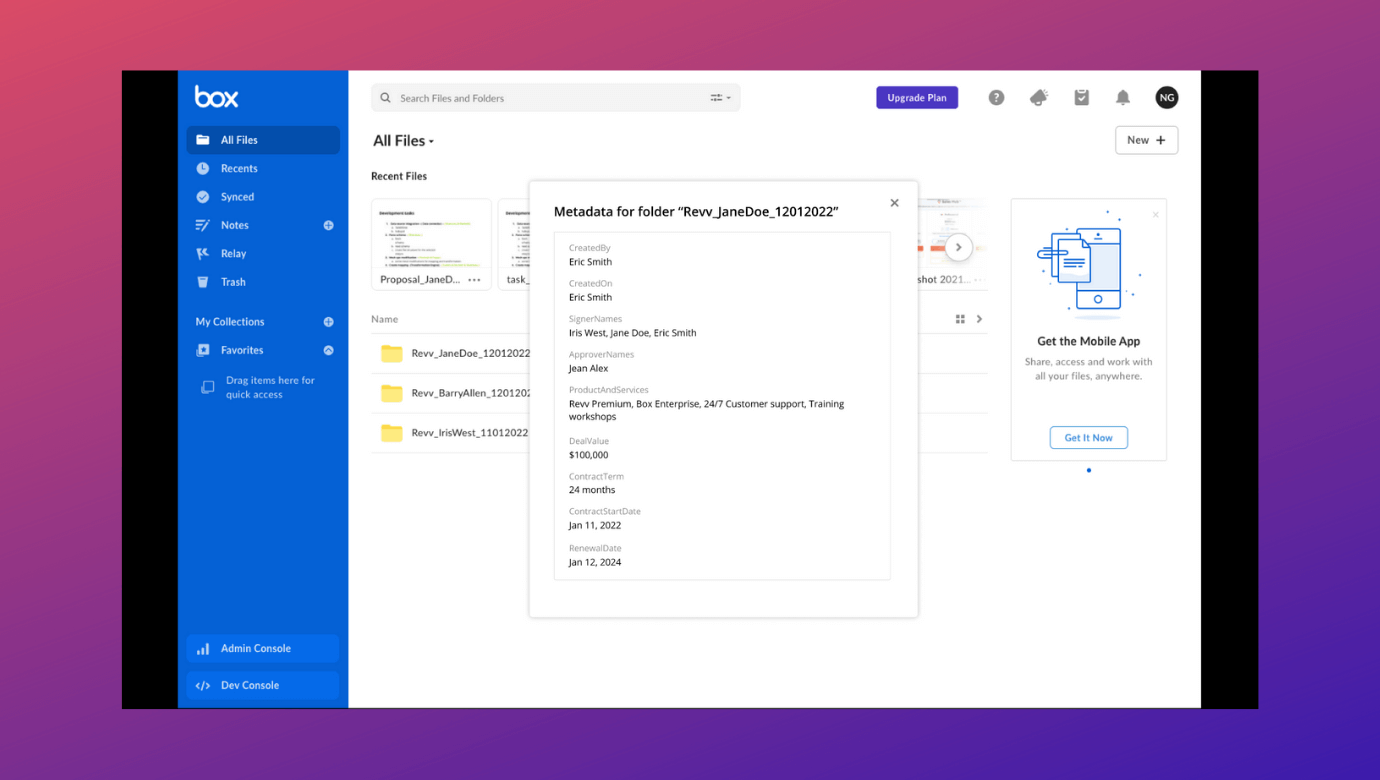 Enhance eSigning with the power of custom web-forms
Even after integrating your business platforms with Revv, there might be instances where certain document requires some key details from the recipient.
For instance, HR wants previous employer details in the 'employee background check document' from a new hire. The HR can easily convert it to a form-based document template using Revv. Add form fields wherever necessary, and assign the recipient to fill the fields with the necessary information.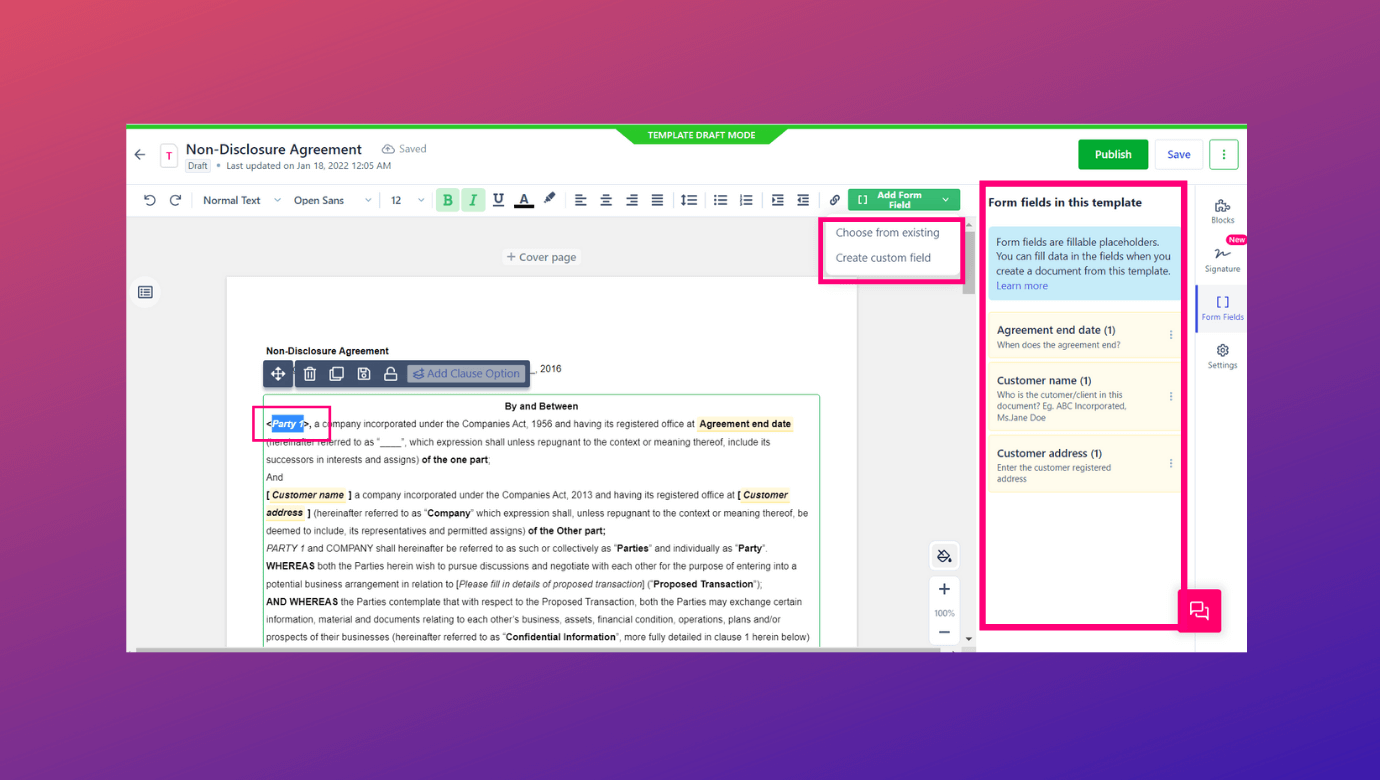 With a couple of clicks and the document is filled and eSigned by the recipient ensuring an error-free capture of data.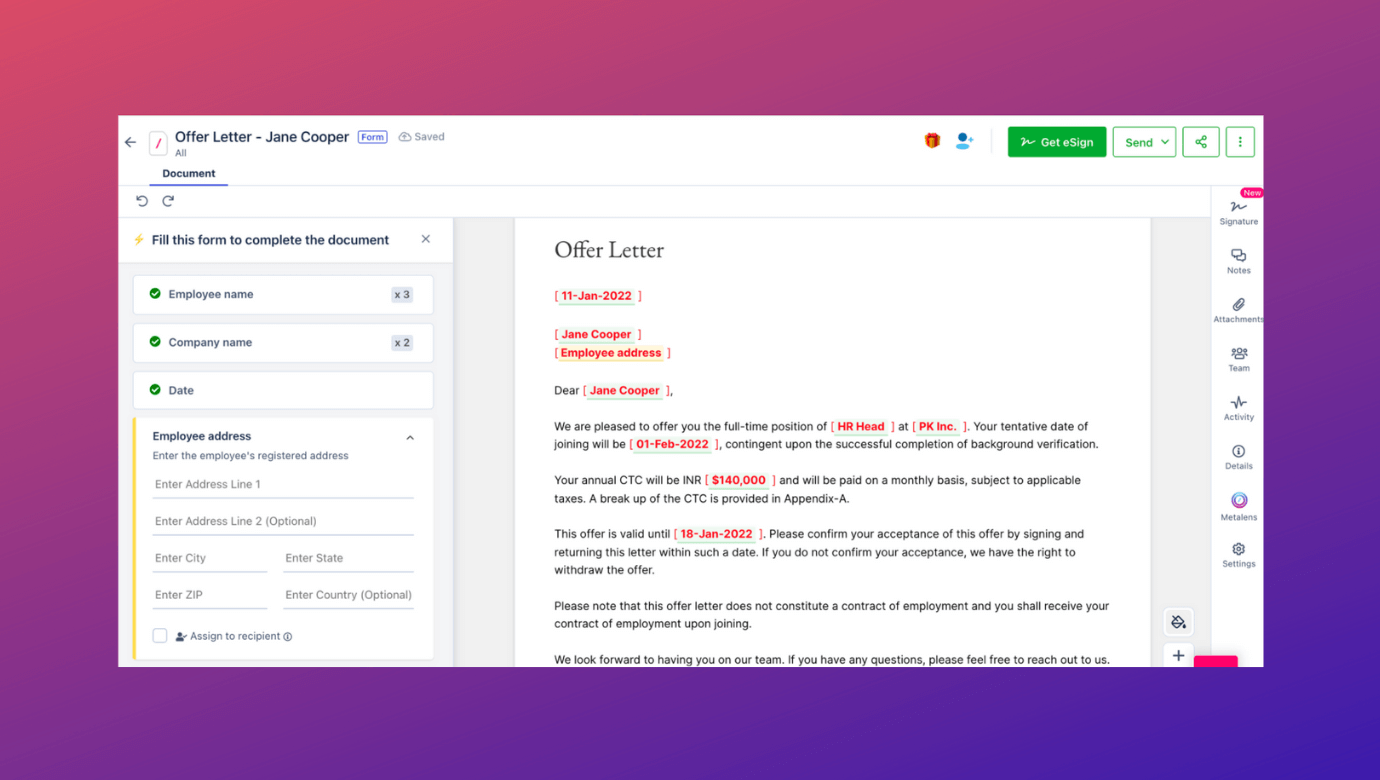 Compliant and legal
As we discussed initially, wet-ink signatures can be tampered or forged, could be stolen or destroyed, or even lost. Adopting Revv's eSignature solution prevents your business from all these threats as they are:
Legally compliant as per global and local eSignature laws such as E-SIGN Act, UETA, and eIDAS Regulation
Admissible before a court of law in more than 60 countries
Every signed document in Revv captures an exhaustive audit trail that chronologically records any action taken on the file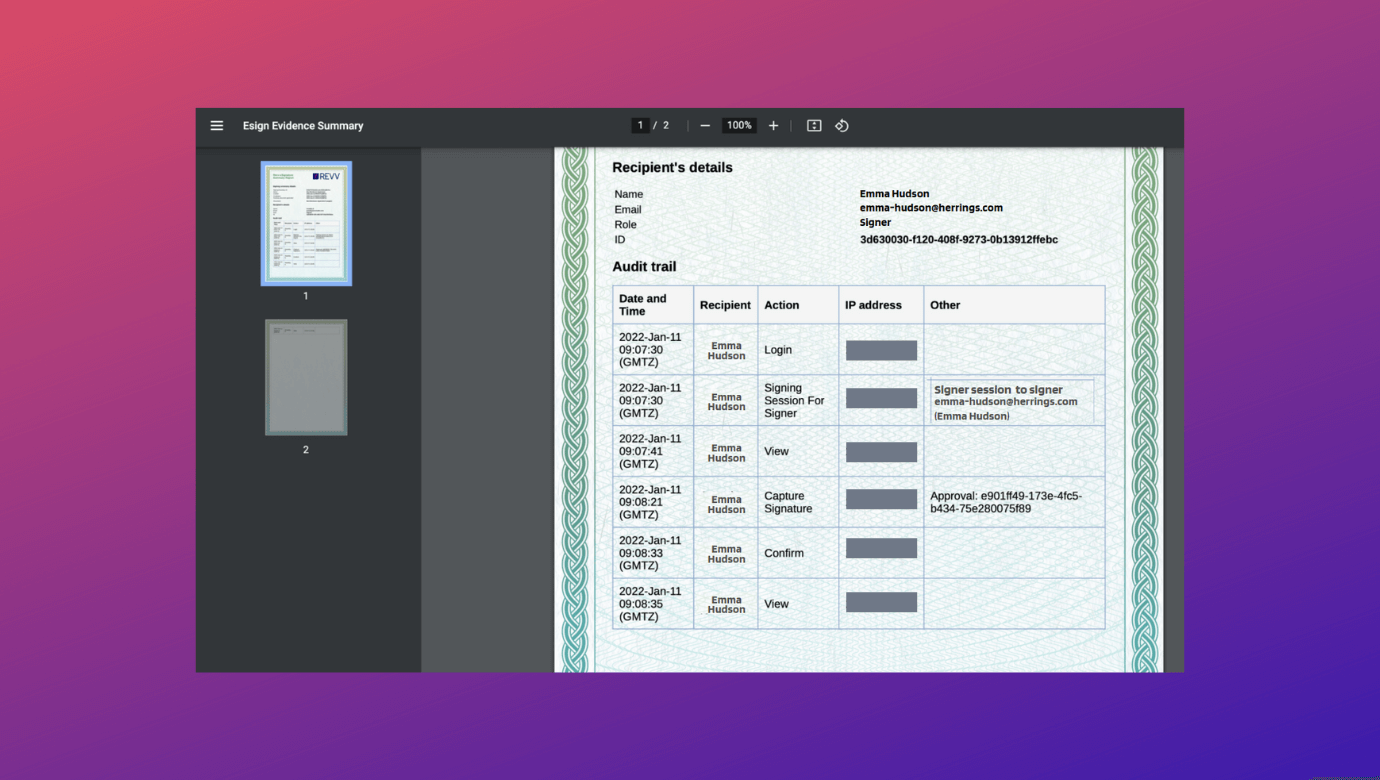 The evidence summary or audit trail is accessible to both sender and recipients. This makes electronic signing more compliant and secure to use in your business.
Revv also adheres to the four important rules of any electronic signing, namely
Intent to sign and opt-out,
Consent to conduct business electronically
Signature association with the record
Maintaining and retention of records
For every document sent for eSigning, Revv first asks the recipient's intent and consent to sign the business document electronically. If the signer changes their mind, they are free to refuse to sign the document as well.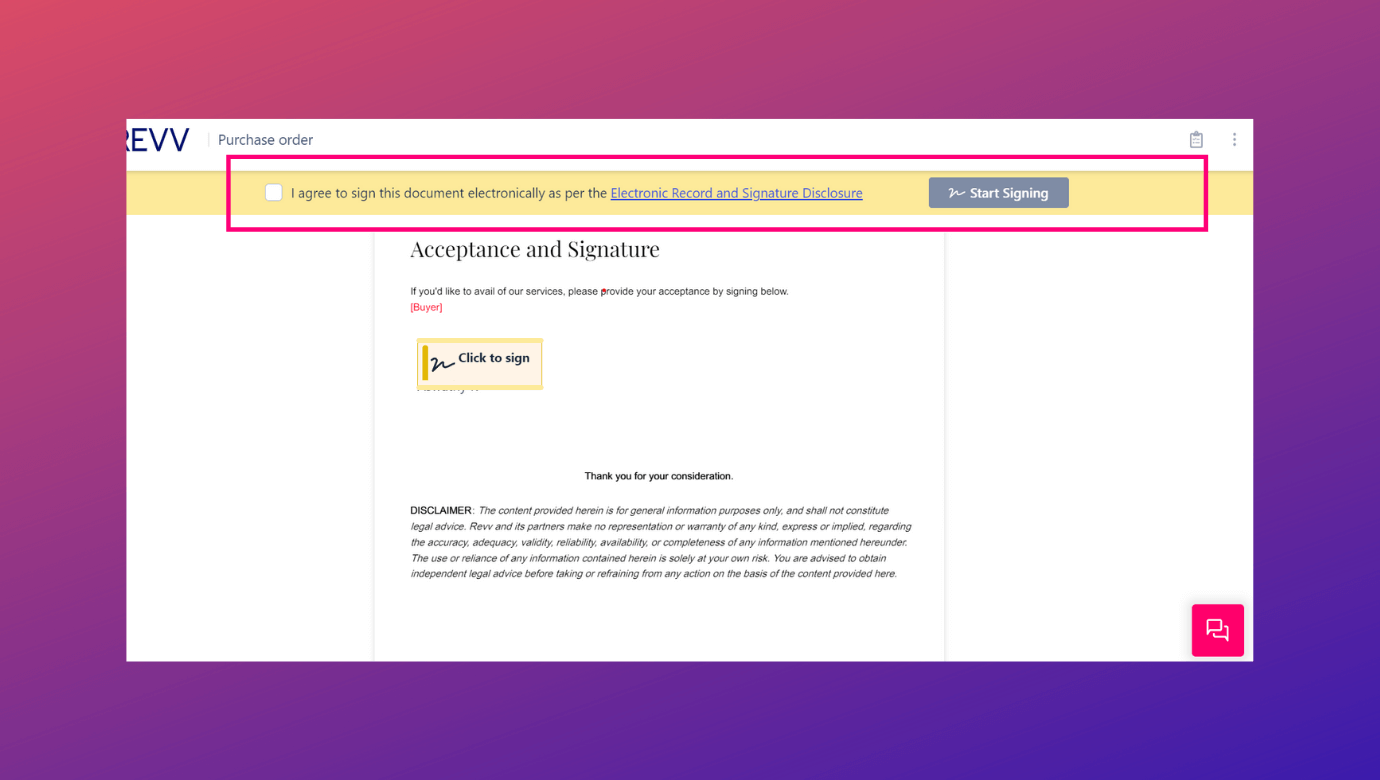 Sign documents conveniently with customizable templates
Businesses have varying document requirements from department to department. For example:
HR department – requires documents like employment agreements and contracts, offer letters and consent forms, policy documents, client and employee onboarding kits, etc.
Sales department – needs sales quotes and proposals, contracts and renewals, etc.
Finance – wants to create purchase orders, invoices, and receipts for hundreds of clients
Legal – deals with documents such as non-disclosure agreements, service agreements, etc.
Revv offers an all-inclusive solution for the diverse document requirements in your business. You don't have to start creating your document from scratch. Revv delivers 1000+ legally binding and professionally validated templates that may be further customized as per your business requirements.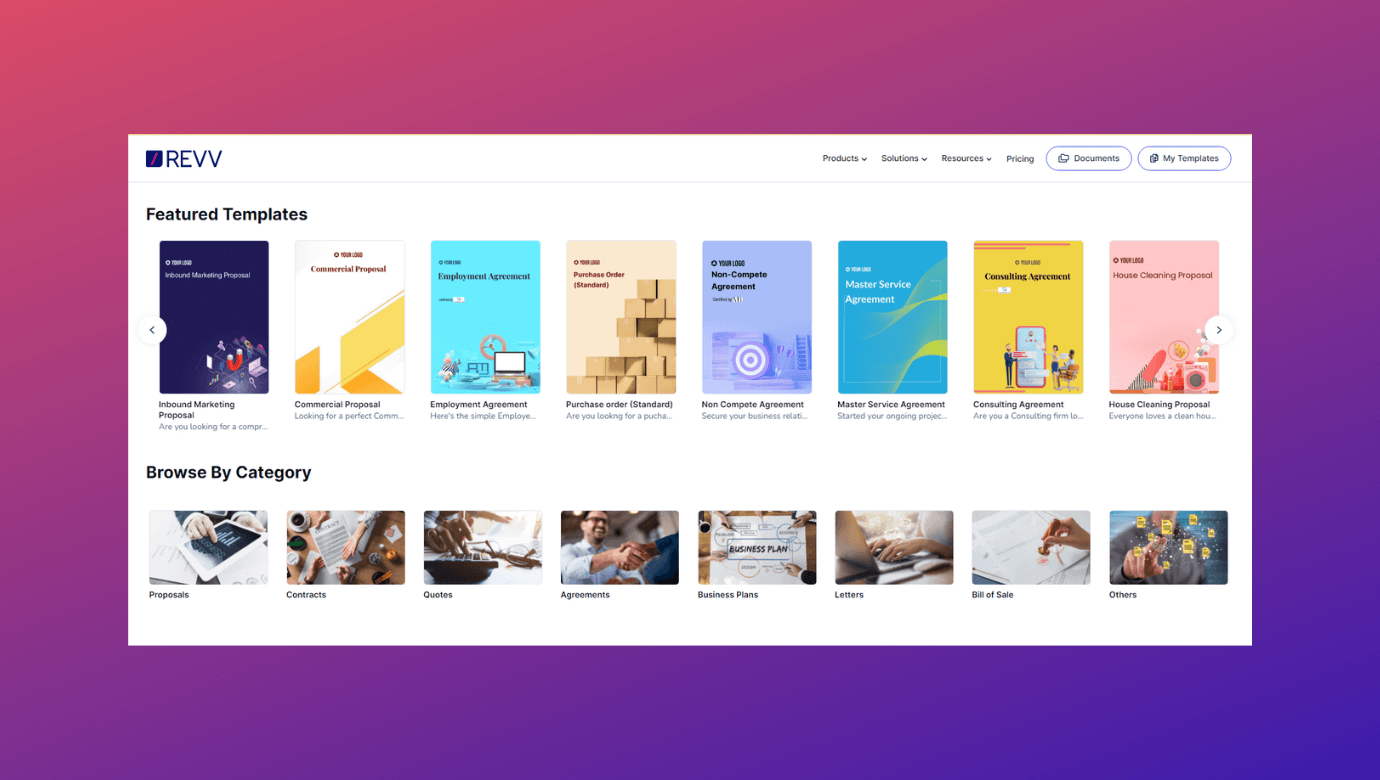 Suppose you have brand-aligned templates of yours, then you need to just upload the same in the Revv platform. Using Revv's rich document composer you can enhance your brand designs further. Whether using the pre-templatized format from Revv or building a document from scratch, users can customize the document to perfection.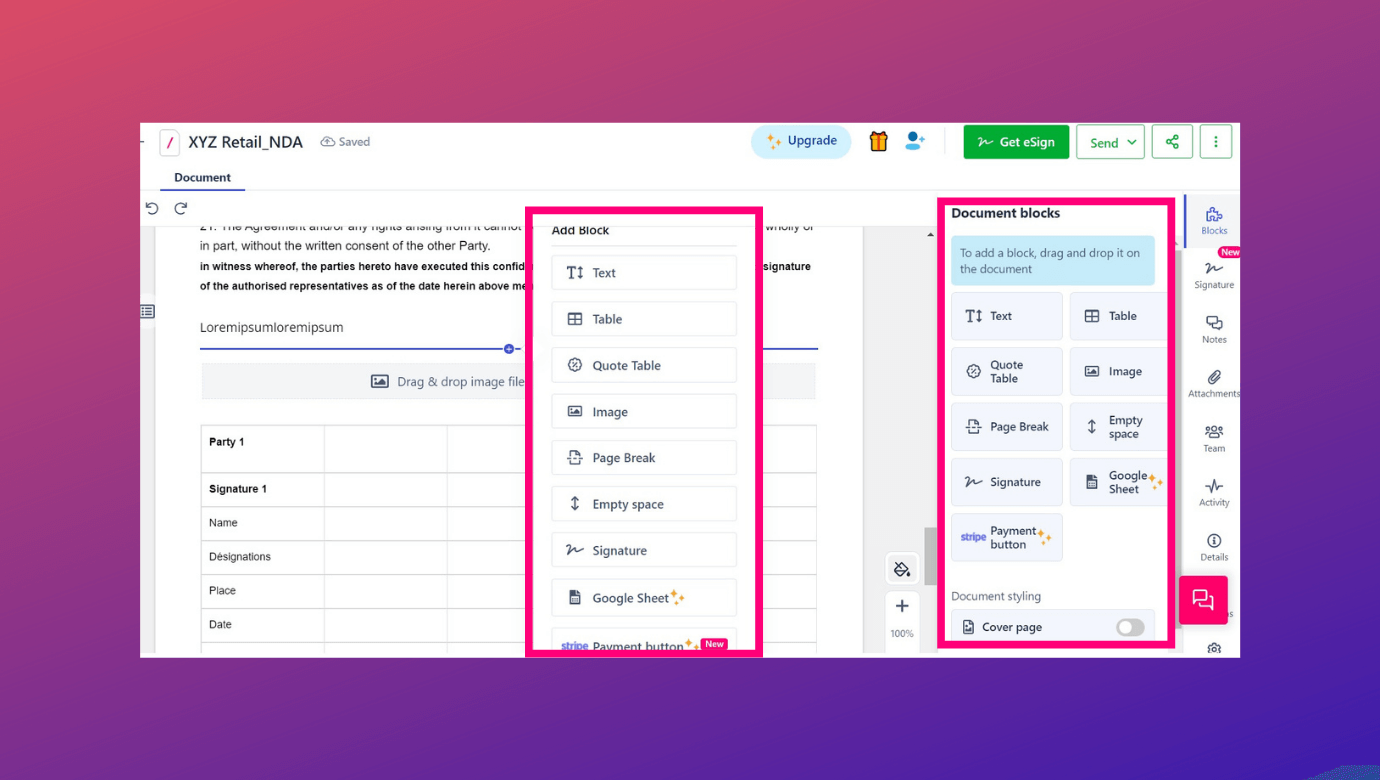 Unparalleled collaboration with both internal and external parties
Break communication silos and bring people together from different teams, time zones, and locations to work towards a common goal.
How?
With Revv's 'notes' feature you and your teams can seamlessly collaborate within your document in real time. Add comments or even tag employees with '@mentions.' People can brainstorm their ideas, provide inputs or add attachments in the form of images, spreadsheets, and more. This feature increases engagement between teams as well as solves time-sensitive issues. The faster you find resolution the quicker you will be able to close your tasks.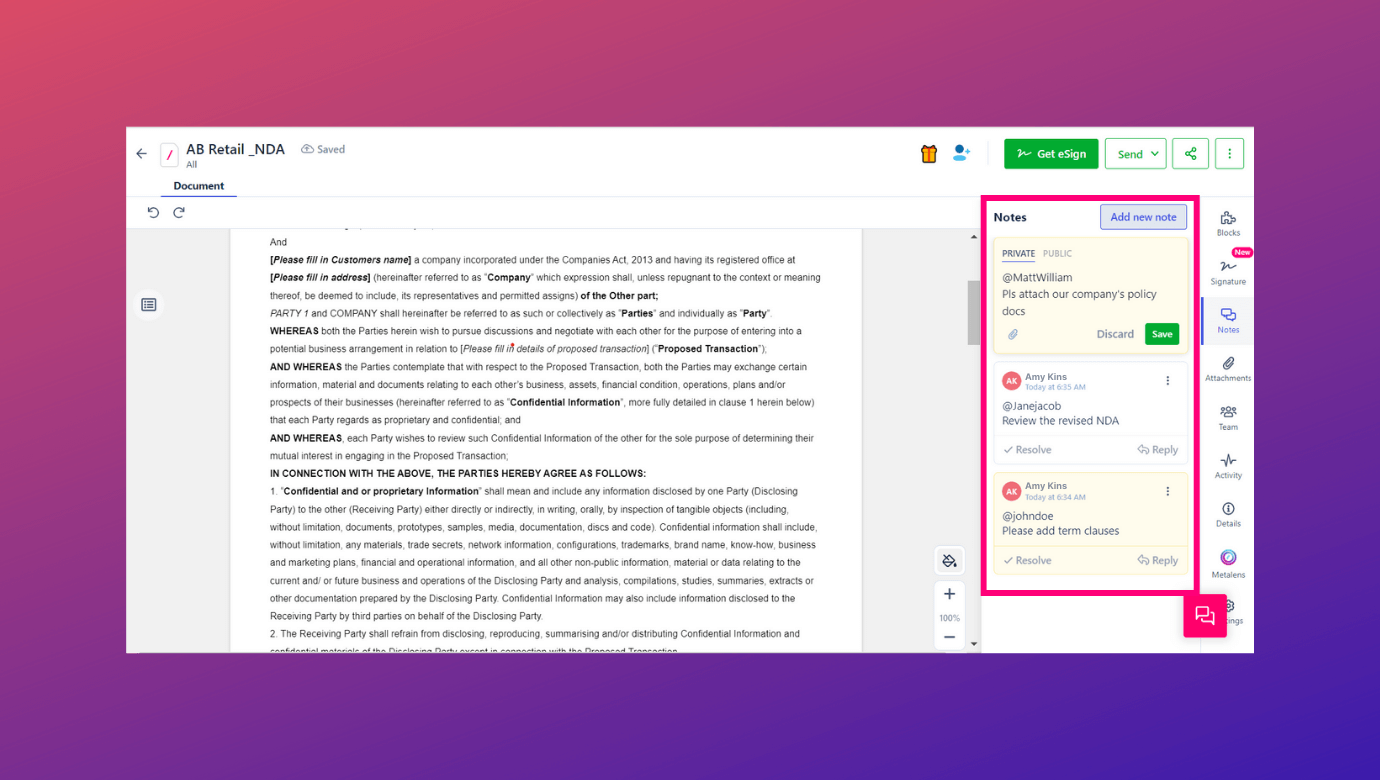 Creating automated workflows with the help of Pipelines
Maintaining how the document moves through different stages within your organization is perhaps the most important aspect after it is created. Creating and collaborating on electronic documents, sending and notifying recipients, tracking, signing/collecting, and storing them – all takes time and effort from your team.
Not anymore! With the Pipeline function, Revv makes document automation simple for businesses by streamlining and automating document workflows. It opens up a world of possibilities for automating your documents before and after they are signed electronically.
Create multiple theme-specific pipelines. Channel your documents to the set pipelines by routing them with trigger and action features. For instance, if you want documents related to 'purchase order' in one place, then you can simply create a pipeline called 'purchase order.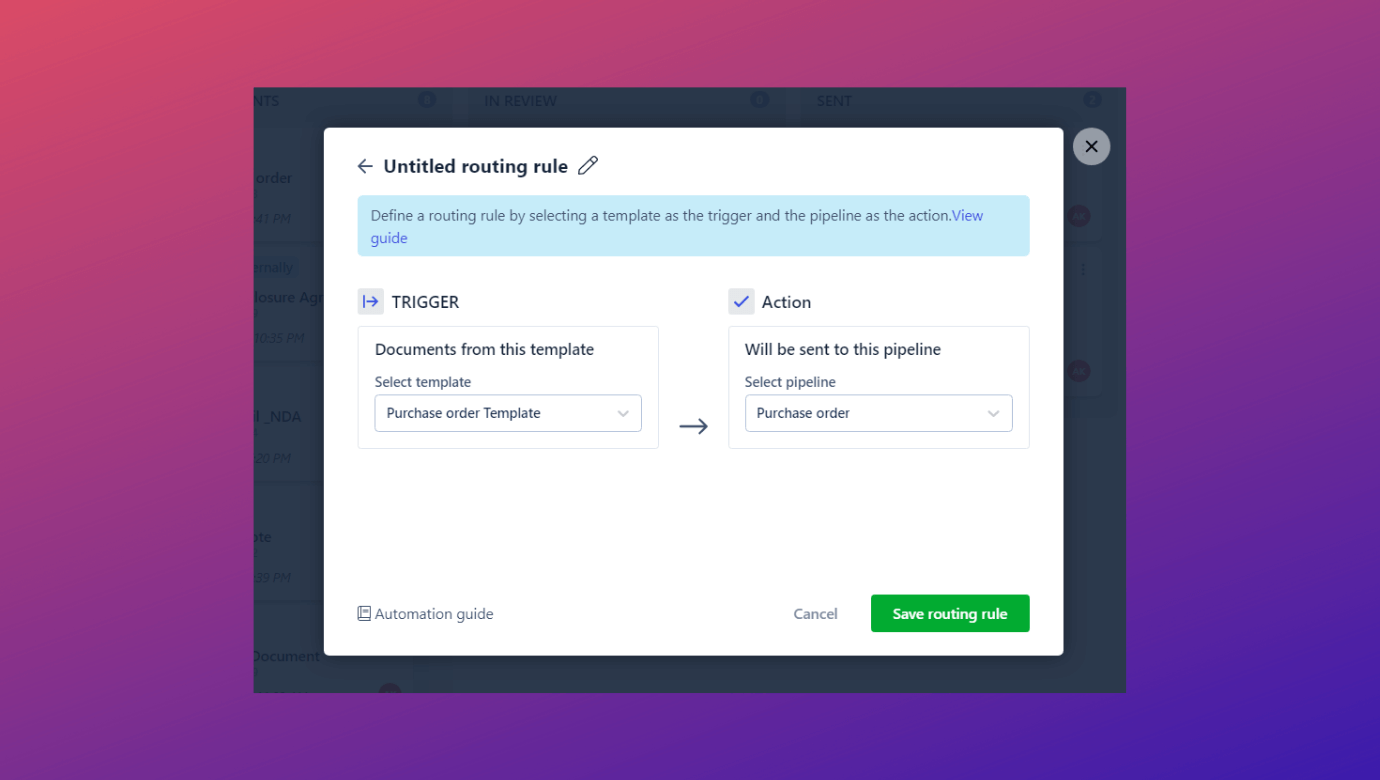 Pipelines consist of a collection of lanes that could be customized depending upon your business workflows. The lane titles can also be changed that suit your process. These lanes could be made even more efficient by automating each lane's workflow and assigning distinct events to each one.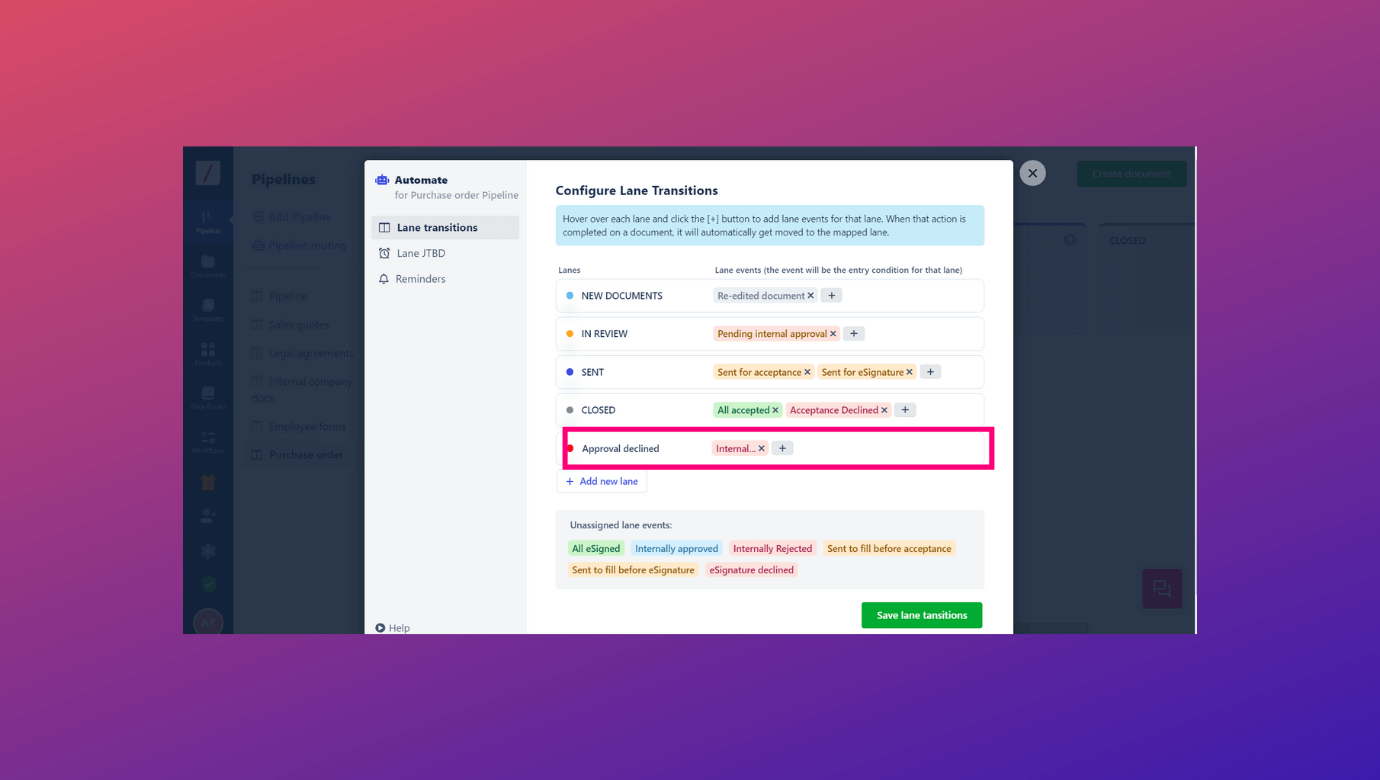 In addition to assigning lane transitions, users can add Lane JTBD (job to be done) to trigger and automate various document workflows. With the help of Lane JTBD, you can use it to create jobs that are automatically executed when a document arrives at a specific lane. For example: If you want to alert your finance or marketing teams about the status of a document once it reaches the 'all eSigned lane,' you can simply choose the pre-defined lane, add any number of persons to whom you wish to notify the document's status through email as shown below.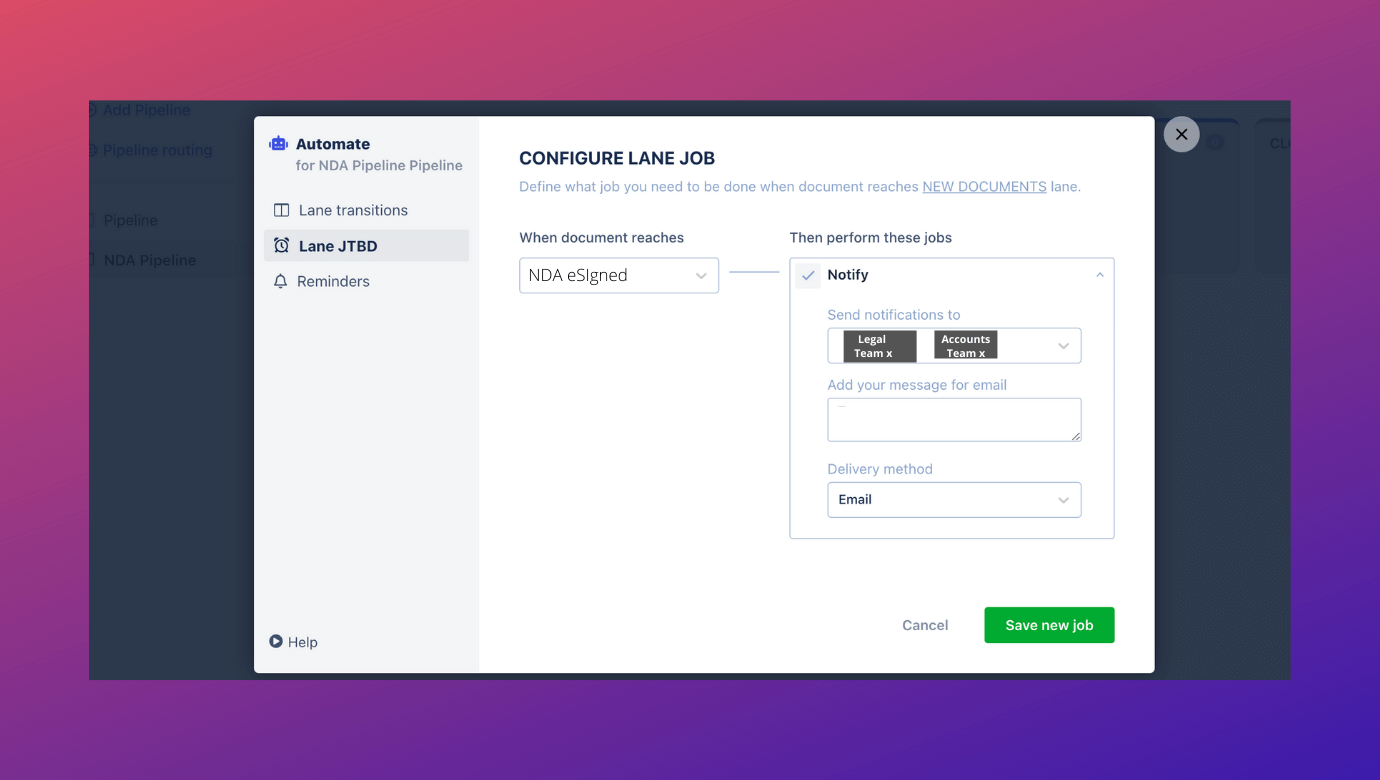 Every document that enters a pipeline has its own reminder settings. This function aids in the creation of automated reminders for pending recipient actions. The Sender can decide the frequency of the reminders too.
Multiple possibilities of electronic signatures
a. Compliant eSignatures
You have created your documents, added form fields, and reviewed them within internal teams.
Now, it is time to add electronic signature boxes to your document. Revv provides bank-grade electronic signatures that are completely secure and compliant with global and local laws.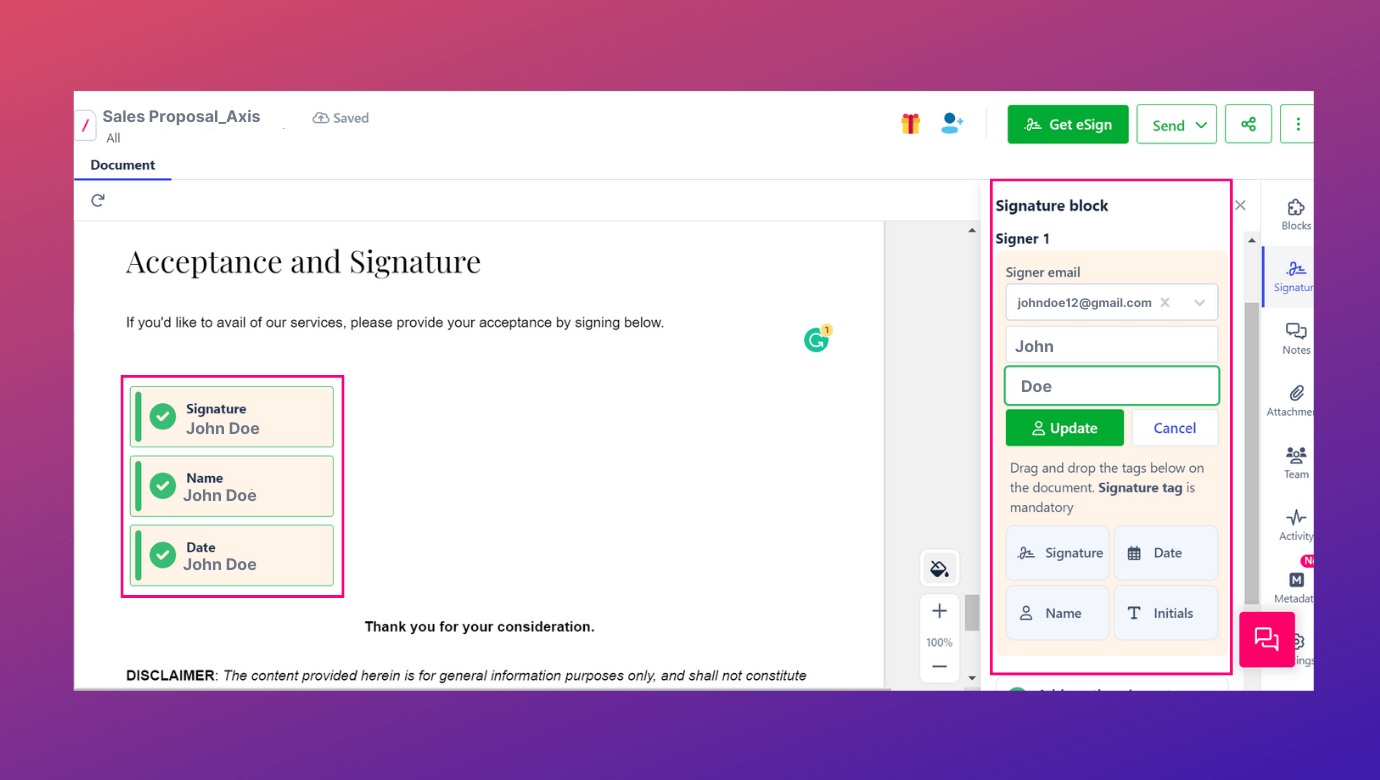 b. Flexibility to send for acceptance and internal approvals
However, electronic signatures are not required for all documents. For instance, your negotiation letter or consent papers, or offer acceptance letters, merely require a go-ahead from the recipient. For such documents, Revv provides you with the 'Send for Acceptance' feature where a recipient can simply accept or reject the document.
There are cases where a sender might need approval from the manager or review from other departments within the organization. In such cases, the user can opt for the 'Check and send for internal approval' feature.
In case the sender wants his document to be reviewed by someone outside the organization, he/she can choose the 'Send via email' option. The file owner can also give permission to view or edit.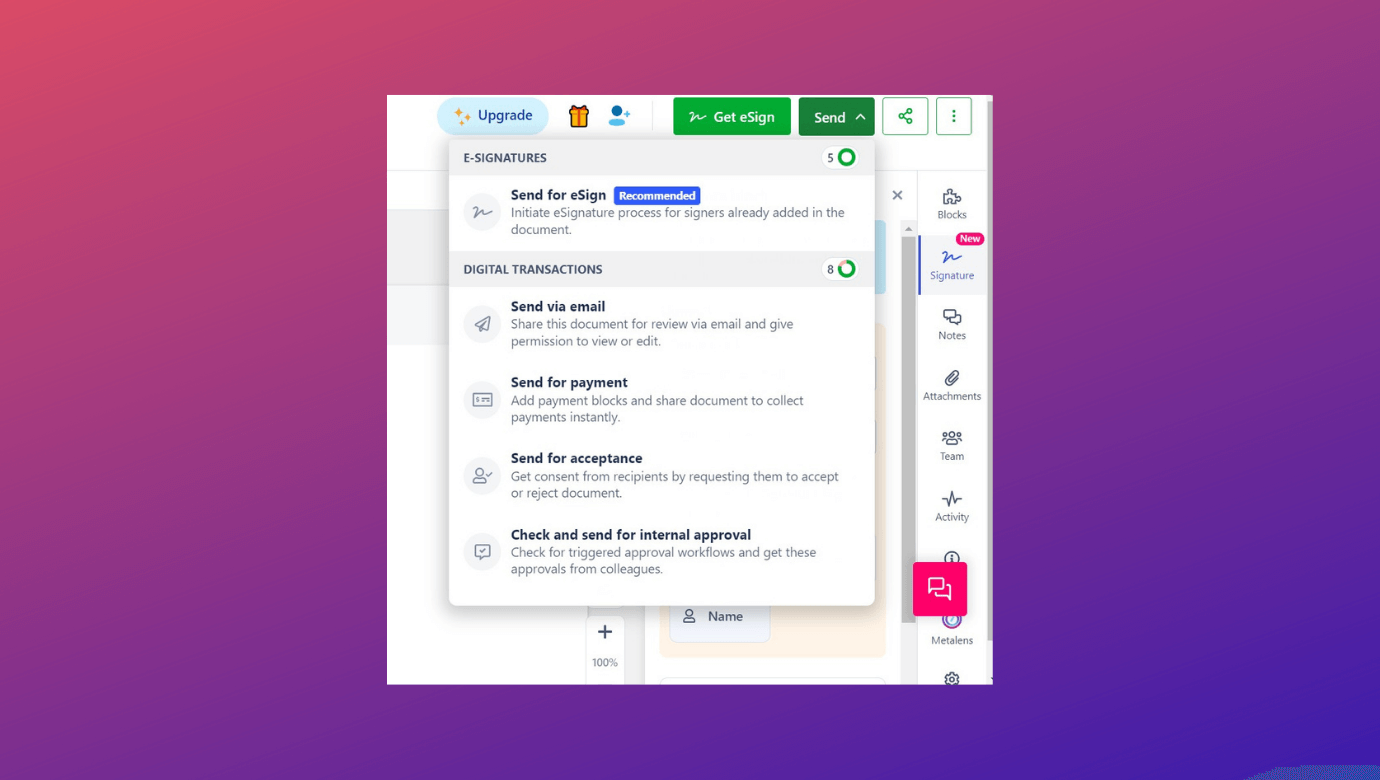 c. Instant notification and tracking
Whether you're sending a document for an electronic signature, internal approval, or acceptance, all actions will be immediately communicated to both the document owner and recipients via Revv's autogenerated emails.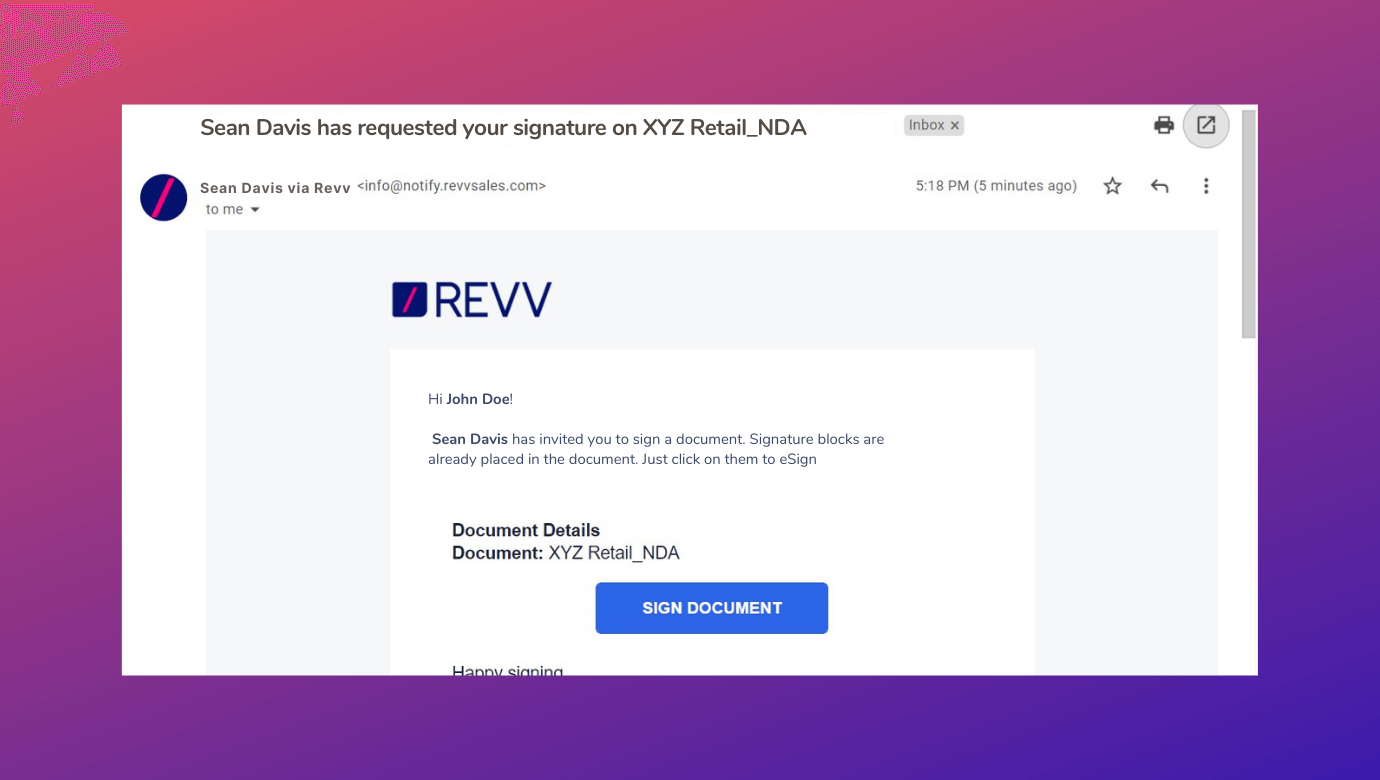 Once the recipient signs the document, both sender and receiver will further be notified that the eSignature process is complete.
The 'Activity' tab allows the sender to keep track of any document activity. He or she can see if the document was opened when it was opened, and who opened it. It helps sender to access recipient actions. For instance, if a recipient has viewed a document and hasn't completed the eSign for a couple of days, the sender can easily analyze this blocker from the 'Activity' tab and reach out to the person to analyze the hiccup.
d. Recipient can choose from multiple eSign options
Recipients can now eSign documents easily with Revv. Revv provides multiple eSign options to close the signing process. They can:

Draw signatures: Recipients can draw their signatures using a mouse or digital pen.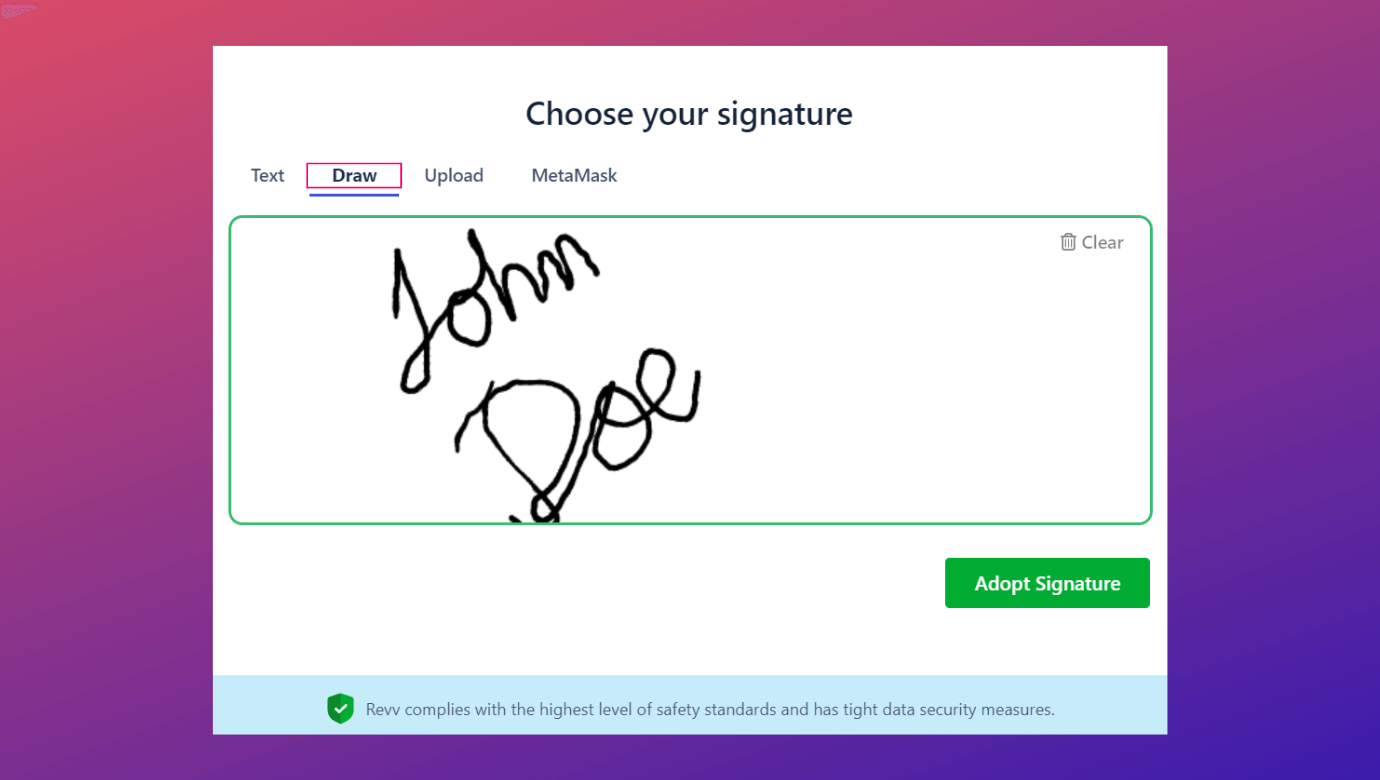 Text signatures: Signers can choose their signatures from pre-formatted styles. They can even customize their name for this type of signature. For instance, if the recipient's name is John Doe, in the Text sign option, the signer can personalize the name as JohnD, JD, JDoe, or in whichever way they want to sign off.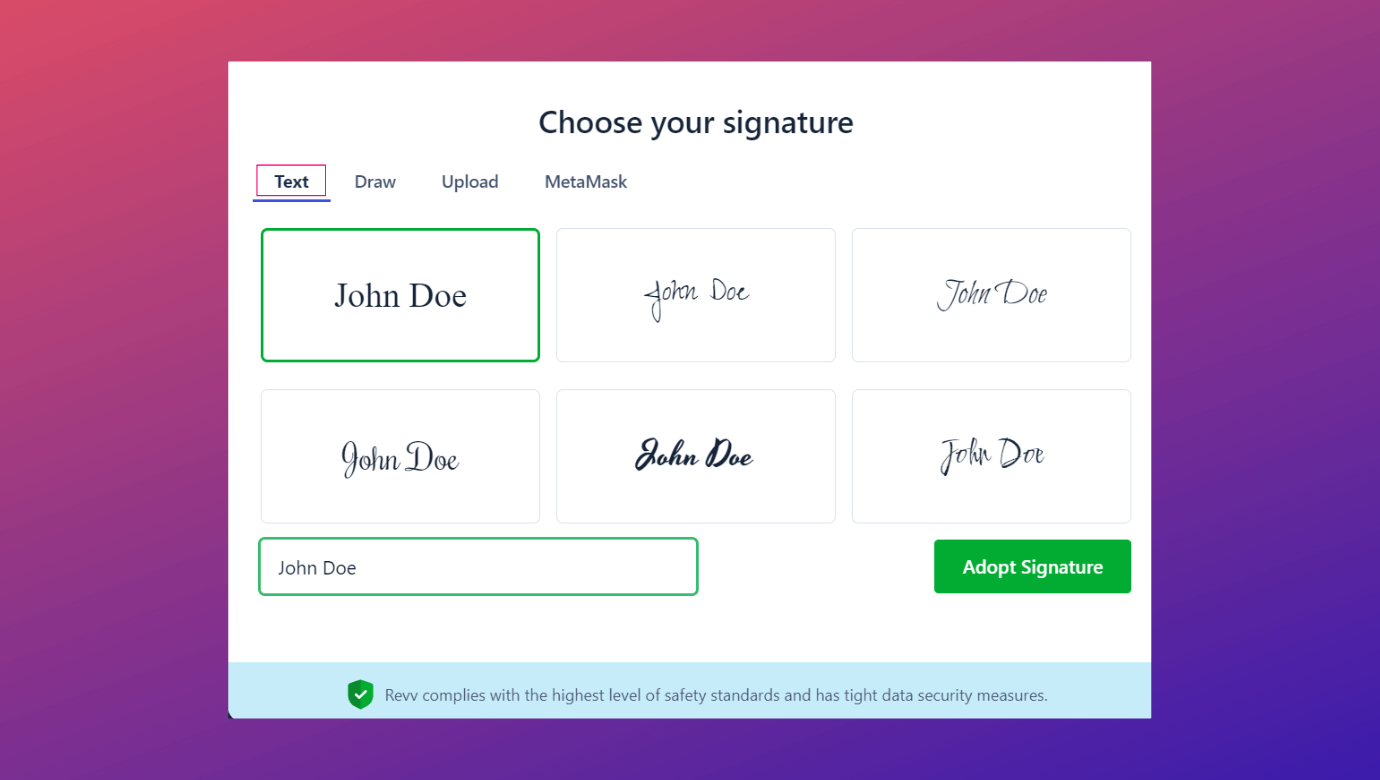 Upload signatures: Signers can even upload the image of their signature by simply scanning their wet-ink signatures.
Sign off using crypto wallet MetaMask: With Revv, recipients can even eSign their documents using their MetaMask wallet.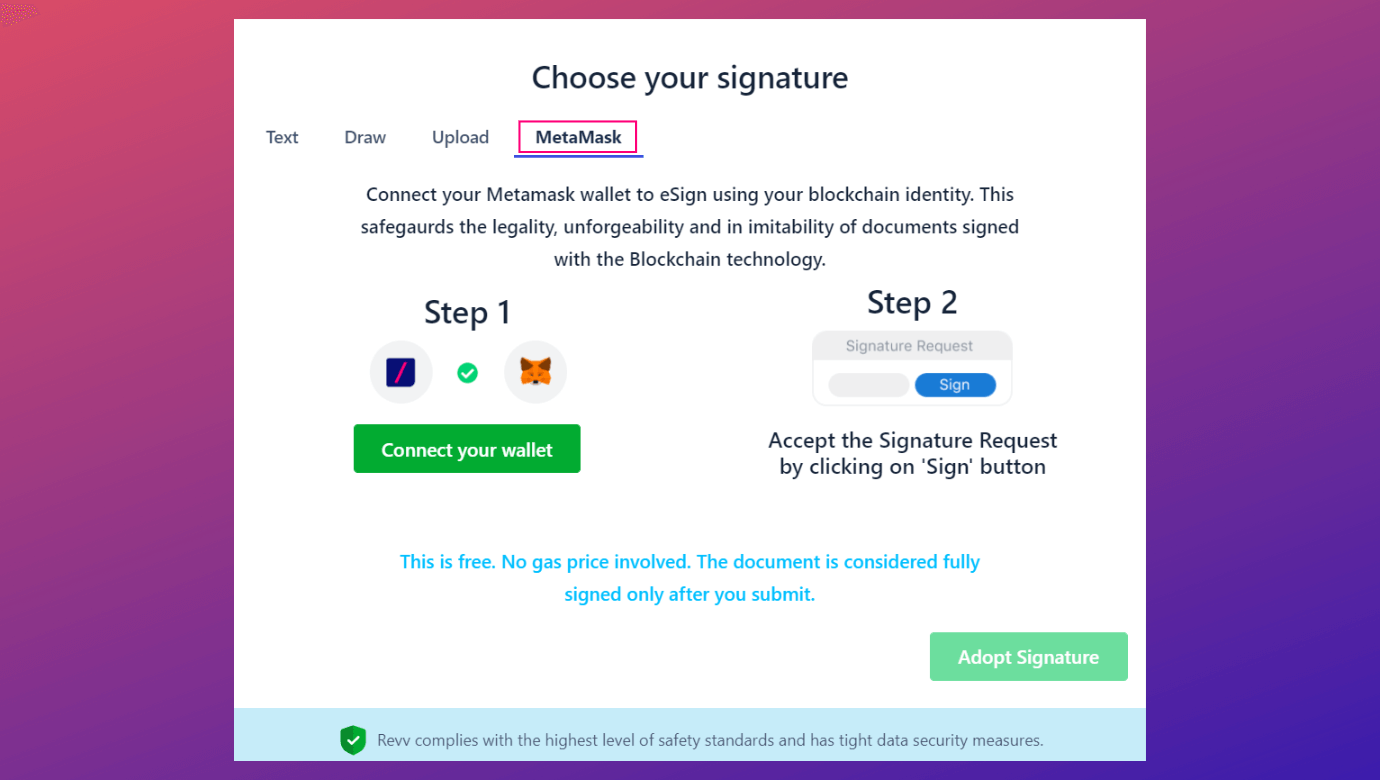 e. Easy access to eSign
Users can have the Revv advantage where a sender can type their message to the recipient while sending for electronic signing. A link to the document can be sent as SMS as well. Whether the document for eSigning is sent as email or SMS, the recipient can access the file from anywhere from any device, even from their mobile phone.
Revv's electronic signing and document automation platform is quite straightforward, user-friendly, and quick. The signed documents could be viewed anytime or can be downloaded and stored for any future use too.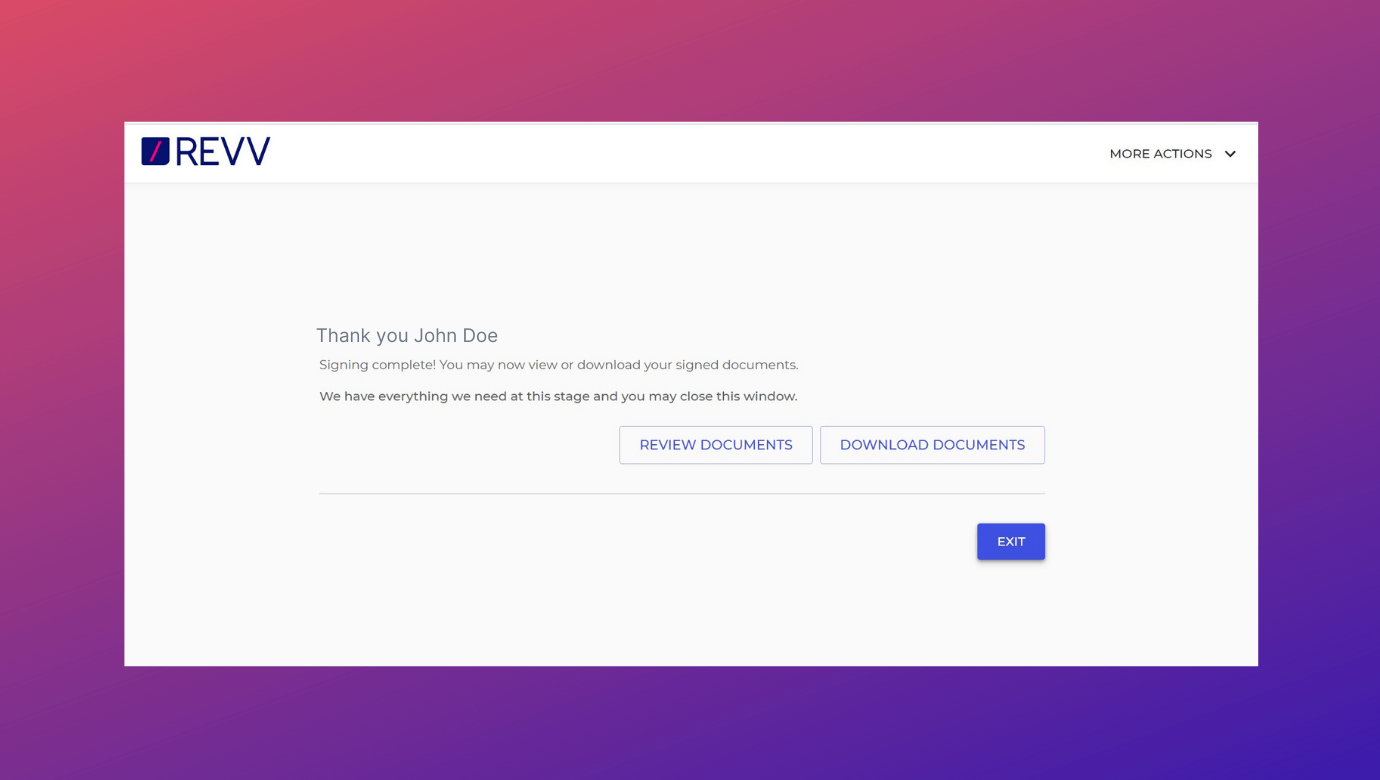 Summary
As the demand for workflow automation and Software-as-a-Service technologies rise, more companies, irrespective of their size, will prioritize the implementation of an online eSignature management solution. However, today's demand is driven not only by a solution's capacity to meet legal and regulatory standards that vary by region and use case but also by its ability to comply with a specific business workflow. This is where Revv makes all the difference – it's not a one size fits all solution but something that fits every size of business.