It's official: businesses are making the transition to online paperwork and for good reason. Electronic forms and documents are easily accessible on your device or on the cloud. They're better for the environment, they are legally accepted, and they're more convenient than an in-person meeting.
It's great to see an eco-friendly, easily-accessible evolution in the business industry, but many companies still have questions about eSignatures: How easy are these documents to understand? How do you navigate them in a way that works for you? How do Android users find the right eSignature providers with the right format for their devices?
Many people love customizable Android phones, but some apps aren't formatted for Android devices. Luckily, you can easily and successfully sign any document right from your Android phone.
Convenience is everything when it comes to electronic signatures
Among the many benefits of an electronic signature, the biggest is convenience. Signing and accessing forms from your phone are huge advantages of electronic signatures. It reduces the time spent in meetings and face-to-face discussions to finalize terms as it provides an electronic way of doing the same.
In outdated procedures, users were required to print out an agreement, sign it with a pen, and return it by fax or scan. This had put a lot of financial pressure and responsibility on the signer, and took an unreasonable amount of time.
Want a simple and quick way to sign documents using your Android phone?   
Choose Revv!
With an electronic signature, users have the ability to sign on the go. Using the right software, users can sign from their laptop, tablet, or mobile phone. The involved parties can sign the documents at their own convenience, assessing changes made at any point.
Unfortunately, not all eSigning software are compatible with Android phones. The right eSigning software should work irrespective of the operating system. That's where Revv comes in, offering mobile-friendly signing and document reading for both Apple and Android devices.
Our documents are shareable
Many companies claim to make online documents easy to access, but not all of those companies are as accessible as they claim. Even worse, some offer poorly-designed, unprofessional templates for their users.
Some online document sites require you to download the files, which takes valuable storage space on your device and doesn't let you view the document from other devices. If you happen to lose your device, break your phone, or buy a new laptop without backing up your files, the documents and forms that you have saved could be gone forever.
With Revv, your files are accessible from any device at any time. You don't have to download them or create a Revv account: Just click the link sent to your email. No app is necessary, no hoops to jump through, and there is no limit to how often you can refer your documents.
You can do both signatures and soft signs
Access to software that allows you to sign every type of document form is imperative. Especially when there are different types of signatures.
First, you have your wet signature. Handwritten, a wet signature is what many consider a "true" signature. But, online signatures are equally legitimate.
An electronic signature and a digital signature fall under the wet signature category.
An electronic signature involves typing or signing your name via the internet. This can be done with a stylus, a mousepad, or by typing your name into a box. Usually, this box will create a cursive, handwriting-style font, but this is mainly for aesthetic purposes.
A digital signature is a specific type of electronic signature. Digital signatures include an added security step, like a key or PIN given only to the signatories. This extra security step is more relevant for industries like banking which deal with hyper-sensitive information.
Finally, a soft sign comes in the form of a box that users check. They're usually seen next to statements like "I agree," "OK," or "I accept." These agreements are known as clickwrap and are a streamlined way to agree to the terms and conditions of a site. These are common in mobile apps, creating new accounts, and agreeing to cookies on websites.
All of these signatures are legally binding. A soft sign using clickwrap carries just as much weight legally as its electronic and digital counterparts. Irrespective of the act of physically signing your name being absent, it validates that you fully consent to the agreement terms.
Revv allows you to sign in any of the mentioned formats.
You can make comments on the docs themselves
Before sending documents for eSign, make them error-free with the Notes feature. It is a real-time collaboration feature provided by Revv. You can get your docs thoroughly reviewed by your peers, by simply tagging your colleague with @mentions. The tagged person will receive an email notification for the same. 
If the user wants additional information from a team member to be incorporated in the document, he/she can do it by adding a Public or Private comment addressing the concerned person. The real-time collaboration feature makes the review process easier and improves turnaround times.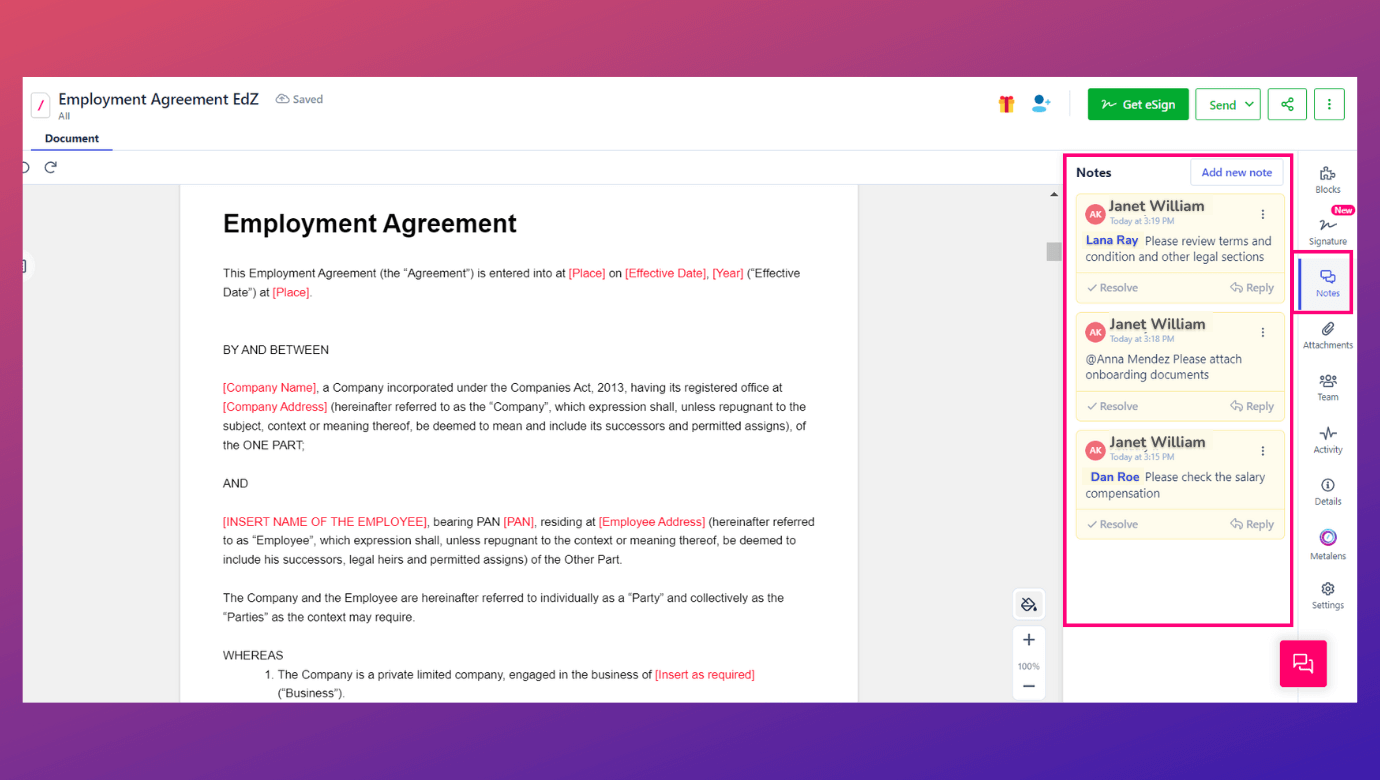 Want a simple and quick way to sign documents using your Android phone?   
Choose Revv!
Track real-time progress on your documents
Revv users can track document progress from the Activity feature. It shows and records all the activity that happens on the document. For instance, it records information such as: who has opened the document, when it was opened, what action has been taken, etc.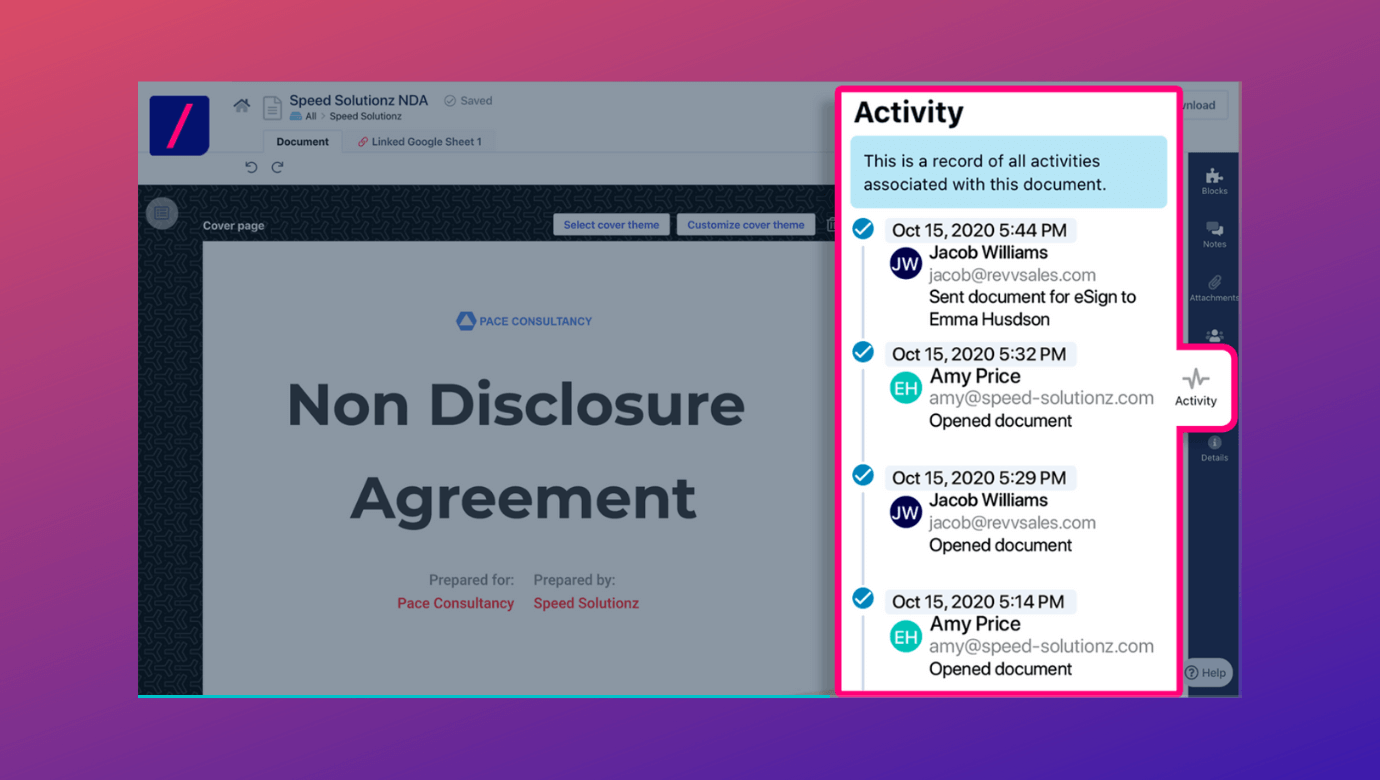 Signing documents from an Android is easy
With Revv, signing any document on an Android is easy and stress-free. Its simple format eliminates the confusion otherwise encountered from less professional eSignature software. It also provides a better workflow to manage your documents.
When a user creates and sends a document for eSign, it goes straight to the recipient or signatory's email inbox. From there, all the recipient has to do is click to view the document, read them carefully, and sign or check the boxes where necessary.
But before a recipient starts the signing process, they are first asked for consent to proceed with an I agree or Decline button. This is where Revv eSignature aligns with the E-SIGN Act and UETA regulations.
As per E-SIGN Act, any electronic signature software should adhere to the following four rules:  
Intent to sign and opt-out 
Consent to conduct business electronically 
Signature association with the record
Maintenance and retention of records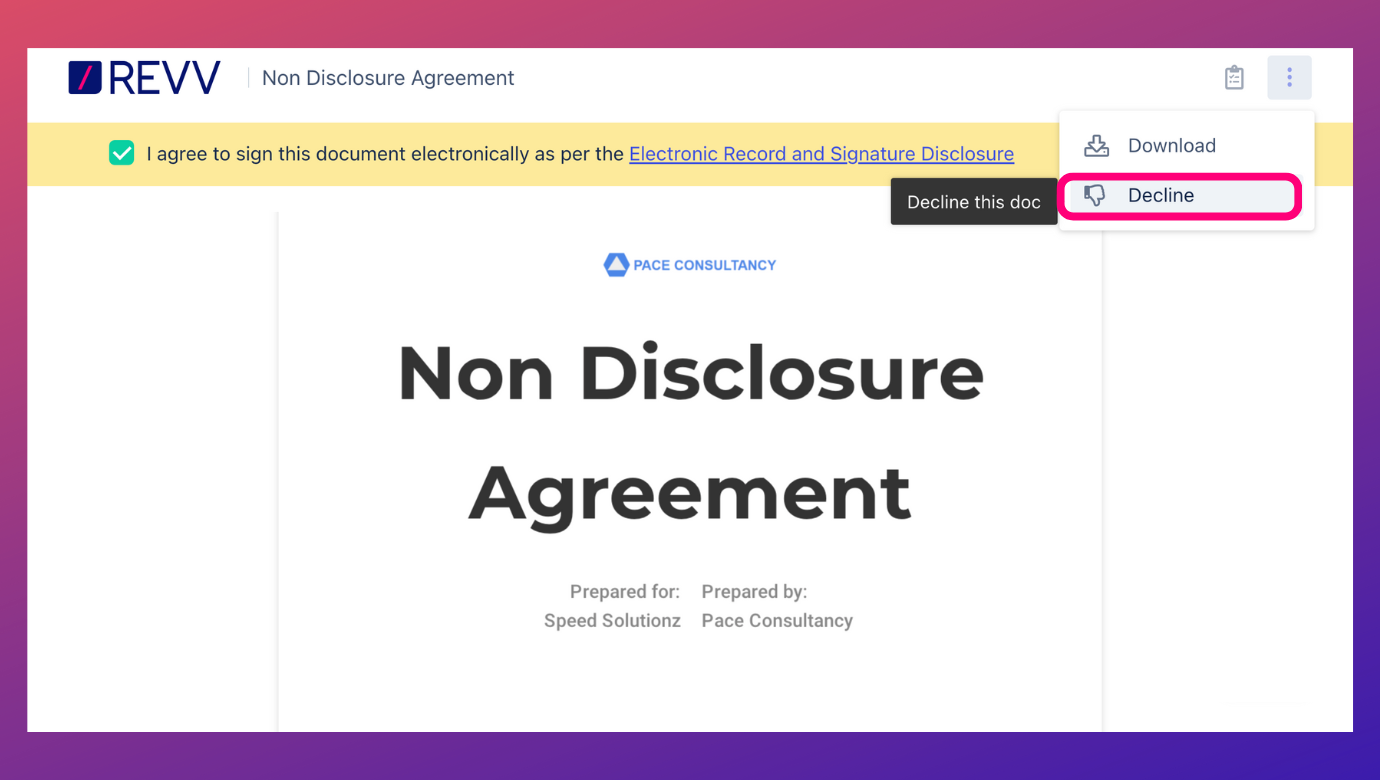 For every document sent for eSigning, Revv first asks the recipient's intent and consent to sign the business document electronically. If the signer changes their mind, they are free to refuse to sign the document as well.
Legally-binding audit trails

To avoid any future legal disputes, Revv generates an electronic copy of audit trails in the form of an Evidence Summary for all eSigned documents. It records each action taken during the signing process such as the signer's information, date and time stamp of each action taken by the signer, IP address of the signer, and other details that act as legal proof.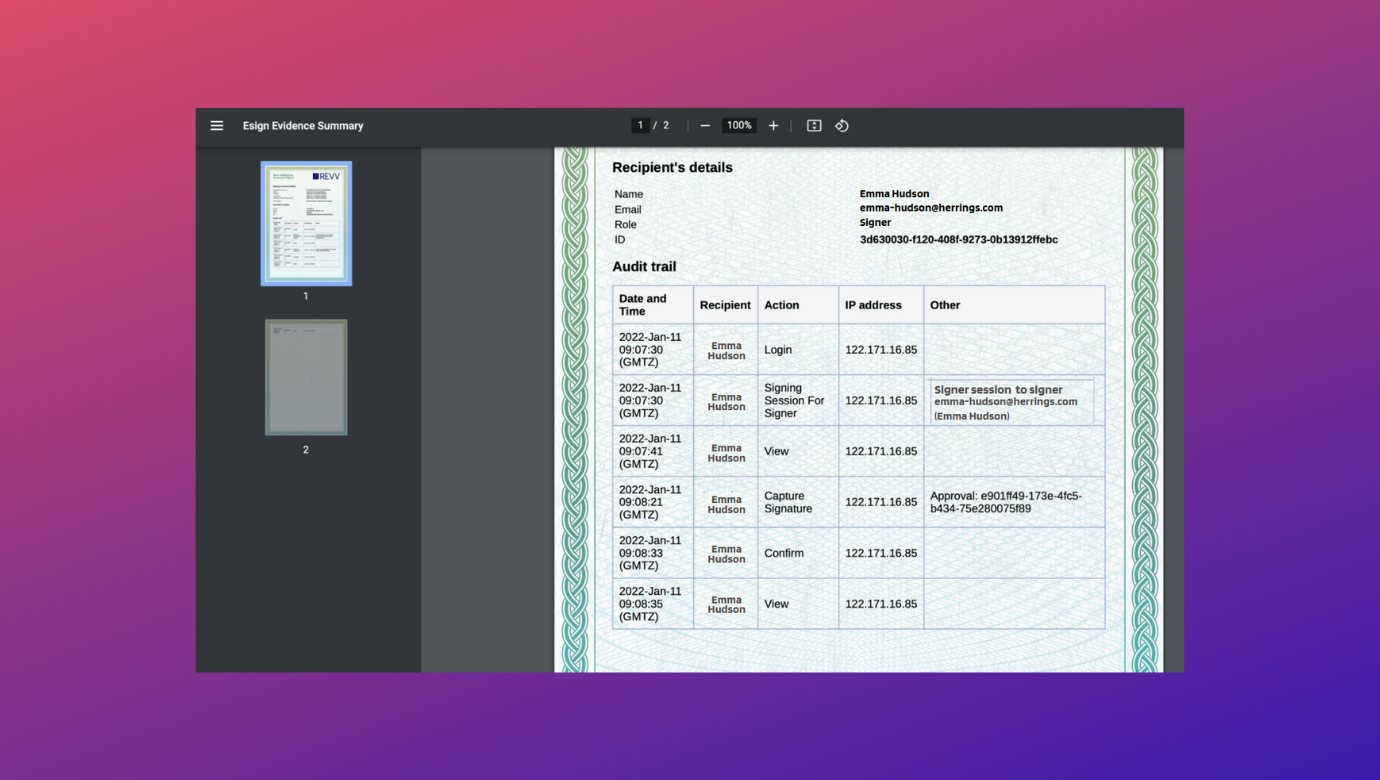 Signing off documents from Revv is simple and quick. After you click the I agree button from your smartphone, you are directed to the signature tag in the document. Click on the signature button and choose to sign off the document as you wish.
Revv provides three types by which an android user can sign the document.
Text signature: Signer can type his/her name in the box provided and choose from the pre-formatted text styles. Revv also offers the flexibility to customize recipient names. They can type their full name, keep only initials or even create a unique signature that represents them as the signer.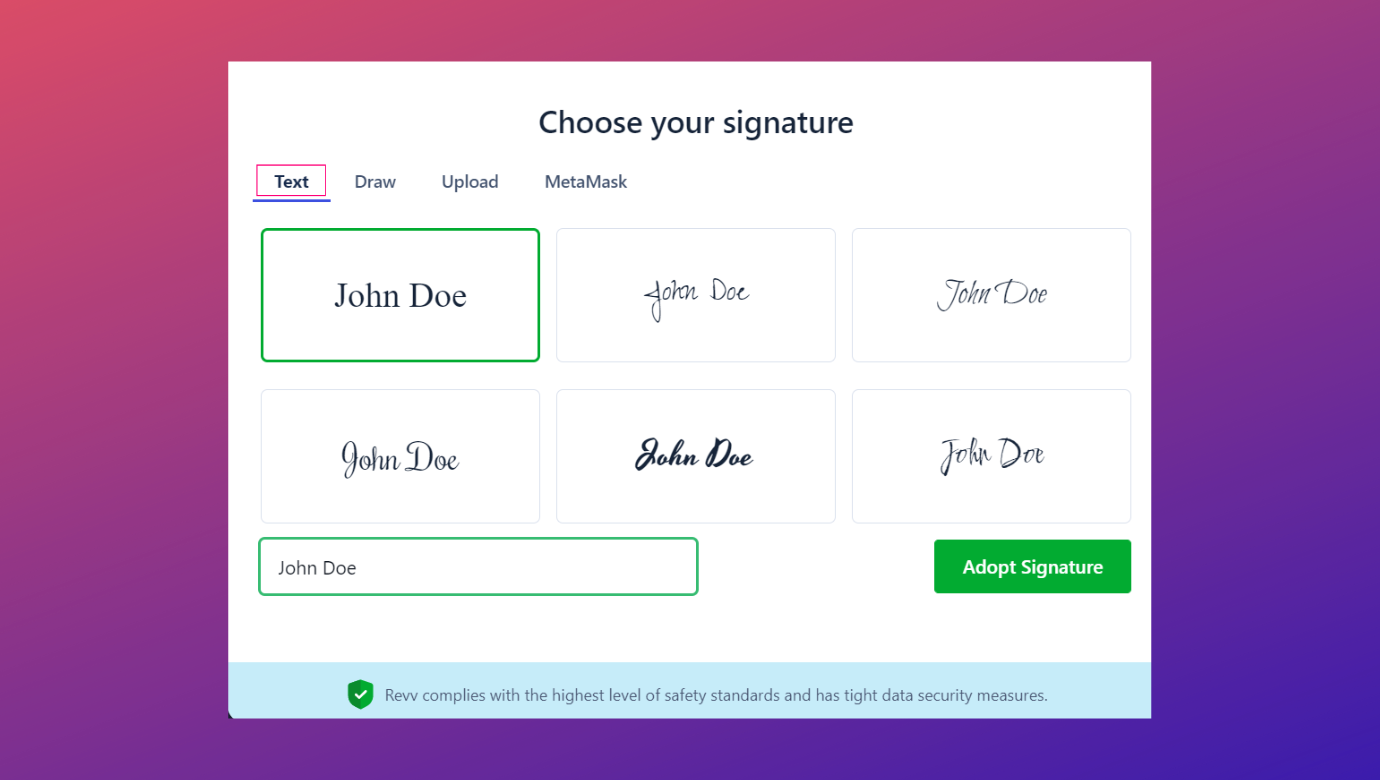 Upload signature: You can scan and upload your handwritten signature. If the image of your signature is already stored in your android phone, you just need to drag and drop the file and close the signing ceremony. 
Draw signature: Recreate your signature by simply drawing it on your mobile screen. You can even use a digital pen.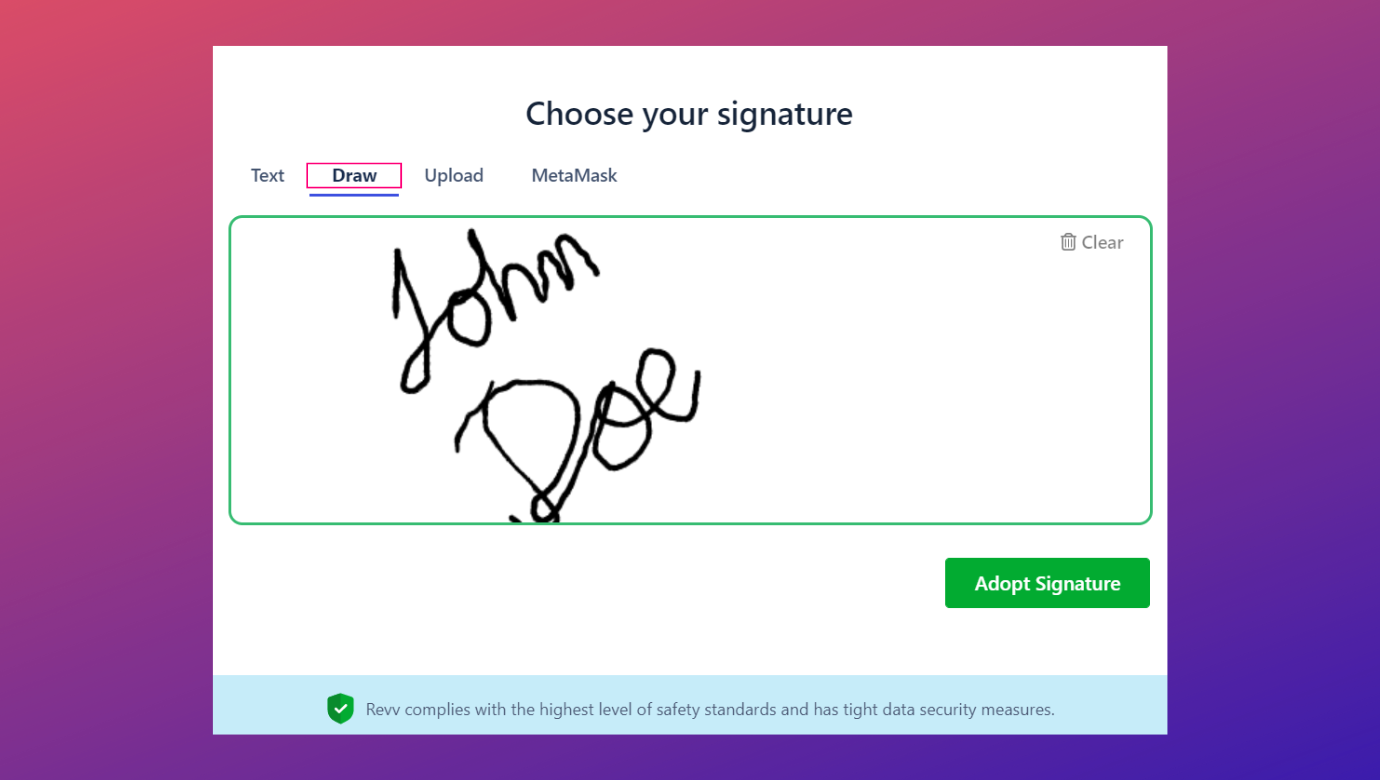 Summing up
As we strive to accelerate in the age of digital transformation, finding the right software that amplifies the productivity and operational efficiency of our business is paramount. Revv aims to be the right companion for this journey. With Revv, you now know how easy it is to sign documents from an android phone.
SOURCES:
The advantages and benefits of electronic signature | Tech Engage