Simplifying eSignature workflows mean breaking the walls and building the bridges between business processes. It means eliminating the bottleneck to manually trigger the business workflows.
But, you need the right platform and support to simplify your eSignature workflow and allow it to do all the heavy lifting instead of taking on all the burden yourself.
This blog takes you on an informative journey to get a hang of electronic signature workflows and learn how to automate them end-to-end.
What are eSignature workflows?
Electronic Signatures are becoming an increasingly important component of conducting business in the 21st century.
After all, some of the biggest reasons businesses implement electronic signature processes are saving time and money — resources that are invaluable for businesses of any size and standing. It gives you freedom from long-winded steps and hold-ups of physical paper signing and processing.
Sales, human resources, accounts, legal, procurement – business functions across industries depend on documents to run day-to-day operations.
Electronic signatures make the whole signing process easy. Automating the eSigning process means freedom from the tedious process of creating-uploading-sending-downloading-printing-signing-scanning.
But, it is just the tip of the iceberg.
The deeper advantages of electronic signature technology can only be reaped when it is hitched to the right workflows. Electronic signature workflows have many benefits like –
Speeding up the critical elements of the business processes
Eliminating the roadblocks in workflows
Enhancing interdepartmental collaboration and transparent engagement
Ensuring all the document processes are running properly and in a timely fashion
Empowering employees to automate tasks without leaving their business application
How do automating and simplifying eSignature workflows work for businesses?
Electronic signature workflows entwine the pre-and post-events of electronic signatures and streamline the entire process with automation. It redefines the business operations and gives you complete control over them from the beginning to end, for instance,
HR – creating an impeccable onboarding process
Procurement – syncing purchase orders to invoice operations
Sales – automating sales quotes to contract renewals
Electronic Signatures are moving from operational tools to strategic practice for good employee experience (EX) and customer experience (CX).

Forrester study
Automating eSignature workflows pushes your business forward and enhances the customer experience. But, if you're going about the whole process incorrectly with complex and inefficient workflows, then you're not achieving what you set out to.
This is why businesses looking to simplify their eSignature workflows should look for an electronic signature solution infused with document workflow automation capabilities. A system that's user-friendly and makes sense for both your employees and your clients. After all, the entire point of simplifying eSignature workflows is to save time and resources.
That said, there are tons of different options out there to choose from, and it can be difficult to narrow it down on your own.
Simplifying eSignature workflows with Revv
If you're looking to automate your eSignature workflow, look no further than Revv. Revv offers optimizing, signing, and closing workflows engineered for growth.
With Revv, you'll have efficient workflows in place to help you speed up the entire process.
The below image is one of the examples of what an automated document workflow looks like with Revv.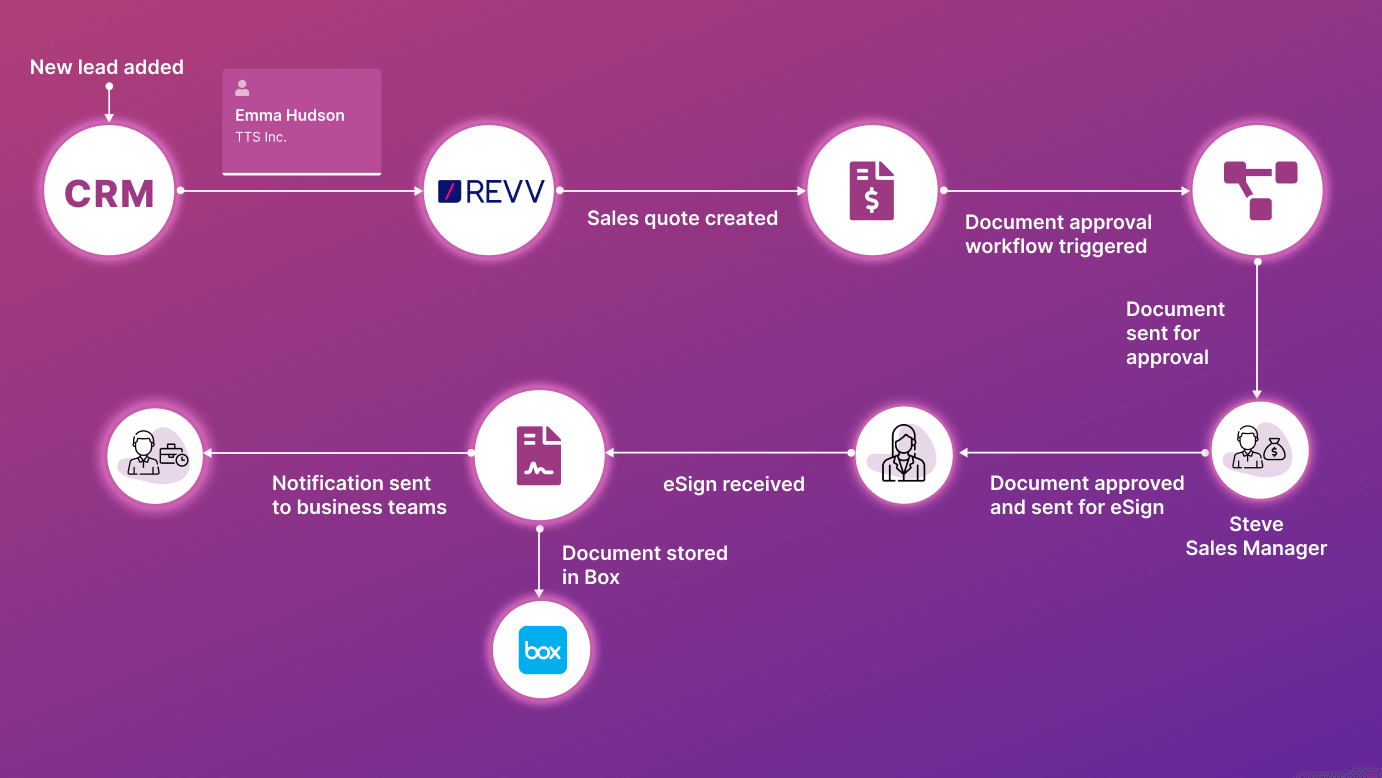 Let's understand what simplifying eSignature workflows mean to the users and how Revv fulfills and exceeds the requirement at each step.
1 | Trigger eSignature workflow without leaving your business app environment
Revv provides an organization-wide transformation on document workflows.
👉 It empowers you to map, automate, and optimize each workflow.
👉 It removes the hurdles by triggering automatic prompts and ensures a flawless process.
Here's how:
1.1 Seamless integration capabilities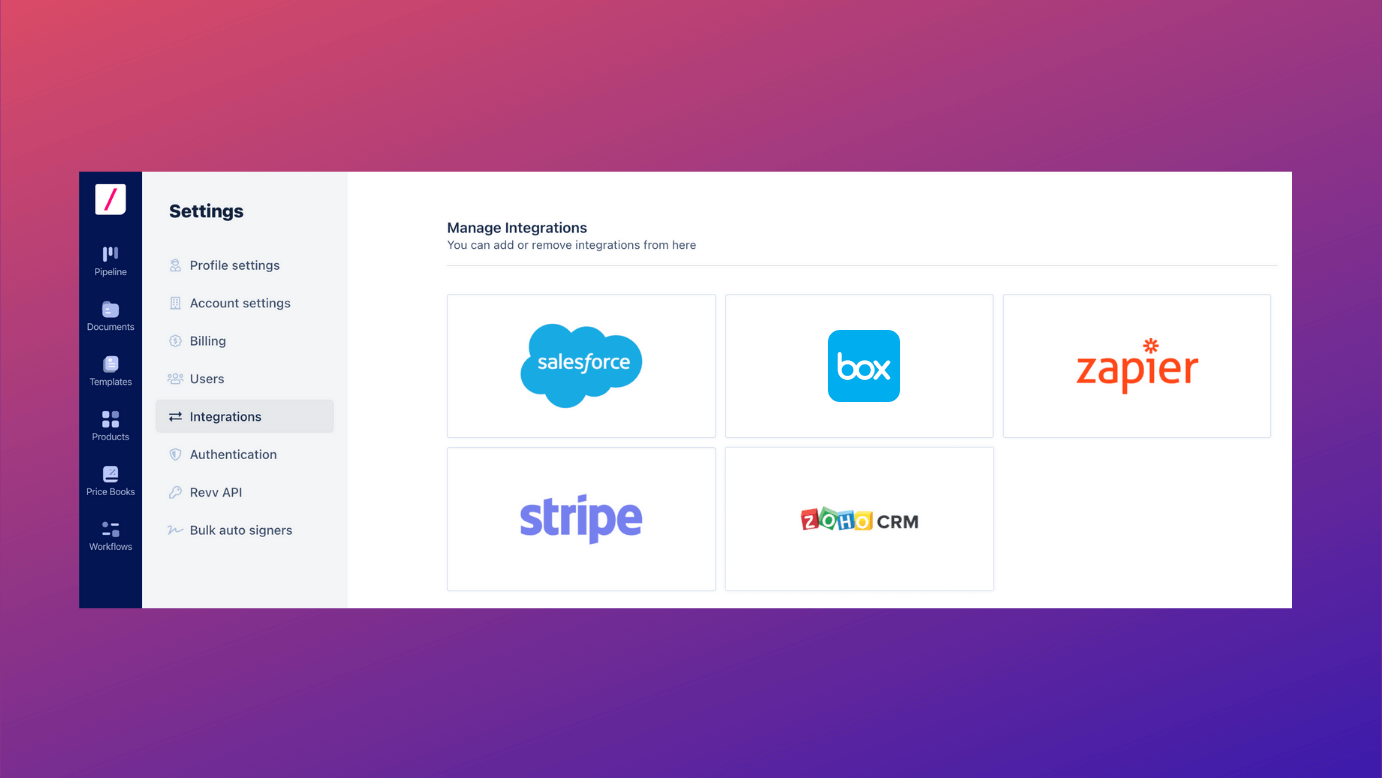 Whether you are in sales, HR, legal, financial services, or any other business, Revv makes it easy to integrate with your business systems and helps perform a complete overhaul of automated tasks.
Tasks like –
Sales:
A new opportunity in CRM triggering a sales quote for customer's electronic signature
Notifying Accounts team once the sales contract is signed
Notifying Legal team once the NDA is signed
Reminder to Sales Manager for contract renewals
Storing the signed documents to the CRM
HR:
Automating employment agreement for a new joinee once his details are updated in HRIS
Notifying payroll team once the joinee signs the employment agreement so that the payroll teams take care of their salary credit
Revv provides in-built integration with popular business platforms. Alternatively, you can also opt for Native APIs or connect Revv to 4000+ apps using Zapier.
Integrate Revv seamlessly with your crucial business apps like:
CRMs like Salesforce, Zoho, HubSpot, etc.
Billing and payment apps like Chargebee and Stripe
Accounting software like QuickBooks
Excel Sheets and Google Sheets to import data
Storage systems like Box, Dropbox, Google Drive, etc.
Chat platforms like Slack, Google Chat
1.2 The incomparable data mapping feature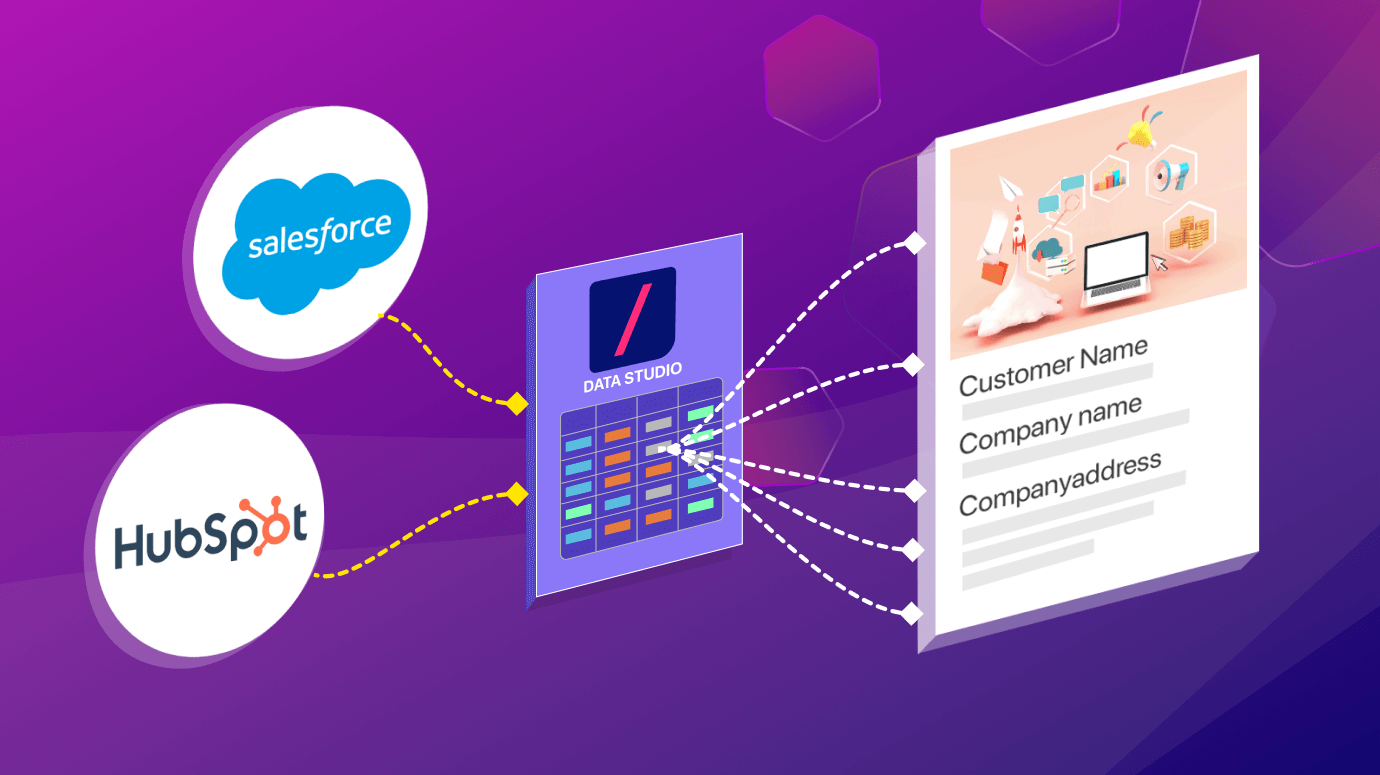 This is the most grueling task of all and the most important link to the document workflows.
Think of it like this.
Let's say you reach the airport to board a flight but realize that you typed the name wrong in your ticket. Doesn't matter how hard you try to convey the security at the airport, but if your name is misspelled in your ticket, you will be denied entry.
When such an error takes place at a business level, think of the consequences. Wrong, inaccurate, inconsistent, incomplete, or duplicate data mapping can mean a void contract, business inefficiency, flawed analytics, and huge correction costs.
This is why organizations pay special attention to this step to ensure error-free data mapping. This is often days task that extends to weeks or sometimes months depending upon the complexity of data and documents.

But, Revv's Data Studio feature simplifies the whole data mapping process for businesses.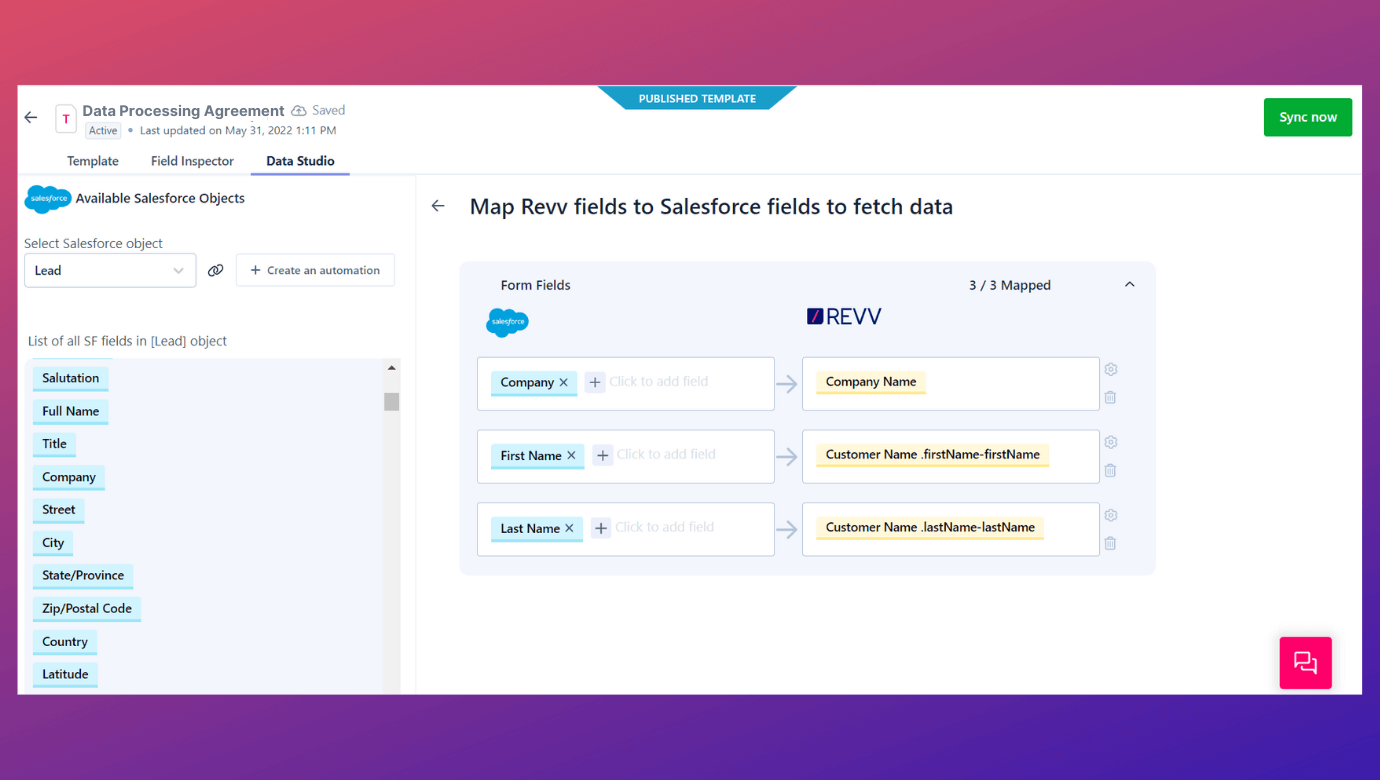 Here are the unparalleled benefits of Data studio:
Consolidates data fields of your business platform and transforms them into more meaningful fields in Revv
Reduces the data mapping task to minutes
Enables to create precise documents irrespective of the size and complexity of data
Gives freedom from Excel Sheets to Doc generation
Liberates from the backbreaking tasks of data mapping via scripts, coding, APIs, and integration platforms
Scales up as your business data grows and runs your document workflows seamlessly
Is easy to understand like a child's play
1.3 Customizable templates
How would you prefer your documents to be generated?
I loved that Revv has built-in templates plus workflow for signature gathering. Very simple and intuitive to use and the templates are quite well written. Haven't found anything like it.

User Review, G2
Well, all the hard work of integration pays off when you can generate a customer-ready document in a blink. To do so, you need to select a template in Revv from which you want to generate the documents.
Revv provides 1000+ vetted templates approved by the legal teams. Plus, they are pre-formatted and structured.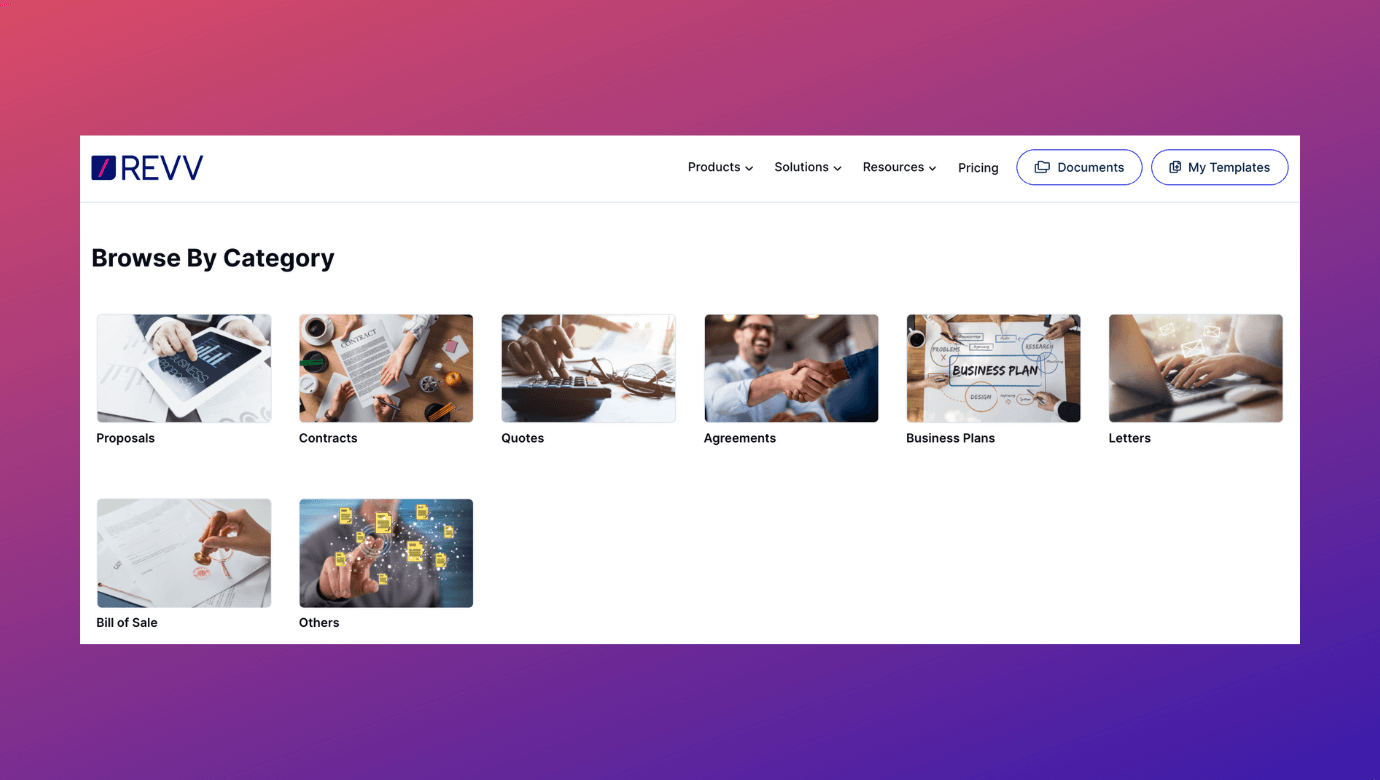 All you have to do is select a template and edit it using Revv's rich editor.
By the way, Revv's editor is an easy drag-and-drop composer with many options like images, text, spaces, page breaks, etc. It helps you to brand your document your way.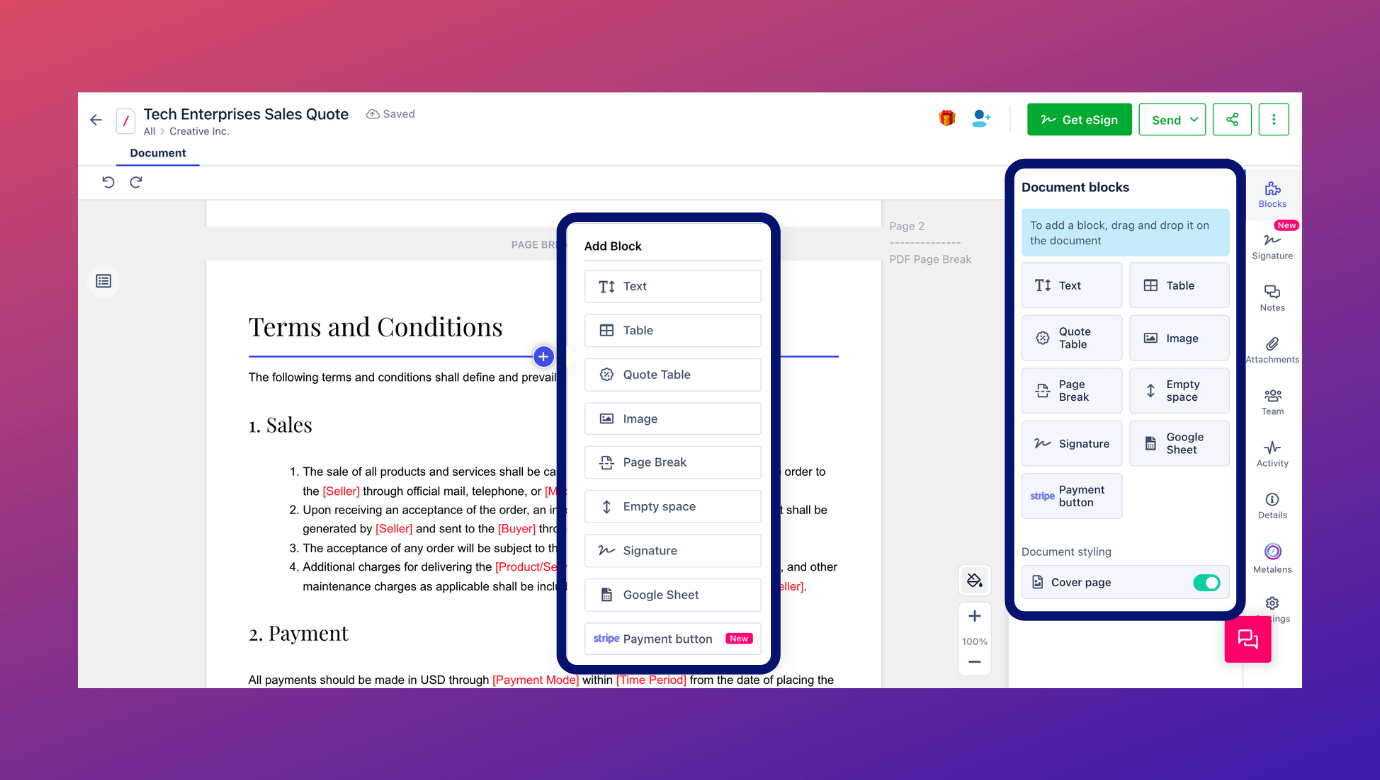 Alternatively, You can upload Word documents and PDF documents and turn them into a template.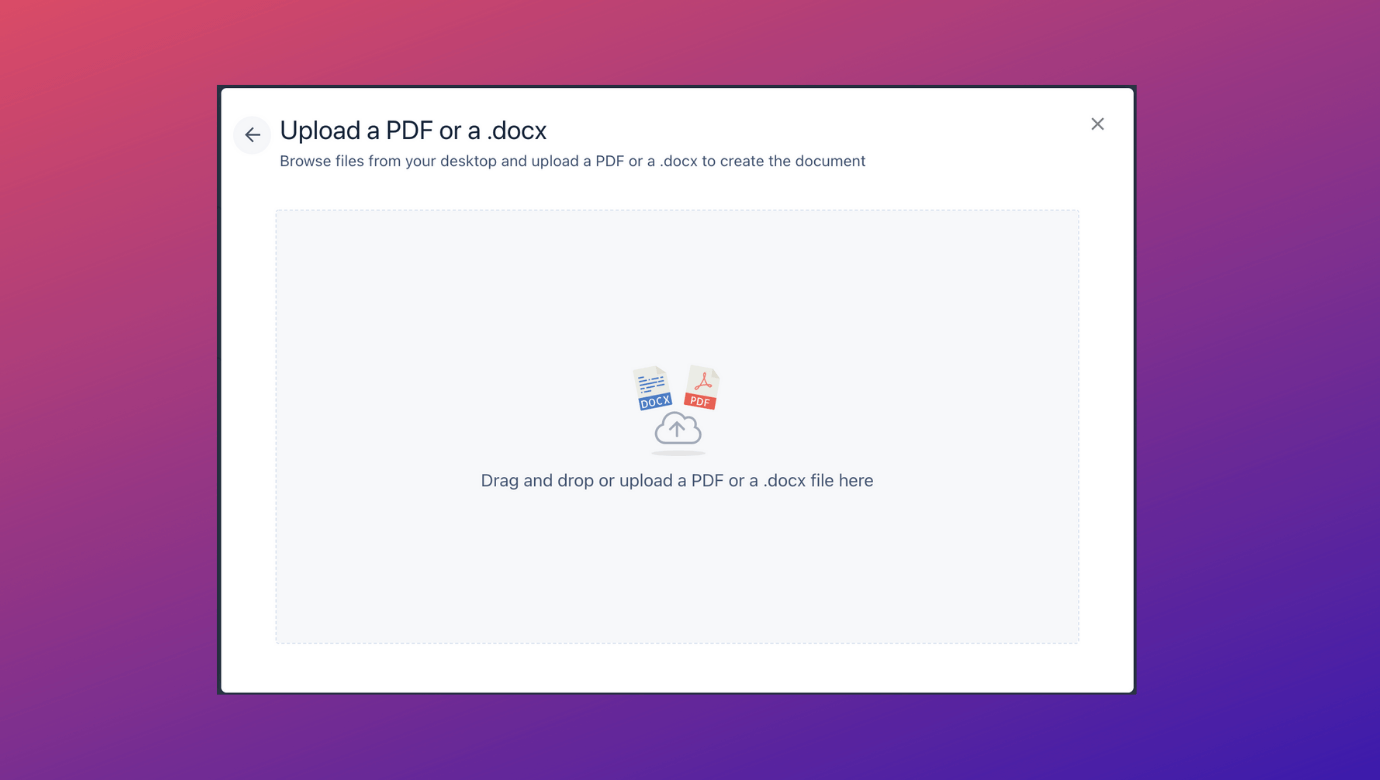 1.4 Custom web forms
Do you have all the information to execute the document and make the business relationship official? What information would you like to obtain from your signers in the document?
Once the data mapping is complete, Revv will automatically fetch the data fields from the business app and populate them in the selected document.
However, if app integration is not your requirement, and you want to automate your document workflows within Revv, Revv's form fields prove to be a blessing.
It deals with two problems at once.

Problem 1:
Usually, every document demands to duplicate the same information at multiple instances, for example, seller name, seller address, buyer name, buyer address, etc. Such information that is standardized in a document can be created as form fields while creating the template.
How will it help?
Every time you generate a document from the 'form template,' all you need to do is fill each unique form field once and it will be automatically copied to the same form fields in the document.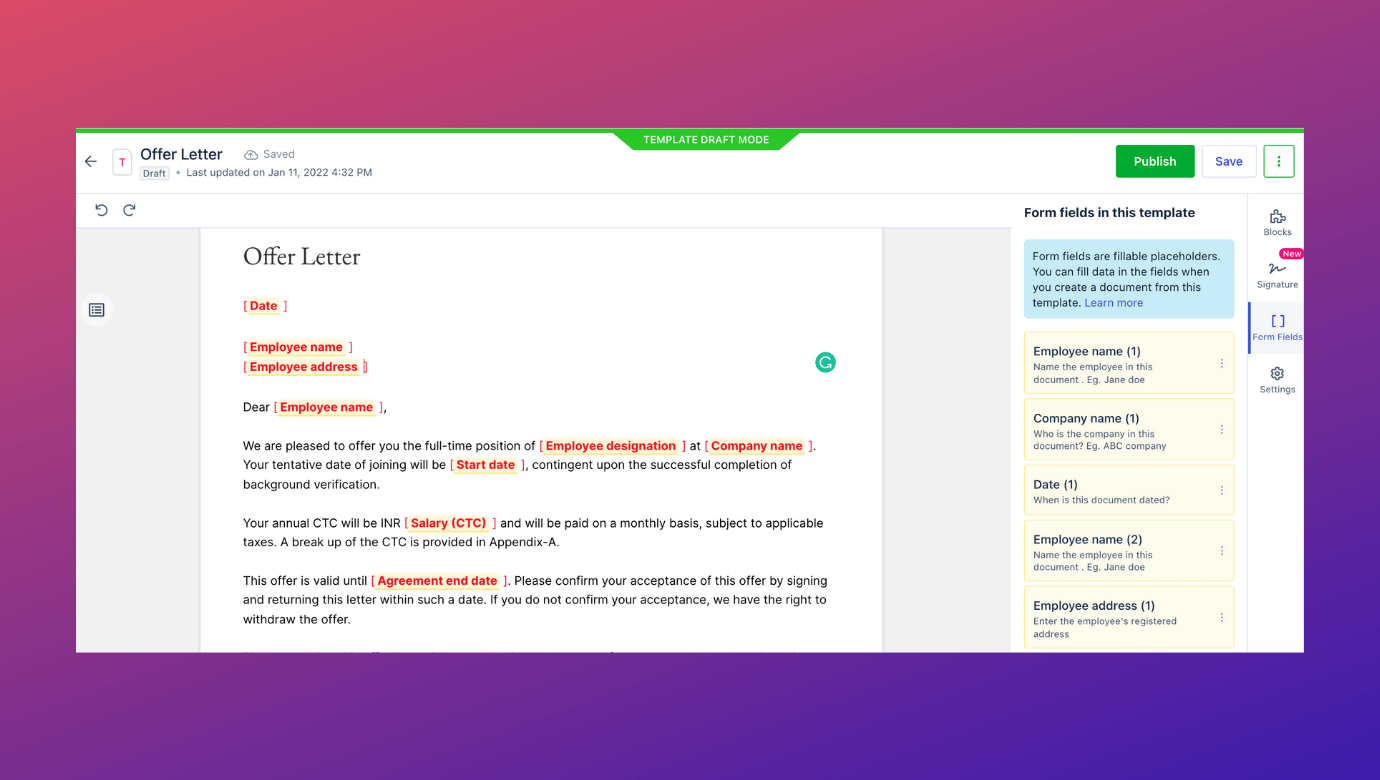 For example, when you fill the form field 'Company name' as 'PK Inc,' Revv will fill all the 'Company name' form fields as 'PK Inc.'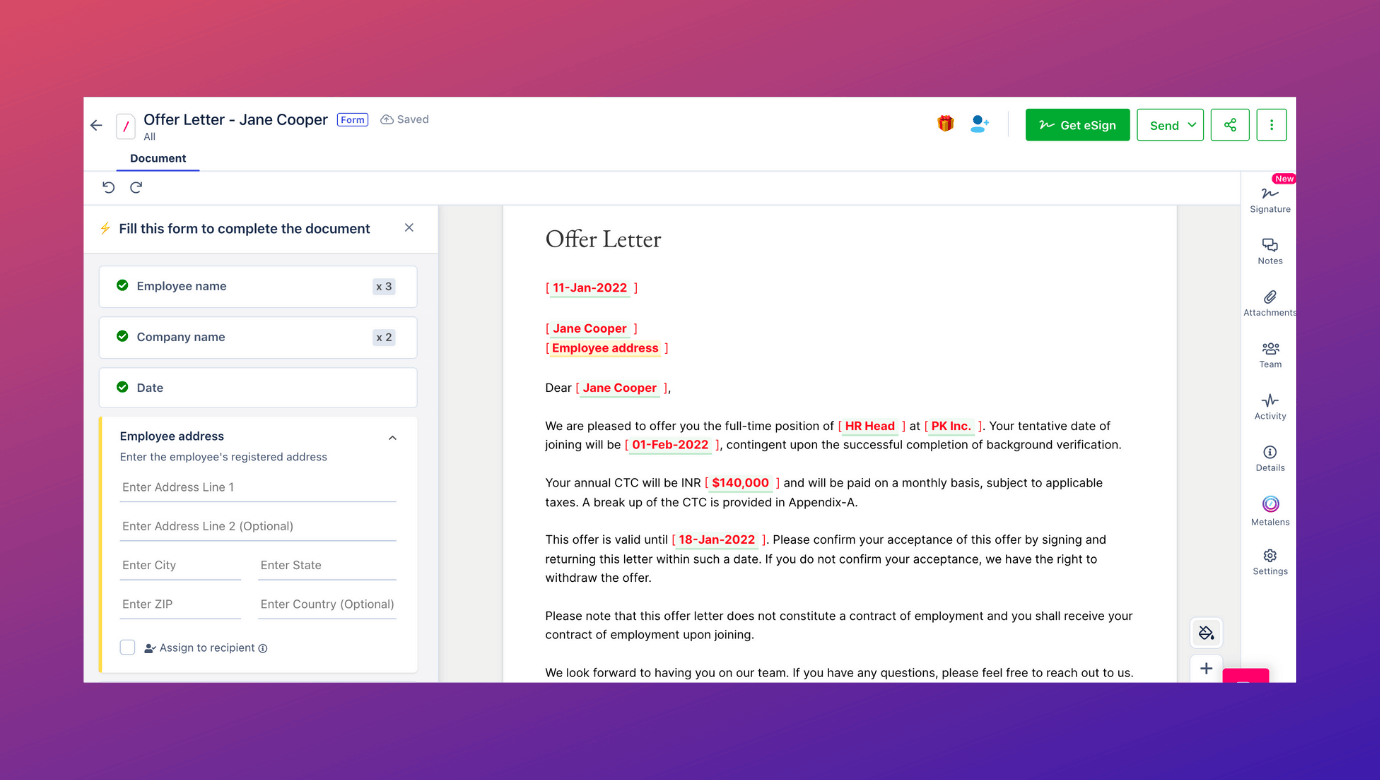 Problem 2:
There could be many instances where you need more information from your recipient before closing the document with electronic signatures.
For instance, you might want to receive the correct registered address of the employee in the offer letter. You can simply achieve this by assigning that particular form field to the recipient.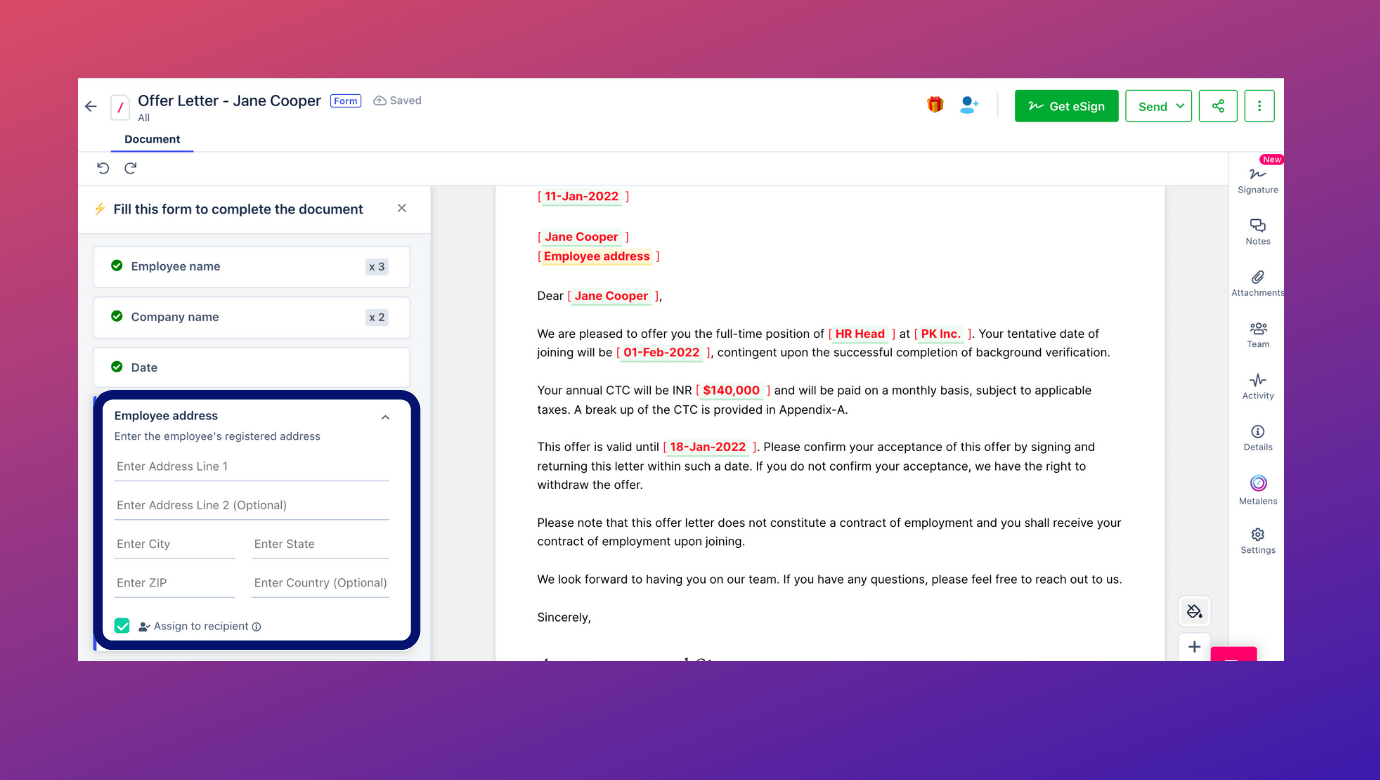 Cool, isn't it?
1.5 Intuitive internal approvals
Does your workflow demand approval or review of the document from team members?
Can the approval take place in an orderly manner?
An automated approval workflow takes away the pain of following up with approvers. It is intuitive and automatically notifies them, reminds them, and proceeds to the next stage.

It's a value-for-money software when it comes to getting approval faster & secured.All the things are predefined & anyone can use them without having deep technical knowledge.

User Review, G2
Revv approval workflows empower you to automate internal approvals.
👉 Users can create and automate approval workflows at form field level, clause level, and quote level.
👉 You can set an action for each workflow and define the approvers for the same.
👉 You can also decide the order of Approval, sequential or parallel.

Once a condition is triggered, the document gets automatically routed to the respective approvers for review, and they get notified to take action.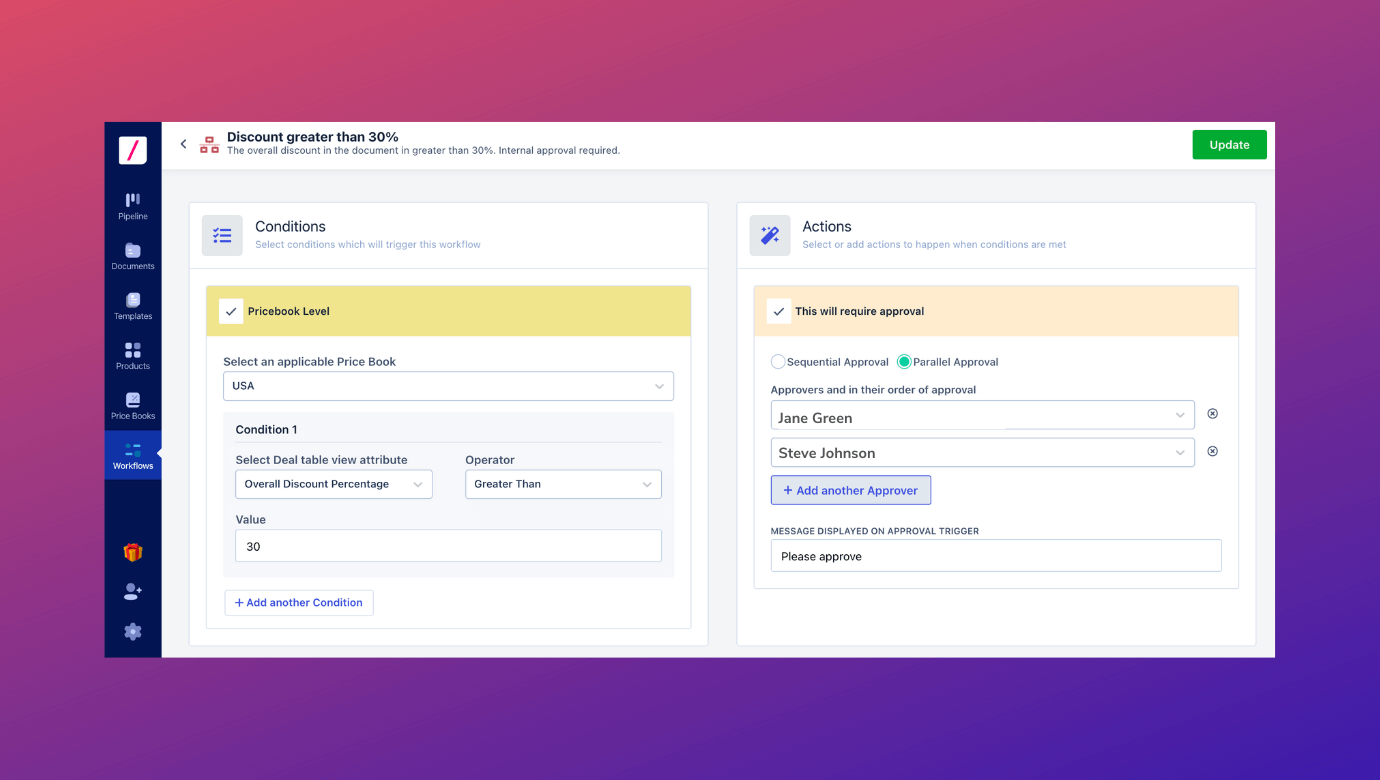 2 | Create a seamless signing experience for customers
Electronic signatures are intuitive and easy to use no matter your level of technical expertise. Customers of all ages have come to prefer electronically signing documents.
Electronic signatures help signers save time which also helps senders save time too. There's no more waiting around for a signer to go through the entire process and manually send the document back. Instead, they receive the document almost instantly, electronically sign it within a few minutes, and it's automatically sent back once it's completed.
Let's see how Revv contributes to this experience:
2.1 Multiple eSigning options
How will the online documents be signed?

Revv offers bank-grade electronic signatures that are in full compliance with relevant laws in the United States, including the Global & National Commerce Act and the Uniform Electronic Transactions Act.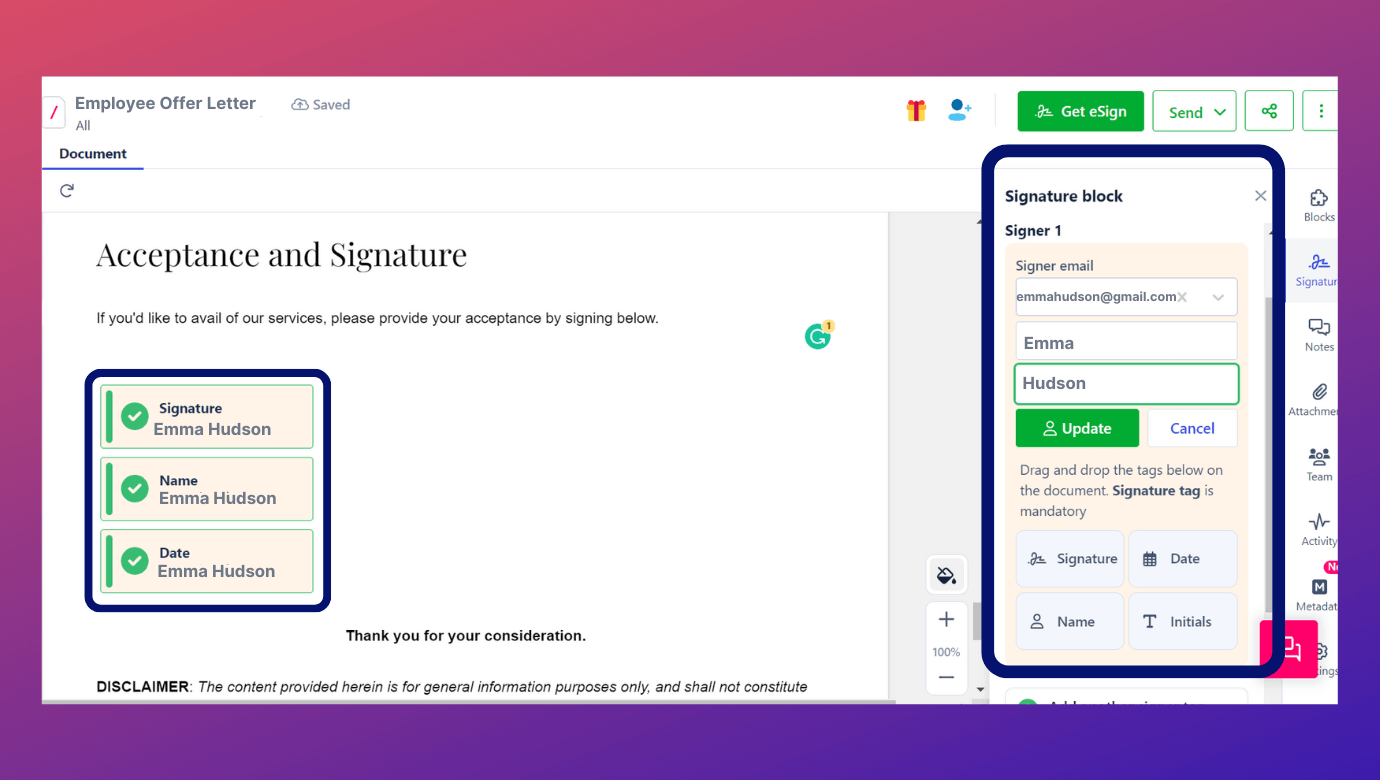 Revv also provides a flexible alternative to eSignature via its 'send for acceptance' feature to accept or reject documents. It is the equivalent of clicking "I agree" when you accept cookies or install an app and agree to the terms of service. There is also legal precedence for soft signatures being legally binding in the U.S. and Europe.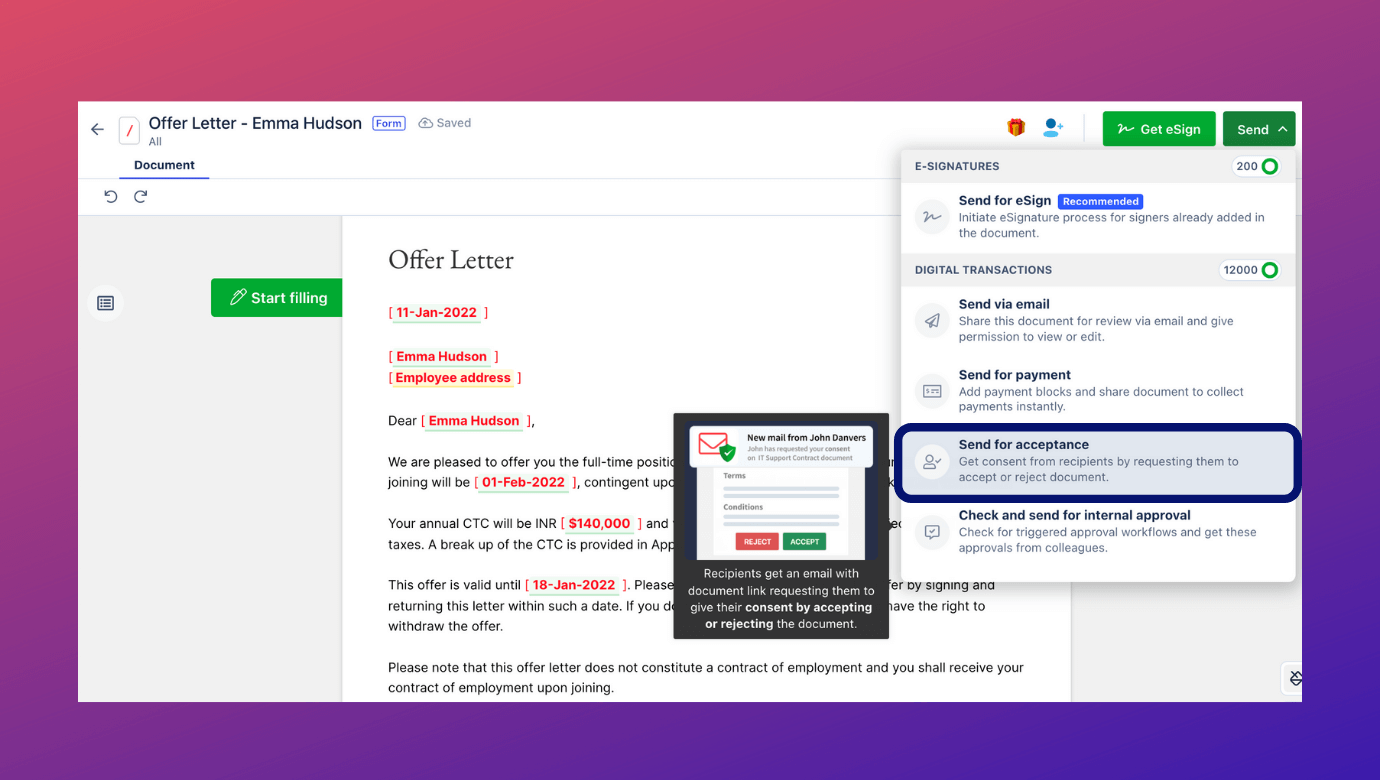 Revv also allows you to include in-depth and relevant information in the form of video messages with the documents to help move the signing process along.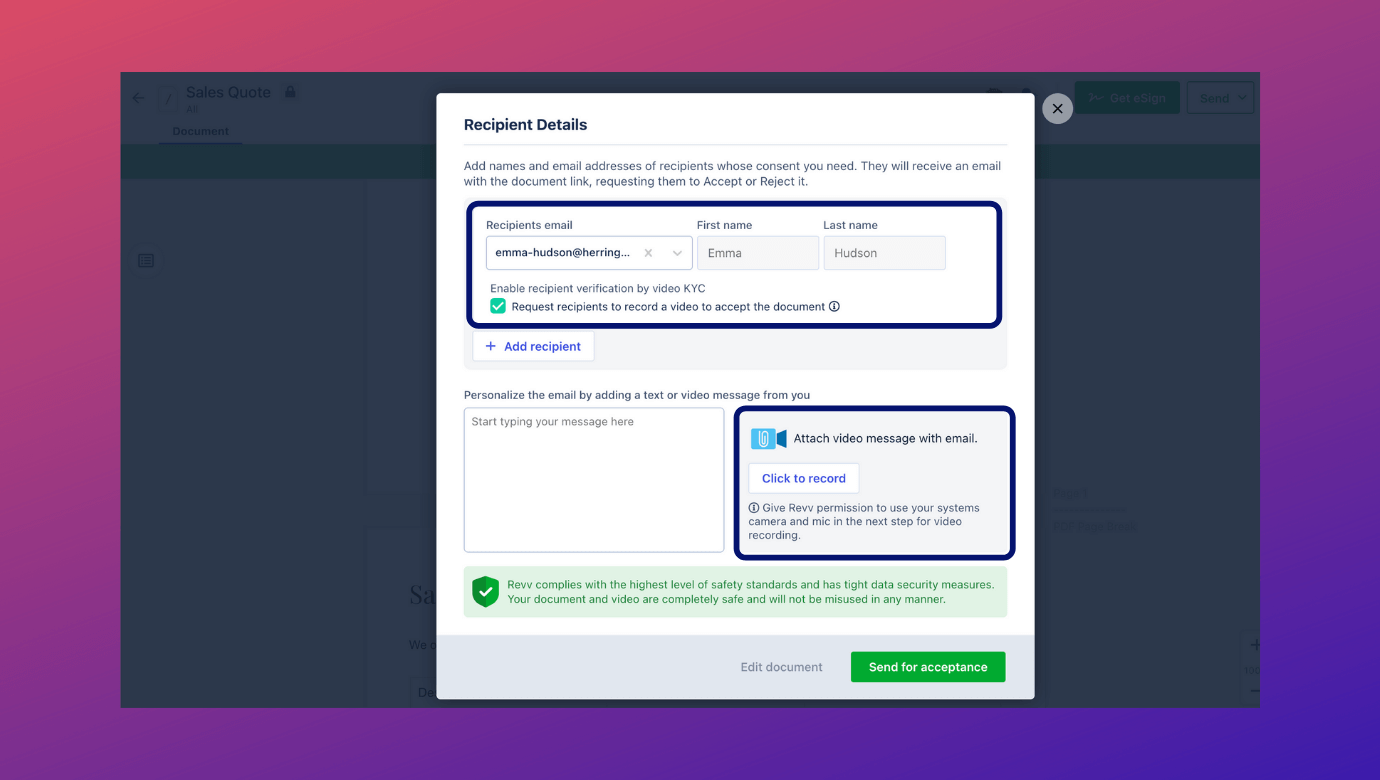 Business documents sent via Revv can be accessed and signed anywhere, any time, from any electronic device.
2.2 Easy access
How will recipients access the documents for eSigning? Are you going to send it via email? Are you going to have them log in to a website or a mobile app? Revv has all the answers.
Revv sends emails to the recipients to digitally sign the document. Alternatively, you can also send the document link to the recipient over SMS.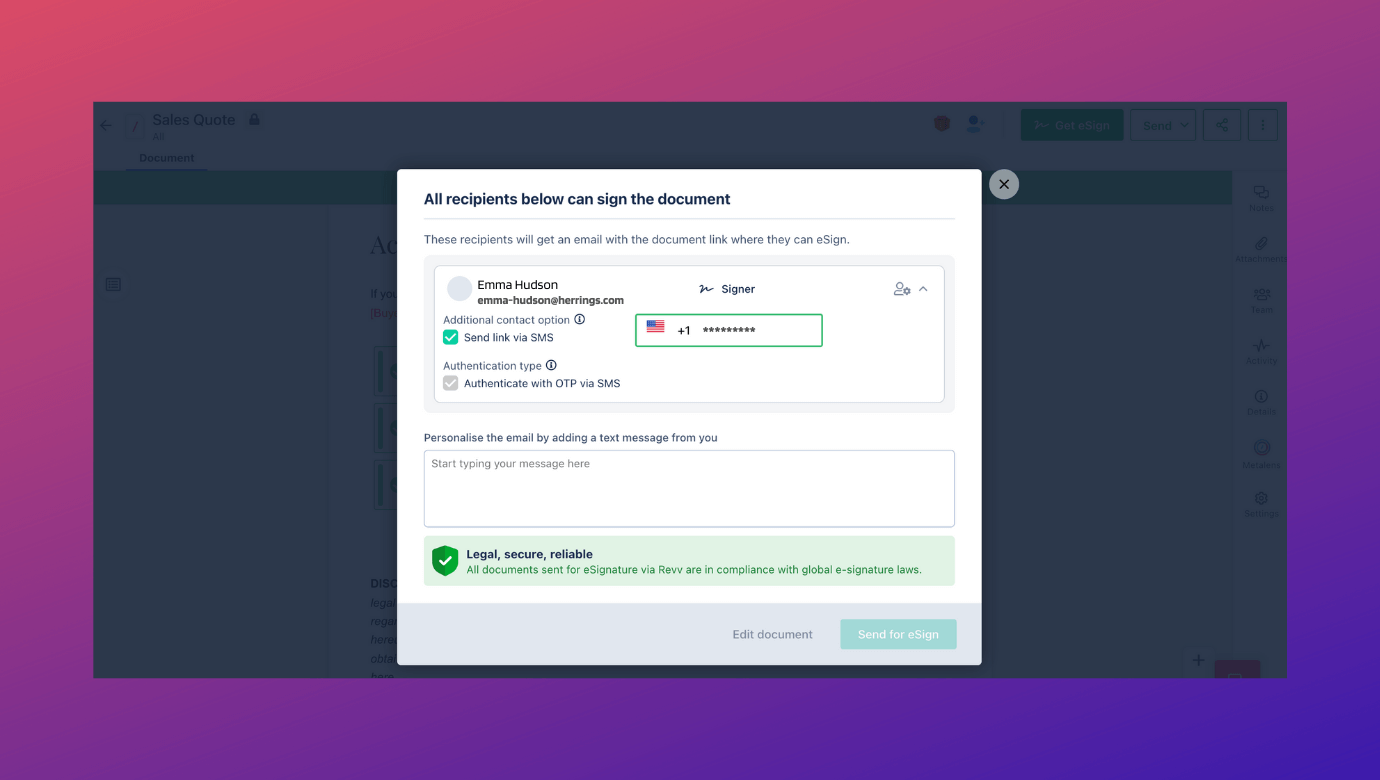 2.3 Mega signing
You can also automate sending documents in bulk using Revv. This feature helps you to customize each document with standard details like name and address, and send as many documents as you want to e-sign.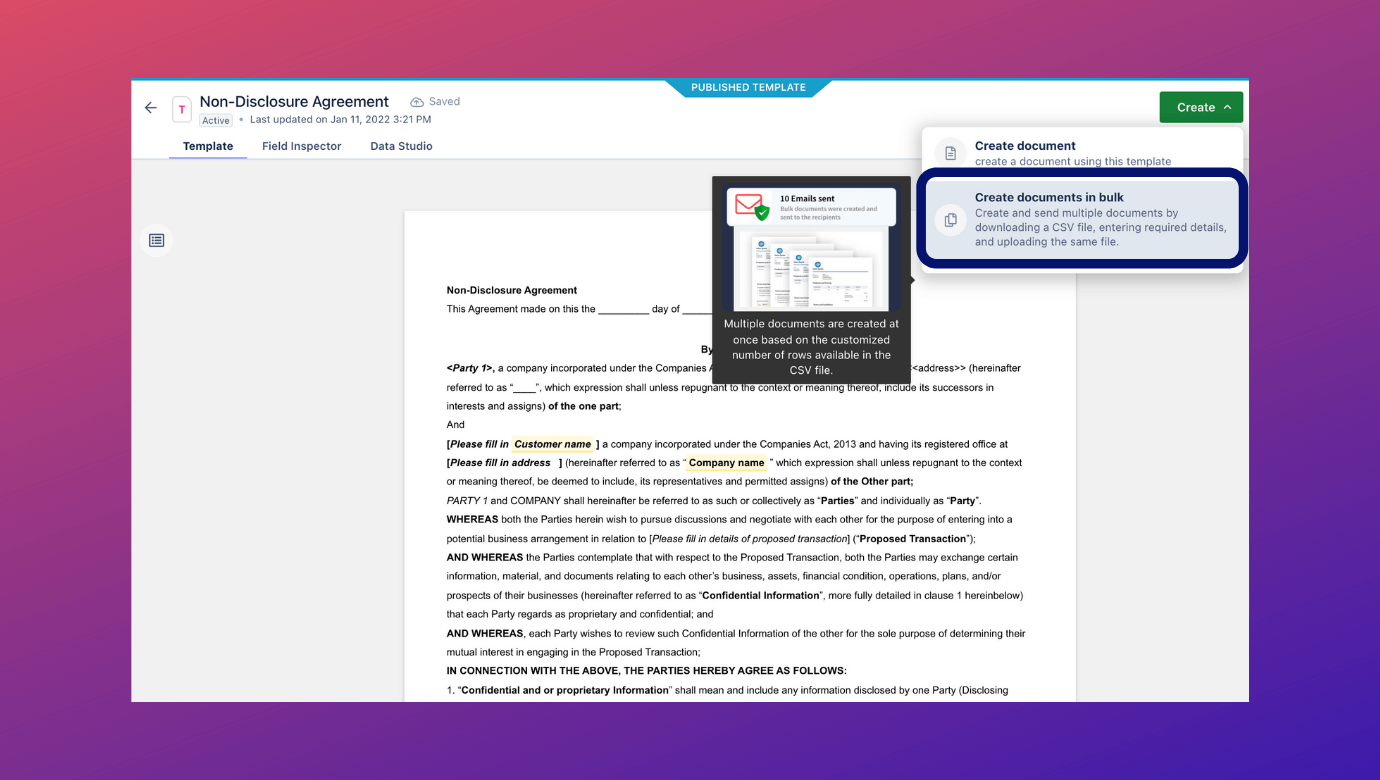 2.4 Recipient's identity authentication
How will people prove their identity before eSigning?
Revv adds more layers of security and verifies the signer's identity via two-factor authentication of email and SMS-OTP-based methods.
For clickwrap signatures and acceptances, you could even add video authentication for recipients.
You can eSign, accept, and authenticate multiple documents for signing and closing.
2.5 Flexibility to personalize your signatures
When you send documents for eSign, the recipient instantly receives an auto-generated email notification asking them to take necessary action.
Recipients or signers can now have the flexibility to sign off documents faster with Revv's flexible eSigning options. They can 'Draw signatures,' 'scan and upload signatures,' choose from 'pre-formatted text styles,' and even connect their crypto-wallet MetaMask to complete the signing process.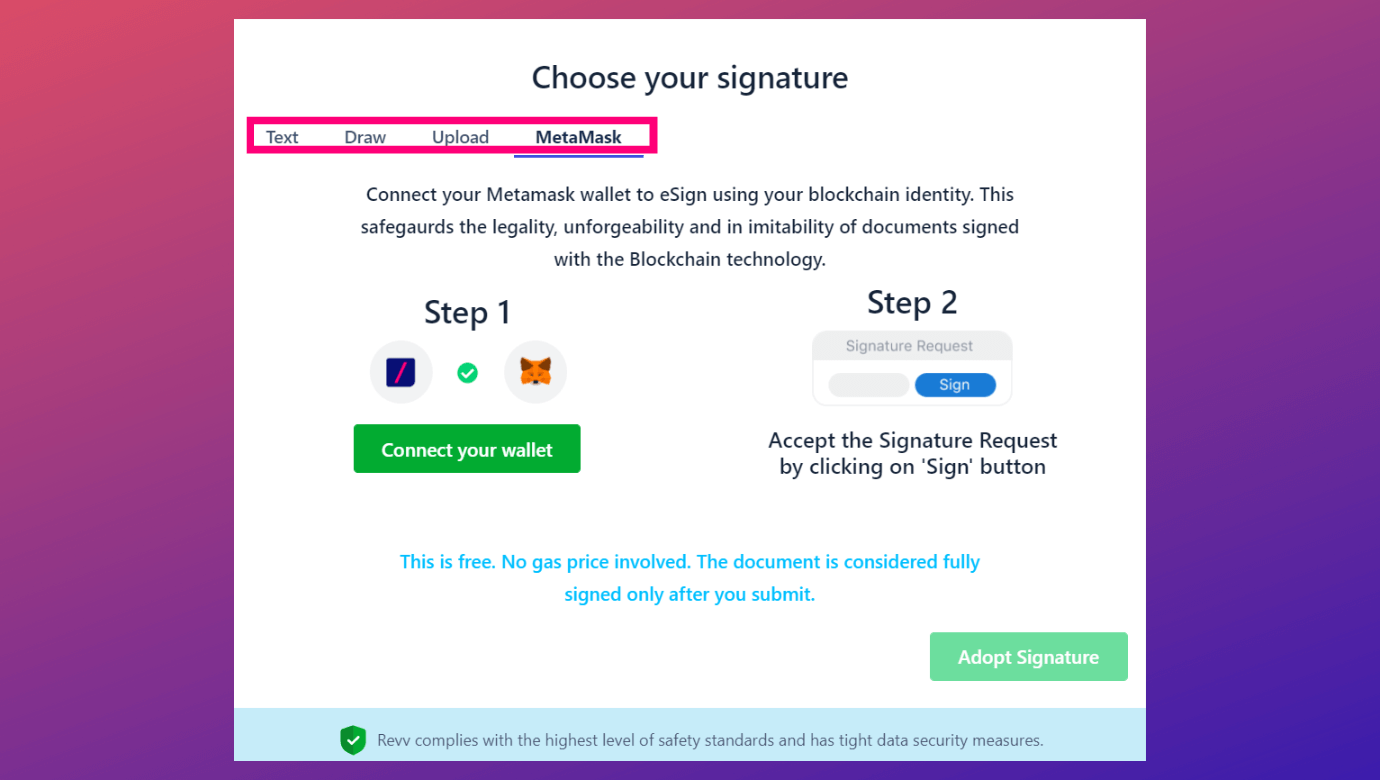 2.6 Comprehensive audit trail
Revv generates an electronic copy of audit trails in the form of an evidence summary. It is a digital certificate that registers each action taken during the signing process, which includes – signer's information, date and time stamp of each action taken by the signer, IP address, and other details that act as legal proof.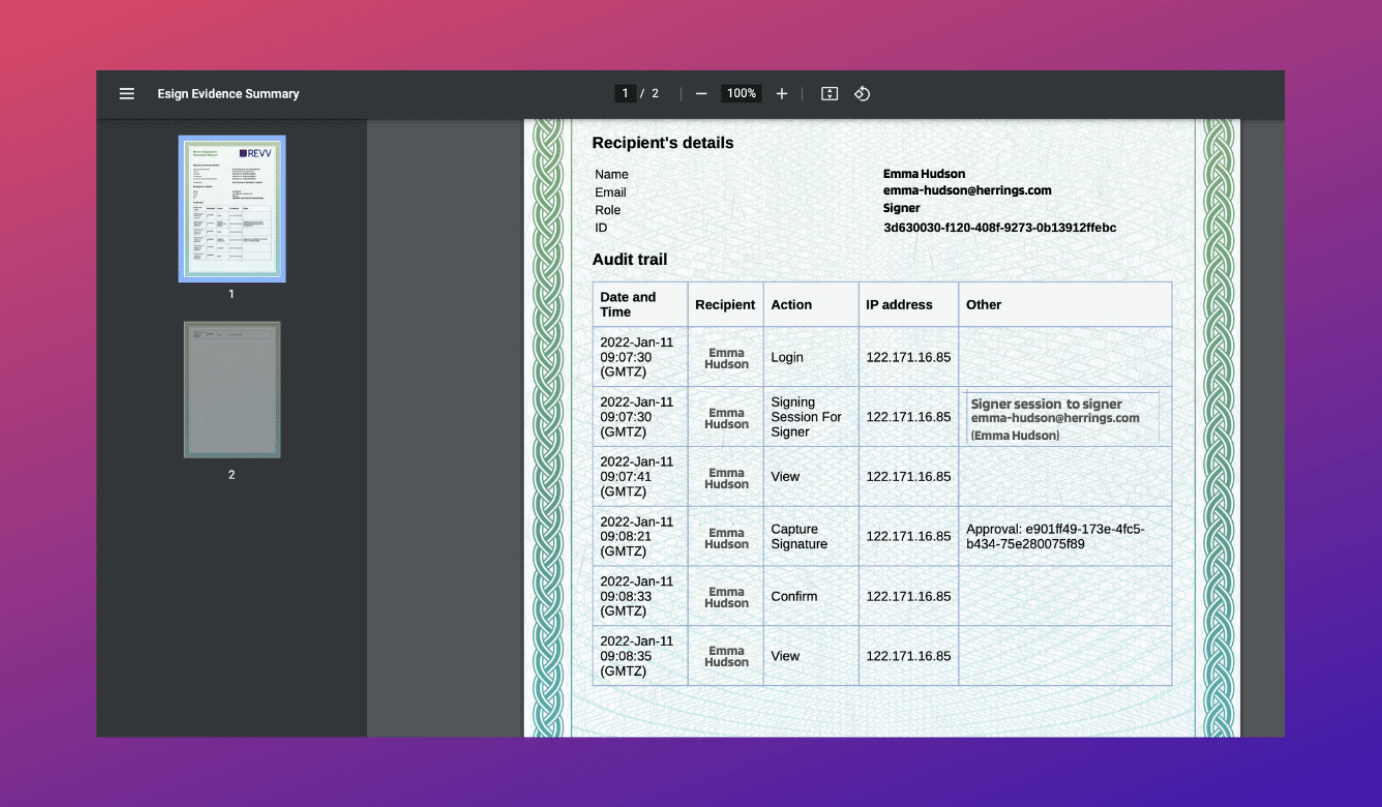 2.7 Electronic delivery, notifications, & document tracking
How will you receive the signed and completed documents? Will they be automatically sent through a website? How will you be notified?
Revv's automated system minimizes the work required by the signer and the sender.
Once the recipient signs the document, Revv provides them the option to review and download the documents before closing the page.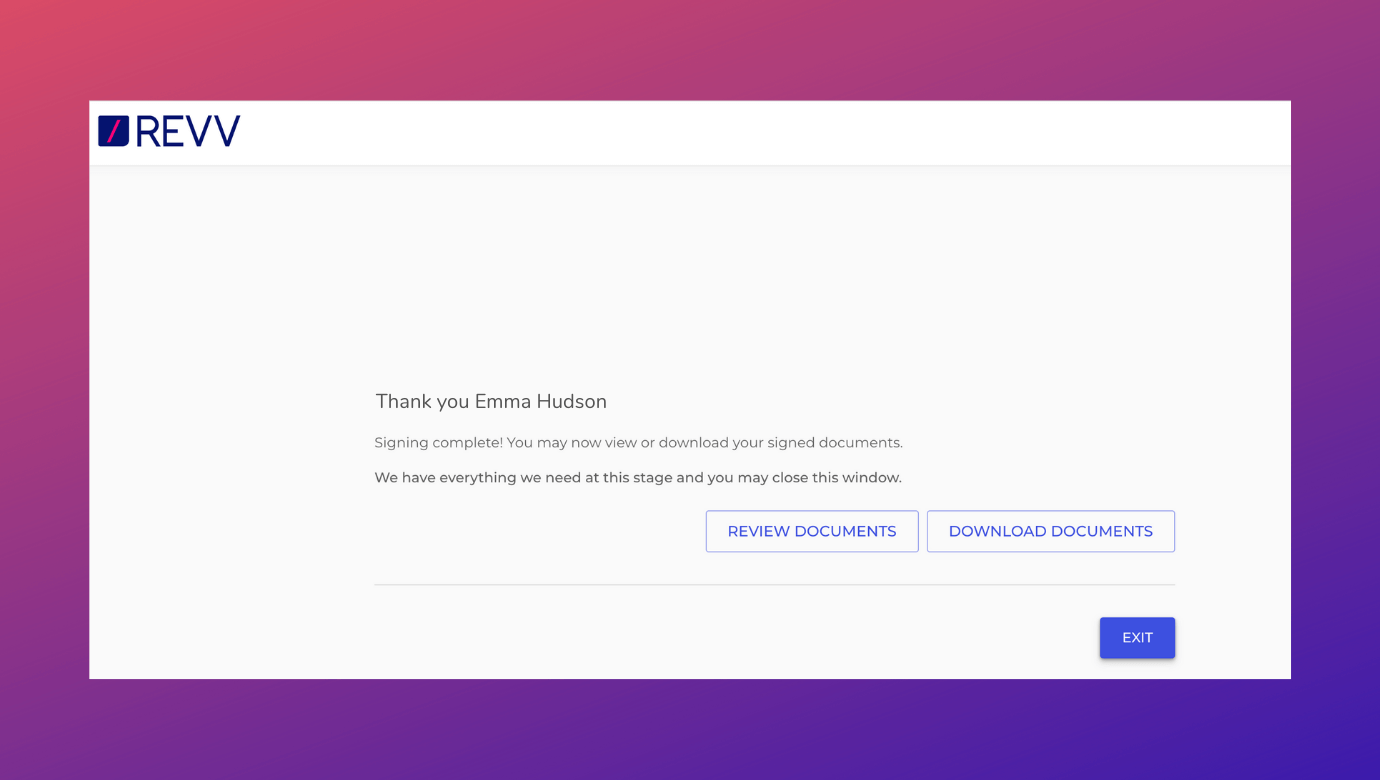 Revv notifies the senders via email once the electronic signatures are complete, and share the link to view the signed document.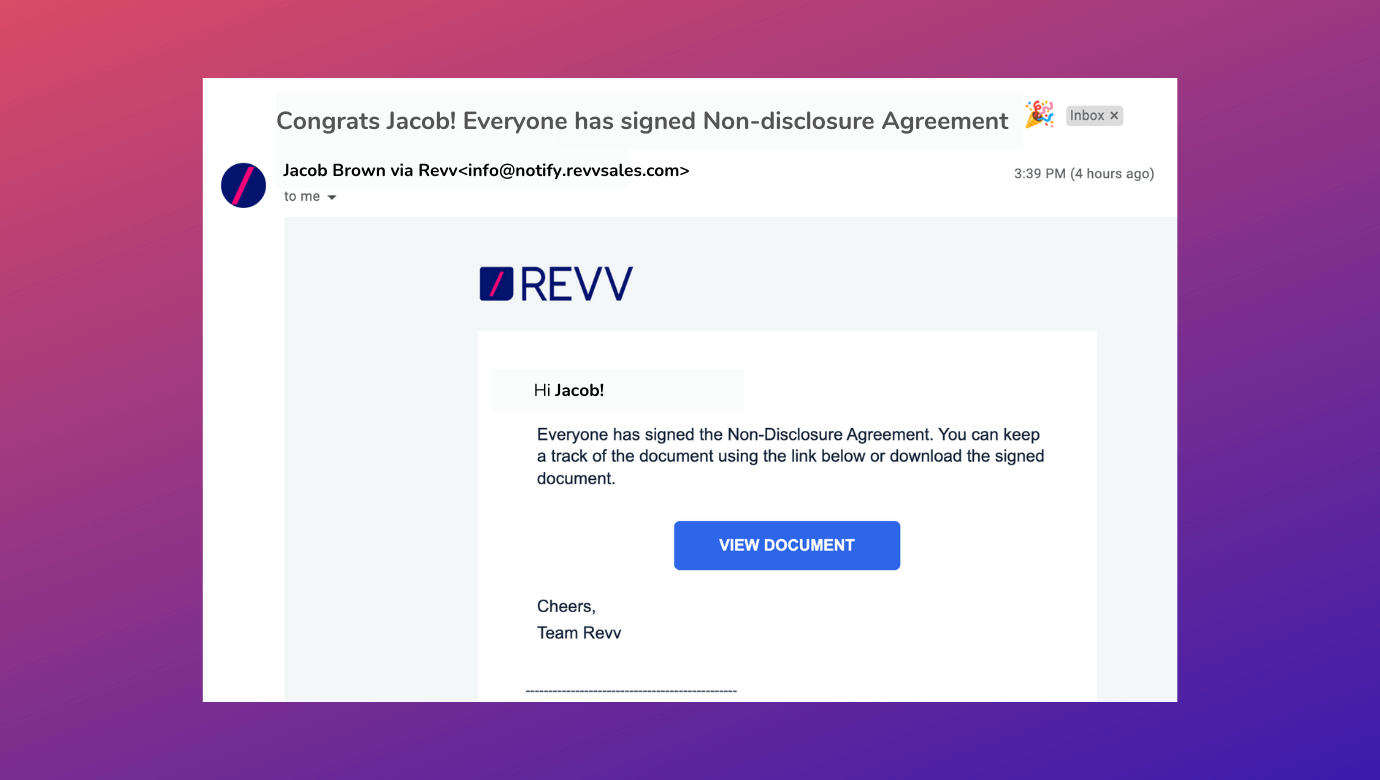 The 'Activity' tab in Revv guides you on all the actions taken on the document – who has viewed it, how many times, is it approved, who has eSigned, who hasn't, where it is held up, and by whom. It helps to intervene at the right time and remove the stumbling blocks.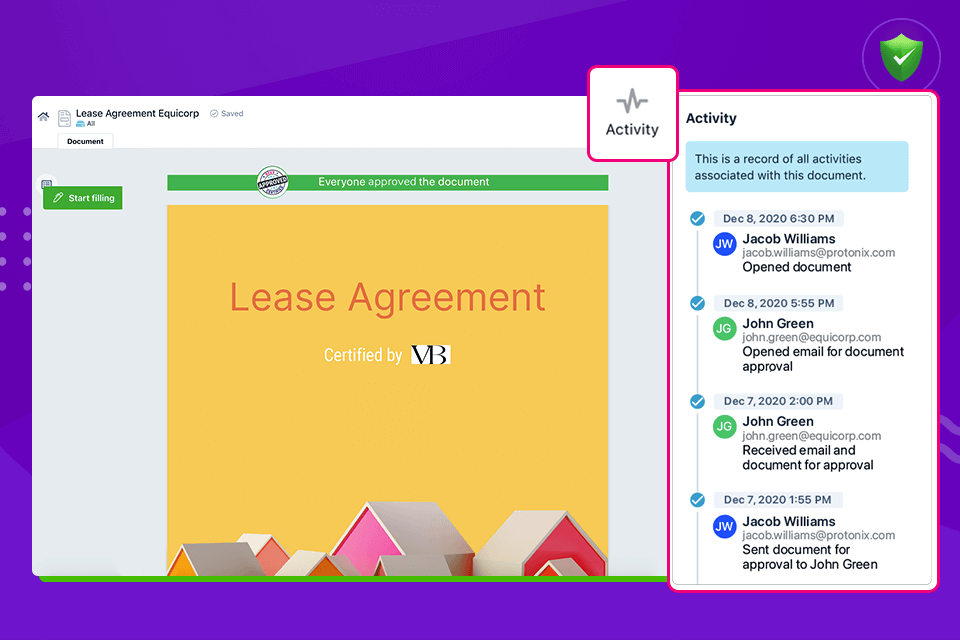 3 | Maintain a single source of truth with the updated system of records
Do you want the signed document to be stored in your system of records? Do you want business apps updated with the right status of eSignature workflow? What kind of data update is required in these business applications?
Revv's seamless integration capabilities with business apps make the data update and post-signature process to external apps easy. For instance, you can configure Revv to:
1. Store a copy of a signed document to external storage platforms like Box, Google Drive, Dropbox, etc.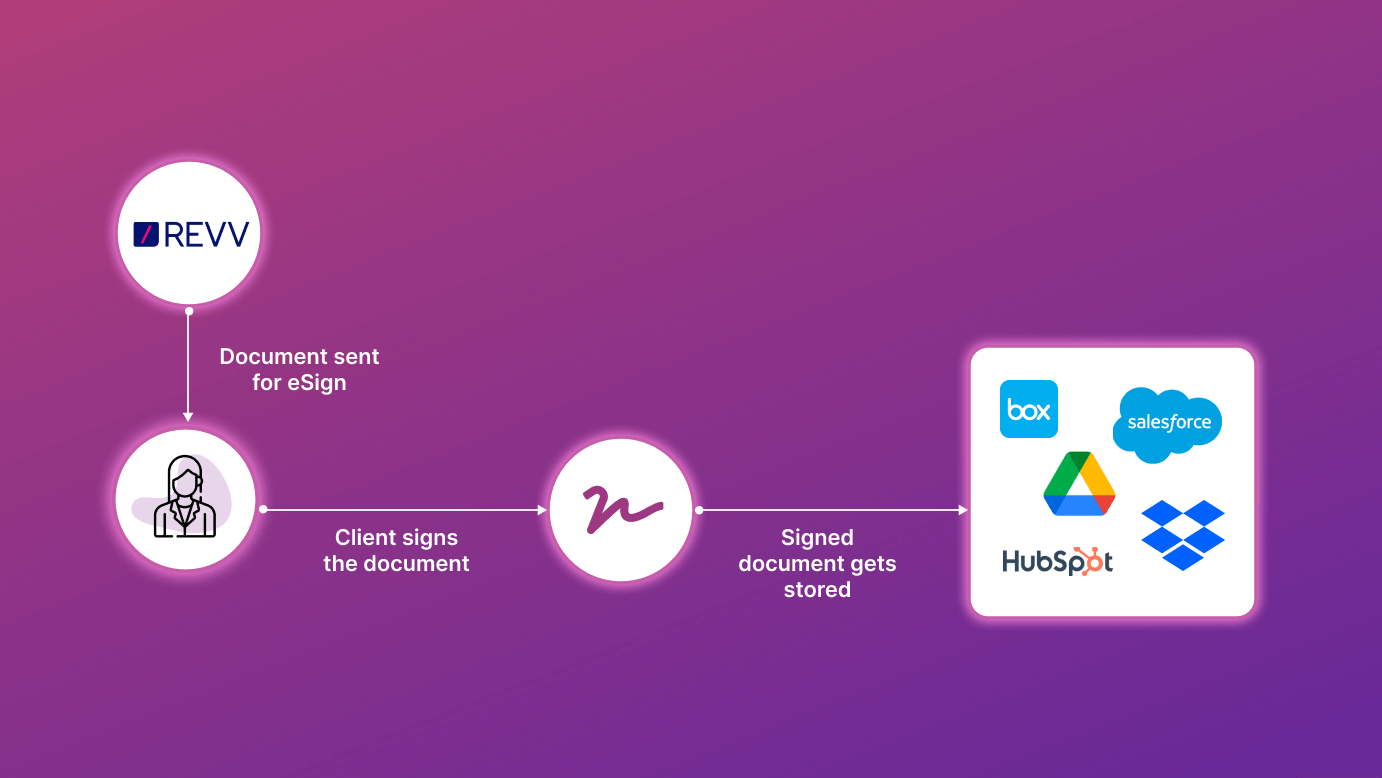 2. Add the signed document to CRM like Salesforce and HubSpot, or other platforms like HRIS, against the respective account.
Here's an example from Salesforce:
With Salesforce integration, once a quote is signed, Revv adds a copy of the signed quote (pdf file) in the 'Notes and Attachments' section on that particular opportunity.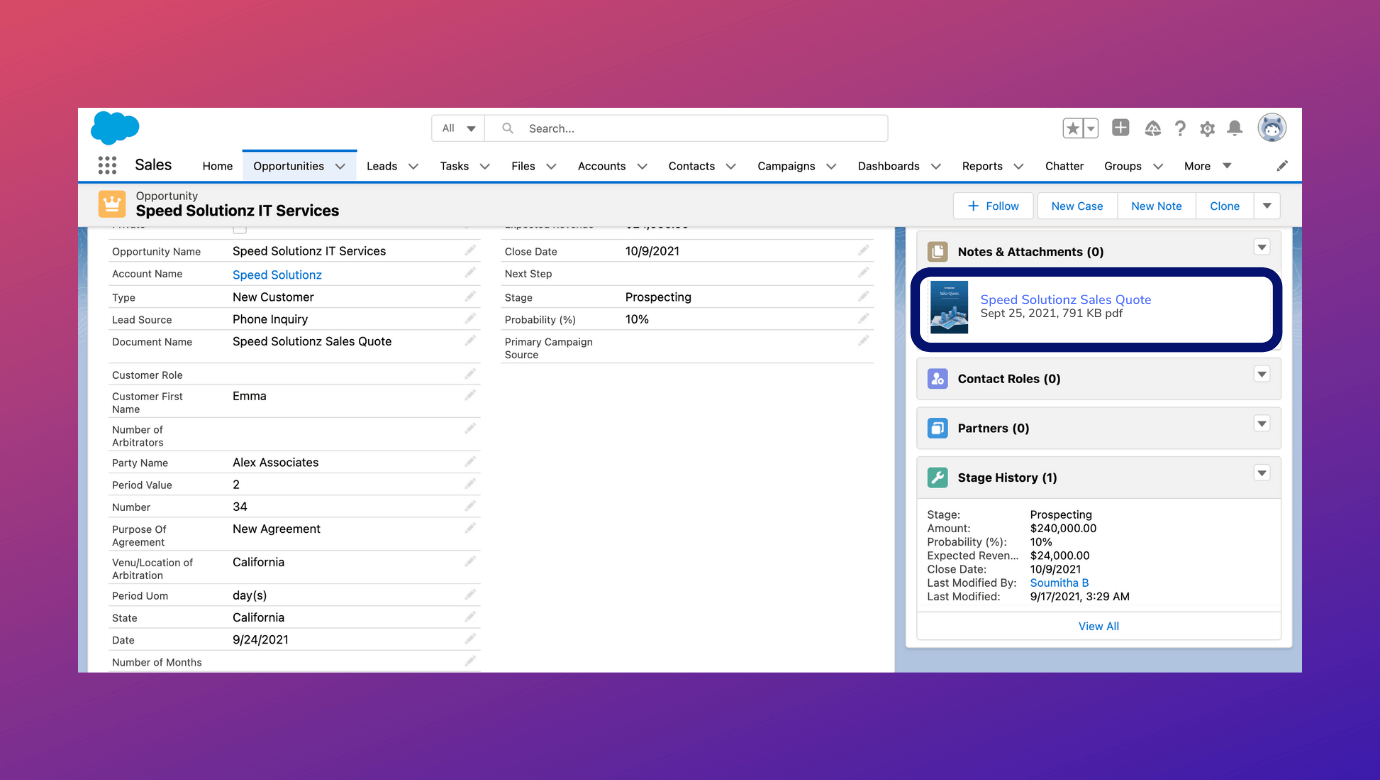 3. Write back the updated data to business apps to maintain a single source of truth
4. Write back the document workflow status back to the business apps and update them as when the document moves through different stages like – reviewed, eSigned, etc.
4 | Configure actions at every stage of document workflow
Often, depending on the business needs, the closure of one document can mean the beginning of associated operations.
For HR, it can look something like this: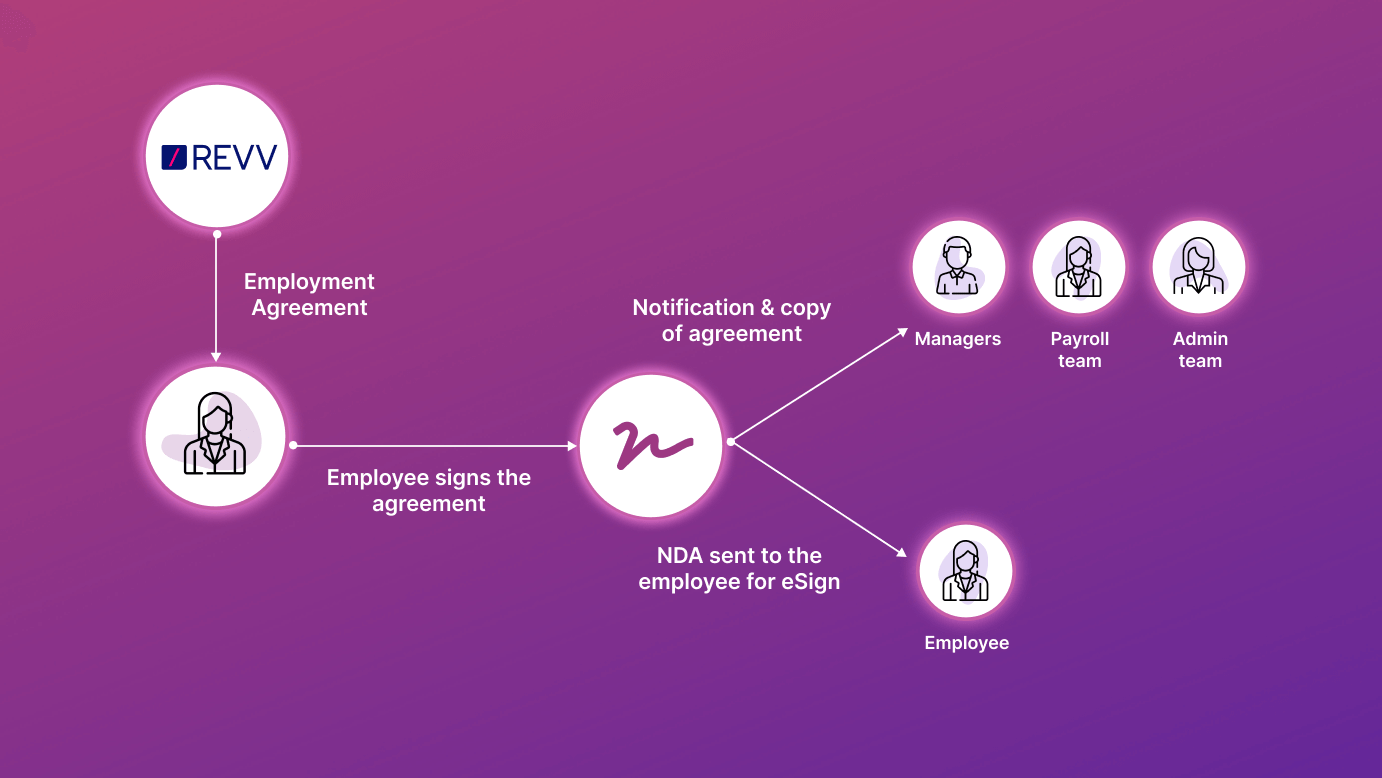 Generating and sending an Employee NDA once the Employment Agreement is accepted
Notification of Employment Agreement acceptance to immediate and dotted line managers along with the copy of signed Employment Agreement
Notifying the payroll team of Employment Agreement acceptance
Notifying the admin team of Employment Agreement acceptance
For Sales, it could mean these steps
Generating and sending a Sales Contract for client's eSignature after the signatures on Sales Proposal
Initiating an NDA after the client signs the Sales Contract
Notifying the legal team once the Sales Contract and NDA are signed, and the accounts team for bookkeeping purposes
Setting reminders for contract renewal
Automate invoice creation after the sales contract and NDA closure
You can automate the following steps of a document closure by coupling the process between Revv and other platforms. Revv's 'Pipeline' feature is also a great tool to configure actions at each step of a document process.
It is based on the Kanban method of managing the workflows.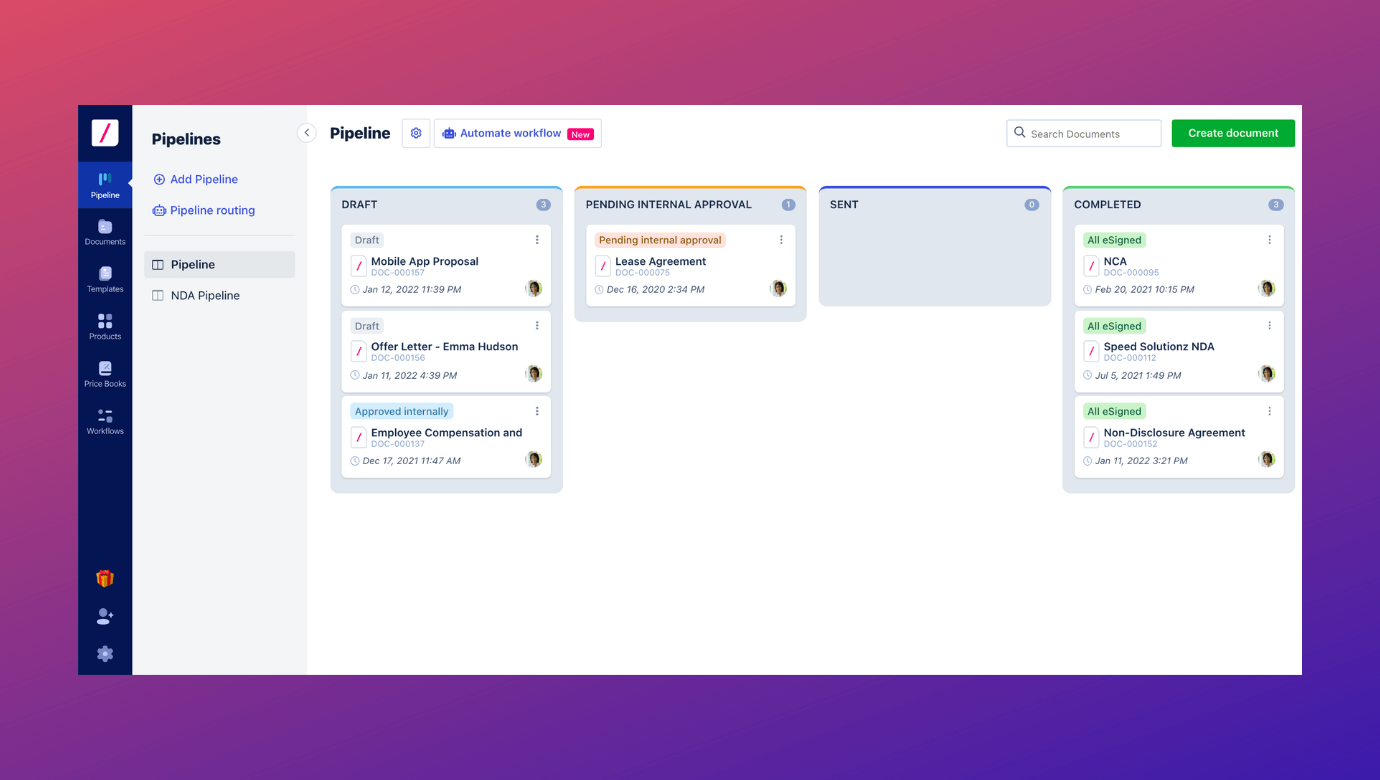 Here you can define your document stages into lanes like – document drafted, document reviewed, document approved, document eSigned, etc. You can customize each lane as per your business demands.
Remember, each lane represents a particular function.
Further, for each lane, you can define jobs that need to be done. For instance, you can configure lane jobs like:
When the document reaches the 'Employee NDA eSigned' lane, then perform the job 'NOTIFY' to update the Managers, Payroll, and Admin team
When the document reaches the 'Employee NDA eSigned' lane, then perform the job 'NOTIFY & SHARE' to update and deliver the signed document to Managers
You can configure as many jobs as you like. Revv gives you many job options to choose from.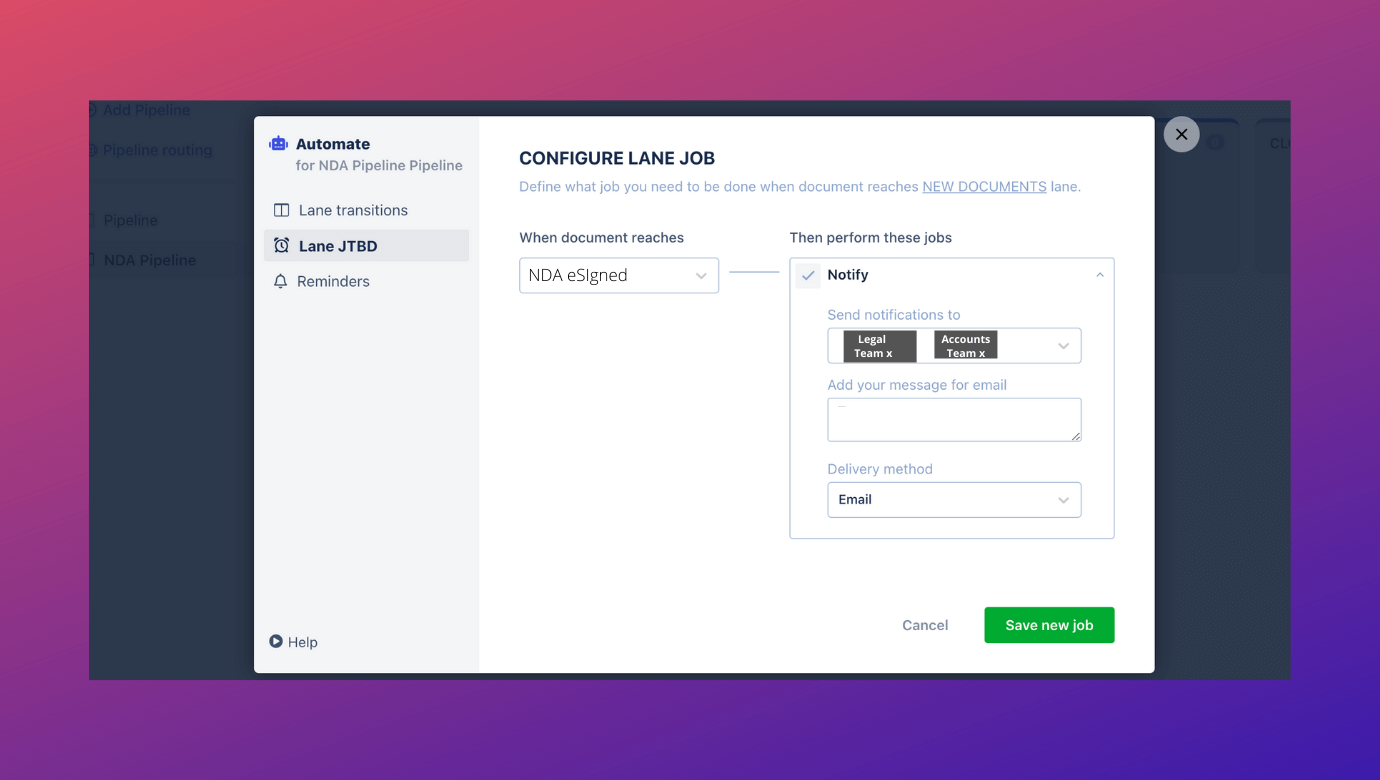 I love the combination of e-signature, custom document authoring tools, and pipeline management in one. It's a one-stop-shop for our document management and integrates well into our existing tools and processes.

User Review, G2
5 | Online storage and easy retrieval
Where will the eSigned document be stored? And how will it be managed or retrieved when needed
Revv stores all the documents in an organized fashion under the 'Documents' section and provides forever storage to all your documents. You can further arrange the documents in folders based on your business requirements.
Revv provides a 'Search' bar to quickly find the document you are looking for.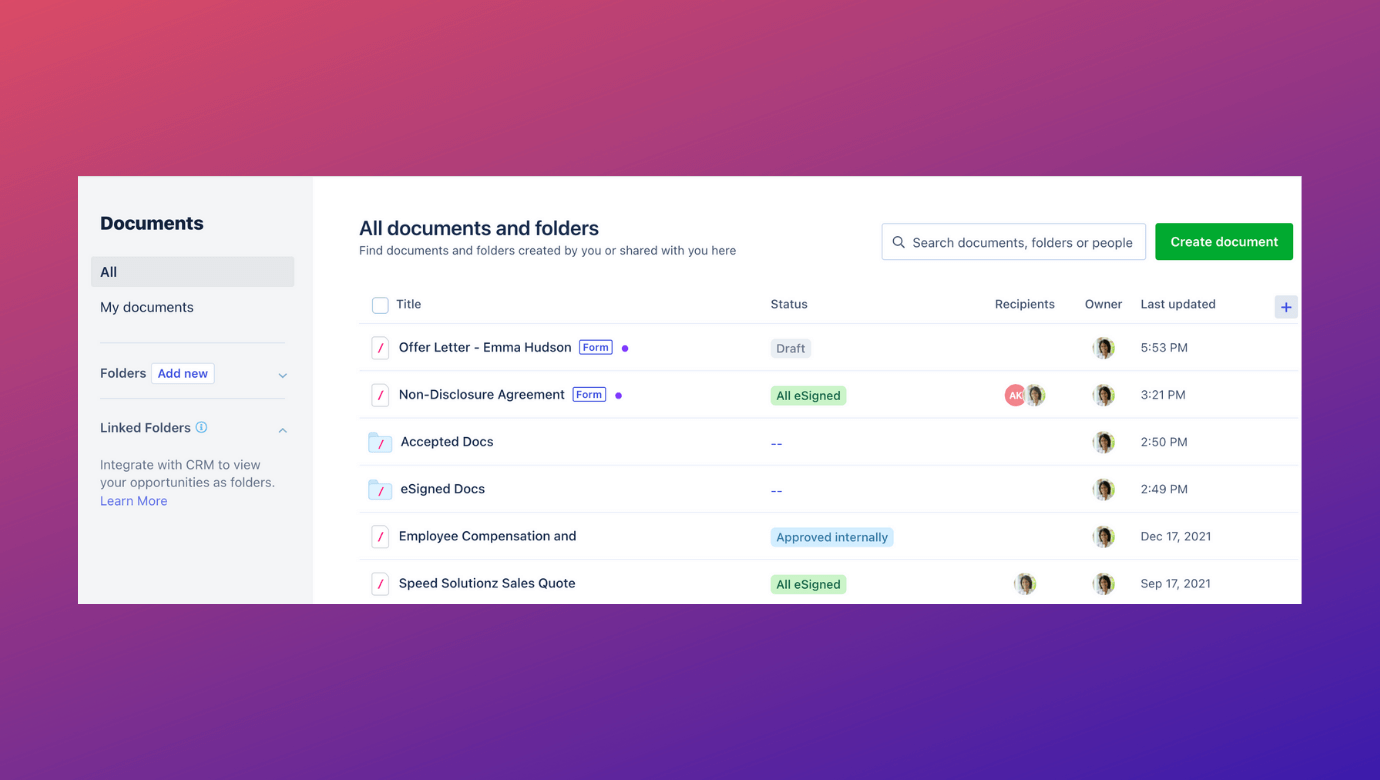 Revv is so much more than just eSigning. It is an all-in-all document automation platform that optimizes business operations. It allows organizations to unify eSignature and document workflows across multiple business applications and let them flow with ease — all within a secure business cloud. Revv makes each transaction secure by protecting it with multiple layers of encryption and AWS global cloud certification – CSA, SOC 1, SOC 2, and ISO 27001.
As a result of these innovative and comprehensive services, over 10,000 businesses have trusted Revv to supercharge their document automation.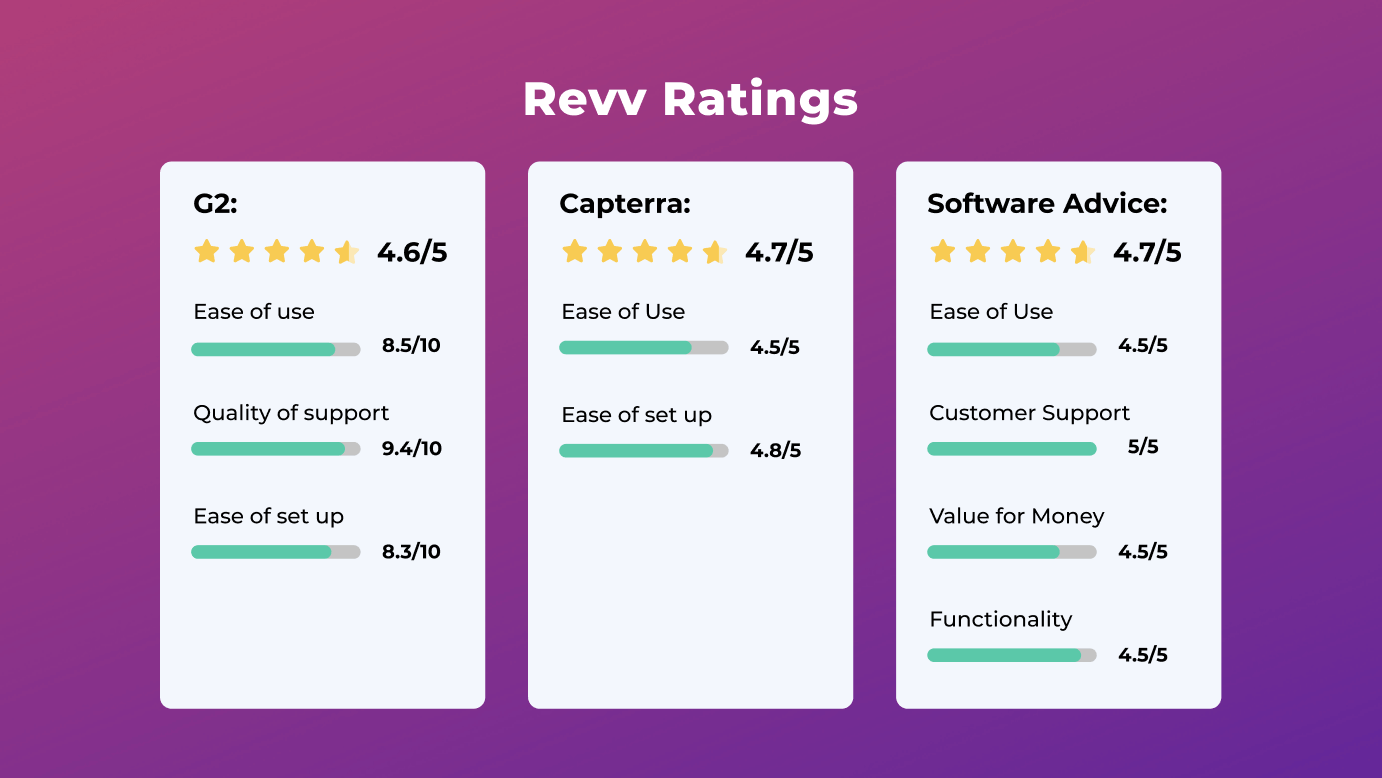 Revv is used by large as well as small organizations. But, it remains accessible and affordable for start-ups, solopreneurs, and freelancers.
In fact, there is a forever free basic plan that offers an unlimited number of documents and allows you to access some of the best features at no cost to you.
On the other hand, if you're looking to invest in improving your document workflows, they offer plans with advanced and premium features for as little as $15 a month. Users save 20% on plans when billed annually.
It's time to act
Hundreds of documents run between departments and organizations daily to keep the business moving. Simplifying your eSignature workflows by using automation and innovative technology:
Boosts efficiency and effectiveness
Helps to easily move within the process without any issues or delays
Increases productivity
Promotes business continuity
By using a platform like Revv, you get the best bang for your buck, thanks to a whole host of extra features that will help you run your business more smoothly. So before you manually send out another eSignature form, try out Revv's free, no-risk option — you'll be impressed by the range of features.
Learn more about eSignature workflows: