Since the birth of the internet, companies have dreamed of a paperless office. The idea of running a business without a pile of printed documents has finally become a practical reality. 
Emails have long been used to send documents and files. Before electronic signatures, those files had to be printed and signed before they could be considered binding. A paperless office needs more than just digital documents. It needs the ability to sign documents without printing them. We're here to explain the ins and outs of online signing.
Why eSignatures?
If you still need convincing, there are tons of benefits to a paperless office.
Paper documents are costly. Consider the paper itself, the ink for printing, and the upkeep of office equipment for printers. For many businesses, these costs can become substantial over time.
In-person signings are also more efficient. Picture the traditional document signing scenarios, where the signer comes to your office and signs the document in front of a witness. Once they have signed multiple copies of each contract, the document has to be filed. 
Filing that document requires labor as these documents don't file and retrieve themselves. It also requires physical space to house filing cabinets in your office or storage area.
Alternatively, physical contracts can be sent to signatories who have to sign and return them. These documents can be sent to the signer through mail or email. The latter requires clients to print documents before mailing them back to your office.
In either situation, physical signing adds several time-consuming steps. Mailing physical documents adds shipping costs for your company, and waiting for snail mail lengthens the process trip. Emailing places the burden on your recipient to immediately print, sign, and return the contract to you.
In both instances, the recipient is responsible for securing a witness and getting the document notarized before returning it to you. This delays the process further and adds another layer of inconvenience for the signee.
In today's competitive climate, that lost time can backfire. Customers will go to a more effective service provider if you annoy them with outdated business procedures.eSignatures lets your clients sign and return documents quickly, ensuring customer retention. eSignatures are reliable and legally binding, so you have no reason to worry about making the switch.
How to create a handwritten signature online?
Now that we have established the value of eSignatures, we can talk about how it is done. 
Some options don't even require a handwritten signature. These allow you to type your signature and use software-based security to verify your identity. The ensuing signature is a font-based recreation of a handwritten signature.
If your client or company prefers a handwritten eSignature, creating one electronically is easy with the right software. Revv can make the process quick and painless.
How?
With Revv's flexible eSign options, recipients can choose how they want their signatures to appear on a document.
With Revv, you have options to
Personalize your signatures
Recipients or signers can now have the flexibility to sign off documents faster with Revv's flexible eSigning options. They can:
Draw signatures: Recreate your handwritten signature by drawing your signature using a mouse or digital pen.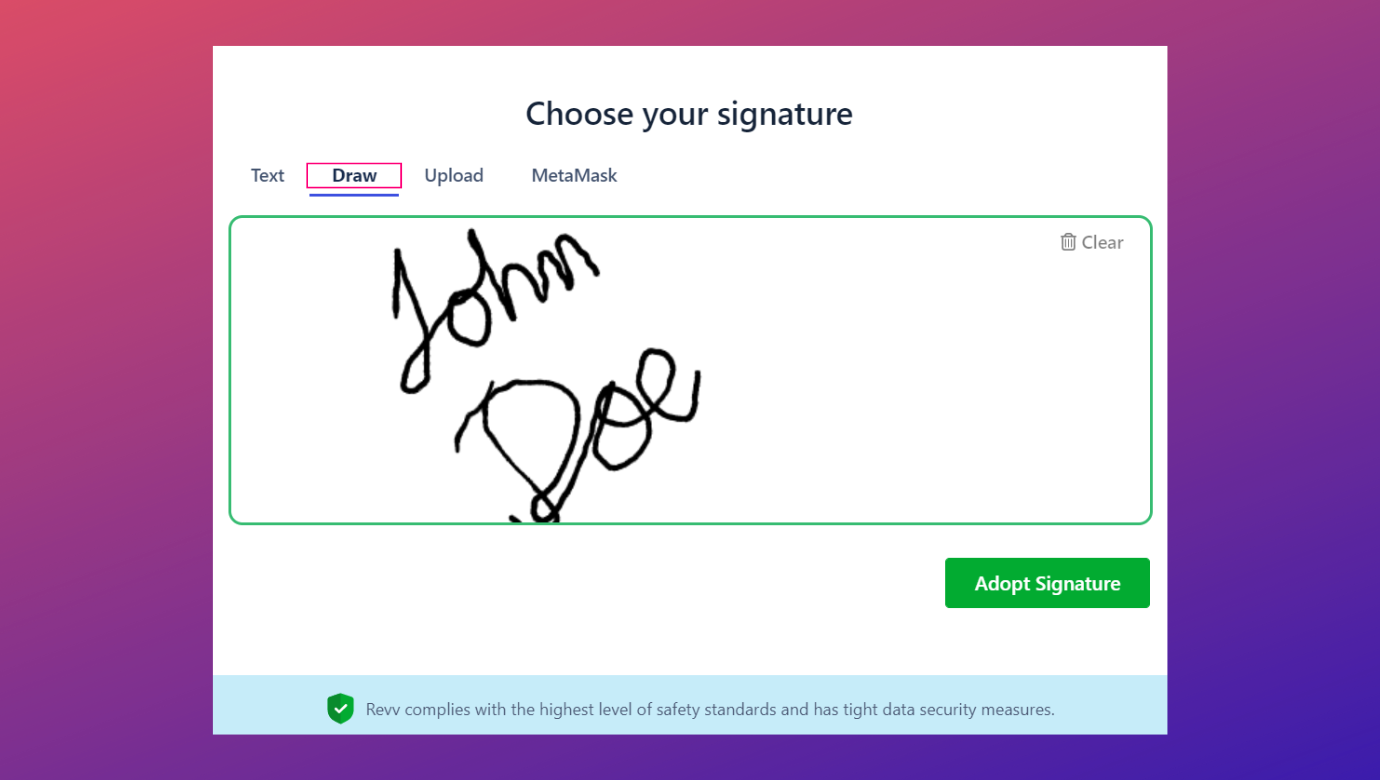 Upload signatures: If you are not comfortable using digital drawing tools, you can literally use a pen and draw your signature on paper. After that, upload the image of this handwritten signature by simply scanning it.
Text signatures: Signers can also choose their signatures from pre-formatted styles. They can customize their name for this type of signature. For instance, if the recipient's name is John Doe, in the Text sign option, the signer can personalize the name as JohnD, JD, JDoe, or in whichever way they want to sign off.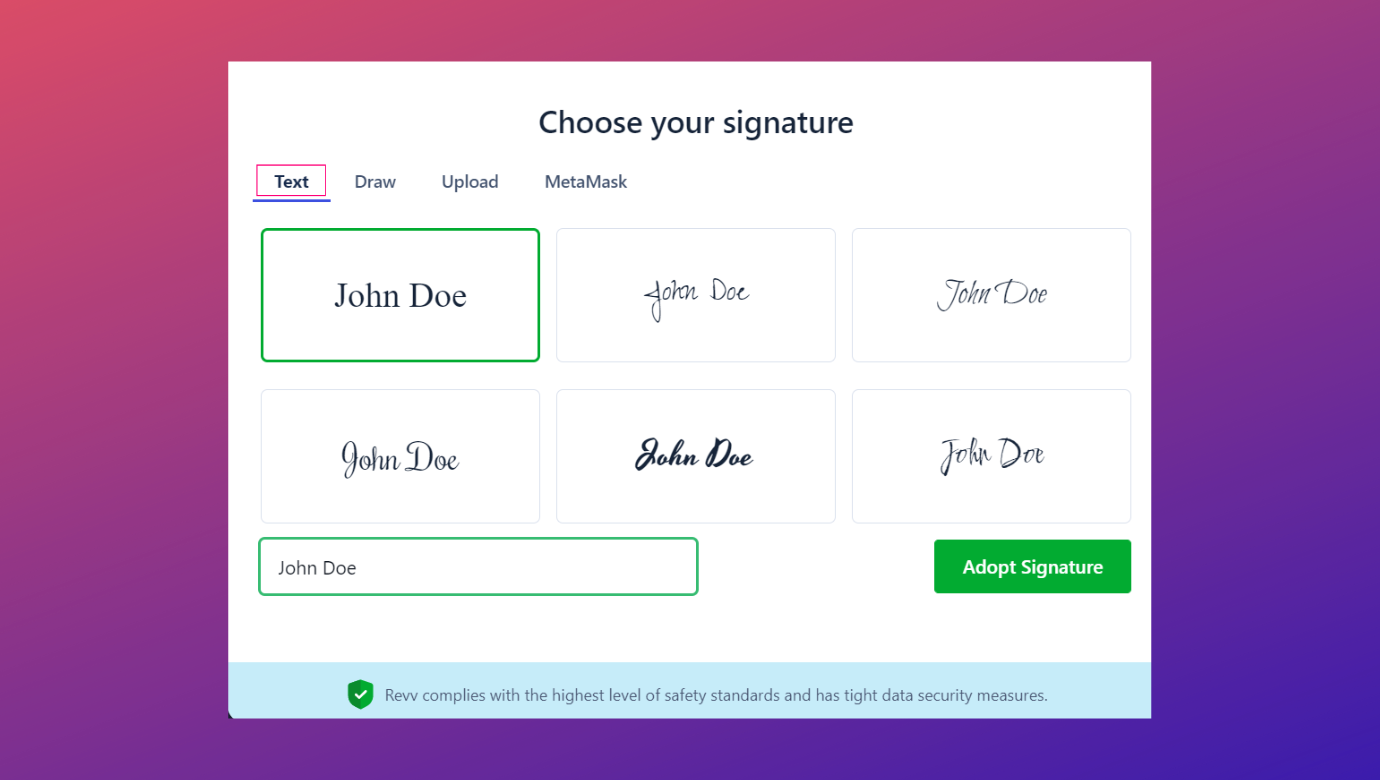 Sign off using crypto wallet MetaMask: With Revv, recipients can even eSign their documents using their MetaMask wallet.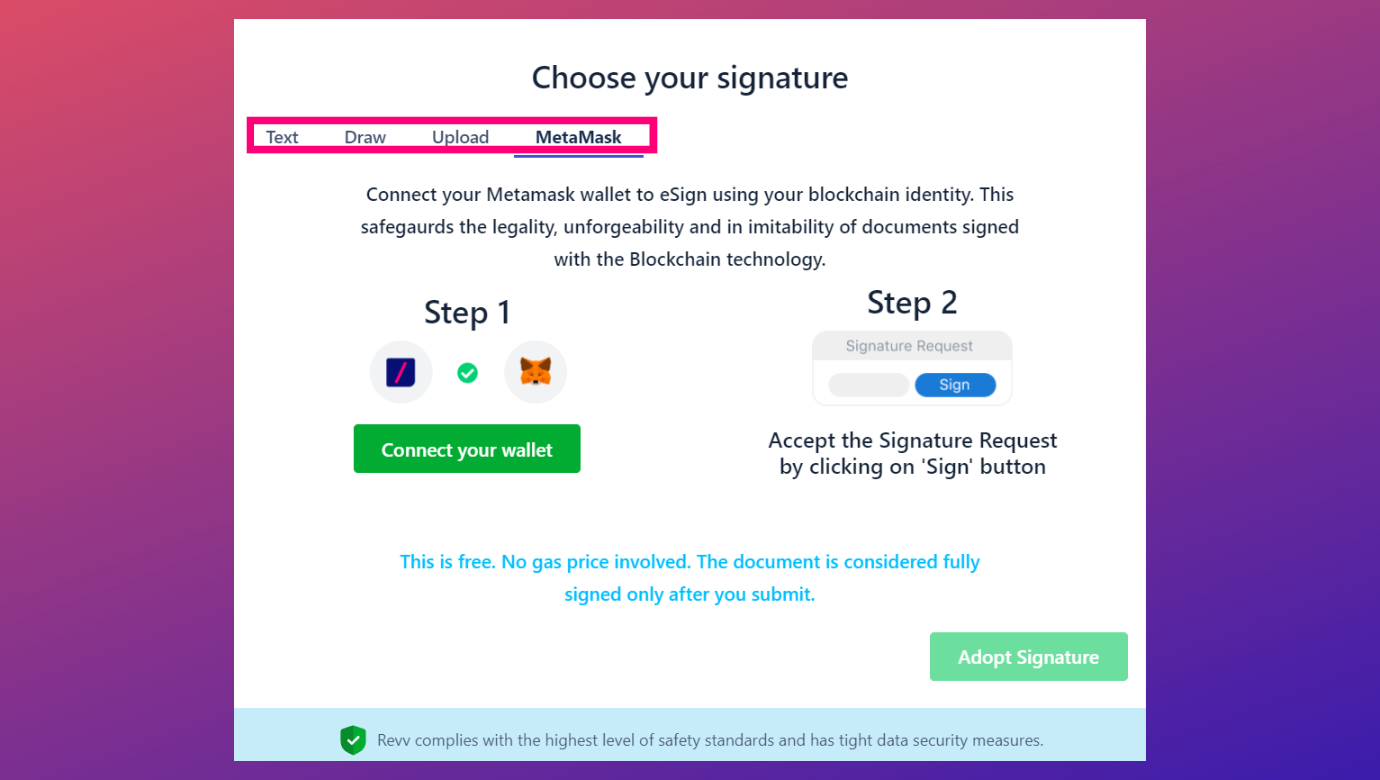 Bonus: Revv provides a Send for acceptance feature for documents that merely need an acceptance from the recipients. You can reduce the use of eSignatures with this feature. It could be used for your consent forms, acceptance letters, and other documents.
Ensure compliance and security checks
A wet-ink signature can be tampered or forged, could be stolen or destroyed, or even lost. Adopting Revv's eSignature solution prevents your business from all these threats as they are:
Legally compliant as per global and local eSignature laws such as E-SIGN Act, UETA, and eIDAS Regulation 
Admissible before a court of law in more than 60 countries
Secured with legally valid audit trails as Revv captures an exhaustive audit trail called an Evidence Summary certificate for all signed documents. It chronologically records any action taken on the file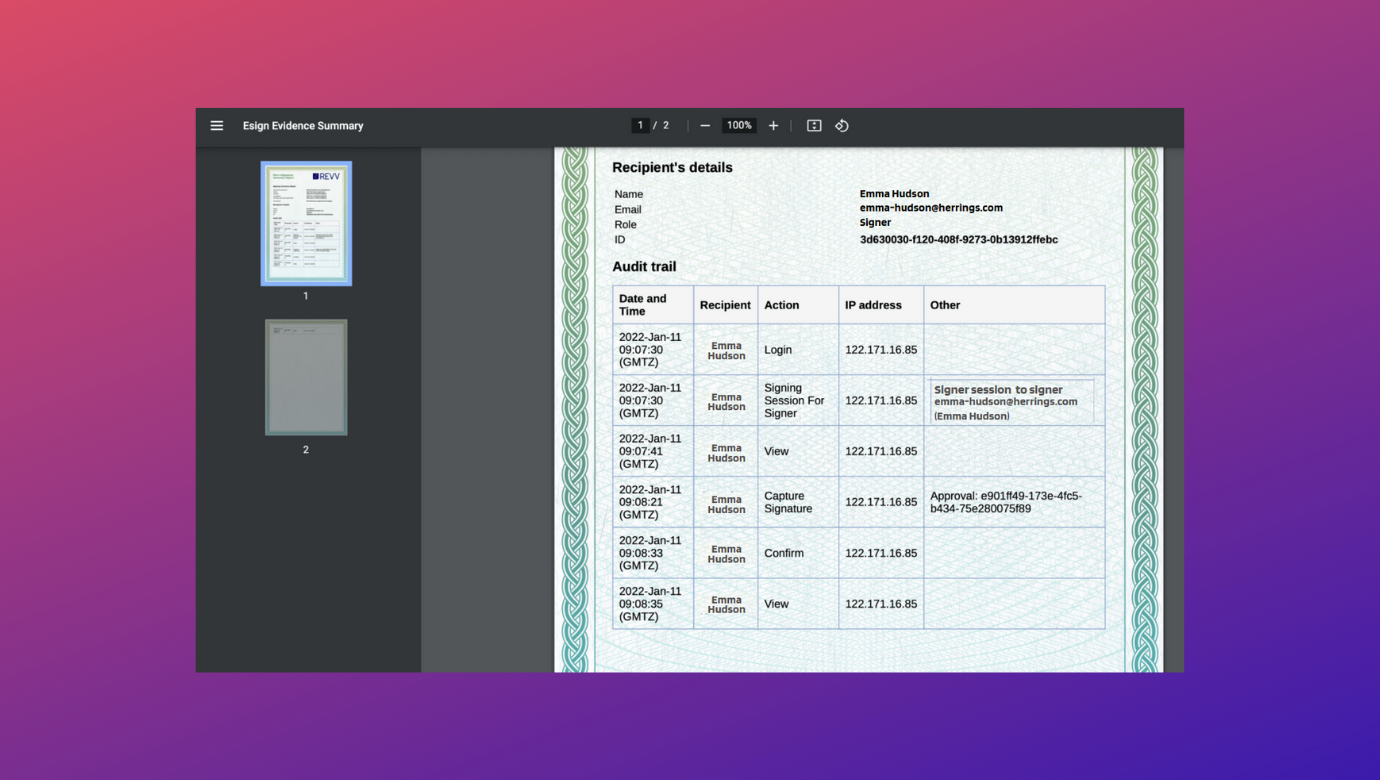 With Revv, you not only get an online handwritten signature but an eSign that is legally binding and fully compliant.
End your storage and accessibility issues
Any document created in Revv can be accessed by the user anytime, anywhere, and from any device. Revv will store your document indefinitely in the cloud, so the sender and recipient can access the document whenever needed. You don't need to print anything, and there is no paper copy to file.
Create and customize documents to suit your needs
Any type of business document can be created using Revv.
Revv provides you with over 1000+ templates to suit all of your needs. If you want something more personalized, you can modify your template or create a new document from scratch using Revv's rich document editor. Using a simple drag-and-drop tool, you can add/edit text, insert images, connect your Google Sheets, integrate your payment system, and more.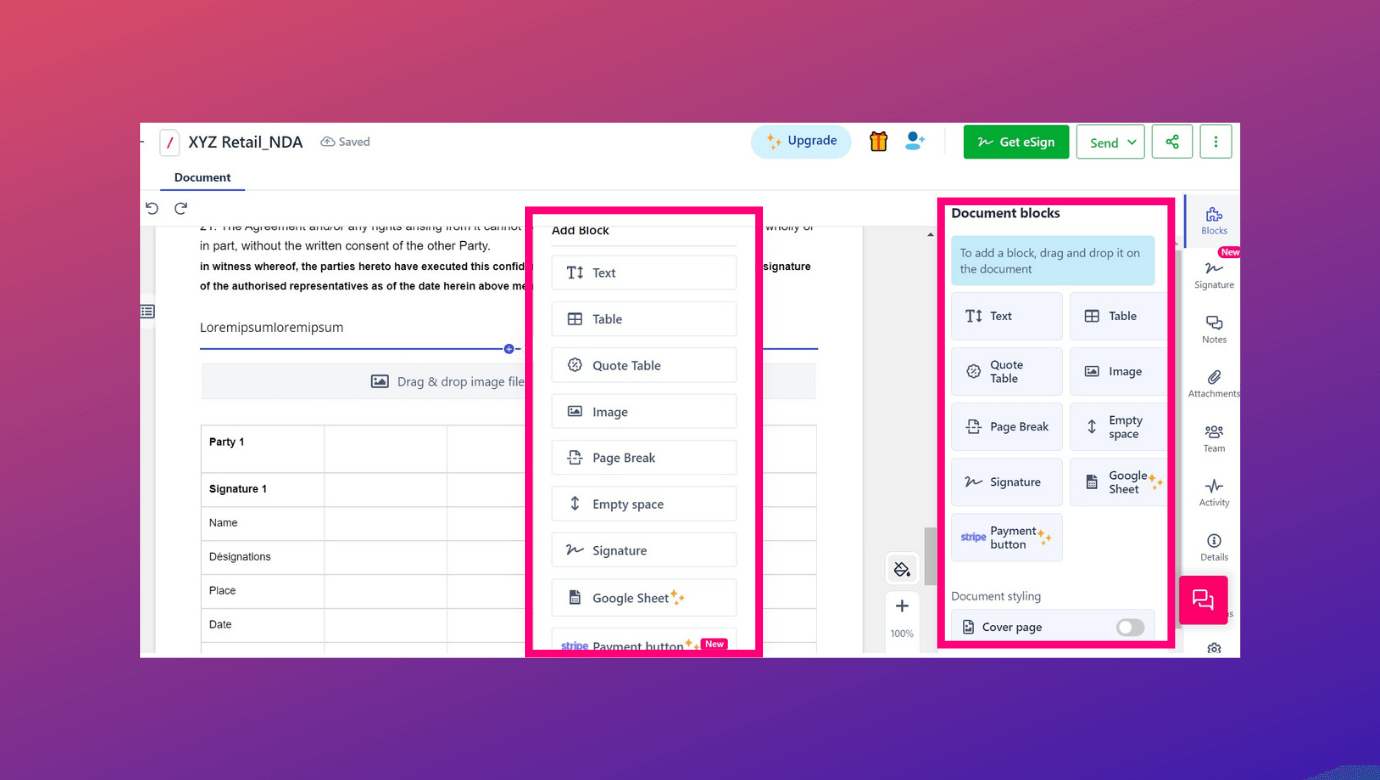 You can create single or bulk documents using the same template. Once your document is completed, drag and drop the signature box wherever you want it. You can also add any number of signers to the same document.
With these simple steps, you are ready to send your document to be signed. With Revv's simple tools, easily send it as an email attachment to your recipients.
Get instant email notifications
Revv sends auto-generated email notifications to both sender and recipient. A sender will get notified whether the recipient has received the document, whether they opened it, and when they return after eSign.
Meanwhile, a recipient/signer will get an auto-generated email about who has sent the document, what document action he/she has to take, etc. All a signer has to do is complete their online singing and send it back to the sender.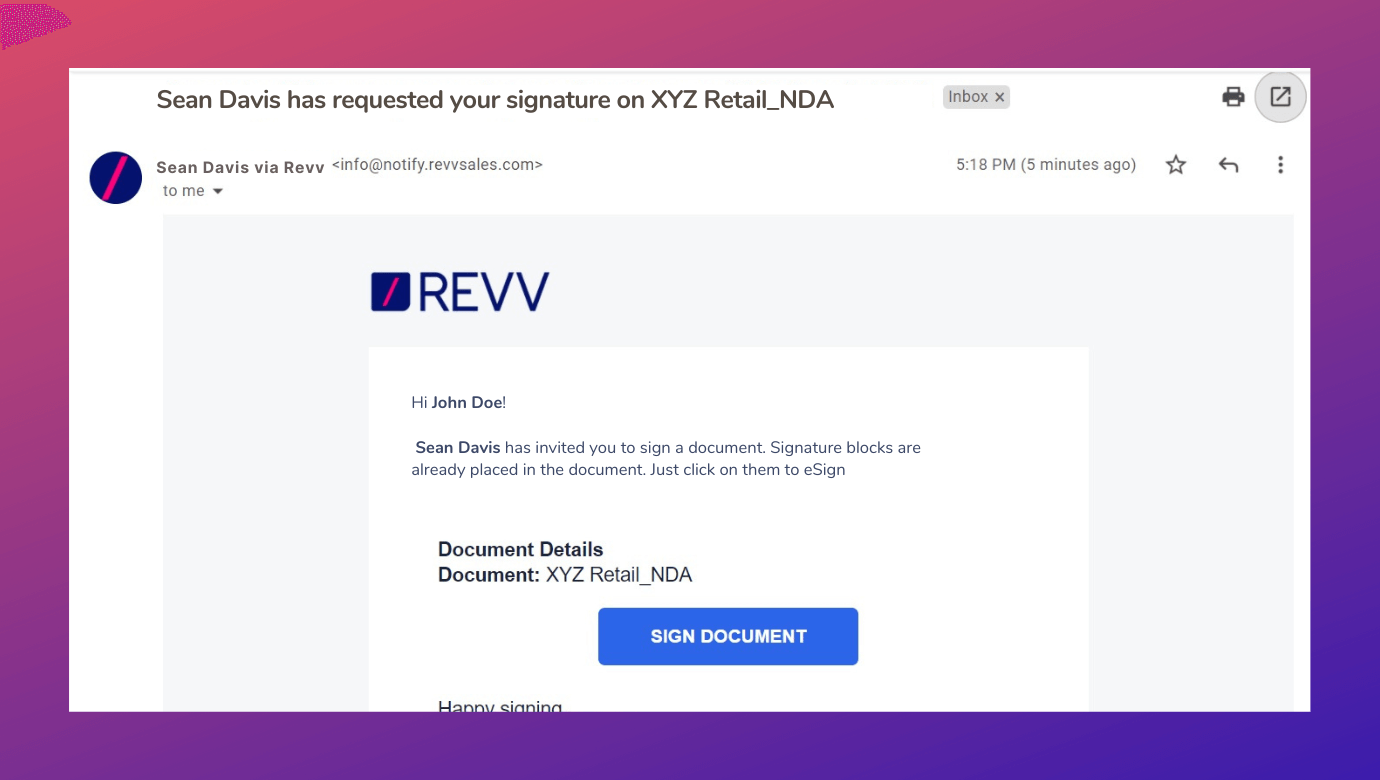 Choose the best eSign option
As mentioned earlier, Revv provides you with an end number of online eSigning possibilities. But, you will know which type of signature is required for your industry. If you are unsure, a quick internet search or a consultation with your attorney will tell you which type of signature you need.
For many documents, you may want the ability to recreate the wet signature that would be used for a physical contract. You will need a touchscreen or touchpad for this.
For most functions, the easiest way to eSign is by typing your full name. The software will convert it into a font representation of your signature. This might seem less secure, but software security features in Revv make this typed signature secure and legally binding. 
Regardless of which signature you need, Revv is ready to help. Revv works with every signature structure, from standard eSignatures to algorithmically-secure digital signatures.
Hence, creating a handwritten signature for your online needs is extremely easy if you have a highly functional software solution like Revv. You can create contracts, agreements, proposals, etc., and have them signed the same day, all from the comfort of your own home.
Create great handwritten signatures online today with Revv.
Sources:
Handwritten signatures vs. eSignatures | NJORD Law Firm
Q&A: Scanning a Signature for Digital Documents | The New York Times
Electronic signatures: are they valid and enforceable? | Hill Dickinson