Both employers and employees always want to protect themselves when starting any form of work, and an employment agreement ensures that. This is a binding contract that both parties sign, especially when the latter comes onboard a new job. The right kind of employment agreement will spell out the rights, responsibilities, and also include special obligations undertaken that might be unique in a specific hiring situation.
The meet and greet
George Cooper, 40, is a Recruitment Consultant. He is on a constant lookout for new hires. Coming with years of experience working in Talent Acquisition, his keen eye for understanding people made him a master in his game. He knows what the interview process should look like and how to make the onboarding process seamless.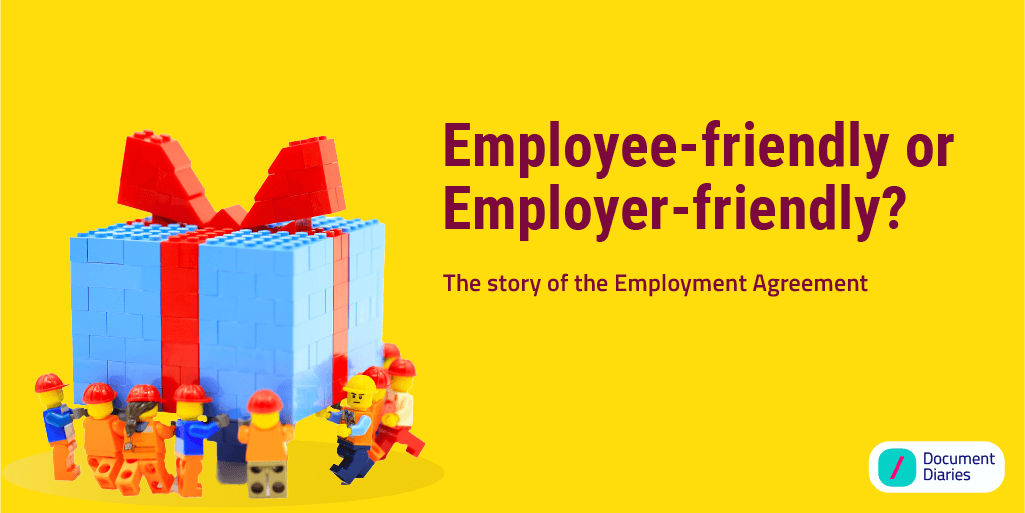 While recruitment has been Mr. Cooper's ball game for years, he struggles to manage the documents generated for or by his hiring pool. Besides the need to maintain these documents, one of the biggest challenges he has is drafting the right kind of employment agreements for his hires and companies, which are usually all over the world.
Mr. Cooper maintains a daily routine where he searches his hiring pool, identifies the best of talents, conducts the interviews, and connects them with the right organization. Once the company shortlists the prospective candidate, he starts with the next steps, getting the proper documentation in place. He spends a lot of time understanding the KRAs and KPIs. He makes sure that the new employee's role is challenging and exciting, with plenty of scope for growth and nurture.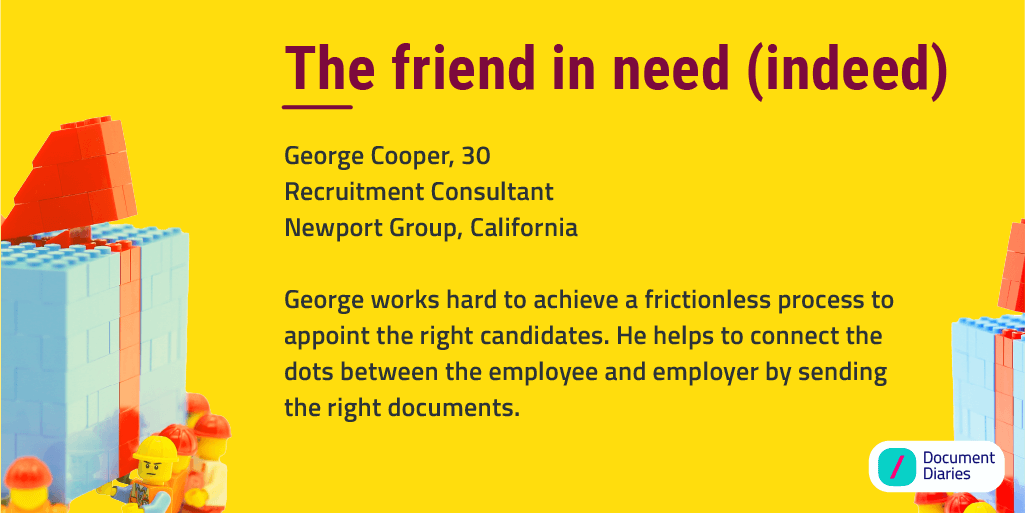 What is the biggest challenge when it comes to hiring people?
An overwhelming majority (75%) of job seekers consider an employer's brand before even applying for a job, according to LinkedIn. And if they don't like what they see, they won't apply or accept your job offer. Corporate Responsibility Magazine has found that 75% of people would not take a job with a company that had a bad reputation – even if they were unemployed!
Years of acting as a bridge between prospective hires and employees, Mr. Cooper knows that the hiring sector's biggest challenge is attracting the right people for a job role. The second challenge is to ensure that they are retained in the organization. With so many opportunities, hiring skilled employees is getting tougher. To combat this, he has created a website page that showcases work culture and employee testimonials. Next, he feels that making the onboarding process seamless will get him brownie points from both the employee and the employer.
What documents are required during this hiring process?
Mr. Cooper states that there are 12 documents exchanged between the employee and the employer. These documents outline the relationship between the two parties and help safeguard the employee and company against malpractice and other issues that may arise during work.
Once the prospective candidate has been selected and an offer letter has been sent, Mr. Cooper will create an Employment Agreement.
What are the challenges in drafting an employment agreement?
He feels that employers must take great care to ensure that the company's necessary information and the prospective employee (name, address, and other information) are well-captured and outlined in the employment agreement.
But here are some common challenges that he comes across daily when sending across employment agreements –
Not having any form of written agreement at all – Some small and medium businesses feel that they don't require any form of an employment agreement, especially if they have, only recently started scaling. Some organizations also hire casual or part-time workers, thinking that they don't need to include employment agreements in such cases at all. 
Not having the right kind of employment agreement – Most laws state three types of employees: permanent, fixed-term, and casual. Organizations often just keep employment agreements pertaining to the permanent and/or fixed term. Mr. Cooper has been struggling to explain that an informal employment agreement will not work for part-time workers. He feels that if the employment agreement does not match the work's reality, the organization can face employment disputes or other costs like outstanding wages, holiday pay, or taxes.
Not being clear –  He has often found that some employment agreements are ambiguous. For instance, if the organization agrees to a 90-day probationary period, a certain number of working hours, or a procedure for shift changes, these are often missed out in the contract. Employment agreements that clearly define the terms and provisions and match the reality of the job that person is required to do are ideal. This way, the employer and employee both know what is expected of each other. 
Not keeping it up-to-date – Even if this comes to post the employee has joined the company, Mr. Cooper feels that most organizations fail to review the employment agreement terms and update them regularly. To cite an instance, Mr. Cooper states that if there are changes to the nature or terms of employment, this should be immediately updated in the employment agreement. This prevents future disputes.
While an employment agreement can have several set terms adhering to the legislation that the company is located on, Mr. Cooper thinks that there can still be some challenges that can crop up.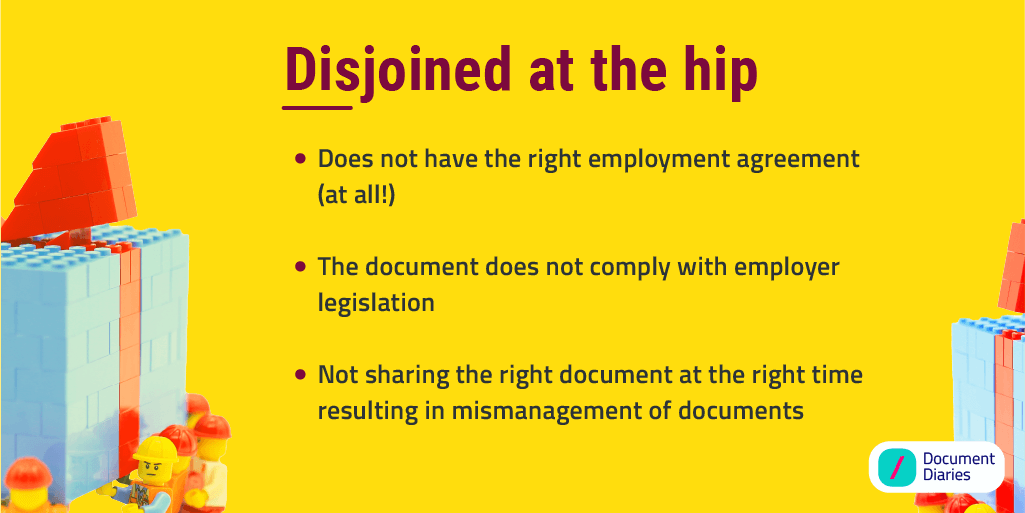 Other specific challenges include –
Format of the agreement
Standardized agreement clauses which may not adhere to the particular industry
Need to be customized according to role
Employee benefits may be overlooked
Award/enterprise agreement employees issues
Missing clauses on conduct and environment, which may lead to future conflicts
What are the current components that you should consider when drafting an employment agreement?
Mr. Cooper understands the importance of having the right employment agreement. He feels that there is a possibility of the agreement being employer biased. Therefore, great care should be taken to ensure that the company's necessary information and the prospective employee are well-captured and outlined in the employment agreement. Such information, like the name and address of the company and the name and address of the potential hire, should be found in employment agreement templates. Furthermore, the right employment agreement will include the following key components –
The parties: Defining the employer is key: is it a parent corporation, a subsidiary corporation, or is it both? The employer may want the ability to assign the contract to future employees but will not want the employee to be able to assign the contract to their peers, competitors or anyone else.
Applicable Law: Employment agreements are enforced under state law. So it is vital to understand which state law is applicable to the contract. One way is to agree that particular state law governs, but it is necessary to select a state law that has a defensible nexus to the employment relationship.
Schedule: In some cases, an employment contract will include the days and hours an employee is expected to work.
Duration of employment: An employment contract will specify the length of time the employee agrees to work for the company. In some cases, this might be an ongoing period of time. In other cases, it might be a clause set for a specific duration. At other times a minimum duration is laid out, with the possibility of extending that period.
General responsibilities: Contracts can list the various duties and tasks a worker will be expected to fulfill while employed.
Confidentiality: Although you may have to sign a separate non-disclosure agreement, some contracts include a confidentiality statement.
Communications: If an employee's role involves handling social media, websites, or email, a contract might state that it retains ownership and control of all communications.
Compensation: The employment agreement should spell out the salary, commissions, bonuses (when and how earned, by performance or longevity), incentives, compensation, stock options, deferred compensation, and so on.
Benefits: A contract should lay out all promised benefits, including (but not limited to): health insurance, 401k, vacation time, and any other perks that are part of the employment.
Future competition: Sometimes, a contract will include a non-compete agreement or non compete clause (NCC). This is an agreement stating that, upon leaving the company, the employee will not enter into jobs that _will put them in competition with the company. Often, an employee will have to sign a separate NCC, but it might also be included in the employment contract.
Contract termination: Premature ending of the contract should be spelled out as accurately as possible. What happens if the contract ends, is there a salary continuation or even insurance?
Defining 'cause:' Most states have very little precedent for defining cause that would allow an employer to terminate an executive employment contract. Therefore, it is important to define "cause" in the contract.
Conflict of interest and abiding by the rules: The contract should specify an agreement to avoid conflicts of interest with the employer and to abide by all of the employer's rules and regulations.
Other possible terms of the agreement could include an ownership agreement (which states that the employer owns any work-related materials produced by the employee) and information on settling disputes at work. The contract may qualify where the employee can work after leaving the company to limit competition between related companies.
Alternate names: Contract of employment, employment agreement
How are you managing your current documentation?
Mr. Cooper, till now, followed the old school method. Once done with screening and shortlisting the candidate, he would search online for employment agreement templates that he could replicate. He edited, printed, got those signed, made copies, and stored it in filing cabinets. This process also involved emails, messages, and even calls between the employer and employee, lengthening the closing time exponentially.
Here's how he hit the bull's eye with Revv –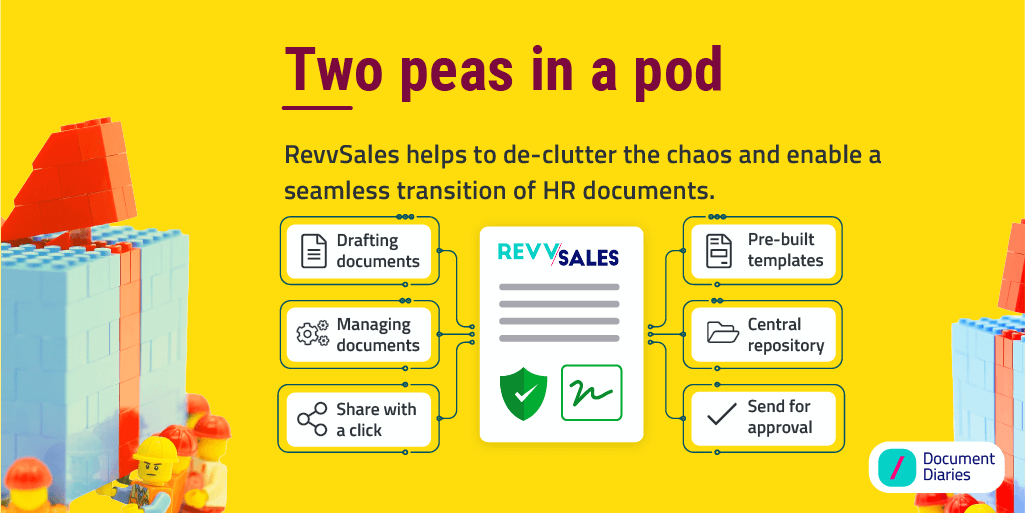 With a document management tool, he has revolutionized the process in time. His current way involves –
Choosing the right Employment Agreement templates available on Revv product (based on the industry)
Edit the template by using the easy-to-use editor available
Use the spreadsheet integration tool to update salary components (including tax breakup). He can link Google sheets to bring in the tables directly into the document
Send for review or feedback to the employer
Once approved, send for eSignature to the candidate via automated emails
Store it in a centralized repository for future updates, reviews, and reference
Send it across to the existing employer's HRM system for payslip management
Track the activity on the document via the Activity and Status bar. This gives an idea about the bottlenecks, email opens, e-sign done or rejected right from the document itself
The Revv way
Using the right document management tool to draft, share, and eSign employment agreements have had a big payoff for Mr. Cooper and how he functions. The safe and easy share and e-signature enable him to send documents with a click. Furthermore, he now also has the ability to index documents which significantly improves access and retrieval time. The centralized repository enables faster response, especially during audits.
Interested to know more about how Revv can help manage your HR documents? Sign up here to know how Revv can help automate your document process.