Employees are the key to unlock your company's true potential, and so are the HR documents that are needed to manage them. As these documents record the procedures, policies, performance management, and statutory guidelines, they form the core of every company's business administration process. A robust HR document management system further ensures these sensitive documents are managed efficiently and compliantly.
What are the must-have HR documents for a startup/SMB?
From recruitment to staff management, here's a list of essential documents your company's HR team would require:
Itemize your offer with a brief letter-of-intent
👉 Boost your HR processes with Revv's document workflow automation capabilities
Start your journey today! No Credit Card Required
Offer Letter
The Offer Letter outlines the terms of employment. It captures the employer's interest in a candidate and comes into use when you have to confirm an individual's selection for a job opening.
Part of: Recruitment Process
Key Elements

• Position/Designation
• Full-Time/Part-Time Schedule (Type of opportunity and basic work schedule)
• Salary (Includes bonus payouts and other incentives)
• Benefits
• Equity (Include dispersal of equity. If using performance-based vesting, the company's discretion in developing performance criteria should be clarified)
• Contingencies (Usually, an offer is contingent upon pre-employment screening and satisfactory proof of the employee's right to work in a country)
Formally welcome your new hires with the proof of appointment
Appointment Letter
Appointment Letter is a legally binding document that contains all the information necessary for an employee to begin working for the company.

*An Appointment Letter is different from an Employment Agreement. It is proof that the candidate is finally hired by the company, whereas, an Employment Agreement is a binding agreement between both the employer and the employee.
Part of: On-boarding Process
• Name and address of your company
• Name and address of the new joiner
• Designation
• Remuneration details
• Job location
• Compensation and Benefits
• Shift timings
• Probationary period details
• Duties and responsibilities of the job
• Key Result Areas and KPIs
• Employment Contract
• Commitment or declaration
• Provision for termination
• Candidate's Signature
Convey your company's policies to the new hires with a brief handbook
Employee handbook
Employee handbook – One of the essential HR documents, the Handbook, is the official guidebook for new joiners. It outlines the policies, standards, and performance expectations. Without the Handbook, it is virtually impossible to hold a staff member accountable to organizational norms, procedures, and practices. It also conveys the at-will employment relationship between the employees and the employer. As such, the company must have a signed handbook acknowledgment statement on file for every staff member.
Part of: On-boarding Process
• Key policies about employees and employment
• Code of conduct and related standards
• Computers and technology policy
• Performance expectations
• Restrictions and Prohibition
Protect your company's confidential information from misuse with an NDA
Non-Disclosure Agreement (Employee)
An NDA ensures that staff members respect the confidential information provided to them and do not use it to the company's detriment.
Part of: Compliance | Included in the Handbook
• Identification of the parties
• Definition of what is deemed to be confidential
• The scope of the confidentiality obligation by the receiving party
• The exclusions from confidential treatment
• The term of the agreement
"To win the marketplace, you must first win the workplace."

Doug Conant – the former Fortune 500 CEO and New York Times bestselling author and Founder of ConantLeadership.
Prevent your company's top talent from joining your competitors with an NCA
Non-compete Agreement
Governed by law, an NCA is a document used to ensure a staff member does not work for a direct competitor for a specific period after leaving the employer. Non-compete agreements are valuable to employers not only because they protect against the loss of talented individuals, but also because they may provide added protection for a company's confidential information, such as client lists or trade secrets. While the individual cannot work for a competing company in the same industry, there is no restriction on finding employment in an entirely different field (For example, an executive of a defense company can work for a university)
Part of: Compliance | Included in the Handbook
• Type of employment
• Duration (for which the individual must wait before finding a job in the same industry)
• Geographical location
• Specified competitors
Maintain transparency about employee earnings with accurate paystubs
Pay Stub
Issued after every salary, it contains a detailed list of components of an individual's salary and specific details of employment. It's also known as the Salary Slip, Pay Slip, or Paycheck Stub.
Part of: Compensation & Benefits
• Gross pay (Hourly gross pay = number of hours worked in the pay period x hourly pay rate)
• Federal taxes withheld
• State taxes withheld
• Local taxes withheld (Metro areas like NYC set their own local taxes)
• Benefit insurance deductions (Health, Life, Vision, Dental, etc.)
• FICA (Contribution to Medicare and Social Security)
• Retirement or pension plan contribution (Example: 401k, 403b, or pension)
• Wage garnishments (withheld amount to pay off employee-debt payment)
• Net Pay
Track the efficiency of your workforce with an easy-to-use timesheet
Timesheet
The Timesheet is a vital HR document management record used for tracking the amount of time spent by an individual performing a job. It is regarded as a legal document – considering it is the source of payroll transactions and client invoicing. It also serves as a legal basis to ensure the staff members receive their entitled compensation and benefits.
Part of: Staff Management
• Employee Identity
• Activity information
• Time and billing date
• Other considerations
Determine the value contributed by your staff members using the Appraisal sheet
Performance Appraisal Sheet
It captures the crucial elements of an individual's performance and productivity over a specific period. It helps the team members to develop in their roles and enables the organization to identify opportunities that will improve efficiency.
Part of: Staff Management
• Defined goals and objectives
• KRA Configurations
• Cumulative tasks rating
• Progress on the goals
• Analysis and feedback
• Performance improvement plan
• Compensation and rewards
Reward top performers with a motivational Appraisal letter
Employee Appraisal Certificate
Also known as the Appraisal letter, it helps estimate the success of an individual's tenure at a company. It also helps the organization provide feedback about the team members' performance to develop their professional careers further.
Part of: Staff Management
• Performance criteria
• Rating scales totals
• Feedback and comments
• Particulars of rewards and recognition
Project your company's impartial approach with an EEO document
Equal Employment Opportunity Policy Document
The policy document helps companies establish their position regarding the EEO laws and ensure fairness at the workplace.
Part of: Organization Policy
• Scope
• Policy Elements
• Policy Statement
• Actions
• Grievance Procedure
• Disciplinary Consequences
Enable your staff members to de-stress with a favorable leave policy
Paid Time Off
Paid time off (PTO) is an essential part of a company's leave policy in the US. It's the paid leave allotted to the staff members and can be used for vacation, recovery, or personal time. A PTO policy for small businesses within a geographic area is relatively straightforward and should cover the key elements listed below.
Part of: Organization Policy
• Specific PTO allotted to a staff member
• Qualification guidelines
• Usage specifications
• Specification on earned, front-loaded, or accrued PTO (days or hours)
• Scheduling procedures
• Carry-forward or Pay-out specifications
• Compliance with any state and local mandated sick leave regulations
Bid farewell to your team members with a cheerful Relieving letter
Relieving letter
Relieving letter is a formal communication between the company and the staff members in response to their resignation letter.
Part of: Staff Management
• Staff member's name & designation
• Resignation submission date
• Resignation acceptance date
• Relieving date
• The full-and-final settlement date
• Appreciation and recognition
A chronicle of HR document management
Ms. Sandra Pollock, who is in charge of workforce management, wishes to scale her food tech startup. She requires to onboard 20 new hires and it's an uphill task. New to the role, she's been trying to figure out the essential documents needed to hire, onboard, and manage the recruits.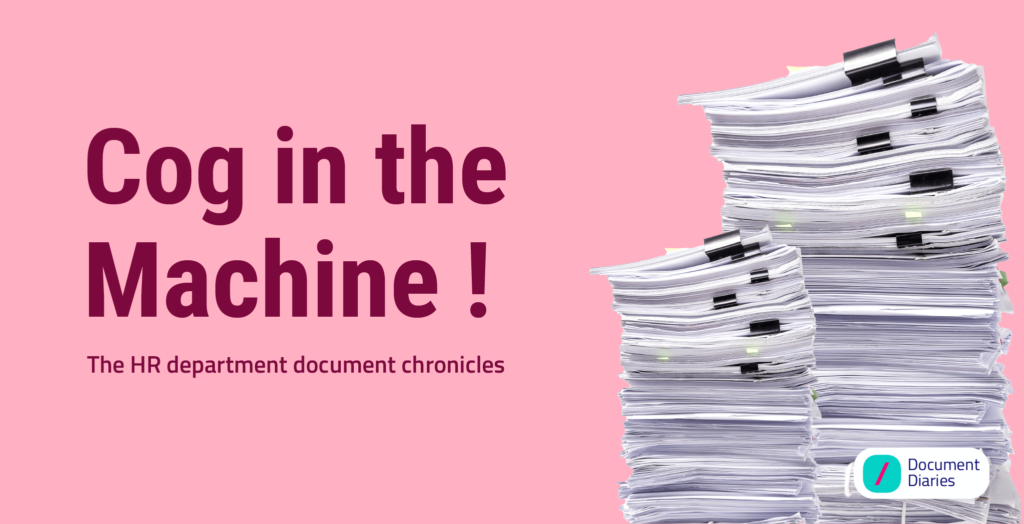 The story continues…
While these are some of the 'must-have' documents, many more such documents that are good to have. However, when working under tight deadlines, Ms. Pollock has found that managing them can be a hassle. Errors in creating, sharing, and managing these documents affect the candidate experience and can have a detrimental effect on the company. And Ms. Pollock does not want to compromise on candidate experience and risk losing top candidates. So, what's the solution?
Organizations that invest in a strong candidate experience improve their quality of new hires by 70%

Glassdoor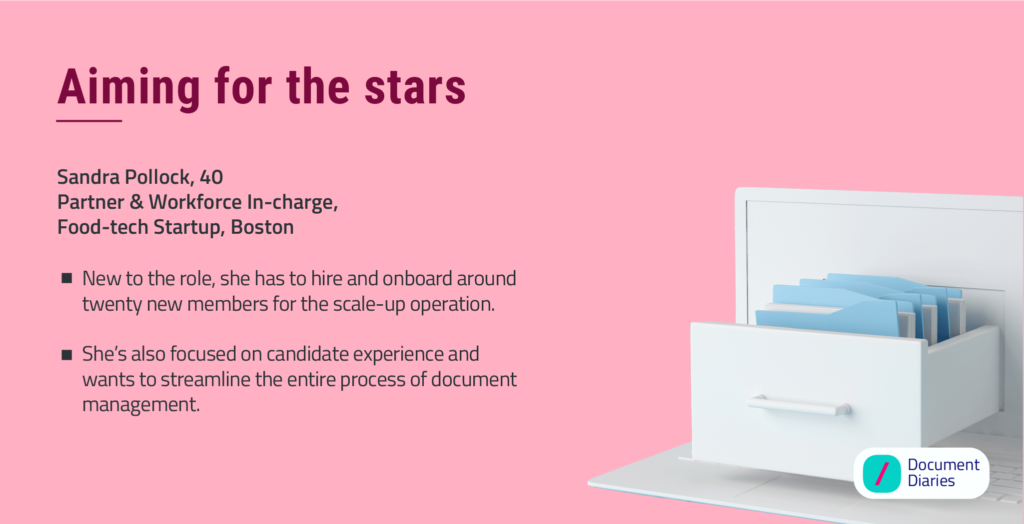 The new-age document management system is the ideal solution!
A reliable HR document management system has multiple benefits and helps the HR department in the following ways: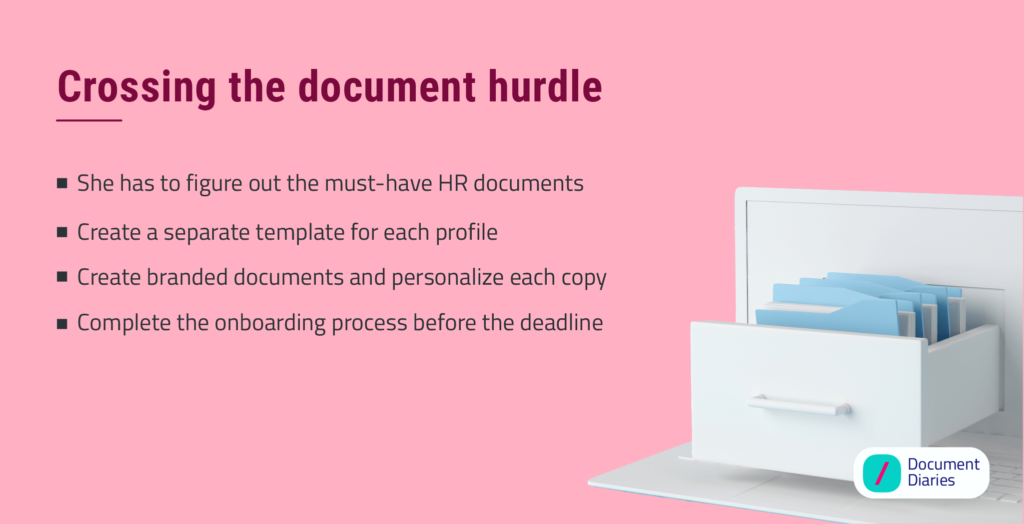 👉 Boost your HR processes with Revv's document workflow automation capabilities
Start your journey today! No Credit Card Required
The Revv way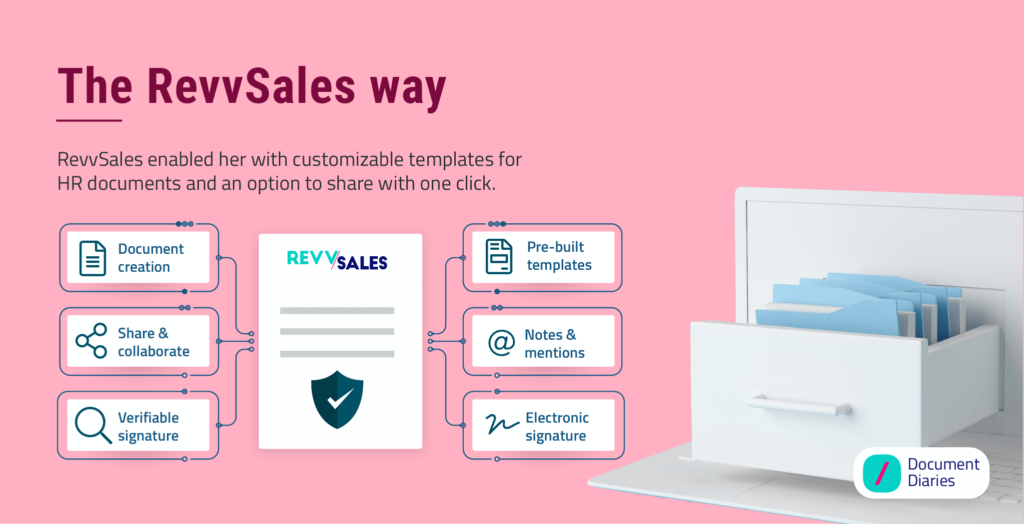 Investing in the document management software had a big payoff for Ms. Pollock. Using the editable templates, she was able to create personalized offer letters in no time. With no separate tool needed to share the documents with the candidates, she could collect their information and secure it all in one place. By making the entire process quick and efficient, Revv also helped improve the candidate experience.
Conclusion
From procedures, policies, performance management, and statutory guidelines, HR documents form the core of every company's administration process. Managing these documents can be a hassle for the HR department. The lack of a reliable system to create and track them can lead to errors and mismanagement, affecting the candidate experience. HR teams and professionals looking to improve productivity and efficiency can rely on the HR document management system. It streamlines the time-consuming process of drafting, sharing, reviewing, and managing all types of business documents, and also addresses the scalability factor with aplomb.

Setting up your startup's HR Department? Here's a library of free customizable templates to get you started.
From SMBs to startups, here is a blog on the top 20 documents that you need for your business.