Online education is no small feat. It is not merely about the teachers and the students donning headphones and communicating over the internet.
It is where digital technology blends with pedagogical practices. It is about creating a smarter, faster, and better virtual education infrastructure that enhances the learning experience.
Covid-19 has made educational institutions suspend physical classrooms. It pushed the institutions to undergo a revolution and adapt to this emerging teaching method of online learning.  
This flash transition has left many institutions trapped in the vortex of document management and paperwork challenges. The pandemic has emphasized the importance of a smart online document management system to digitize and distribute documents in a secure environment.
How can the online document management system overcome the challenges of online education/learning?
Online document management is about drafting, sharing, and tracking digitized documents in a secure environment. It frees up the administrative staff, teaching staff, and students from the chaos and back-and-forth of hefty paper documents, and enables them to focus on their primary work.
This "new normal" is predicted to be the "new future" even in the post-pandemic world. Online education has become an integral part of institutional resilience and pedagogical progress. This implies, moving forward there will be an integrated approach to leverage physical classrooms and online learning.
It demands a seamless online collaboration tool to connect academic institutions with students, parents, and teachers.
"If we teach today as we taught yesterday, we rob our children of tomorrow." – John Dewey
While teachers are plodding along with this "new normal" shift, it has thrown some deeper challenges.
Here's a list of all such problems and the best solution that enables digital document management in classroom learning:
Online payment collection
The transition to online education has pushed institutions aggressively to ramp up their online platforms. Student registrations, fee payments, subscription-based online classes, additional paid resources, etc. – all possible tasks have moved online. Seamless payment experience has become an essential part of daily operations.
The Revv way
Revv, through Zapier, allows smooth integration with the institution's software, and enables the institution to generate automated invoices for customers.
Curriculum alignment
With no physical classrooms, teachers find it hard to comprehend whether the students have understood their curriculum objectives. This misalignment and lack of awareness can become a stumbling block in a student's academic progress. When sharing the course guidelines, curriculum break-up, timetable, etc., it is vital to track whether it is received and reviewed.
The Revv way
Revv's document management system makes such communications transparent through its "accept/reject" feature.
For example, without robust electronic document management for schools, the curriculum documents are shared directly via email. Sometimes these land in junk folders, and sometimes they are missed, and eventually stay unopened.
Such documents, when distributed via Revv with the "accept/reject" button, make record management easier. Hitting on the accept button signifies that the students have gone through the entire document and are profoundly aware of how to proceed with online learning.
Connection
Virtual classrooms hinder peer-to-peer connection. In a physical classroom setting, students frequently share their doubts and problems with their peers and seniors. With no such channel available online, it blocks students' learning and growth. This can shoot anxiety in students.
The Revv way
Working together with peers fosters a greater sense of community in a digital environment. Revv is a smart document digitizing software and a great collaboration tool.
Revv chat and @-mention features empower students to bring back those fruitful conversations.
It enables them to collaborate with their peers, tag them, post questions, receive direct feedback, and support one another.
Collaborating with other students on projects/papers is an ingrained part of academics. With Revv, co-creating such assignments become a cakewalk.
Assignments and projects
Assignments facilitate gaining more knowledge on a subject. Sharing feedback on such assignments and answering any queries related to the topic is equally important for a teacher. But doing it through email or video chats for each student becomes a herculean task. Imagine how a teacher will cope in situations where she runs multiple assignments in multiple classes for several students.
The Revv way
Revv is one of the best online collaboration tools, where the teachers can:
Share assignment guidelines with an "accept/reject" button to ensure the students have acknowledged the prerequisites of the assignment. 
Readily organize student assignments in folders and categorize them; this makes navigation easy.
Collaborate with students and share feedback through e-mention and chats. 
Notify and share feedback with students by tagging them.
Content sharing
During a class, teachers often need to provide their students with supporting resources/handouts to aid their learning. With online classes, the challenge is how to:
Deliver such content and course materials?
Make it accessible to all the students.
The Revv way
Revv allows teachers to:
Share the curriculum content online.
Tag each student to make sure they get notified and receive it.
Track who has opened it and how many times.
Revv allows students to:
Have easy access to all course materials, slides, documents, notes, etc.
Receive weekly / monthly updates that quickly summarize the learnings, assignments, and course material plan for each week.
Easily organize their documents in folders.
Sharing exam results/report cards
The report card is a testimony of a student's academic and personal progress over the year. But, creating numerous report cards online, distributing, and tracking them becomes an uphill battle.
The Revv way
Design and produce report cards with customizable templates, where you can easily edit and format them based on your need.
Notify students and/or parents to view report cards.
E-sign of parents and students to track who has viewed the report cards.
Organized folders for easy navigation and time-saving searches.
Branching out – the rise of online education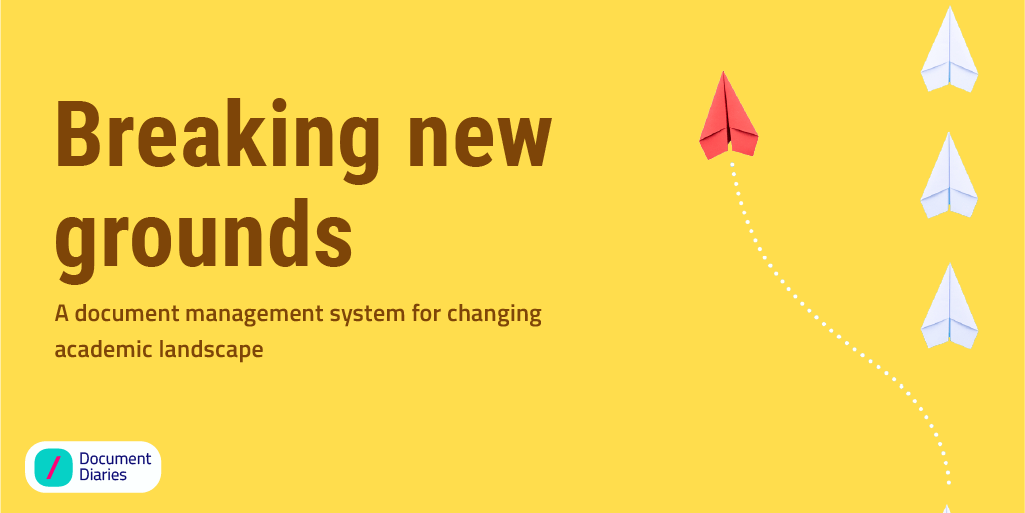 Gwen Fletcher, 56, is a science teacher at Fly High School, in Seattle, Washington. 
She is warm, enthusiastic, approachable, and a subject matter expert in her field. She is admired among her students and has the greatest influence on them. She facilitates learning through practical teachings and collaboration.
Due to the pandemic, Gwen is now exposed to the virtual teaching world. Like others, her school has shifted to online platforms. Being not so 'tech-savvy', she is struggling to overcome many challenges.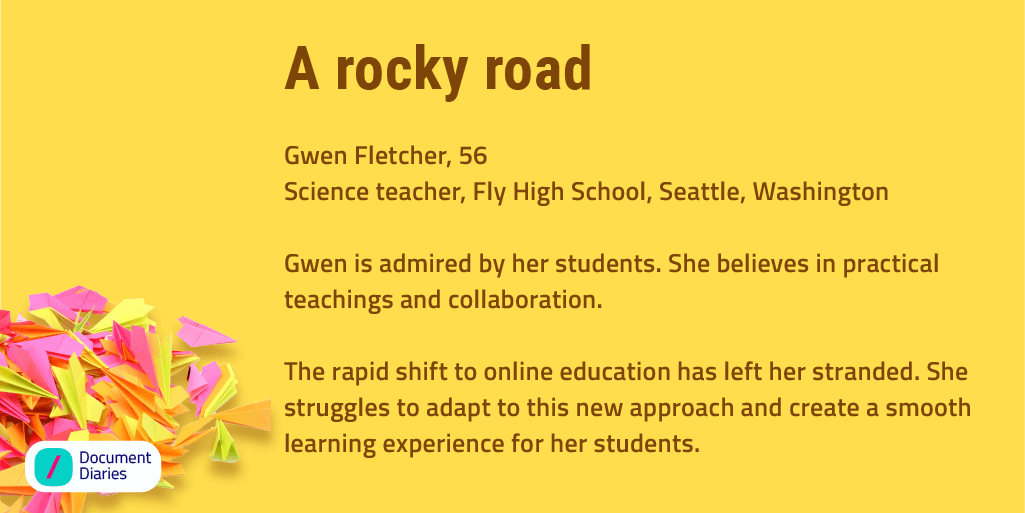 So far, happy in her teaching world, Gwen is now burned-out, stressed, and having sleepless nights.
Every weekend, Gwen shares an outline document that describes what tasks students are supposed to do, how they should do it, learning materials for the same, etc. But, some of her students miss out on these documents, which impedes progress. 
Working in isolation is hindering her from participating with her students in real-time and steering them. She is swamped with enormous emails where her students send her doubts and queries. Responding to each email is not scalable for her. 
Gwen shares the curriculum materials with the students either during the live classes or via email. Her students are finding it hard to track it. 
Gwen is stuck with the burdensome task of tracking each project submission, reviewing it, and sharing feedback.
She is also getting bogged down in the tedious task of creating and sharing report cards for each student over email.
This all is consuming her time and pulling down her productivity.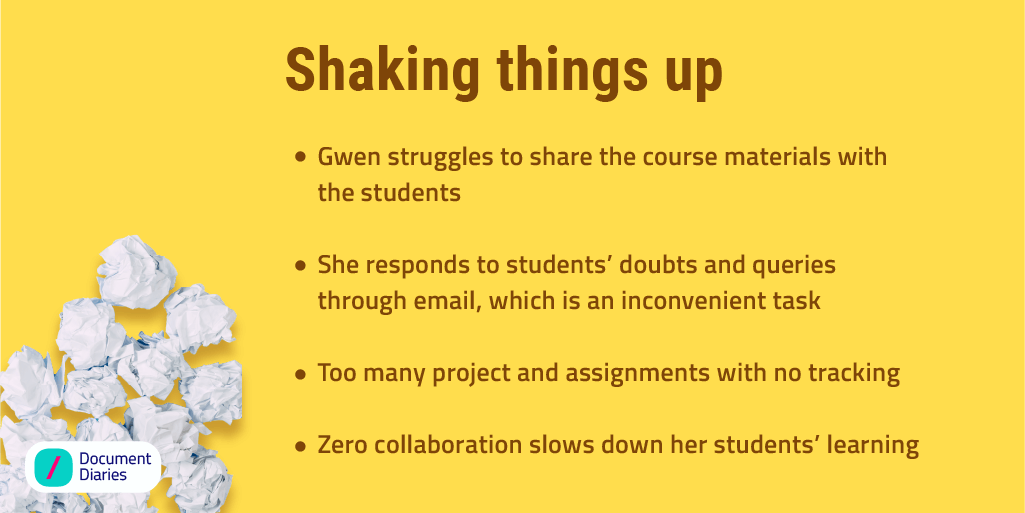 Gwen is pulling all-nighters, trying to figure out a solution. She wants to create an in-person experience as much as possible.
Revv: All-in-one partner in online document management
Custom templates – Revv offers a library of templates that can be used to draft notes, documents, timetables, report cards, etc. 
Share – Now, Gwen can easily share all the course materials with students in one go. It ensures no student is left behind, and all receive the same content.
Track – This feature enables Gwen to track who all have opened the assigned documents. It helps to get a grip on the student's curriculum progress.
Collaboration with notes, @mentions, and chats – Now, Gwen can add notes and mention specific students with @comments, and share inputs instantly. The document management system also notifies the users of important events in the document like eSign/consent required, and review pending through email notifications, which helps collaborate better. 
Organize – Now, Gwen can readily organize all the papers and projects in neat and labeled folders. This enables her to retrieve the right document on time.
Accept/Reject – This expedites the paperwork between the institution, teachers, and students. It makes certain that the respective users receive all the necessary documents, like guidelines and report cards. On the other hand, it saves time and brings back Gwen's focus where it is needed- teaching.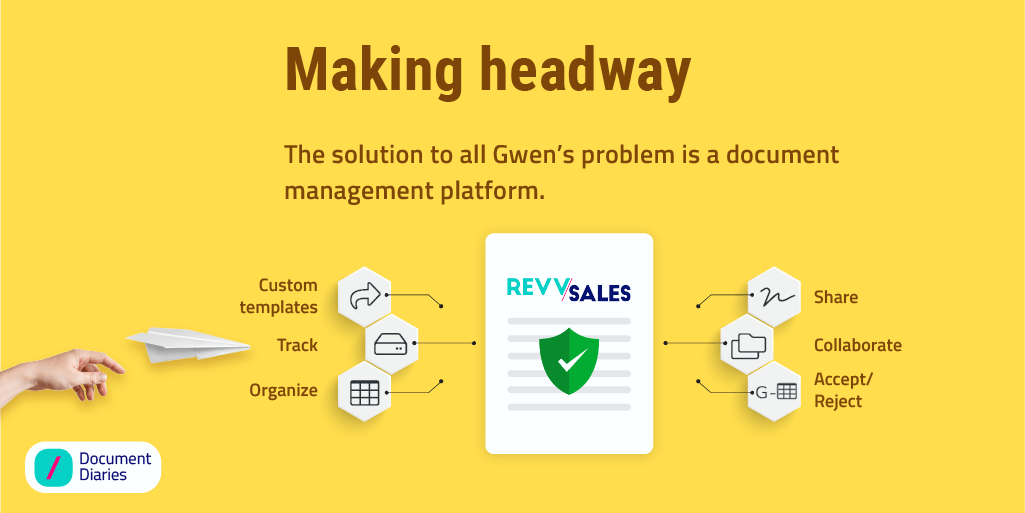 Conclusion
Online education can be very challenging. It is the prime responsibility of institutions to bring back that spark of learning, and level-up the learning experience. 
Revv provides a robust document management system for institutions and equips them with the right resources.
It seamlessly connects students and teachers with the institution.
Promotes a stimulating learning environment.
Makes access to learning and resources a breezy task.
Creates a remarkable online learning experience.
Sign up for a  trial of Revv and experience the platform yourself. You will feel nothing but – delighted. The most divine part is that you can ace it the first time, it is that simple to learn. 
Commence your online teaching journey with us!
Here is a list of document management tools that can help your school staff beyond online classes. You can manage the day-to-day exchange of documents between the different departments in your institution.