Finance and Accounting (F&A) are usually two different departments in any business. The connection that ties them together is the ability to utilize accounting information and make timely financial decisions. Both of these disciplines rely on the exchange of multiple documents to take critical decisions, timely. This can be achieved with the help of several financial and accounting documents templates that enable businesses to grow and perform profitable transactions.
What finance and accounting documents are critical for businesses?
Listed here are some of the financial and accounting documents that are used frequently within the department. Keep a check on these documents and have ready-to-use templates. This will fuel the F&A department and keep the engine running at full speed.
Indemnity Agreement
An indemnity agreement is a cushion for businesses against any loss, damage, or liability. It is drafted to protect the interest of the indemnitee (one of the parties to the contract) and the indemnifier (the other party to the contract) is responsible to minimize the risk or hold the indemnitee harmless. This agreement is also known as no-fault agreement, hold harmless agreement, waiver of liability, or release of liability.
How does this help?
• Help businesses in indemnifying their losses
• Acts as a risk transfer document
• Ensures availability of compensation
Essential elements to include
• Parties to the contract are defined
• Rights of the indemnifier
• Rights of the indemnitee
• Compensation amount and terms
• Specify jurisdiction to ensure enforceability
Payment Agreement
A payment agreement document defines all the transactions that take place between the parties. Also called a promissory note or installed agreement it protects the parties to the agreement in various ways. It lists the transactions and states how much money is involved in each transaction. It is recommended that the payment agreement is notarized or is witnessed and signed by a third party without any bias.
How does this help?
• Explains how and when the money will be paid
• Provides assurance to the parties to the agreement
• Reduces the chances of a dispute
• Defines the mode of payment
Essential elements to include
• Full information on the promisor and the payee
• Date of transaction
• Transaction amount
• The due date for payment
•Provisions for payment
Debt Settlement Agreement
Also known as a debt compromise agreement, this document is drawn between the debtor and the creditor. The debtor agrees to pay the creditor the outstanding amount due to him/her. The agreement should be signed by both parties and appropriately stamped as per the state laws to make it legally binding.
How does this help?
• Specifies the guaranteed amount back
• Avoids confusion over the loan and payment amount
• Reduces the chances of a dispute
Essential elements to include
• Date of the agreement
• Information about the debtor and creditor (name, address, etc.)
• Amount of loan
• Rate of interest
• The due date for the loan
• Final settlement amount
• General provisions
• Signature of parties and witness
Bank Loan Proposal
A loan proposal document is a proof for the lender that a business has strong management with experience and is well aware of the marketplace that it functions in. It portrays the business's ability to repay the loan amount.
How does this help?
• Focusses on the positives of a business
• Well drafted loan proposal increases the chances of loan approval
• Allows you to lay out contingency plans in order to succeed
Essential elements to include
• Executive summary
• Company's description
• Experience of the senior management team
• Loan request
• Loan repayment
• Collateral
• Key financial data (Personal & business financial statements, equity investments, future projections)
• Marketing and production plan
• HR management
Cash Memo
A cash memo document is mainly used for recording cash transactions that take place between the buyer and the seller. The cash memo is handed over to the customer when cash purchase is made from the business.
How does this help?
• Evidence for the payment received
• Avoids confusion as an entry is made for all cash transactions
• Helps businesses manage their funds and sales
Essential elements to include
• Supplier and purchaser's name and address
• S.no and date of cash memo
• Details of the good – description, quantity & rate
• Gross amount and applicable discounts
• Provision for taxes
• Jurisdiction
• Signature of authorized personnel
Customer Invoice
A bill drawn for customers after purchasing goods or availing any service by the businesses is called an invoice. Unless required, an invoice is shared with the customer typically after the item is shipped. All the invoicing and payment collection is done by the finance staff.
How does this help?
• Helps in maintaining cashflow
• Streamlines and simplifies administration
Essential elements to include
• Seller and buyer details
• Invoice issue date delivery date
• Invoice no.
• Payment due date & payment terms
• The amount charged with tax information
• Description of service or product (quantity, rate, total items)
Credit Note
A credit note document is issued when the buyer returns certain goods or stops availing a service for which the payment has already been made. It acts as proof that the customer is credited for the returns. Credit notes are a negative invoice.
How does this help?
• Confirms that the credit is made
• Helps maintain cashflow
Essential elements to include
• Information about the supplier
• Name, address of the recipient, delivery date
• Date of issue
Reason for the issue credit note
Information on product or service against which the credit note is issued
Amount and tax details
Signature of authorized personnel
Debit Note
A debit note is issued from the buyer to the seller. Also known as a debit memo, the document indicates the buyer's intention to remit the funds due to the return of goods or when they stop availing a particular service from a specific date.
How does this help?
• Acts as proof of the buyer's intention
• No time limit on the issuance of debit note
Essential elements to include
• Information of the buyer
• Name, address of the recipient, delivery date
• Date of issue
• Reason for the issue of debit note
• Information on product or service against which the debit note is issued
• Quantity, amount and tax details
• Signature of authorized personnel
Debit notes and credit notes are an integral part of all sales and purchase transactions in the B2B system. To know more about how Revv can help you create such business documents faster, here is a case study.
Statement of Accounts
This is an accounting document that periodically lists all the transactions with the beginning and end date. It is a window into your finances. Being critical to the process, an accounting document template will give businesses a head start.
How does this help?
• Reflects all transactions that took place between you and your customer
• Historical statements are critical for budgeting
Essential elements to include
• List of all transactions
• Deposits, charges, withdrawal
• Dates of every transaction
Remittance Advice
A remittance advice document is sent from the buyer to the seller with the intention to notify that the invoice has been paid. The document is not mandatory. The use frequency of this document depends from industry to industry.
How does this help?
• Helps to match invoices with the payment
• Useful to the receiver in comparing the amount sent and the amount shared
Essential elements to include
• Buyer and supplier information
• Invoice number
• Payment amount
• Method of payment is specified
Having ready-to-use financial and accounting documents templates will make it easy to draft and manage them. It will enable a faster process with minimized friction and maximized productivity.
Tax forms are crucial for businesses but processing them takes a lot of time. Here is a list of the frequently used tax forms that can be processed electronically and accept electronic signatures.
Looking through the eyes of a finance wizard
Clark, 41, is considered a finance wizard by his colleagues, supervisors, and juniors. His strength lies in working with numbers. He has been working in the field of finance for over 10 years now and is through with all the financial and accounting processes.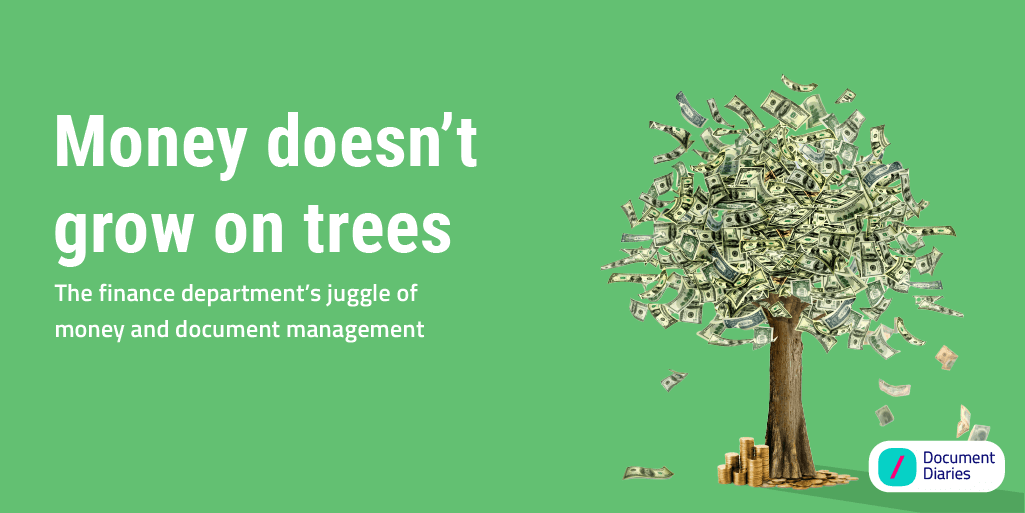 While finance is all about numbers, Clark will also have to work on different financial and accounting documents. This helps in keeping a track of the various transactions and exchanges that takes place in the business. But the documentation process leaves Clark bemused. Managing multiple documents simultaneously keeps his work schedule haywire.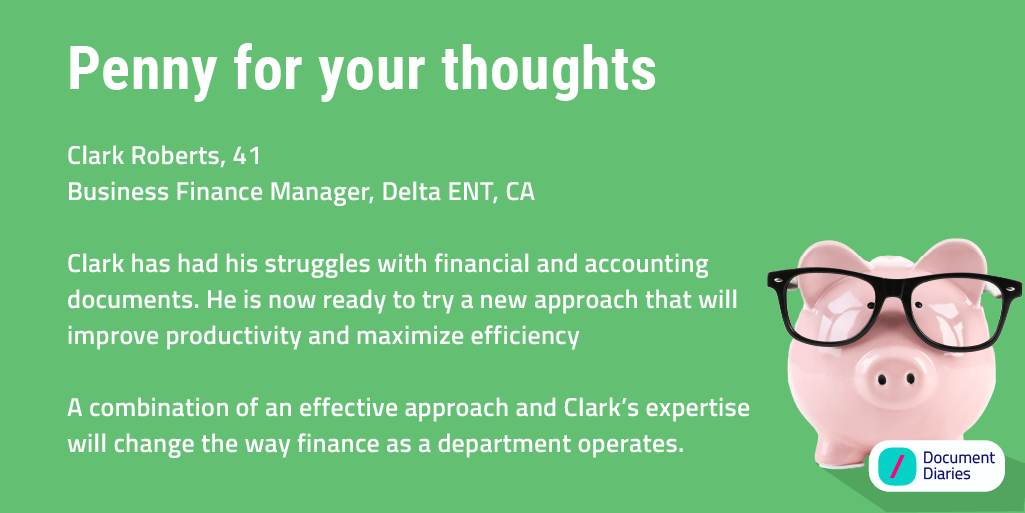 And his tumultuous relationship with documents not just ends with management. At times he needs to draft and review certain accounting documents from scratch. Sadly, nobody introduced him to ready-to-use templates. You will find him juggling between excel files and spreadsheets while picking his brains out.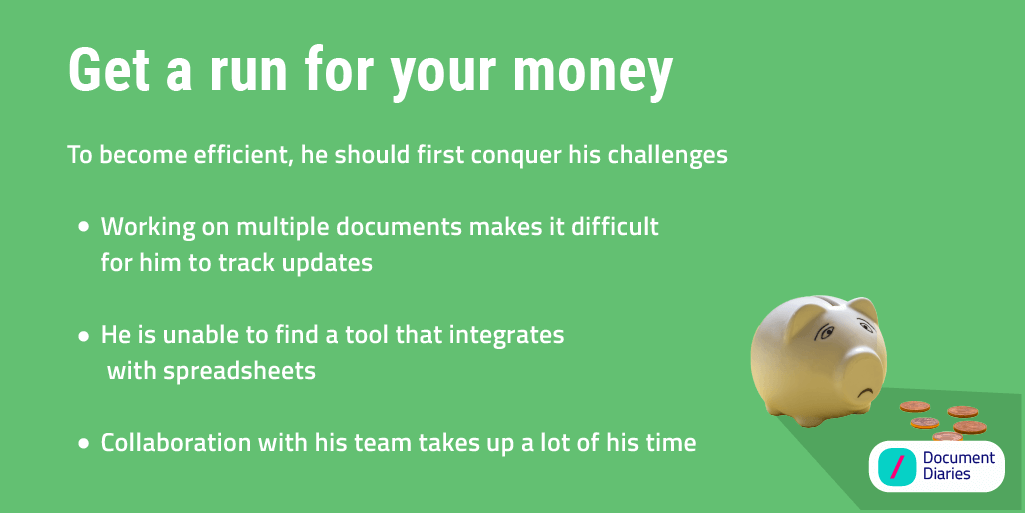 Get your money's worth with Revv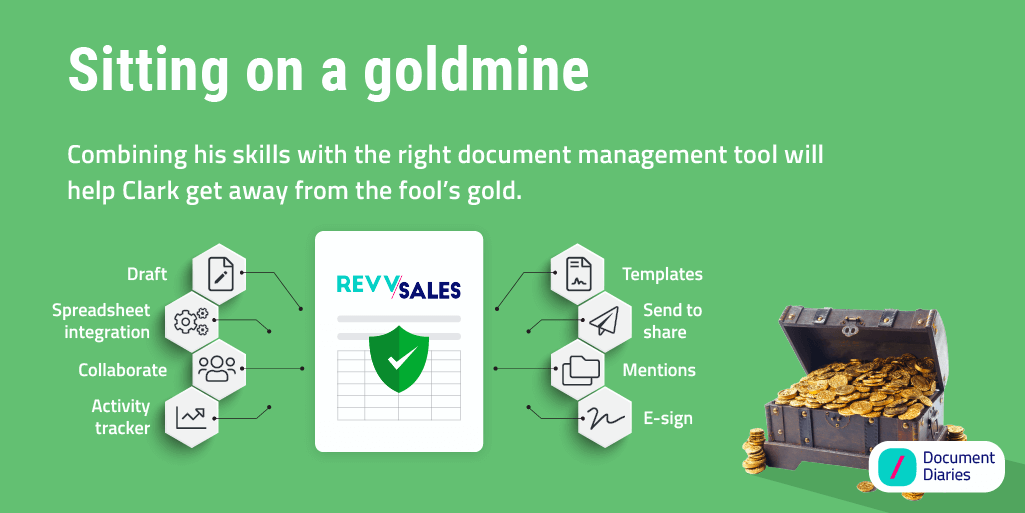 What will bring peace to Clark's mind is a document management solution. It will help him overcome his challenges. Here are some features that he can leverage from Revv, an all-in-one document management tool –
Easy sharing and collaboration with send options
Integration with Google Sheets
One-click E-Signature option
There are several experts like Clark whose skills are not getting utilized to its utmost potential. Either they are still stuck with the old manual ways of documenting information or they are struggling with a complex product. It's time to shift your focus on the right tool and change the way finance departments function in today's business world.
Are you looking to create finance and accounting document templates on your own? Check out our template library, you might end up finding the document template you need. Happy documenting!
Looking for such document lists for HR business function too? Here are 12 Documents That Are the Cornerstone of Every HR Department.