Sales Operations (Sales Ops) is increasingly becoming a strategic role, and they've become the backbone of any high-performance sales team. However, from our conversations with various sales ops leaders and looking into the backgrounds of many promising ones, we realized that the path to becoming a successful sales ops leader sure isn't linear. Our research shows that about 25% of sales ops leaders rose from within sales teams, with 75% transitioned from other business functions and hold a wide range of experiences. Additionally, 90% of them have a business/management degree! While not essential, but this data indicates that getting a management degree might open more opportunities for you.
The good news here is that it is indeed possible to move into a sales ops role. However, you need a strategy to make that transition a successful one. You need to package your skills and experiences into something which resonates with the requirements of this role.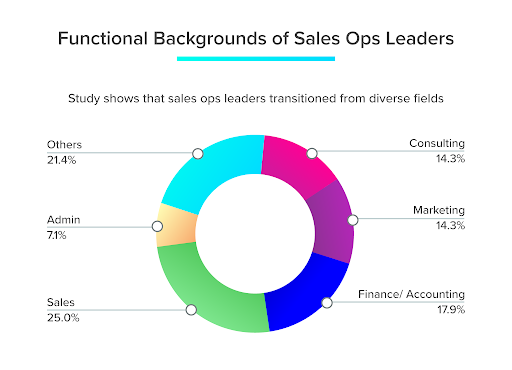 What does being a sales op actually mean?
CSO Insights defines Sales Operations as "Sales Operation is a strategic function, designed to provide a platform for sales productivity and performance by providing integrated methods, processes, tools, technologies and analytics for the entire salesforce and senior executives." 
The focus of sales operations is on continuously improving and optimizing the sales process. Sales operations bring in a process and discipline to selling. The sales team can be under tremendous pressure to close challenging new deals. They fall back on sales operations to clear any gray areas that they face when they go through the selling cycle.
Sales operations professionals require a quarterback player mentality, vision, and direction. The perfect play happens through collaboration and communication, and sales ops should guide the team to cross the 100-yard line and win the game.
What are the skills required for sales ops?
Here's a list of some of the hard skills you might need to make an entry into sales ops:
Sales ops define and establish sales processes that increase conversions, shorten sales cycles, and maximize deal win rates. This includes assessing current sales practices and suggesting improvements. Consider a training program/certification course to help you familiarize yourself with process management.
Sales ops might not do the frontline sales rep's job and sell directly to customers, but they should have a selling mindset. They should know what drives sales and what is the customer's behavior patterns. Expanding your sales mindset and aptitude will accelerate your effectiveness as a sales ops executive.
Knowing how to get data, and how to use technology to automate the processes and interpret data can be a competitive advantage for smart sales ops. Understanding the problems and developing an ability to improve processes and achieve the sales objectives will eventually support your career goal.
Now, let us take a look at some of the soft skills which are essential for the role:
Sales op is the sales team's trusted advisor. It is essential to know who the salespeople are, what are their pain points because only then you will be able to empathize with them. Ask your current manager whether you can "shadow" sales professionals and understand their on-ground challenges better.
Communication and Collaboration
Sales ops need to continually communicate with Marketing, Sales, Sales Enablement, Legal, Finance, and Operations to understand the deal status, recommend actions to increase deal win rates. Try developing your communication and collaboration skills as they are crucial for the position you are exploring.
Optimizing the challenging sales ops process, running pipeline management, quota setting process, business reviews, and forecast requires a "critical thinking" mindset. Critical thinking involves carefully evaluating sales problems, logically analyzing the various solutions to each of these problems, and choosing the best solution to solve the problem.
Focusing on the big picture involves going beyond the "day-to-day" tasks, identifying new trends in sales, and exploring new opportunities for your organization. Winning strategy necessitates successful sales ops to come up with new ideas and possibilities, and ways of implementing them successfully.
Is it necessary that you need to know a set of tools to get into sales ops?
Most of the companies have a set of tools that form their sales tech stack. Sales ops decide and implement the tools and technology that make the sales process efficient. Getting an idea about the latest tools (such as CRM, Forecasting, Compensation Management, and Deal Desk) used by them might help you integrate yourself into sales ops career more easily.
What do you need to do next?
Change your story, and behave like a born sales ops executive! We identified the responsibilities, skills, and educational qualifications required for the job. Now, you need to highlight your most relevant characteristics and skills and demonstrate them to land you in that dream sales ops job.
Identify your current skills
Identify your transferable skills. Consider skills like collaboration, teamwork, and communication which you have used successfully in your current career and demonstrate these to tackle the responsibilities in the new position you want to do next.
Mind the gap – Learn as much as you can
Once you identify what is missing in your resume, look for options to develop the missing skillset. Look out for the profiles of other sales ops professionals who made a similar shift on resources like LinkedIn/Angelist and try to connect with them. They might provide you with insightful tips on how to make the transition
Overcome your mental block
The next big step is that you need to be confident before convincing your potential employer, within or outside your current organization. Take a look at the sales ops job requirements and say, "Yes, I can do this".
Keep an eye on the changes happening in the sales world. A key to doing this is to stay up-to-date with the trends in the sales industry and evaluate how they are going to affect sales opportunities. Social media groups and communities are a great resource for this.
If you are lost in your job search, don't hesitate to ask for help. Join industry-related associations, professional bodies, and get connected with Industry leaders. Update your professional profiles, or post an article or two to stay on top of things. Your network might remember you when a suitable opportunity opens up.
Transition into sales ops need not be that tough if you play your cards well. If your company encourages career progression through different departments, request for an internal transfer. Otherwise, ask your current boss whether you can work with sales ops professionals in your spare time and learn some trade tricks on the job.
Which of these is your favorite tip? Do you have any other thoughts on your mind? You can leave a comment here.