Both sales and marketing teams are accountable for revenue generation. Though they both strive to attain the same thing, they were often considered separate entities, especially in B2B SaaS companies. Today, however, this thought process is changing rapidly and sales operations is playing a massive role in this change. While marketing focuses on the top of the funnel, and sales the bottom – it is sales operations that can act as the glue that holds these teams together. Sales ops can help them align their strategies, define their OKRs (objectives and key results) without limiting innovation.
According to LinkedIn's 2018 State of Sales Report, today, 44% of sales teams are working more closely with the marketing team than in the past.
All high performing businesses are achieving their sales quota by aligning their sales strategy (go-to-market, talent, and organizational design) with customer engagement and performance support (sales management, sales operations, and sales enablement). This collaboration is said to change the way selling is done in the subscription economy. But this collaborative ecosystem is still a work in progress. In fact, sales operations often find themselves limited to downstream of the strategy setting process, while marketing stays focussed on the top of the funnel. This lack of collaboration between the two teams has often led to sales projections becoming elusive.
Sales Operations Is the Answer to 'Smarketing!'
'Smarketing' is not just a blended word of sales and marketing, it means to have a single team that works together, collaborates together with one agenda in mind – close more deals. (Wikipedia)
Let's begin by understanding first what sales operations does. They are responsible for territory management, compensation planning, revenue modeling, setting up the right pipeline management, and more. If you look at this function, you'll realize that their job requires them to possess knowledge about designing sales strategy, automation tools, reducing time to close deals, etc. However, while sales teams depend on sales ops to provide strategic solutions to gain the necessary objectives especially at the bottom of the funnel, they also need to ingrain themselves at the top of the funnel. This involvement with the marketing processes ensures quality lead gen and reliable lead sources.
Improve lead scoring by setting up the right marketing automation tools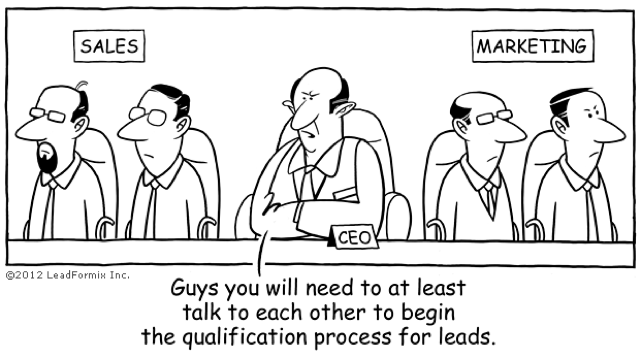 To begin with, sales operations of any organization should help define the four key metrics of a lead – what constitutes a Marketing Qualified Lead (MQL), Sales Qualified Opportunities, Sales Accepted Opportunities and the Committed deals. And eventually how to improve the conversion ratios from one stage to another. Once defined, sales ops can also help in a better understanding of what the reliable lead sources are.
In most companies, the marketing and sales teams targets are misaligned. This meant that sales ops needed to intervene to change the way MQLs are defined and identified and make it more transparent. Furthermore, sales ops defines the KPIs of sales – so that they had a clear understanding of the leads that they were handling. This also provides visibility into the sales process. The transparency in the sale process could be achieved by setting up the right automation tools that improve lead gen and attribution. Sales ops can also be directly involved in initiating and managing lead flow processes to prevent alignment gaps especially when multiple tools across departments exist. This alignment with marketing and sales, will further ensure lead nurturing and lead scoring, which warrants improved win rates.
In the end, both sales and marketing are responsible for the top line in a statement period, eventually together reporting into revenue operations. To achieve this, sales ops needs to understand the changes required at the top line inputs that would assure the right numbers reflecting at the bottom. This could be only achieved when sales ops focused on the inbound as much as they did on the outbound.
Sales operations and Sales Enablement: A match made in heaven!
Sales enablement is a strategic, ongoing process that equips all client-facing employees with the ability to consistently and systematically have a valuable conversation with the right set of customer stakeholders at each stage of the customer's problem-solving life cycle to optimize the return of investment of the selling system. (Forrester)
Inefficiencies in up-selling, cross-selling, long sales cycles, declining win rates, getting the average deal size up, etc. are often linked to the conversations between sales and the customer. And because of the way business relationships are transforming, if these conversations are unchecked, it can wreak havoc on the balance sheet. Sales enablement merges the gap between strategy and execution, helping companies define their business strategies and how they execute in the field. Working with the marketing team and sales enablement, sales operations can now also onboard sellers faster and teach them about the product, client buyer personas and tools easily.
While the sales content is quite different from marketing content, it is always the marketing team who is responsible for the creation of sales content. This is because they can usually bring out the storyline (both customization and personalization) aspect of enablement and yet retain its focus on the here and now, so it acts more like a sales reps arsenal. Besides the pitch decks and customer case studies, this content helps them to articulate their solution better in the language of their prospects. While the sales operations team can act as an advocate for the sales team and it is only with sales enablement that they can directly impact the efficiency and performance of sellers and customer's experience.
Sales ops as the ultimate mediator!
Sales operations is the quarterback of a sales team – calling the shots! Because sales and marketing have strong common interests, customers, revenue, data management and tools – sales ops can act as the ultimate mediators to operate successfully in this customer-centric world. But their role does not end there. To maintain a seamless flow of information and break down legacy silos, sales ops also need to work with legal, finance, IT and even customer success. This would also help them maintain a clear line of sight across the customer lifecycle.
Would love to hear how your sales and marketing relationship is? Comment, or tweet to us!