☃️'Tis the season to be jolly! ????
Good customer service always helps to mitigate issues with customers and keep the patrons happy. But while good customer service is always expected, it is only when you exceed expectations, that they are delighted! And how do you do that? By going the extra mile, and including small 'wow' things (in the form of personalized gifts and freebies) that keep them with you forever.
Customer delight is exceeding a customer's expectations to create a positive customer experience with a product or brand. – Hubspot
It's all about the experience!
Let's be honest, no sales and marketing team wants to be forgetful to their customers. And, because B2B buyers are constantly bombarded with so many options that can grab their attention that they are more likely to tune out if there isn't any standout communication or experience. So, to cut through the clutter – you need to 'wow' them? But the question is when, what and how?
When you talk about a B2B sales process, it generally flows like this: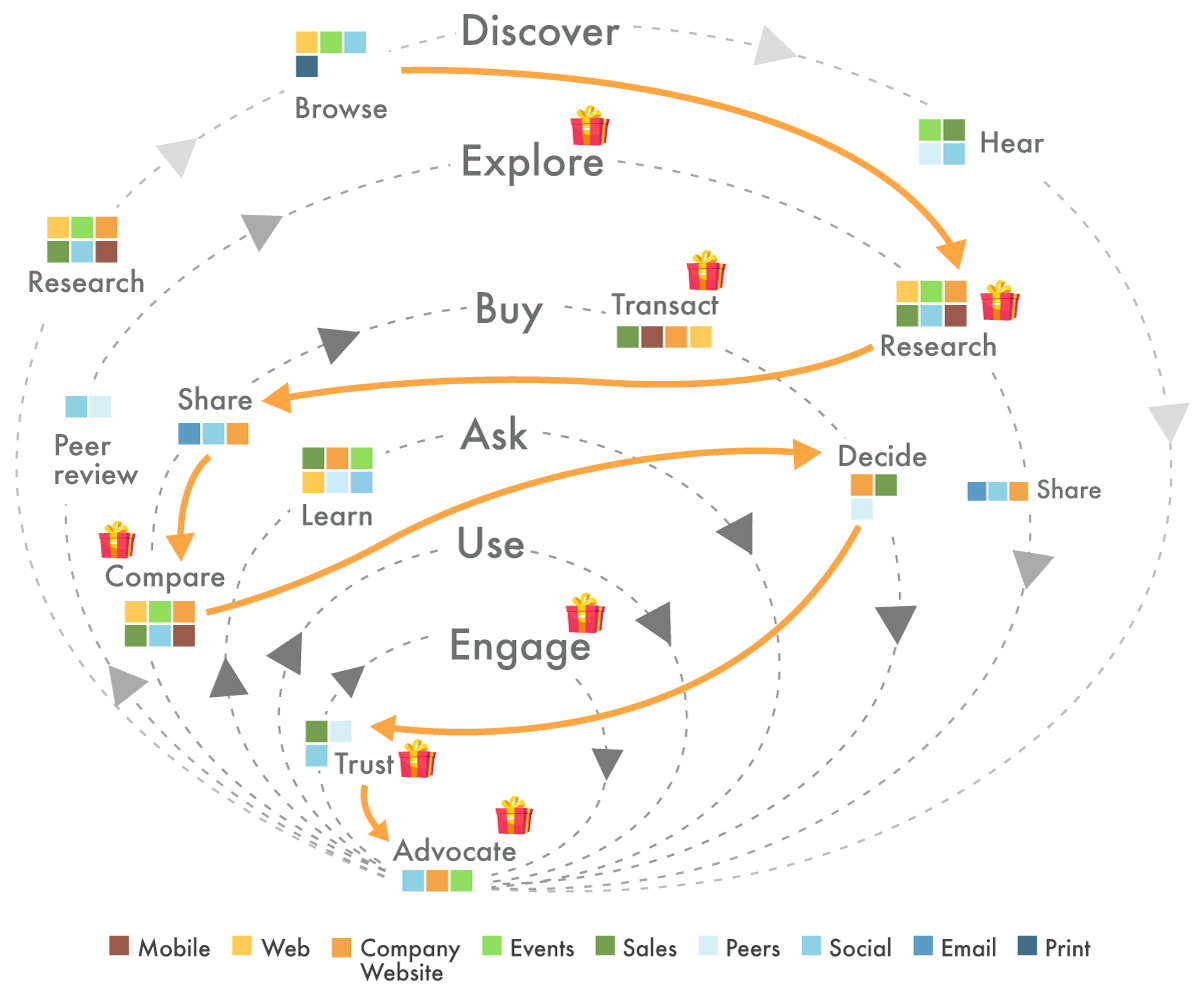 To make a lasting impression on your customers, you need to culminate relatability, empathy, and authenticity – with a dash of creativity. It is important to go above and beyond and create meaningful impressions with a personalized approach to gifting.
In fact, there was a study that found when waiters who left candy for their customers got 21% better tip than those who left nothing. This just shows that even the littlest things go a long way!
So, when can you really give away freebies/gifts or a 'wow' experience to your customers without making them look like a bribe –
Prospecting the right way, by listening👂- Give a delightful customer service that the lucky customer-to-be has a great story to tell. If you are creative enough customer's acquaintances will be telling your story for days and weeks to come. For example, take your prospects out for coffee and don't try and sell your product. (It is hard, but not difficult) Just sit and listen, hear what they do every day. Not only will you know more about your customer's pain points, but it will also help you develop lasting relationships with them.
Companies hitting a milestone like funding/IPO/acquisition🤝- People love it when they are featured! And being in a B2B company, it is just a great idea to feature your customer's achievement or just host an interview for an ebook and give them a hoot in your social handles. It not only gives you content but also endears them to your brand. The best part, it doesn't cost a thing! Set up triggers to get all newsworthy content via Google Alerts or install Nudge, and you're set for the best corporate gift ever!
Special occasions like promotions, birthdays 🎂- We all know someone who is at the top of the world because of a promotion or even just had their birthday! Send them a hand-written note and some flowers and if you want to make it more personalized, opt for online stores like Sugarwish, which allows you to select your own fav sugary treats.
Renewals or Referrals ↔️ – Now that your customer has shown that they really love you, go out of your way to shower them with 'love'. Not only call out to them in your social media handles (and make them smile) but also send them a box of treats (cookies are always a winning idea!). Surprise upgrades are always welcome!
Panelists or speakers in events📣 – These days branded stuff is often considered cringe-worthy, so think of corporate swag that customers will use and ask for more! Think outside the box and opt for koozies or even mind-blowing coffee blends.
Some examples of 'wow'-ing your customers without breaking your bank! (the best part, you can apply these in both B2B and B2C brands!)
Rapped Gifts for Rapt Customers!
A local HEB employee rapped his way to make his customers feel special. Every time the customer completed a transaction, he would break into a freestyle rap at the end.
P.S – I love you!
Show your customers some love just like Zappos. In fact, when someone emailed Zappos, representatives of the company sent a humorous and engaging email back.
Gifts that tug your heart ❤️
Bungie Studios (the creator of the game Halo) sent a card and a custom-built helmet to a sick boy who could not play the latest game. The father posted pics and it helped build an emotional attachment to the brand.
Give customers the spotlight
Hubspot made a video on Twitter under the hashtag #CustomerLove, thanking all their customers. They also send out personalized thank you cards and gifts just to appreciate them! 
Winning it with onesies
Carstack sends across adorable onesies whenever someone in their customer's team has a baby!
Technically, Customer Appreciation Day is on April 18th, but you and your organization are in the control of this day. Select a day that means the most to your org, (or even a week) and make sure to send out small tokens of appreciation. In spite of these ideas, many of us have roamed around stores, bought a scarf, a hat, and some diaries just to cross the budget and not even feel excited about the gift! Here's where you can take a different approach – by focusing on customers and what they actually like beyond their 9-5 pm schedule.
Some other ideas that you can play along:
Going local

🥢- Locally sourced gifts are easy on the pocket and show your customer that you value the culture and customs. (#Localpride)

Hire a chef 👩‍🍳

– Book from a list of chefs like

Take a Chef,

Big City Chefs

,

Cozy Meal

to give them a gastronomical experience like no other!

Mindfulness

🧘‍♂️- Want your customers to feel calm after a hectic day, arrange a class of yoga, (or even beer yoga). Here's where you can find plenty of

meditation trainers

.

Original art ideas

🎨 – We are not talking about Pollocks and the Rembrandts of the world, but something that is even local. (Try

Etsy

) Choose something that is small, and unobtrusive, if you are worried about the budget or making a bold statement.

Limited edition books

📚 – A first collector or a limited edition book always makes for a great gift, especially for bookworms. You can always visit a local book store and check out the edition section, or visit sites like

Folio Society

or

Abe Books

where you will get an option to select and send.

Give the 'gift' of giving 🎗

– Show some love by sending across products that will show your clients what their donation did. (You can check this out –

Feed

) Pull at their heartstrings by helping out an autistic boy's

sock company

. (The best part 5% of the earnings goes to Special Olympics).

Going quirky

😝- Want to splurge a bit more and yet standout? Here are some quirky gift ideas that will surely bring a smile –

customized pop sockets

or even power banks, or choose that

taco cord holder

or customized

mobile holders

for some extra space.
Once you have compiled the personalized gift and arranged for a time, you can proceed with sending those. But, remember, some companies may have some restrictions on receiving corporate gifts – what do you do about these situations?
The Grinch in contracts – 'The Gift Clause'
Most states in the US, still don't enforce the gift clause, but if your customer's company does have this kryptonite, it is safe to say tread the waters carefully. Most companies often take gifting with a pinch of salt – thinking that employees should not accept gifts or gratuities for doing a job that the company is already paying them for.
Depending on the clause as agreed upon in the contract, sometimes you can give/receive gifts within a certain value. The acceptable workaround is often going for promotional offers or discounts that can help make a lasting impression with your prospects. (If you are still wondering about the different types of Gift Clauses, read here.) These promotional gifts or even a basket of cookies (for example) are considered as a shared gift. However, many employers often place a cost limit or they must be returned. There is no one size that fits all clause, making 'receiving gifts' often a confusing thing.
Read the blog to know more about all the critical contractual clauses.
What can or cannot be accepted?
When the gift is supposed to influence a decision –

If any gift (given or received) is said to alter the vendor-client relationship, or even influence a decision, then it is something that cannot be accepted. Gifts should not set an expectation or influence the vendor in some way. You might think that promotional offers fall under this category – after all, vendors do give discounts/special offers to sway the customer – but usually, that is fine, till you don't receive vouchers as gifts of other companies. Then, it can be frowned upon.

When the gift is of inappropriate scale

– What can be minor to the senior management can be of significant value to the junior employee. Judging the different monetary value of gifts for different management levels can be complicated. Also, the monetary value will be dependent on the different geographical locations that they operate in. It is, therefore, important, to keep in mind, reciprocity of the gift.

Reciprocity

– If you receive a gift that cannot be matched up, in terms of value or even offering, then it is best to not accept the gift. For example, if you have received two tickets to a premium learning class, and if you are doubtful about your reciprocation, do not accept it.

Giving 'cash' money as a gift

– Accepting cash money as gifts is criticized in any organization and might even be illegal. However, in some cultures, giving cash is considered acceptable. In such cases, it is best to go through the clause to prevent any kind of problems.
It is best to be open and transparent about gifts to avoid confrontations later. There are companies that maintain gift registers when gifts exceed a certain value. When receiving such valuable gifts (which are also impossible to deny), the client can accept it and register. These gifts, for example, can later be raffled to raise funds for a charity.
The challenge with this clause is that there are no clear-cut terms that cover all possible scenarios. In such cases, it is best to consult higher management for any kind of offers, and gifts received.
Wrapping it all up… 🎁
Don't wait for the holiday seasons to remind your clients how much they mean to you. If in doubt, just send across a card, it's the gesture that matters. The purpose is to leave a mark and foster a long-lasting relationship with your customers.