How can I use Revv to send documents to recipients?
21 Jun 2021

1 Minute to read
How can I use Revv to send documents to recipients?
Updated on 21 Jun 2021

1 Minute to read
---
Share feedback
Thanks for sharing your feedback!
Revv provides many options for sharing documents with others for review, acceptance, and approval. You can also use the e-Signature feature to request digital signatures for your documents.
ESignature
To request the recipient's digital signature on your documents, click Send for eSign.
Revv puts all the options that you need to send documents in one place. in the Send document dropdown menu.
Send for eSign
You can also click this option to send your document for eSignatures.
Send to someone
The Send to someone option lets you send documents to external and internal users for review or editing.
Send for payment
Firstly, you must add payment blocks to your document and integrate it with Stripe. Now, you can use this option to send your document to receive the payment directly through the document.
Send for acceptance
Use the Send for acceptance option when you want your stakeholders' acceptance but you do not need their signatures.
Check and send for internal approval
This option firstly checks whether there are any approval workflows triggered in documents. If documents contain approval workflows, then the document is sent to your team members for their approval.
You can also share your documents in multiple ways by clicking the Share icon.
Get a magic link
Shareable links make it easy to copy and share links with anyone. The links are view-only, therefore recipients cannot edit the original file and do not need a Revv account. Shareable links let people access the files from anywhere on any device.
Publish a snap link
Snap links are permanent, public, and shareable links that display the snapshot of a document captured at the exact timestamp. This link captures the current version of the document at that particular time. You can also copy, paste, and share links anywhere and to anyone.
You can perform many more actions on your documents using Revv.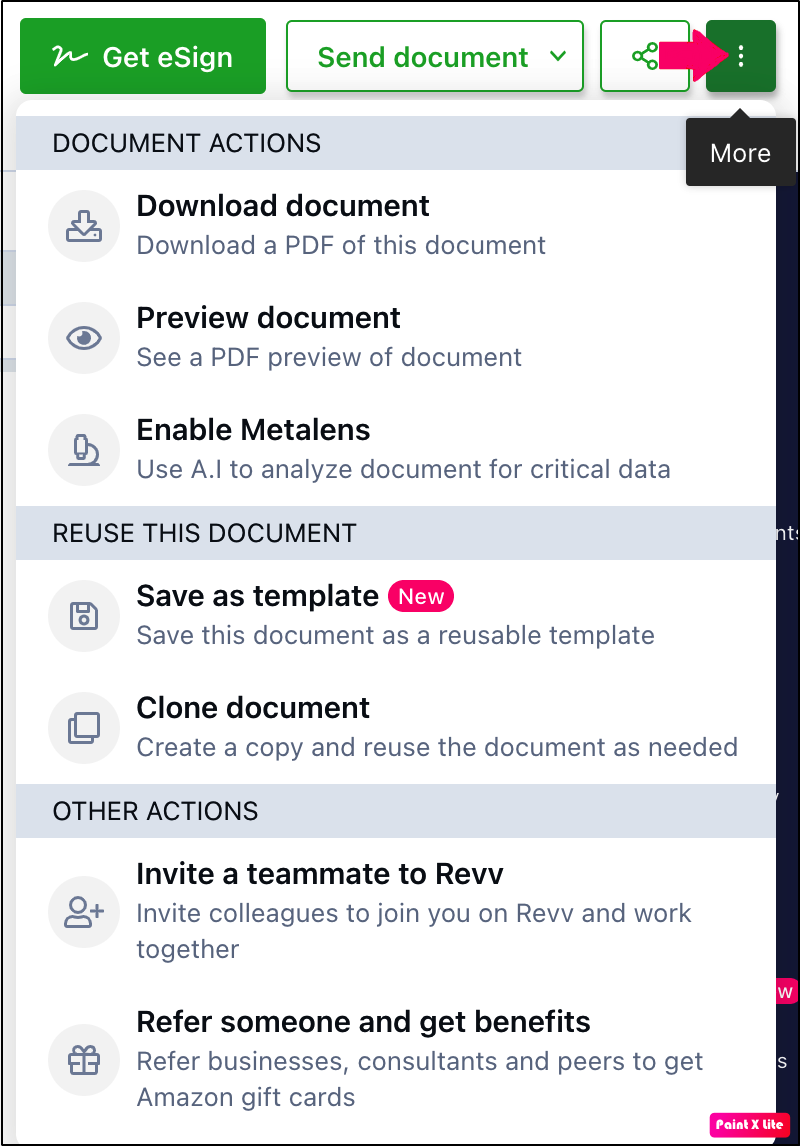 Document actions
Download document
Click this button to download your document.
Preview document
Before sending your document to others, select Preview document to see exactly how each page appears to other users in the PDF format.
Reusing documents
Save as template
Click this button to save your document as a template and use it whenever required.
Clone document
Create a copy of your document and use the same according to your requirements.
Other actions
Invite a teammate to Revv
Click this button to invite your team members to join your Revv account and collaborate on the documents.
Refer someone and get benefits
Click this button to refer anyone who you know and get amazing benefits.
---
Was this article helpful?
---
What's Next